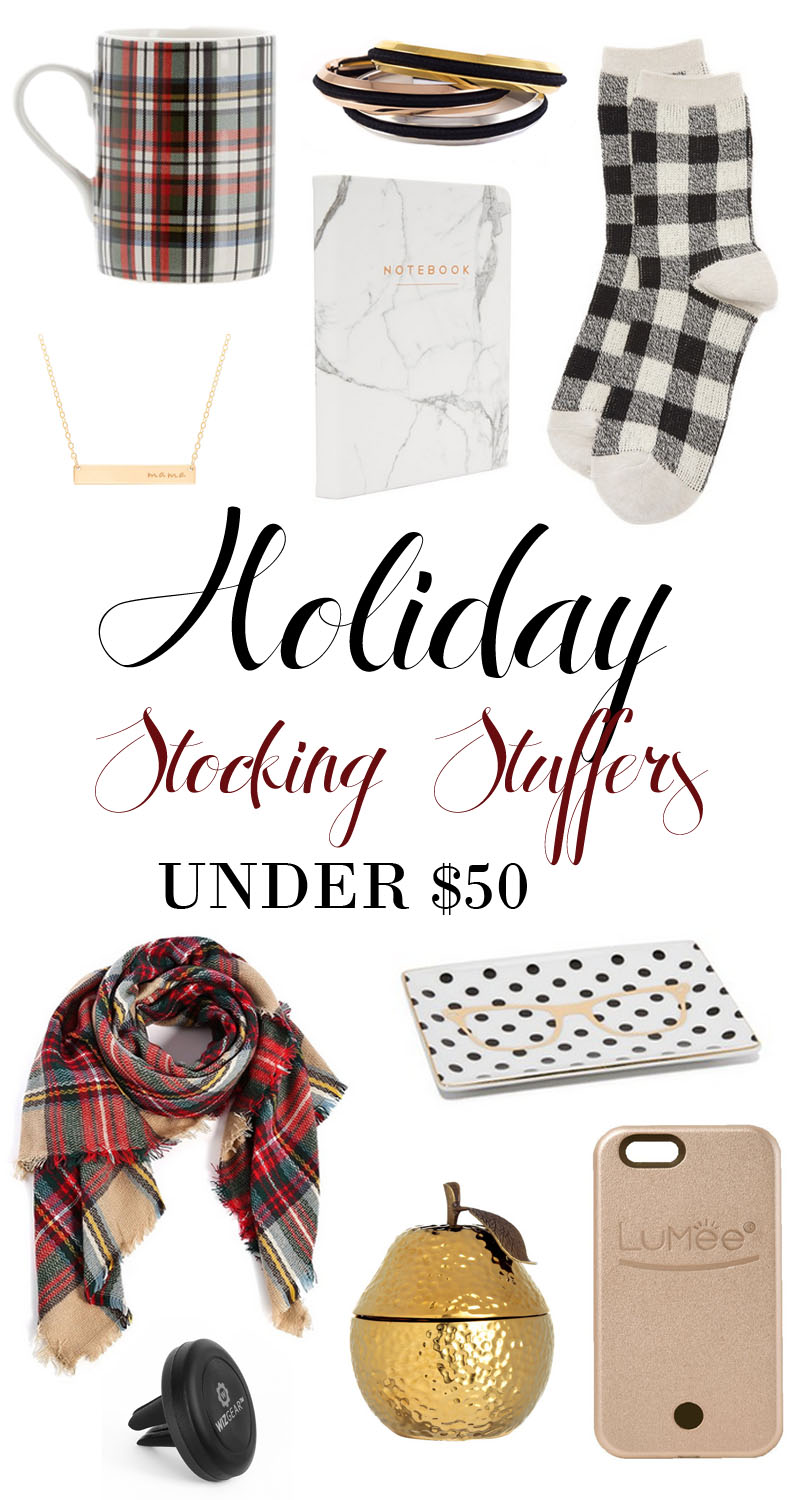 Have you finished your holiday shopping yet? It's so crazy that it's that time and Black Friday is coming up before we know it! I have a few gift guides planned for you guys, in case you are in the midst of shopping. This one is for Holiday Stocking Stuffers For Her – with everything being relatively small in size and under $50! Happy shopping!
Plaid mug – I feel like I can never have enough mugs in my house, although perhaps my husband might think differently. These are great for sipping hot cocoa by the warm and cozy fireplace while it's snowing outside, don't ya agree?
Hair tie bracelets – These grooved hair tie bracelets from Bela Bracelets are a genius and a half! If you are a constant hair tie bracelet wearer, then these are perfect for you! They will look cute on your wrist while totally being functional too! I love stacking all the different metals together.
Personalized Necklace – These Made by Mary necklaces are my fave. I own a few of them and they are such a great personalized gift to give for the holidays.
Marble notebook – Apparently I seem to be obsessed with all things marble right now, so this little notebook is perfect for capturing those new year's resolutions and goals.
Buffalo check socks – These are just adorable and the black and white would go with so many winter outfits, am I right?
Blanket scarf – If you don't already have like 10 of these, then you at least need to get one of them! They are the perfect way to keep warm and look cute. And yes, I already own like 10 of them.
Trinket tray – These little trays are pretty and functional, great for storing rings and small jewelry.
Magnetic phone holder for car – OK so this picture doesn't do it justice, but this is the BEST THING EVER that has happened to my car. It's a magnetic phone holder and is so great for hanging your keys on, resting your phone on while driving (it's the perfect spot for a GPS) and I think it's the most useful thing ever in my car.
Scented candle – I love the look and feel and smell of candles all over our house. I put them higher up so they are away from the kids, but it just makes your house feel like a home.
Selfie phone case – Ummmm have you ever been in a dark light situation and needed to take a selfie??? Well, this case has got you covered and it will change your selfie game forever. Seriously. And it comes in rose gold, holla.