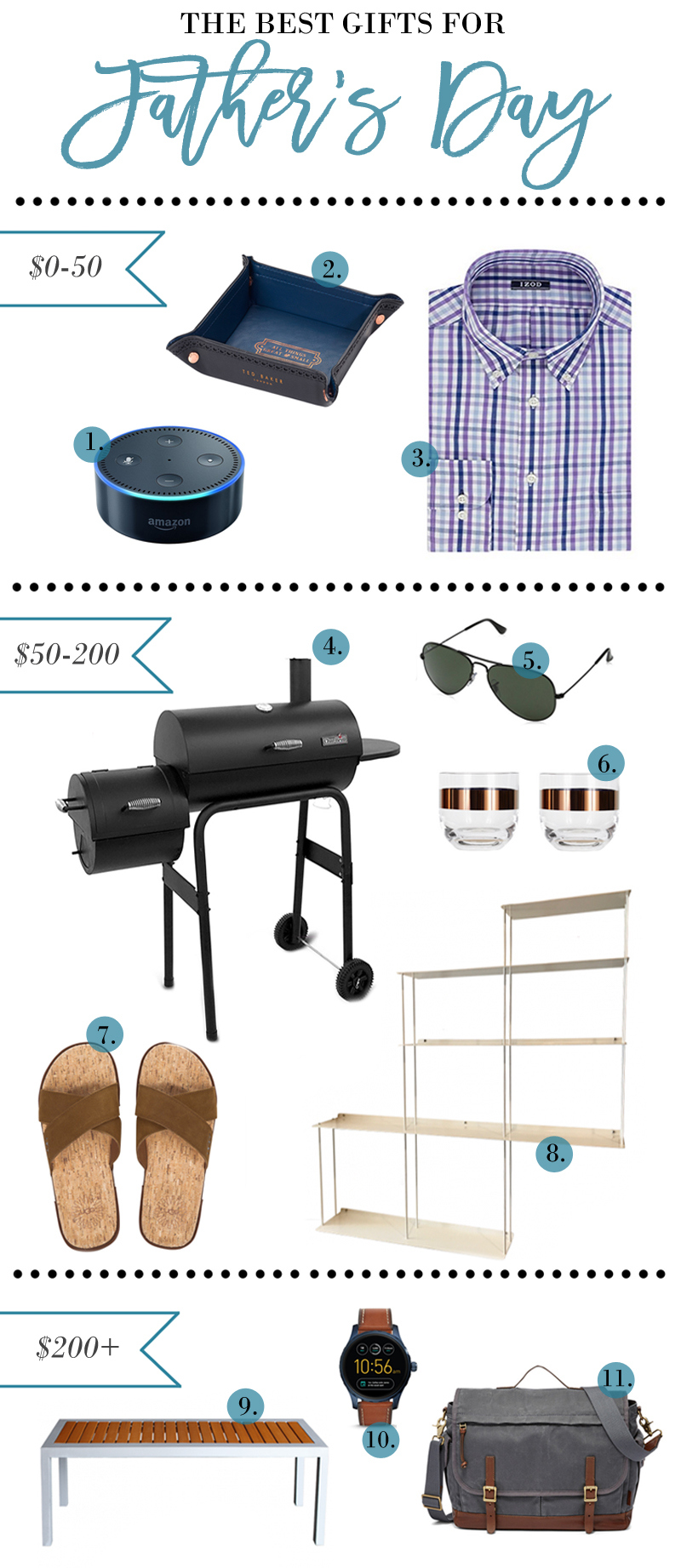 And just like that, Father's Day is less than 2 weeks away! June 18, 2017 to be exact! And then for us, my husband's birthday follows shortly after. So he gets spoiled with gifts all around this time. This year though, since we just bought a house, we've promised each other that we wouldn't spend a lot on gifts for each other, because our house is truly our gift this year! So in my search for Fathers Day gifts, I wanted to do more of a budget friendly Father's Day Gift Guide. Some of these items, my husband actually already owns, and some others I just thought would appeal to a wide variety of Dads!
1.
Echo Dot
– We actually just got this and the kids love talking to Alexa. She plays "Can't Stop The Feeling" on repeat all night while we are eating dinner because the kids request it. I think eventually my husband wants to make our house entirely "smart".
2.
Amara Men's Accessory Tray
– This is a great little tray for Dad's to store all their little accessories, ring, watch, wallet, etc.
3.
Plaid Buttondown Shirt
– When all else fails, I can just buy my husband a new button down shirt for work / casual and it's a pretty safe present!
4.
Char-Broil Smoker
– My man LOVES to grill, we own a grill and smoker already, so I know this is a great gift for Dad's!
5.
Aviator Sunglasses
– A man always needs a classic pair of shades for the Summer
6.
Tank Whiskey Glasses
– perfect styled glasses for a man and his whiskey,
7.
Cork Sandals
– These sandals look SUPER comfortable, are stylish and are great for any Dad that needs to rush out the door for daycare drop off. 😉
8.
Hanging Metal Shelf
– This shelf would go well in a garage or a man cave, to hold all the little collectibles guys have, or even just all of their DVDs and video games
9.
Wood Bench
– A great bench or furniture for sitting outdoors while they sip on beer and watch the kids run around in the backyard. Here are some other great
seating
options!
10.
Leather Smartwatch
– My husband owns this watch and loves it. It's sleek, it's smart, and looks great on him.
11.
Messenger Bag
– Let's face it, every guy needs a man bag, am I right? Because they usually don't really want to carry around your diaper bag… right?
Have you started shopping for Dad yet? What are some of your favorite Fathers Day gifts?
Save
Save