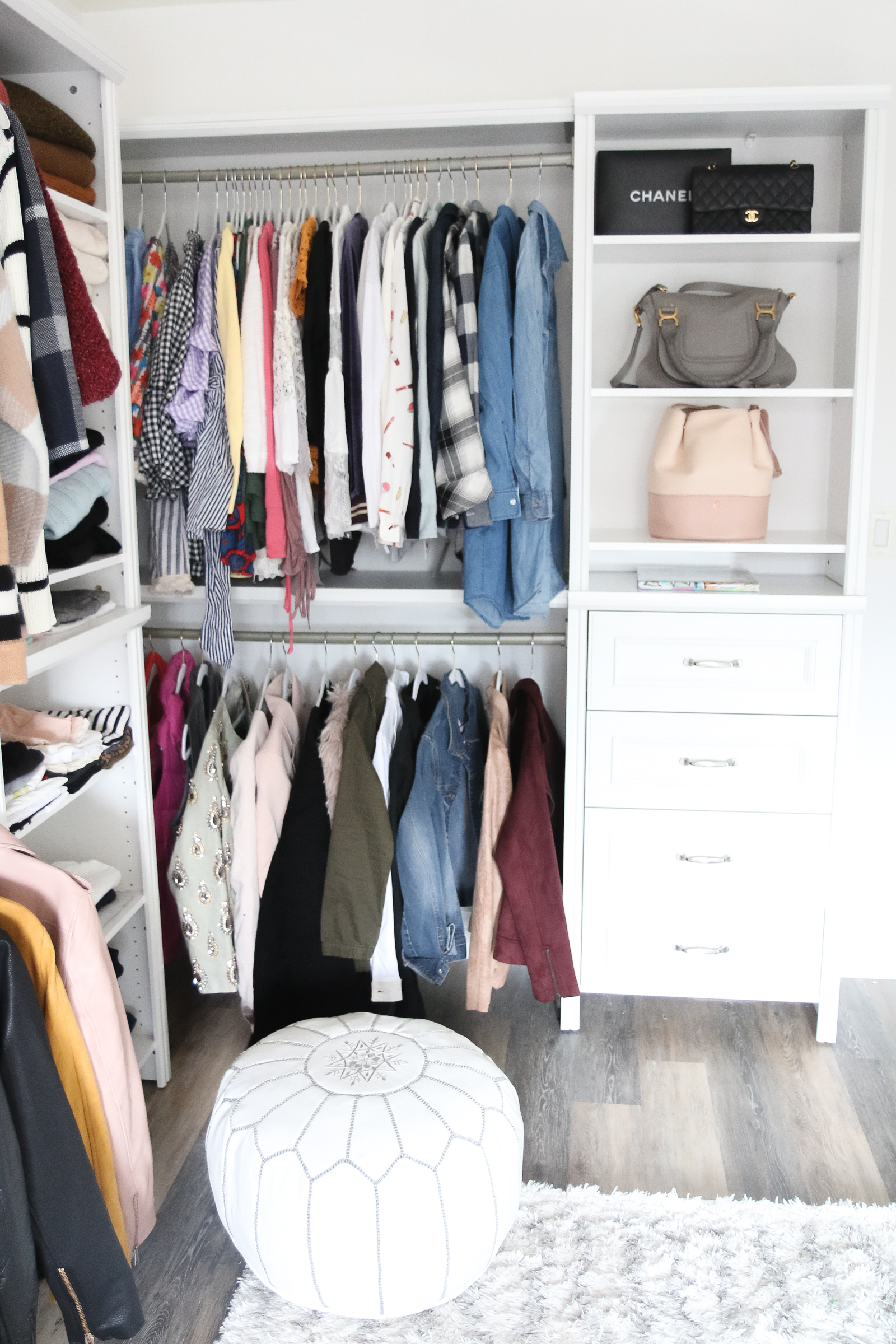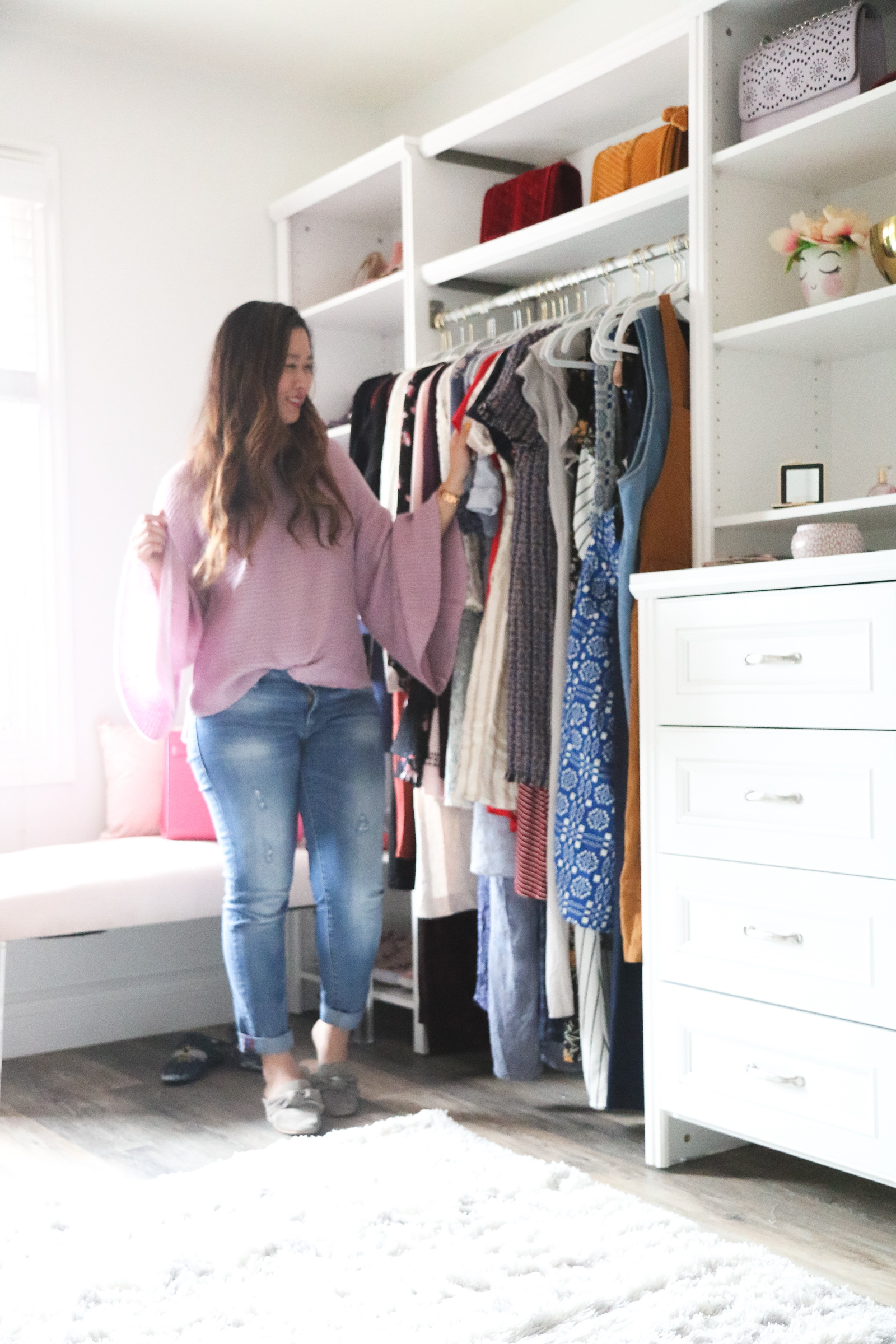 One of my life long dreams just came true, and I could just be about the happiest girl in the world. My initial phase of my closet / office room is complete!! I have to give the biggest thanks to ClosetMaid for making this happen and in this post, I plan to talk about the entire process from design to install to filling all the spaces in! Let me back up a little bit by explaining our room situation in our new house, but essentially, we live in ranch/rambler where there is a main floor and a basement. The main floor has 5 bedrooms, one of which is our master bedroom, 3 bedrooms, and 1 bedroom that could really be an office as well since it has french doors. However, the room with the french doors is at the entrance of the house and away from the other bedrooms and we actually decided to turn that one into the guest room. And then we turned the room right next to the master into this room right here that I am showing you – my closet/office room ideas! I have to admit, our master bedroom closet is rather small, and somehow has been with every house that we have lived in, say what!? I don't know how that happens, but it does! And as a fashion blogger, obviously, I have a million clothes so I need a big closet, I mean, don't we all!? Anyways, I convinced my husband to turn this room into a closet / office and I couldn't be happier! This is the only bedroom on the main floor that we decided to extend the luxury vinyl plank flooring instead of doing carpet as well.
Anyways, it took a bit of time for me to figure out how I would set up the room in terms of closet space vs. office space, especially with a window on a wall too. But after months of debate, I decided to put my closet on 2 walls of the room. It would be the main wall you look at when you walk in and overflow into the wall with the door. And once that was decided, I had to pick which closet system I wanted from ClosetMaid, which was another few weeks of internal debate! They have a variety of different styles and finishes, but the one thing I knew was that I wanted it to be white. I worked with one of their designers and decided on the ClosetMaid Impressions line.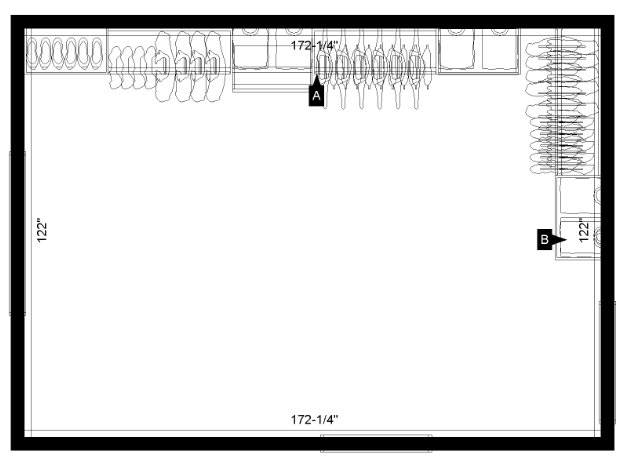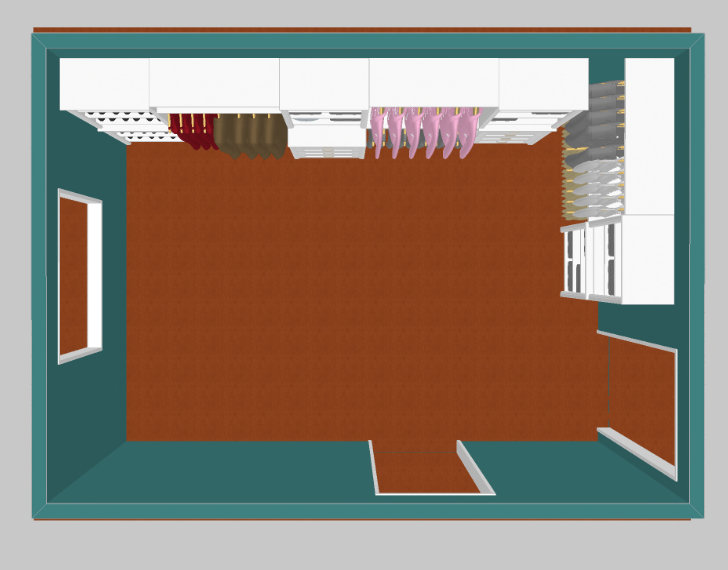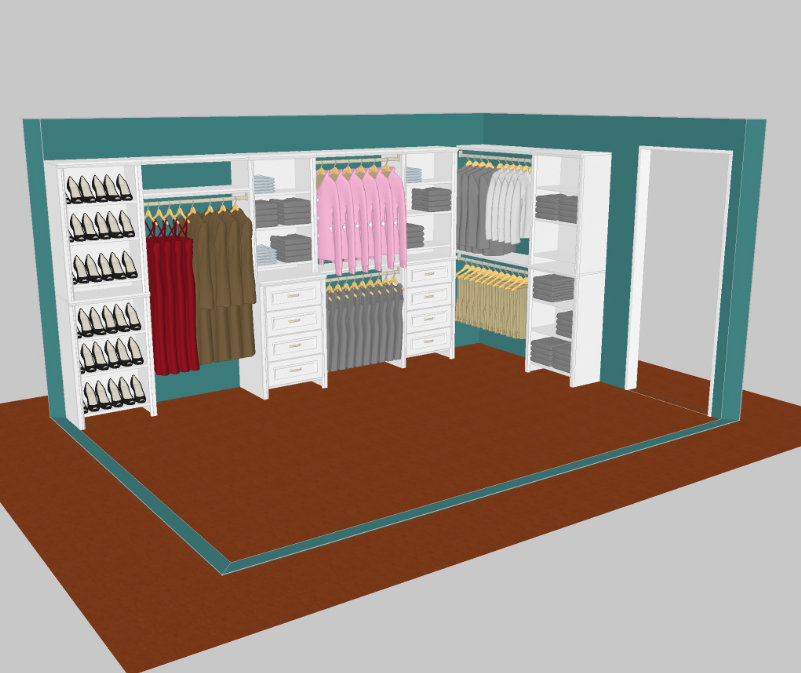 The next step was sending in my measurements to their designer. I am embarrassed to show you my sketch of the room, because I just rough drew it out on paper, but I measured the length, width, height of the room, as well as the clearance with the windows, walls and important outlets (there was one next to the door that I wanted to make sure the closet didn't cover). And then within a few days, they sent back the above few photos, which made me REALLY excited because I was seeing my dream closet come to life! They actually provided me with 2 different configurations, but the one here is the one I ended up deciding on! Once I approved the layout, then would be the waiting game. But it was only a few weeks later, that the delivery service called me to schedule the box drop offs as they wanted me to be home, and I am glad I was. I don't even know how many long boxes showed up on our driveway, but it was at least 20! I ended up storing them in my garage for awhile until I could figure out when my contractor and I could find time to work on building the closet!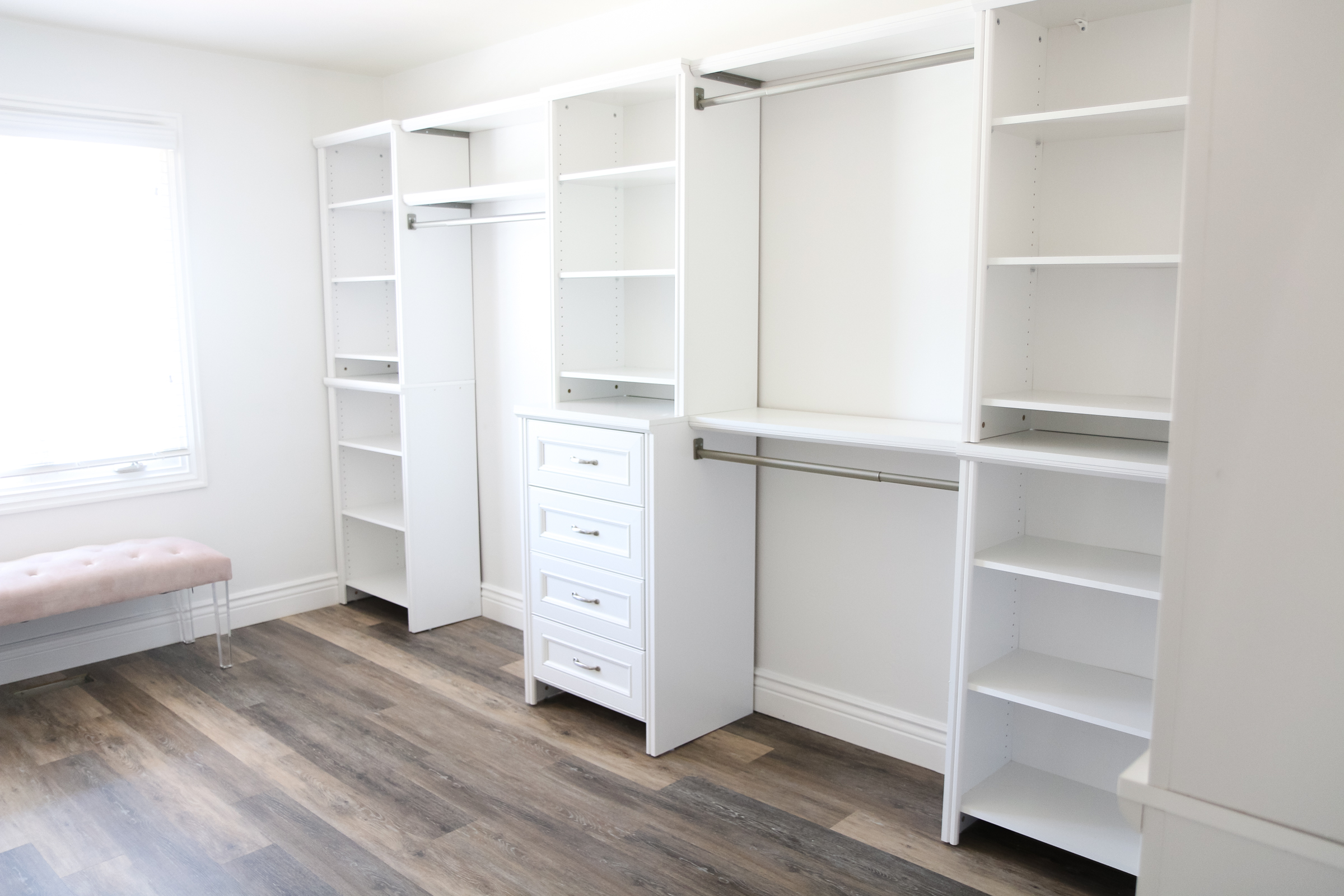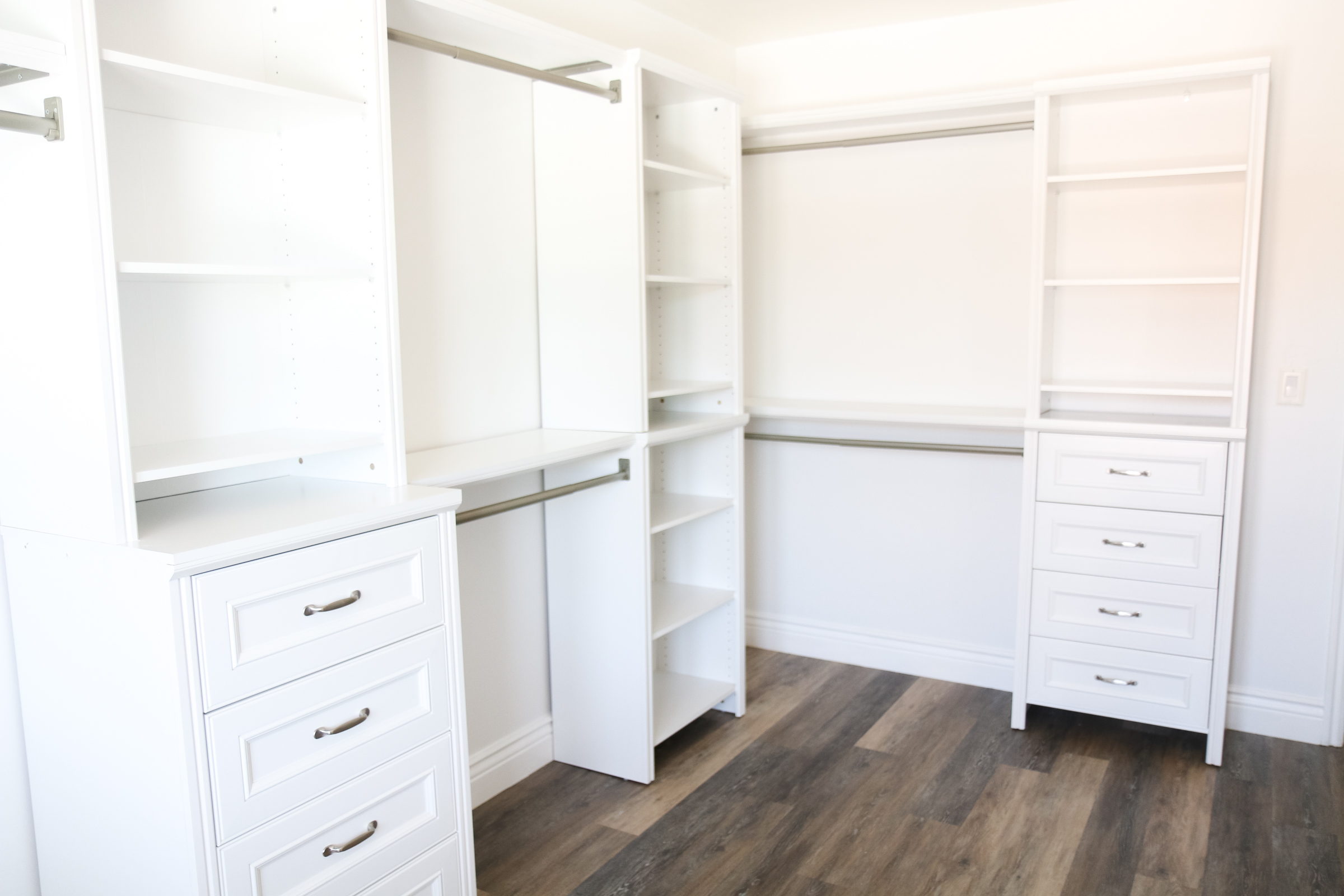 The way we went about building, is that we spent one Friday night, building up the units for the drawers and shelves. That took a few hours to do. And then the next 6 hours on another day were spent putting everything together in it's correct spot, building the drawers, putting in the rods and shelves (which are adjustable by the little holes on the side). All in all, the whole closet was not terribly bad to build (especially because I had help) and when it was all done, I seriously could not stop smiling!!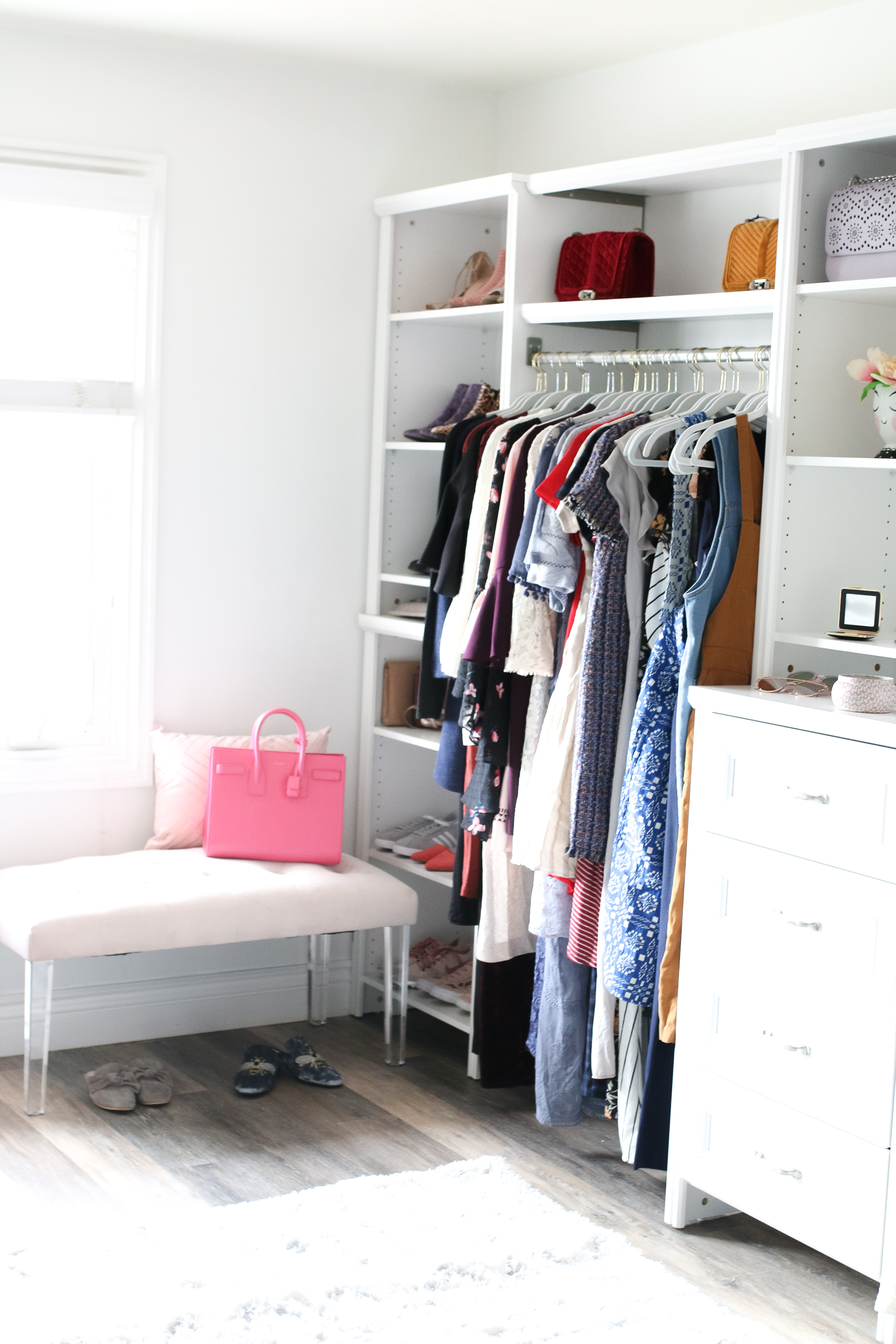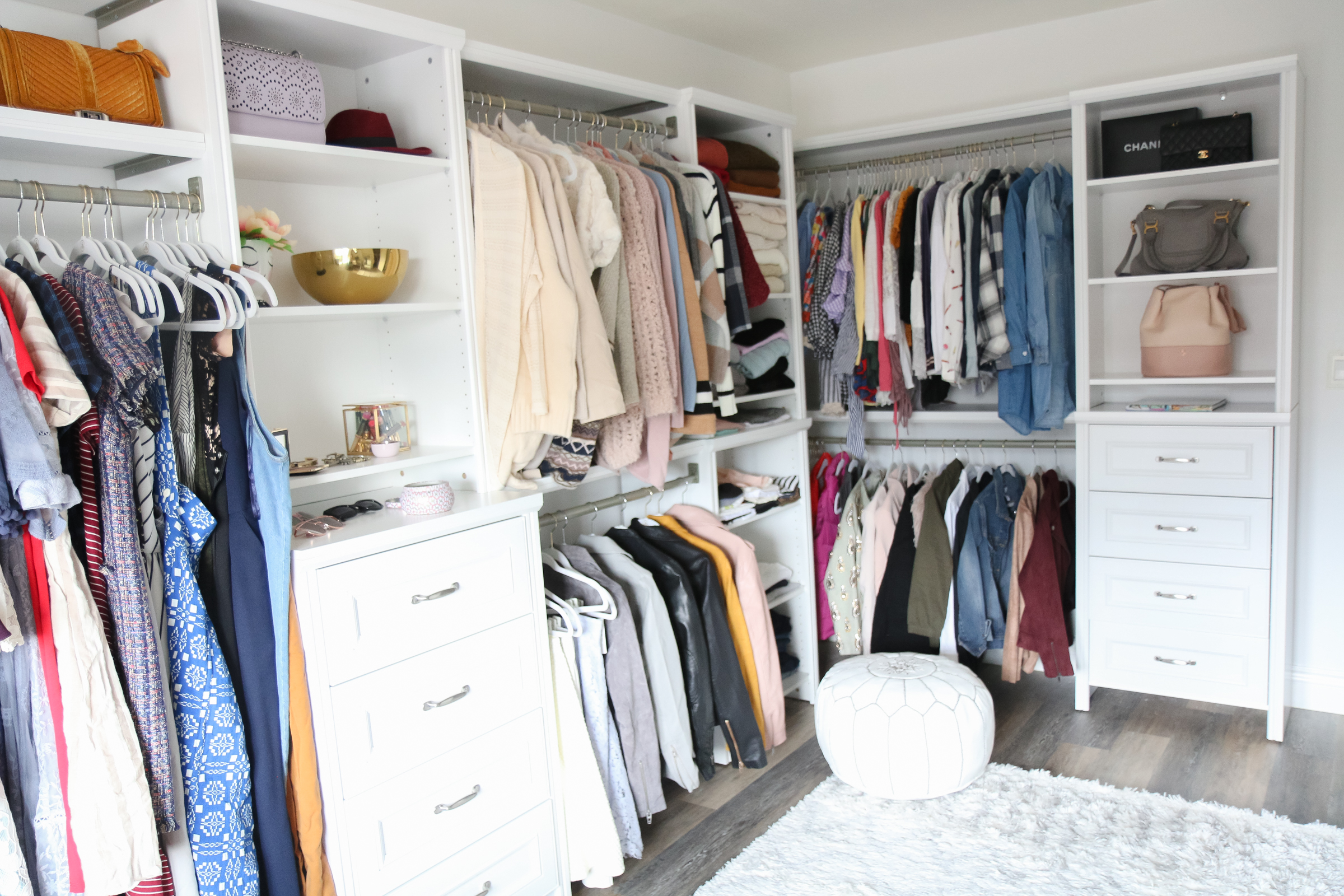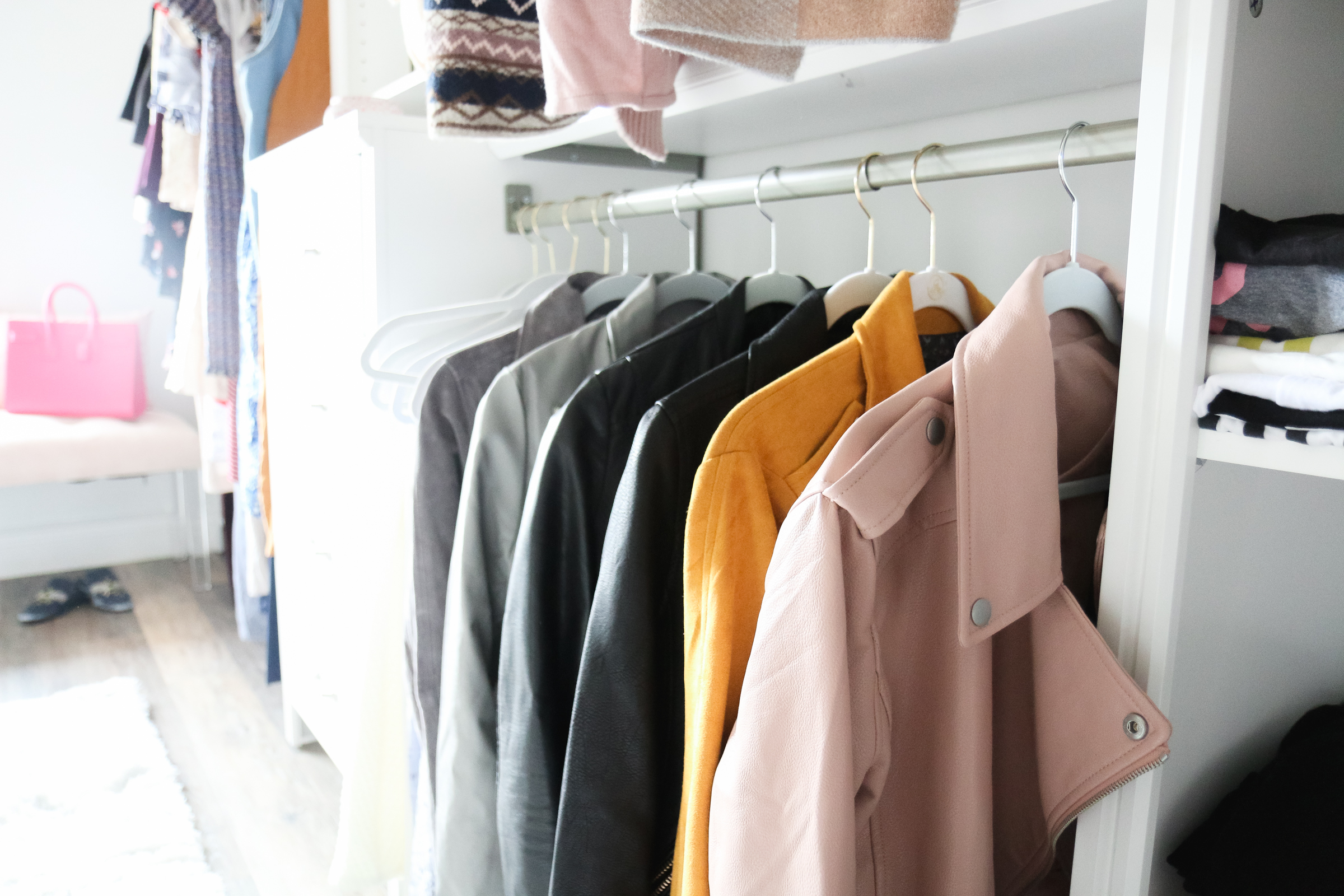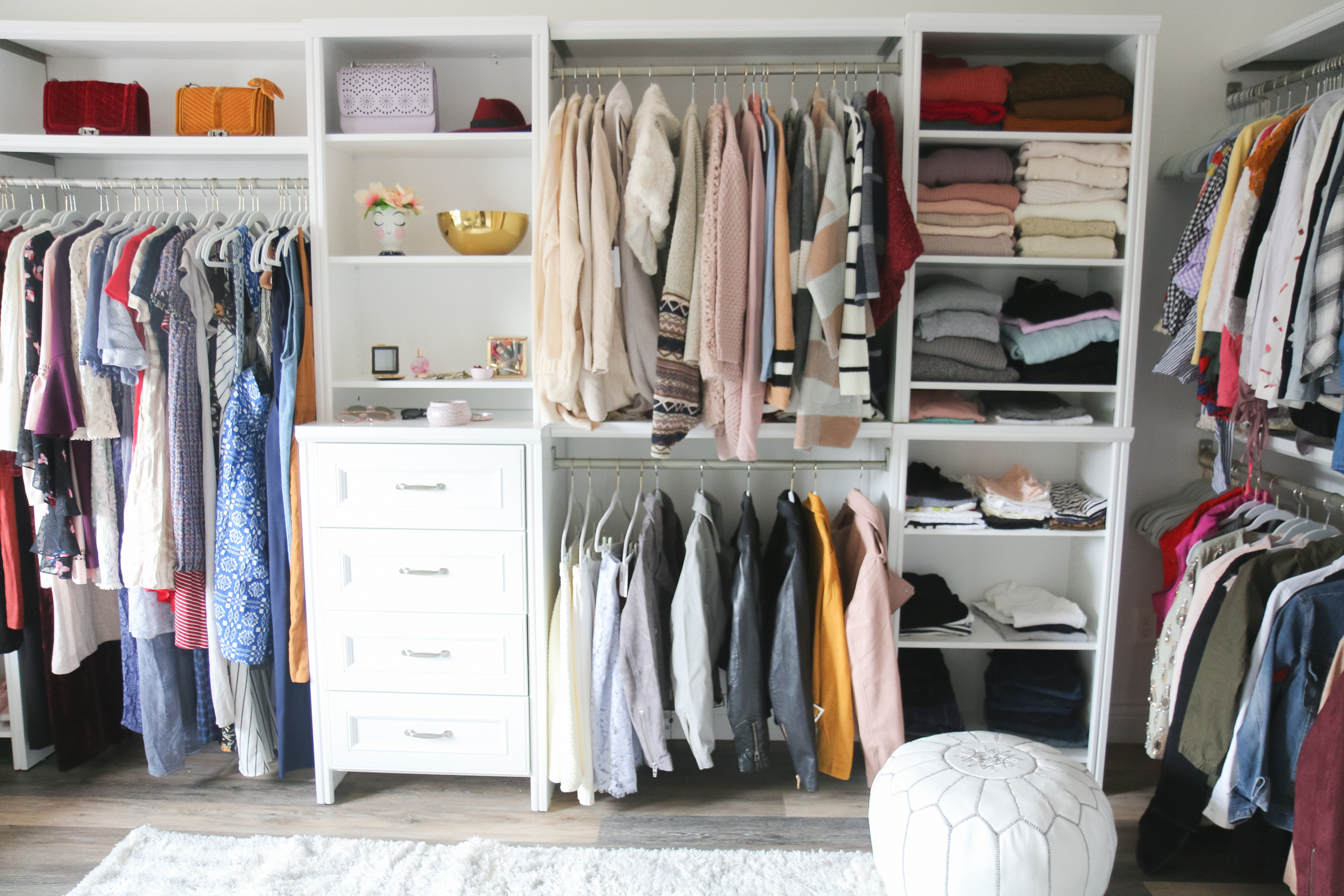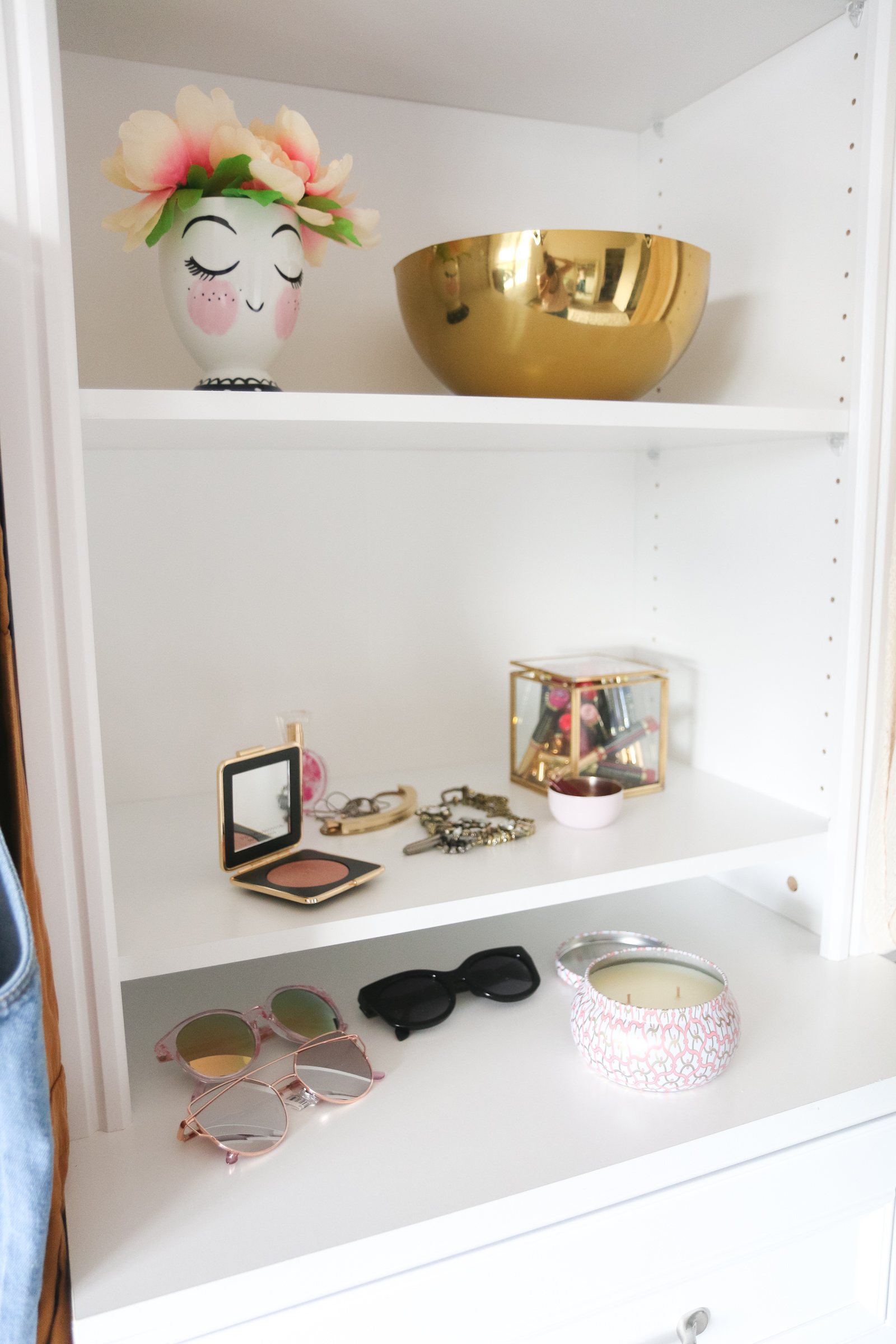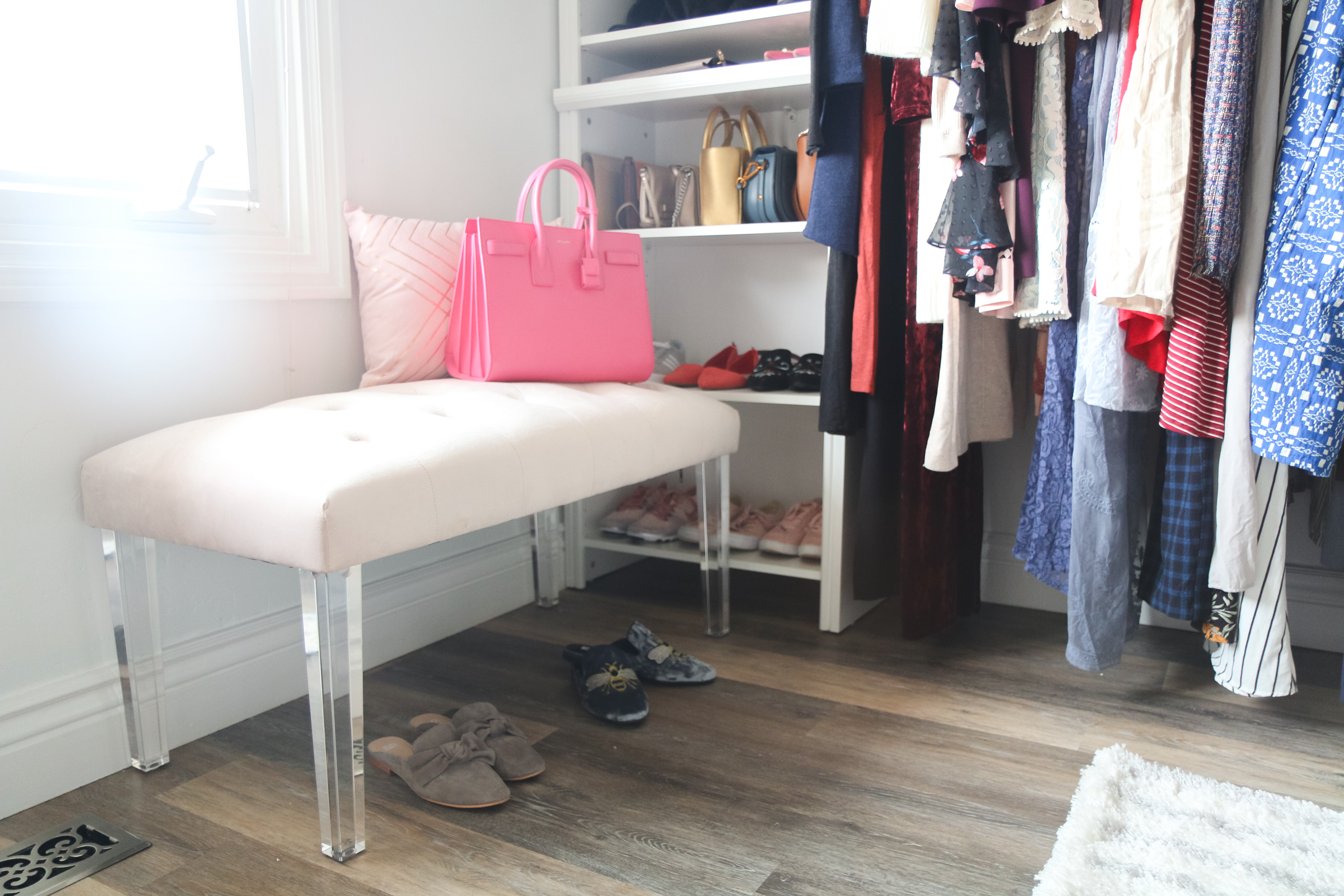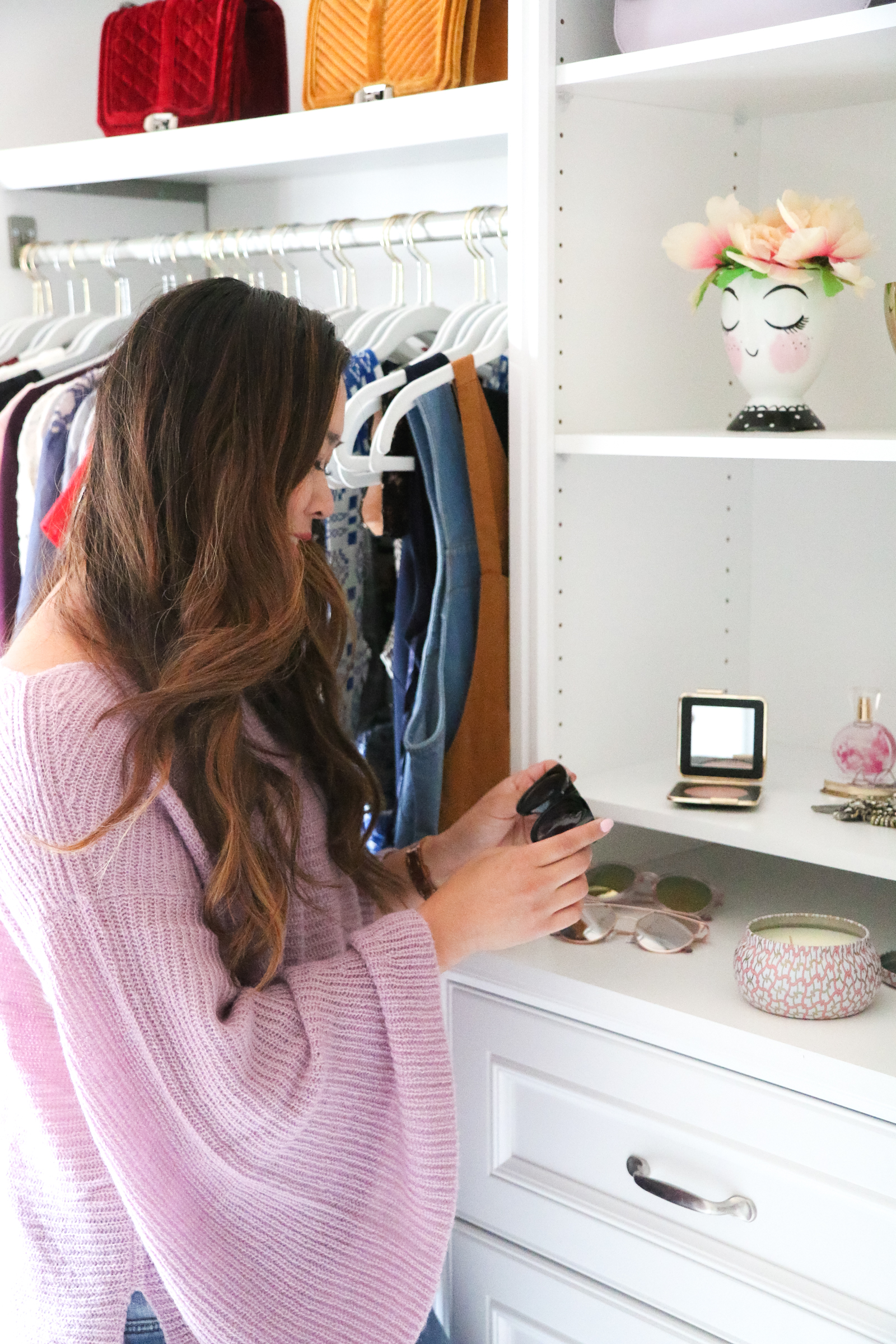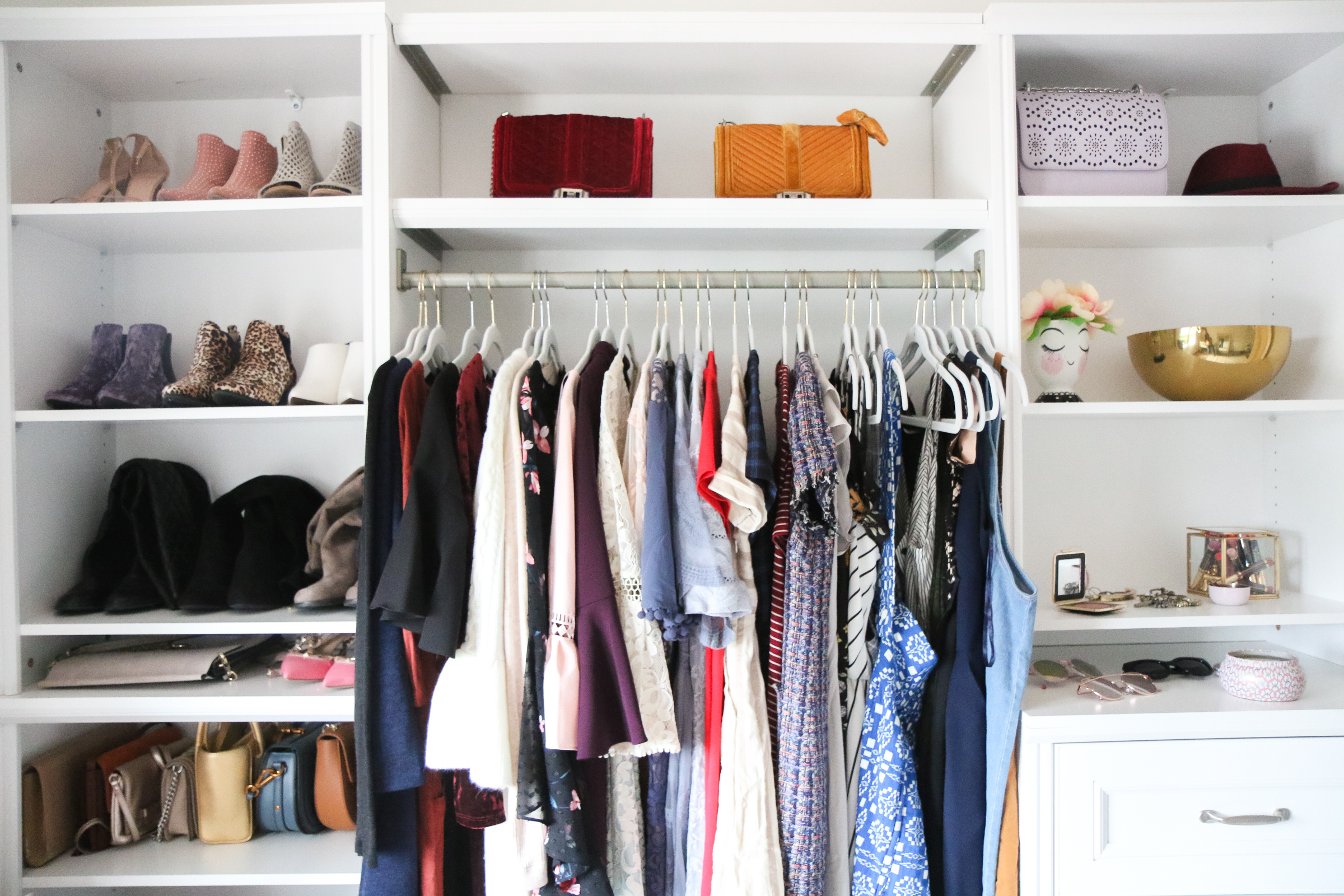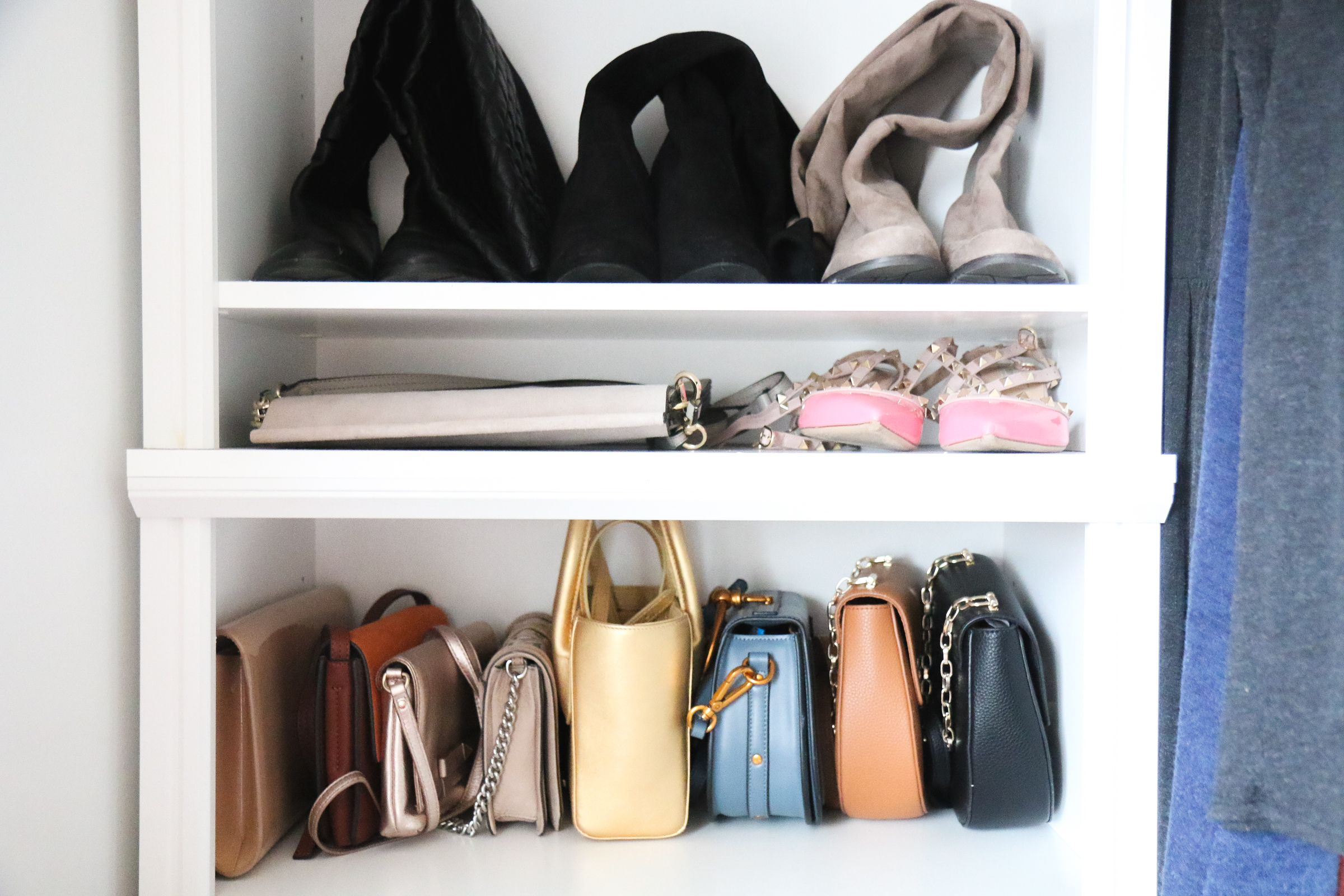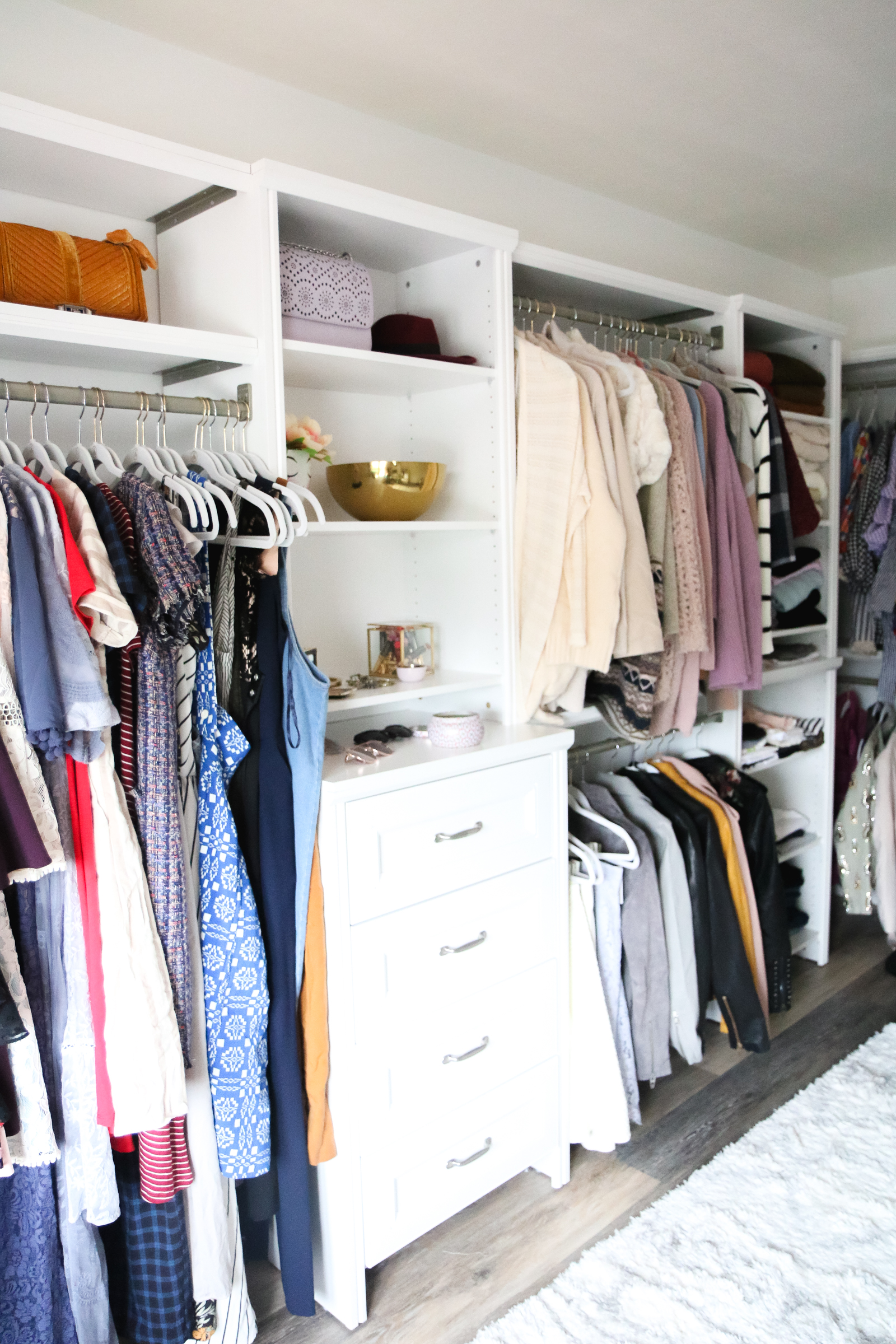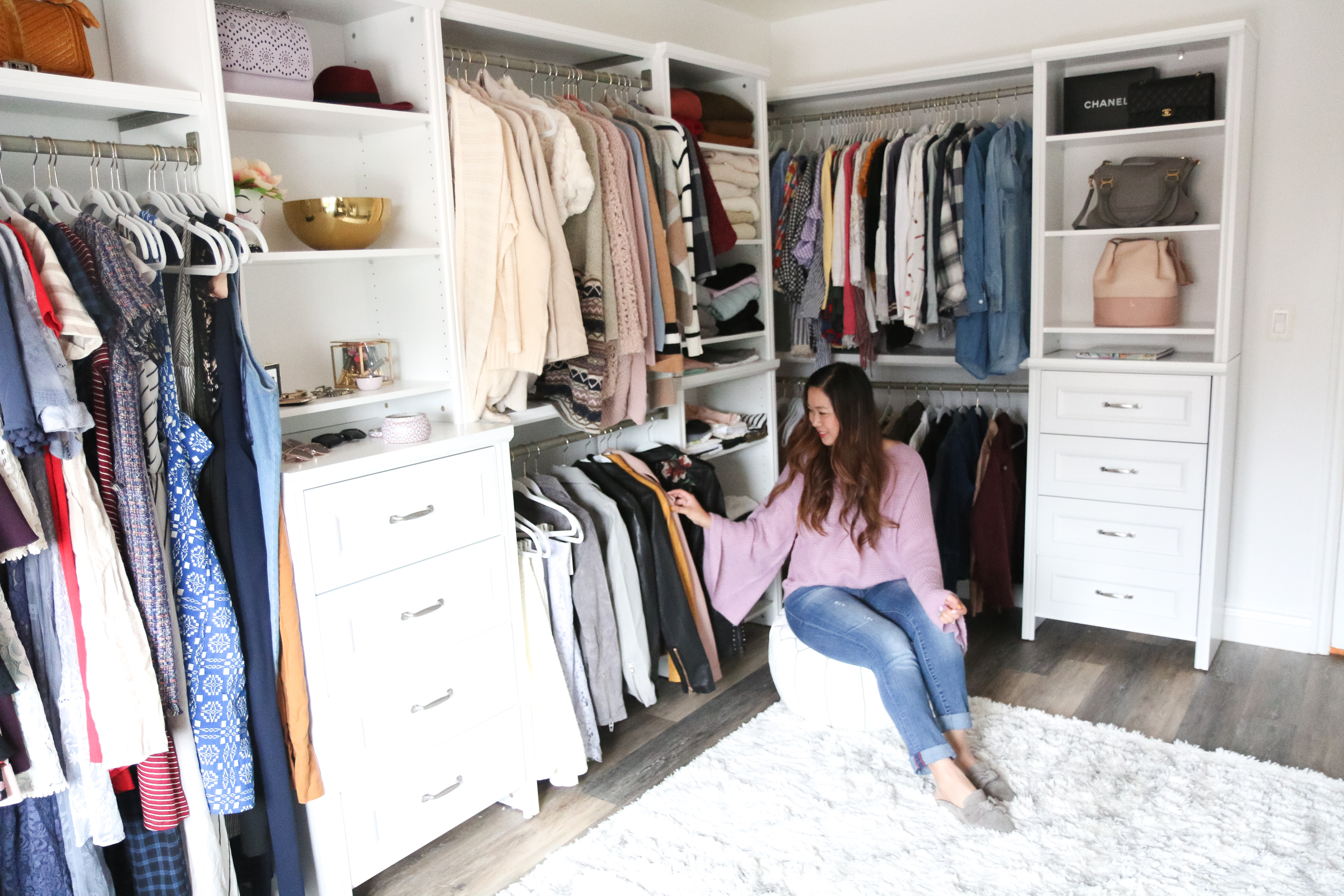 Next, trying to brainstorm about where to put different things was the next task to tackle. My friend Jill of Hot Pink Style helped me out yet again (I love this girl and she has the best organization tips) in trying to decide where to put everything. I knew that I wanted a mix of function, yet style, and I just wanted it to look pretty. 🙂 Obviously, we hung up dresses and jumpsuits on the tall hanging bar, shirts, jackets, cardigans, skirts on the shorter hanging bars. We decided to fold tees, sweaters, and pants. Inside the hutch and cabinet drawers, I have my intimates, socks, tights, leggings, etc. (the things that you don't really want on display ha). And then on the open shelves, we filled it with my favorite purses, shoes, jewelry, makeup and anything pretty and girly! And then lastly, we bought up a neutral rug that I used to have in Austin's room in our old house, and it was the perfect size and pattern!
Then on the other side of the wall from my closet, is my little office space. I work from home for my full-time Healthcare IT consulting job, as well as blogging, so having a little desk space for my computers is perfect. And then next to it, I have the perfect large gold fashion blogger mirror so I can try on clothes, take selfies and make sure my outfits are cute enough before leaving the house! 🙂
Again, all of this is a first look, and I actually do have a few more items I need to fill the space and room, but for now, I AM SO HAPPY! And as I fill it up more, I will for sure be sharing with you all! Thanks again to ClosetMaid for helping me with this project. Impressions in the white finish is available to purchase only online on HomeDepot.com.
Shop decor:
Shop my outfit:
Shop my fave handbags:
Save
Save