Because Mother's Day is fast approaching, I know that means a lot of you will want to get in on the Mommy and me twinning action (if you haven't already)! I constantly get questions on where I find our matching clothes and sometimes it's because stores sell matching sets, but a lot of times it's just finding pieces from adult and kid's stores that end up matching very closely! But when a store has a matching set, that makes it that much easier! And I wanted to share that this week, Elegantees is coming out with The Riley Dress in 3 different striped Mommy and me colors (ours is the Black/White set).
The Mommy dress is selling for $58, the girls dress for $38, but if you buy them as a bundle it's only $78 – which is like 20% off (this bundle promo is only good April 22-28)! BUT, even better, I have a coupon code "sandyalamode" which will give you an extra 15% off!! This makes the Mommy and me set come out to around $66.30, which is only like $8 more than the Mommy dress alone!! Even if you just want the dress, but don't have a daughter to wear it, you could gift that dress to your niece, a friend's daughter, etc.! ALSO, can't beat FREE SHIPPING, returns and exchanges!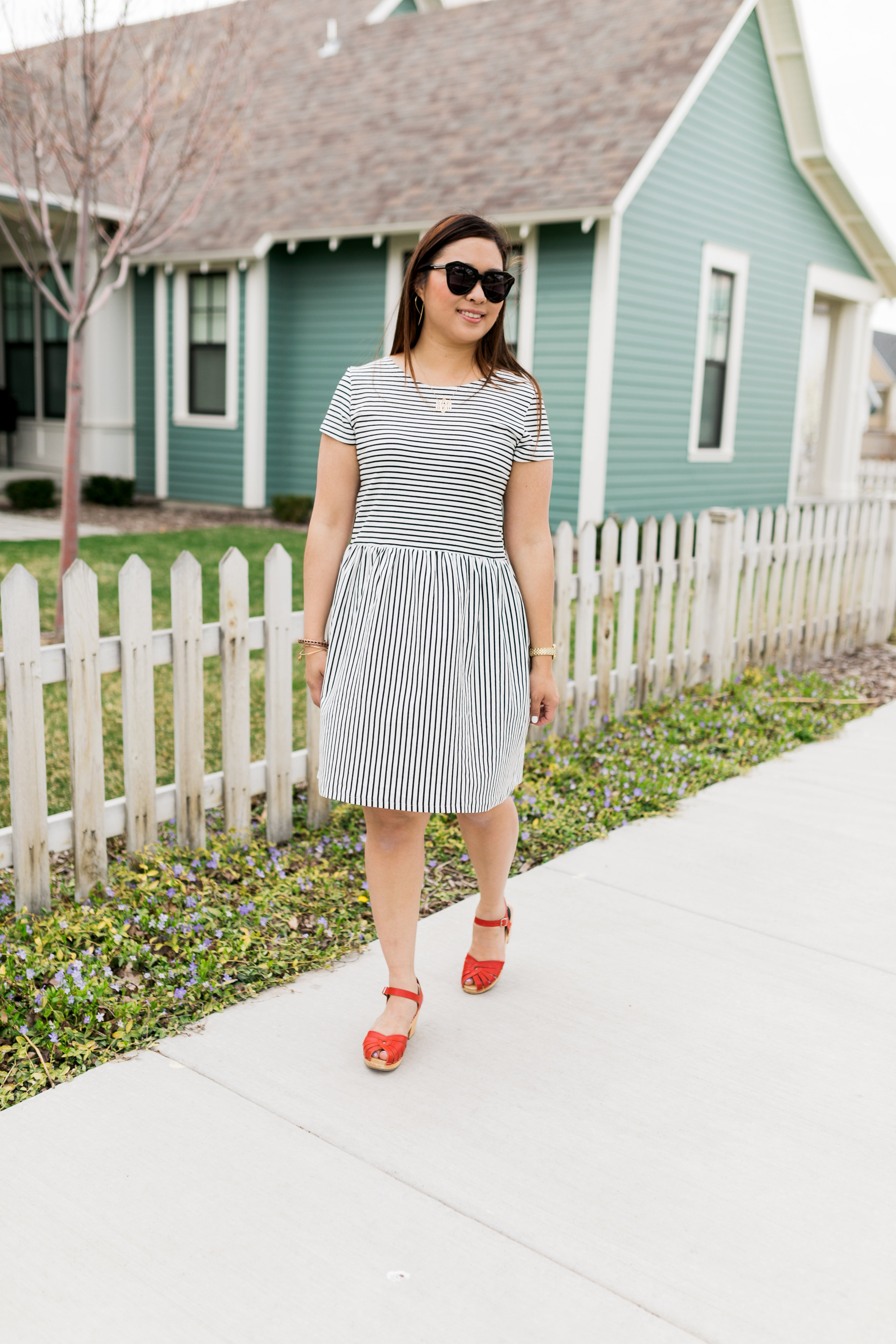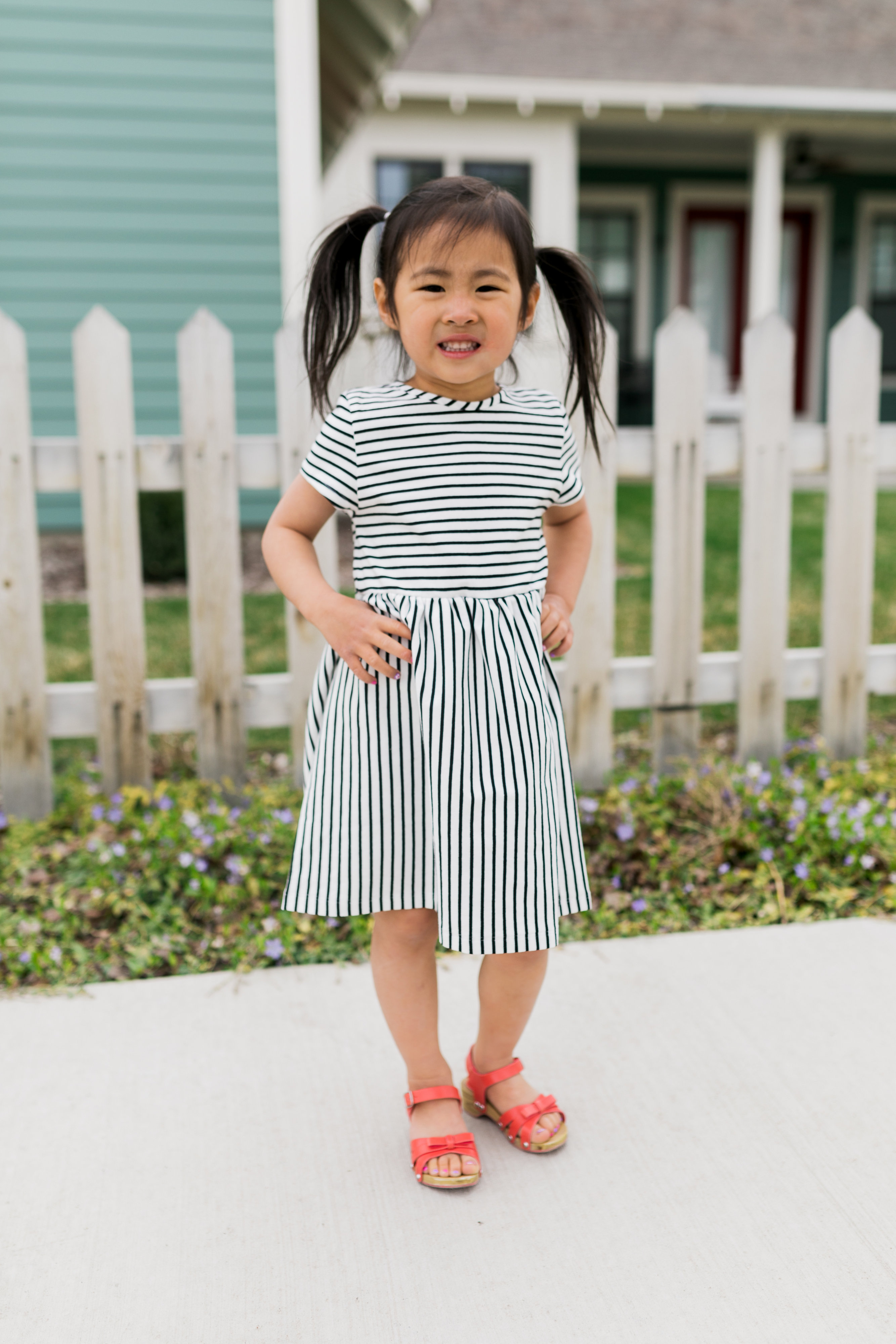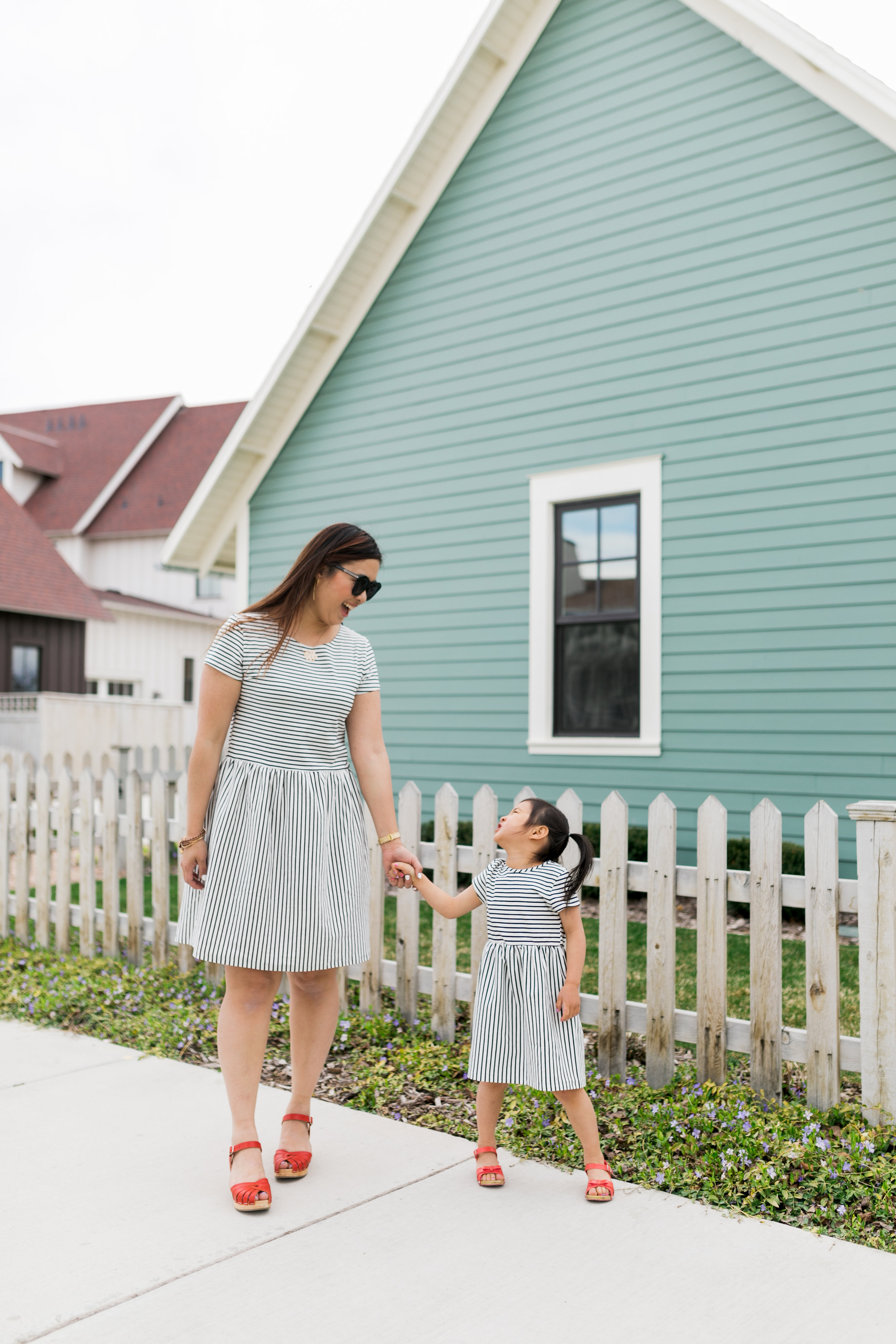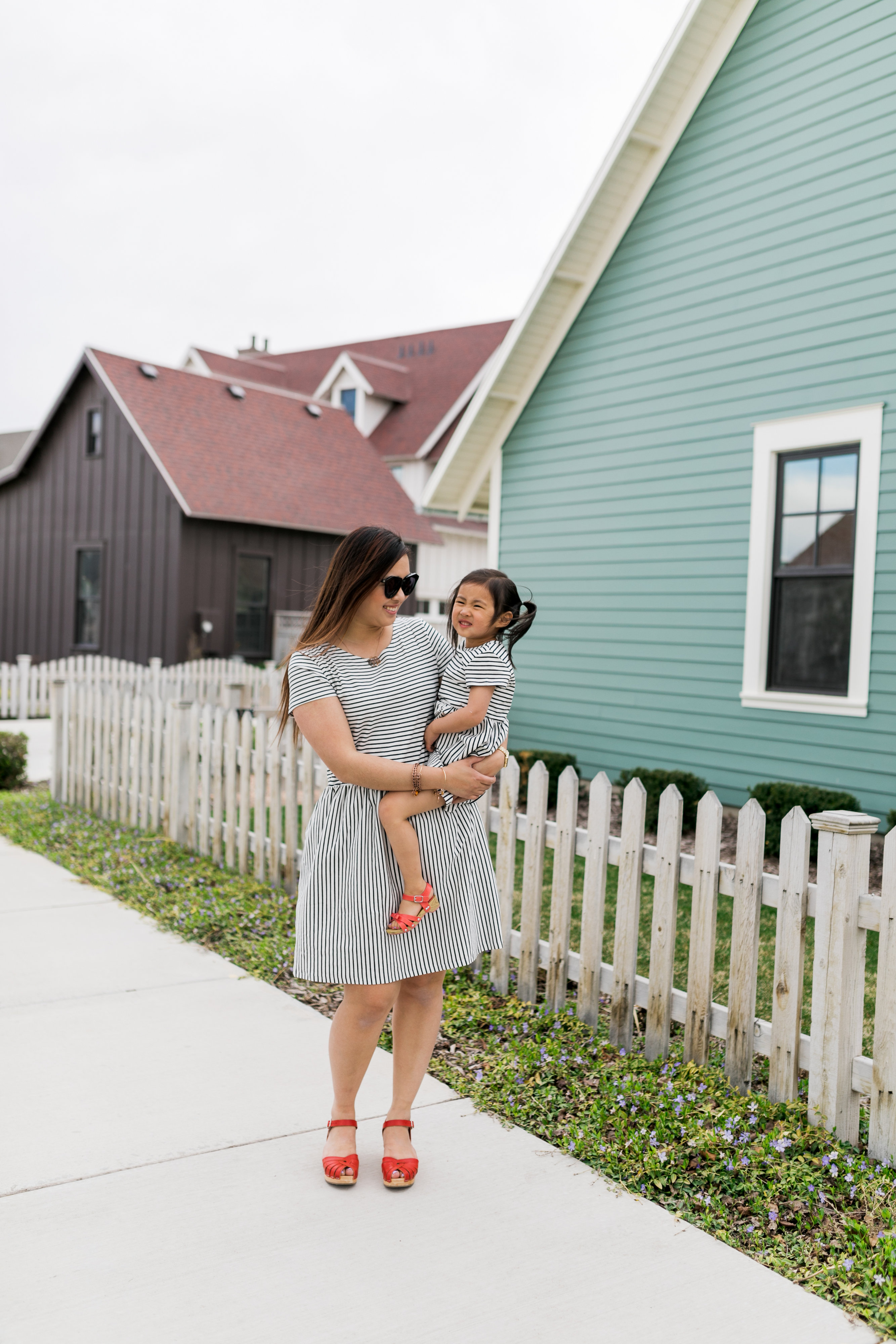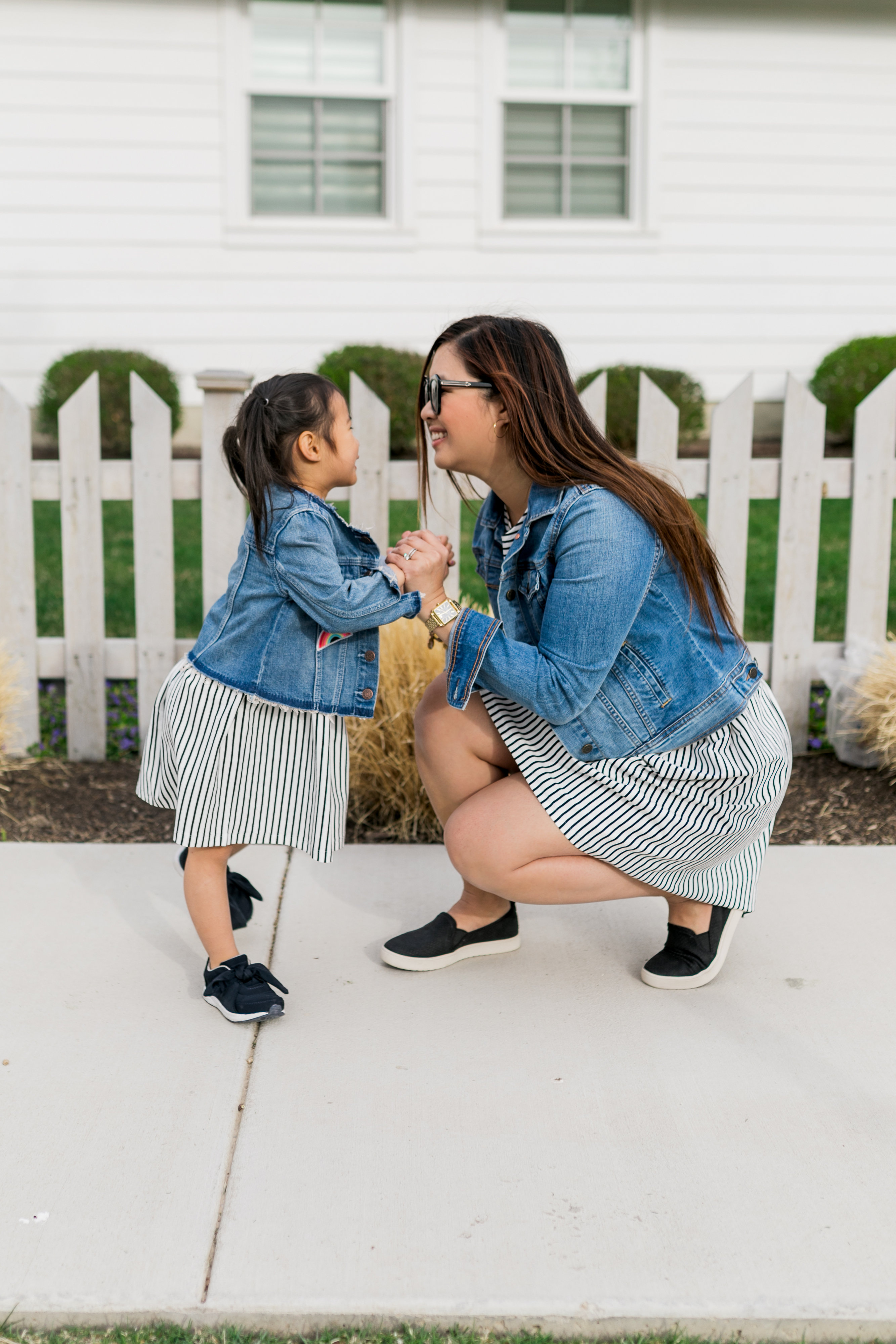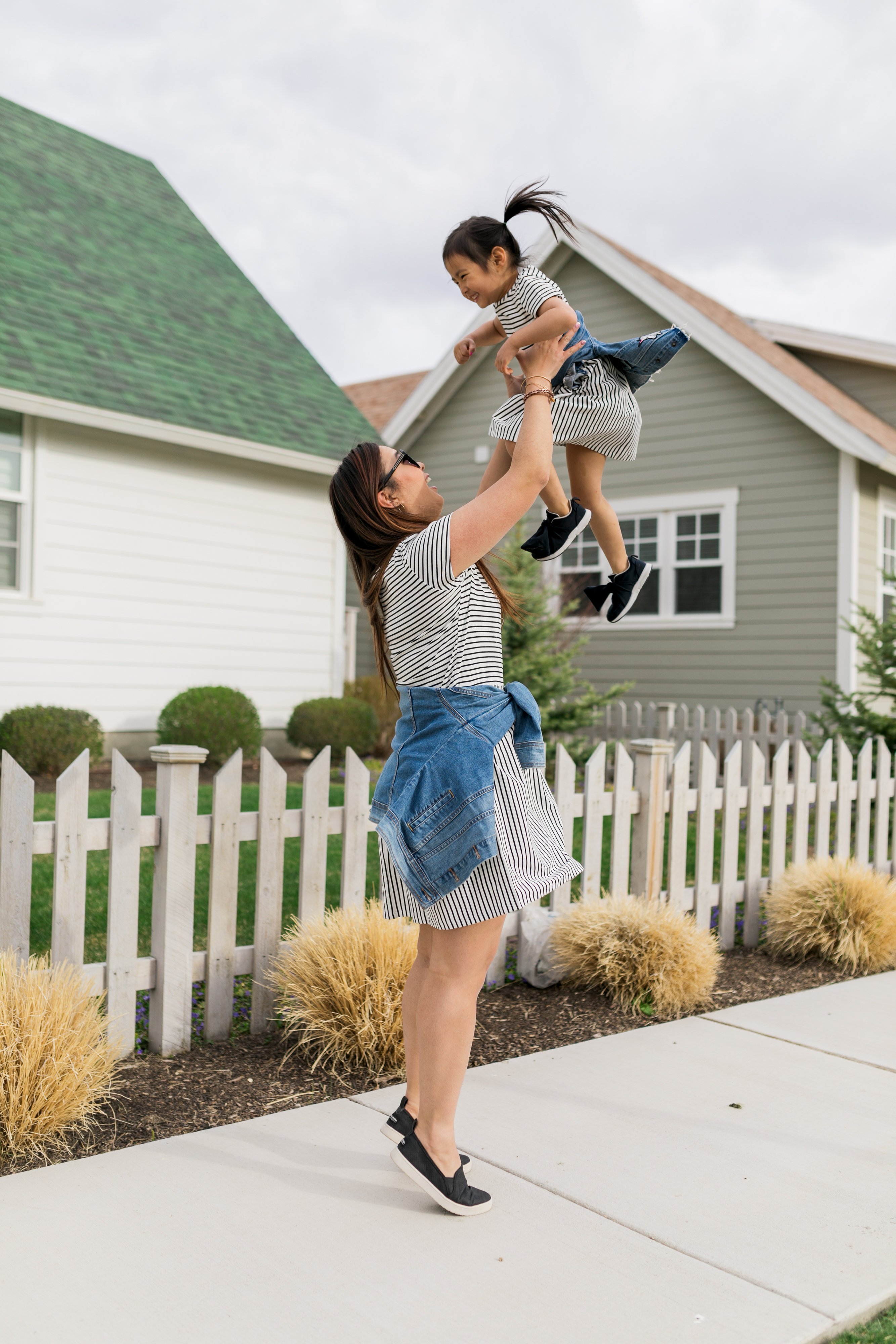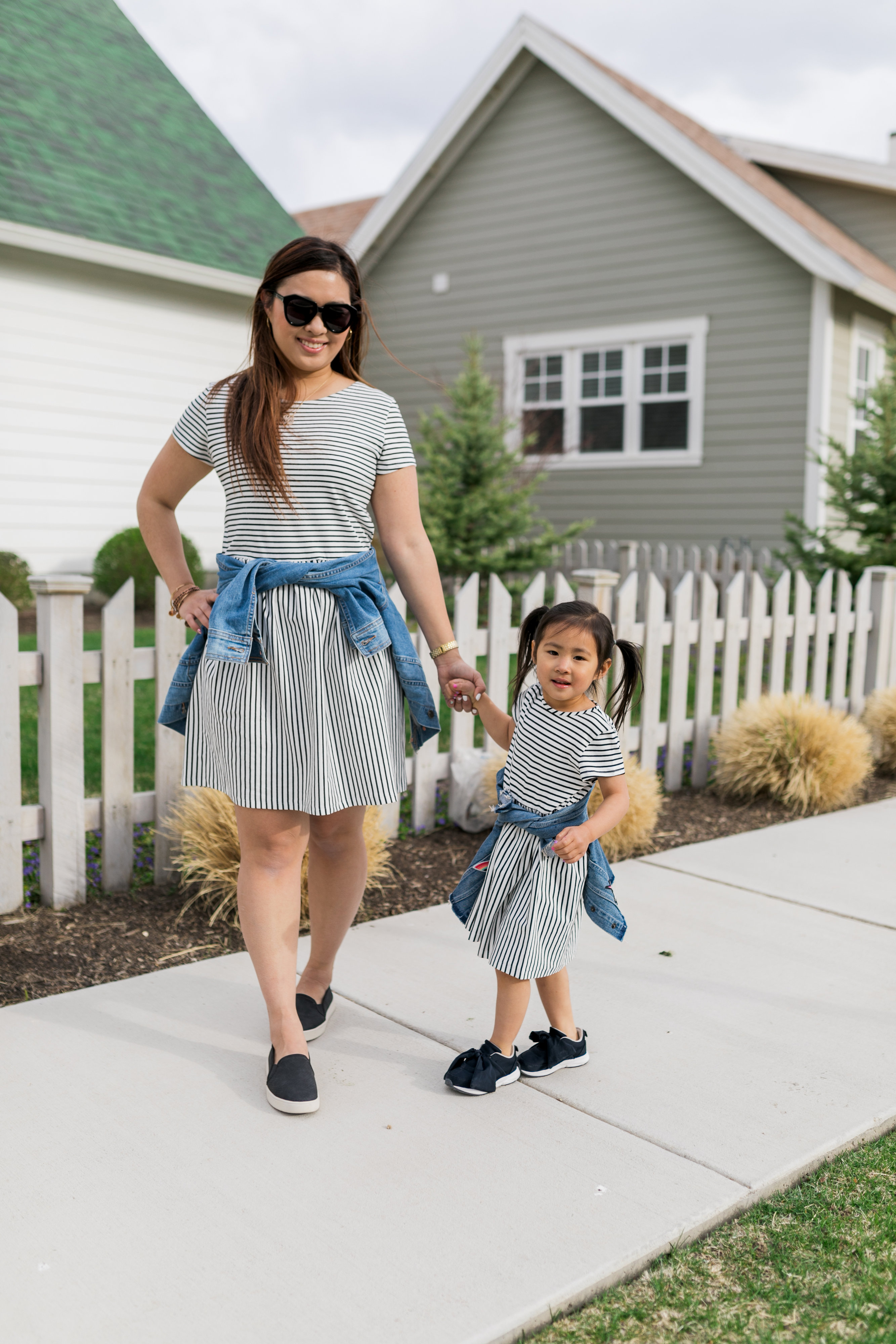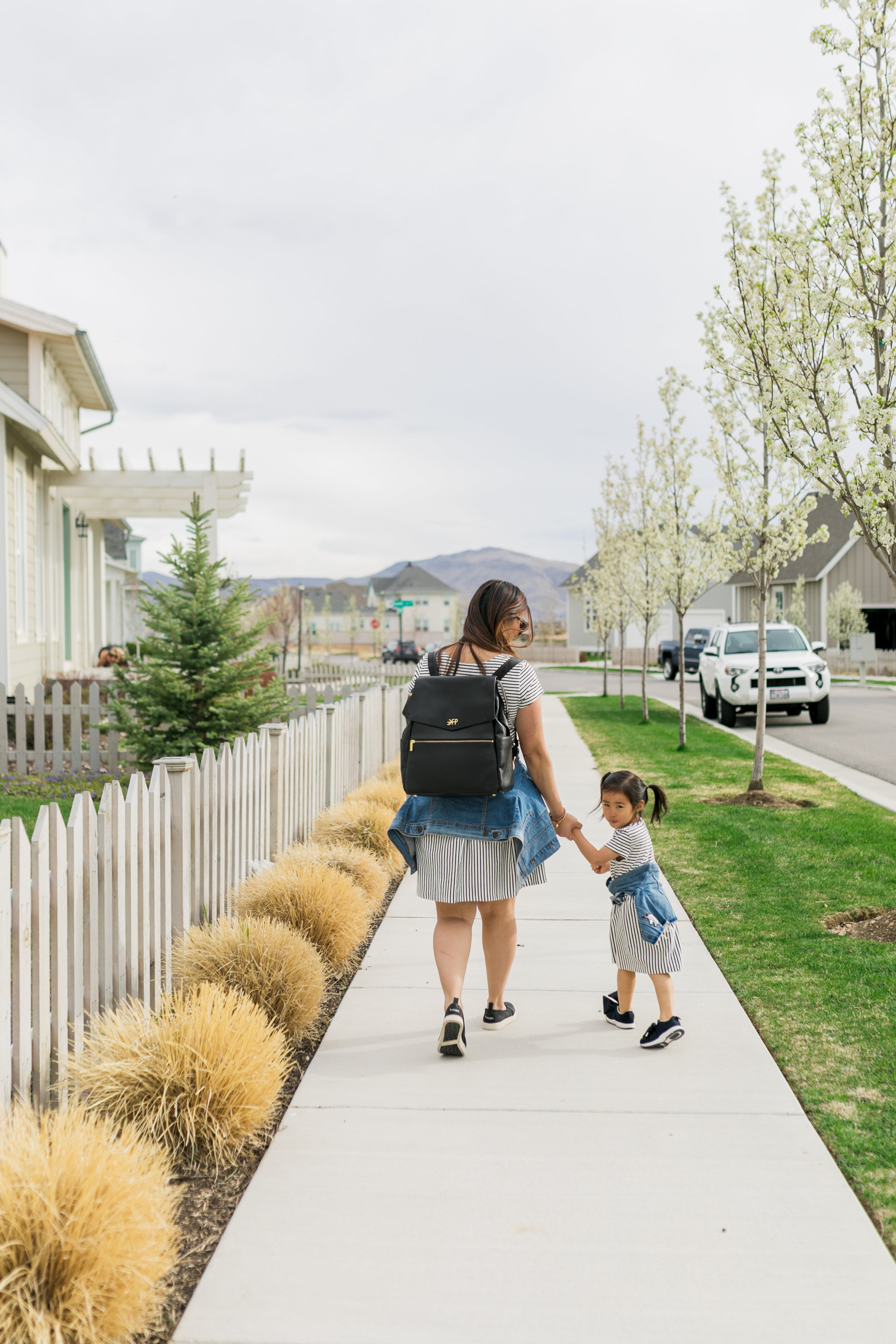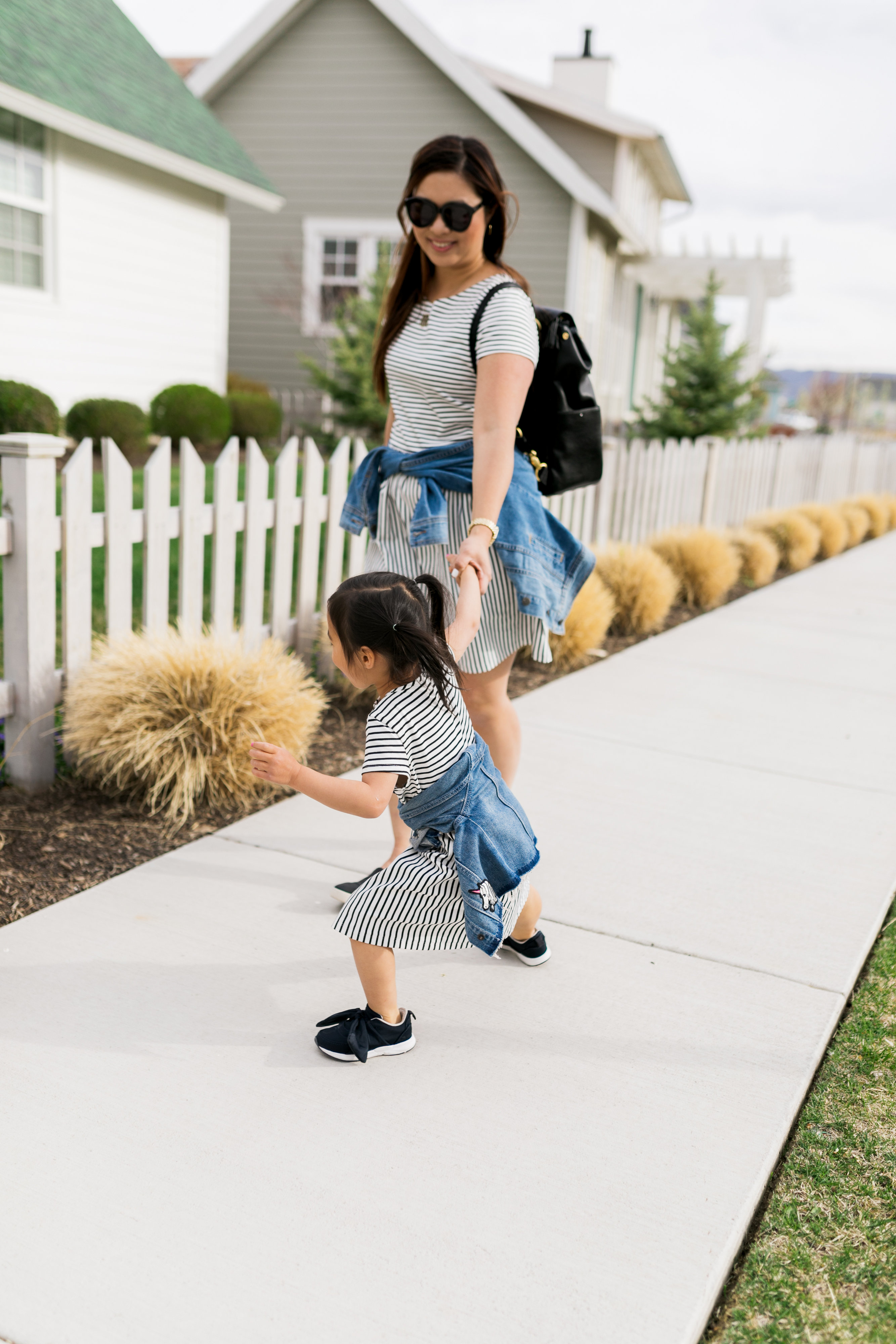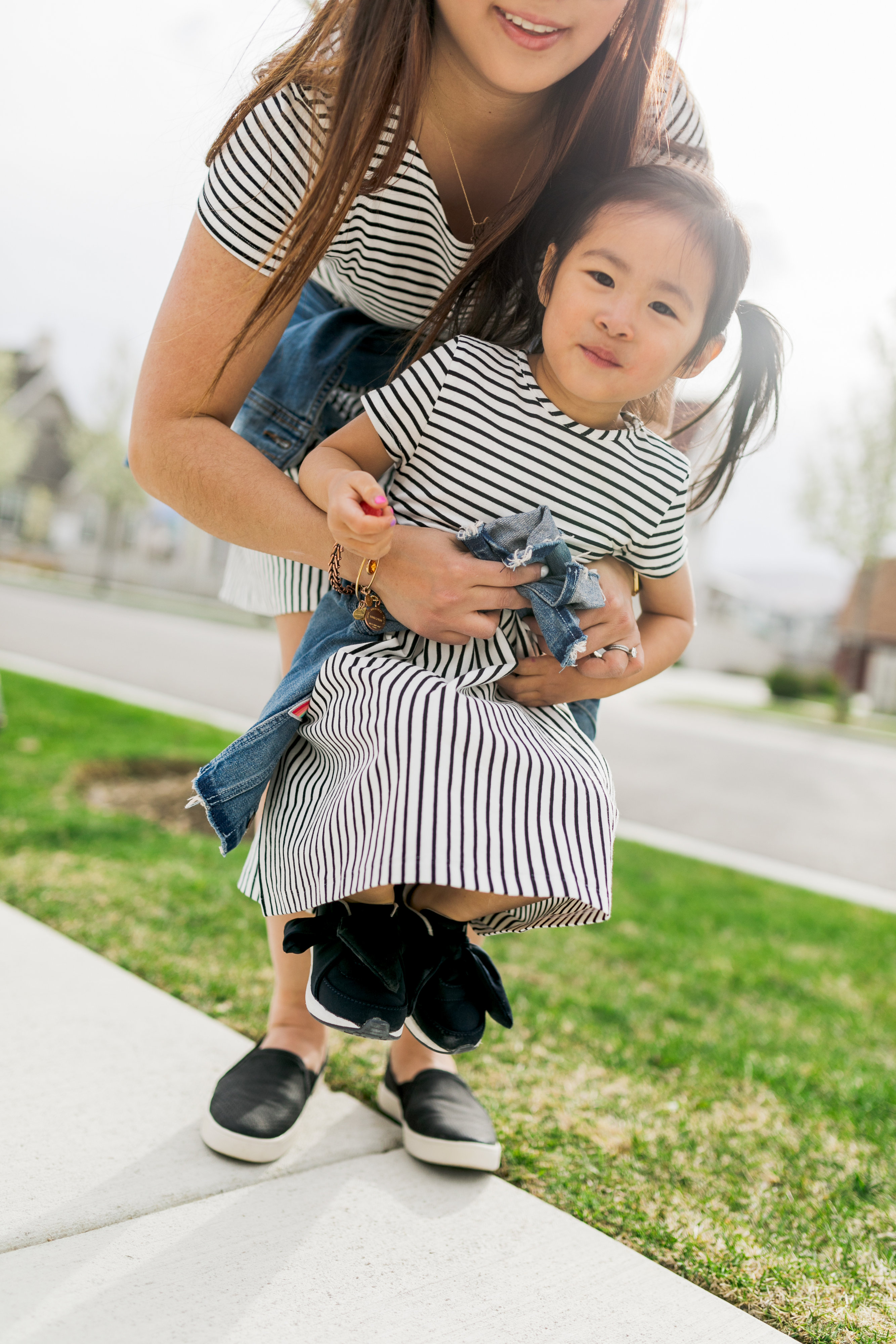 This dress is such a versatile striped dress and I love that the pattern is horizontal on top and vertical on bottom! Vertical stripes on bottom are slimming ya know? Also, I wanted to show two ways to style this dress, where it can be dressed up with fun red clogs or dressed down with black sneakers and a denim jacket! I am wearing the adult dress is size Medium and Vivian is wearing a 4T. I definitely think the dresses run TTS.
Shop my outfit details:
Shop Vivian's outfit details: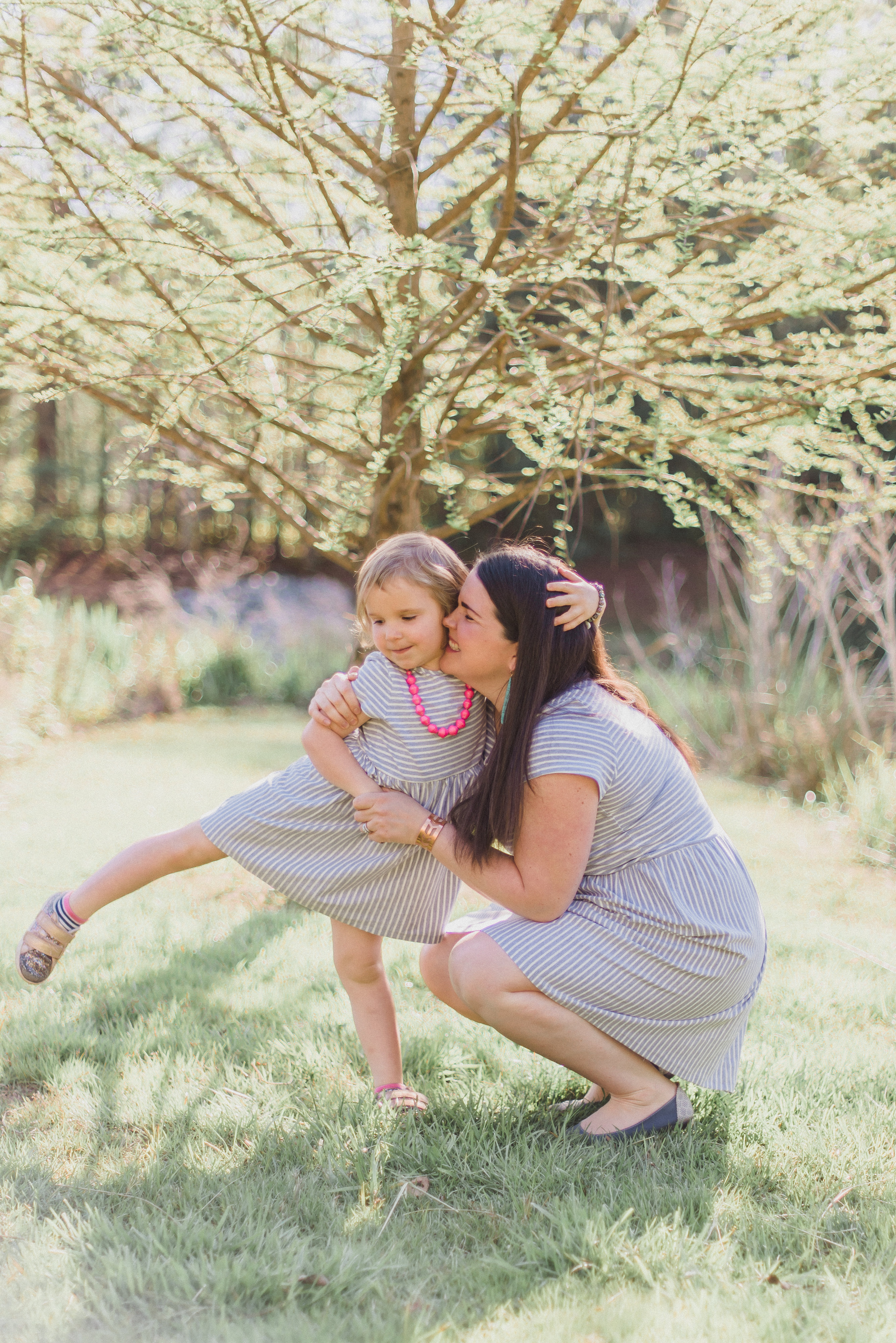 Also, my good friend Molly of Still Being Molly and her little girl are styling the grey/white Mommy and me Riley dress too, SO STINKING CUTE, right!?
But the best part of purchasing from Elegantees is the cause and women you are supporting. Nepal is a country with limited economic opportunity – so it ranks high for sex trafficking. Elegantees helps by providing meaningful sewing jobs to recovering women. As they transition from a safehouse to the sewing center, they live a life free from being trafficked again. The sewing center is not only a workplace, but it's one big family too. Some women who are working there never experienced their parents' love, but they are loved with a confidence that restores lives.
If there is anything you see on Elegantees, you can take 15% off your order with code "sandyalamode" this week only!