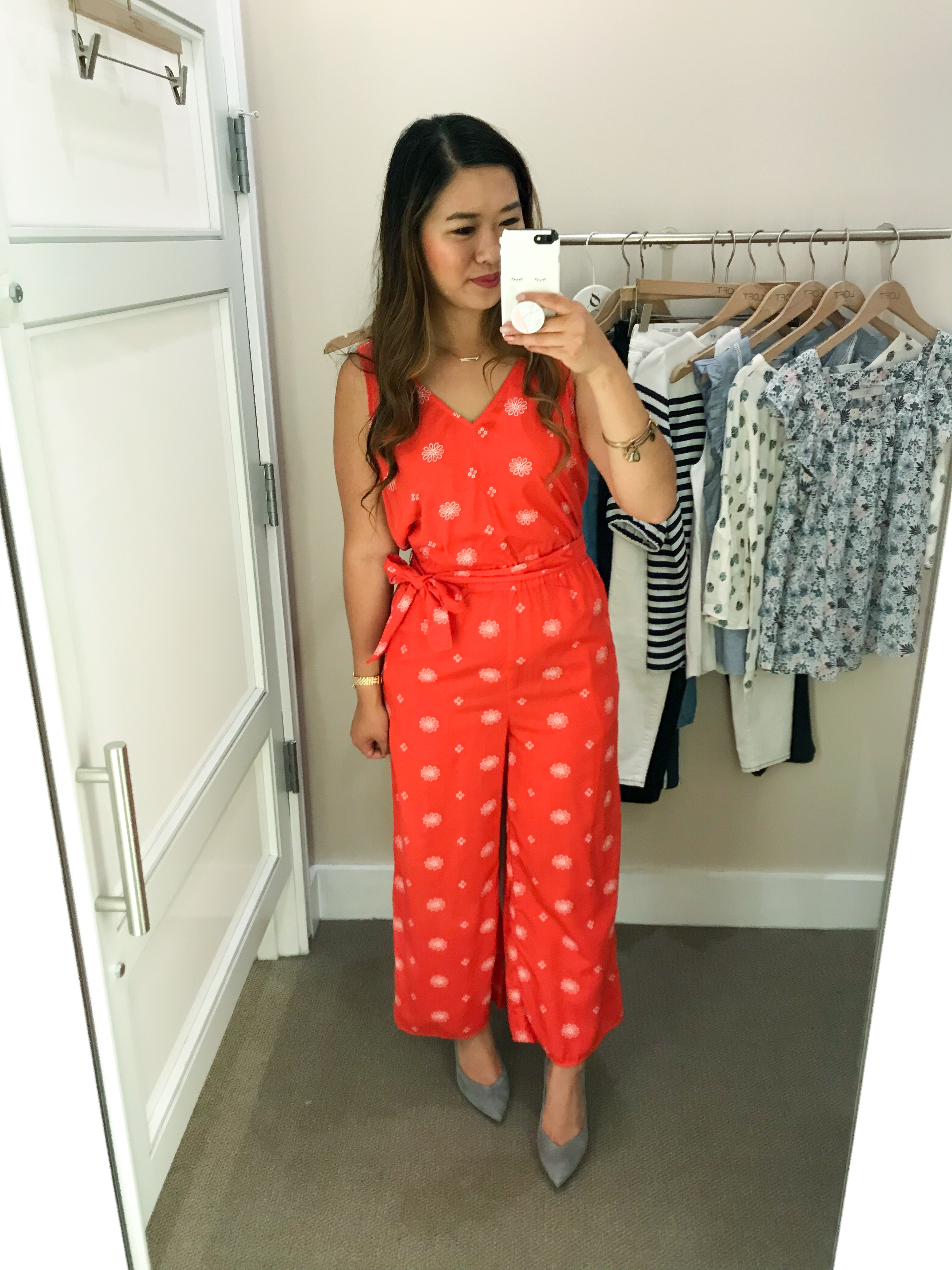 Daisy Tie Waist Wide Leg Jumpsuit (size 6) | Shoes
This past week, I went to Boston for a work trip and got to check out the LOFT at Prudential Center in Boston, MA! Right now (starting 7/18), LOFT is offering 50% off for cardholders and 40% off for non-cardholders with code HOTHOTHOT! This sale is online and in stores and I am thinking it will last for a few days! I was able to do some dressing room try ons (of which you can see the videos on my Instagram stories (or saved to LOFT highlight once it expires). They recently released a few new arrivals (I have been waiting) and I just wanted to share some of the pieces I tried on!
And I even got to meet Jess from What Jess Wore while there! She is more of a Petite frame and shops mostly from the Petite section there and truly gives detailed reviews about the pieces she loves and doesn't love. She is one of the bloggers that I message with weekly and is so sweet! You'll get to see more of how we styled the same thing below!
For size reference, I am pear shaped and 5'4″, 150 pounds and am usually size small regular in tops and size 28/6 regular in bottoms. Jess is more of a straight Petite body type and she is 5'2.5″, 108 pounds and is usually size XSP in tops and 25/0P in bottoms.
Items I tried on: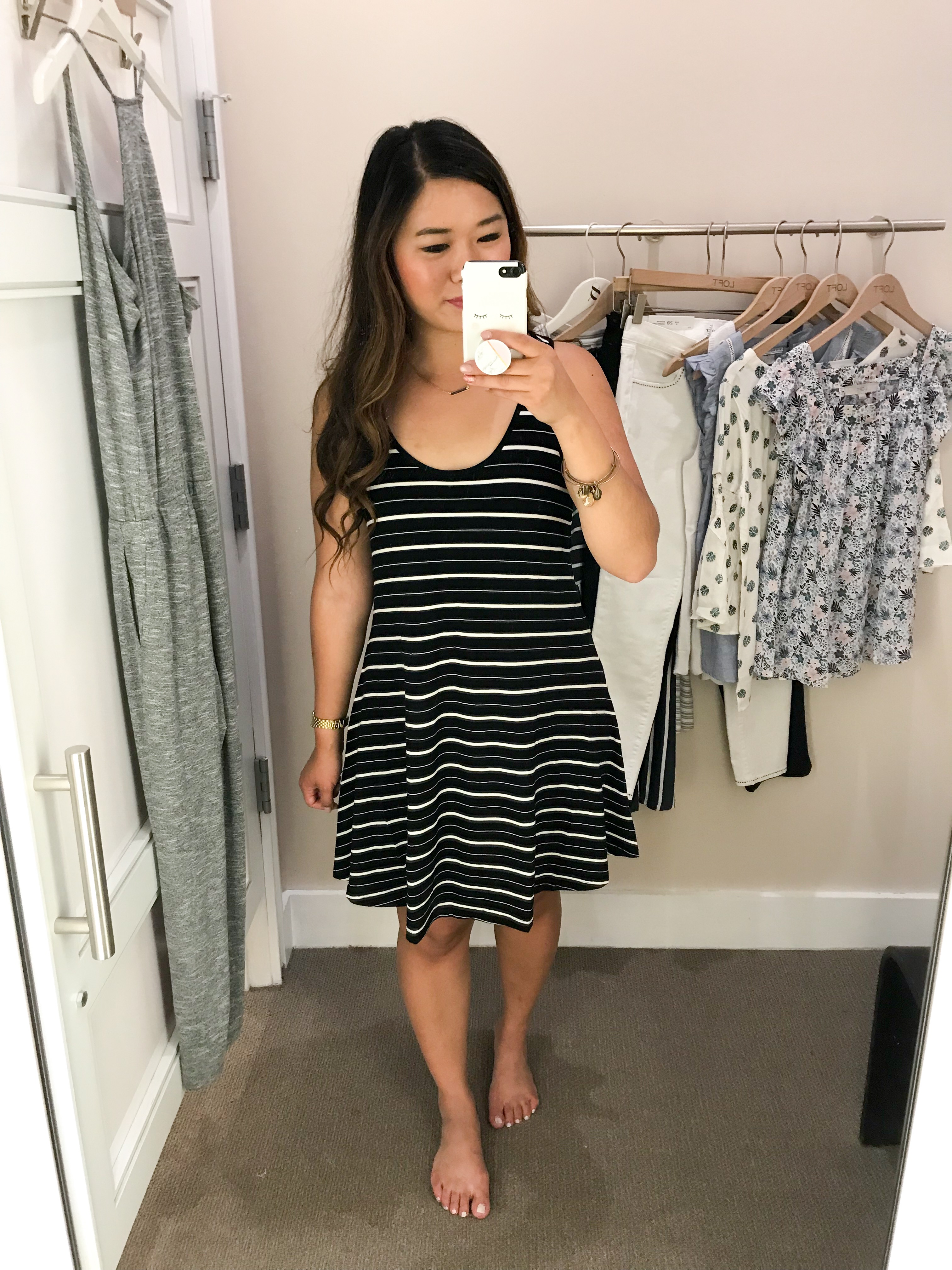 Lou & Grey Striped Signaturesoft Racerback Tank Dress (size S)
This dress is an easy swing dress, it is TTS, but if in between I think you could size down. Lou & Grey tends to run a tad larger than standard LOFT brand. I could see myself wearing this dress for working from home or even running errands. I love it with sandals or sneakers.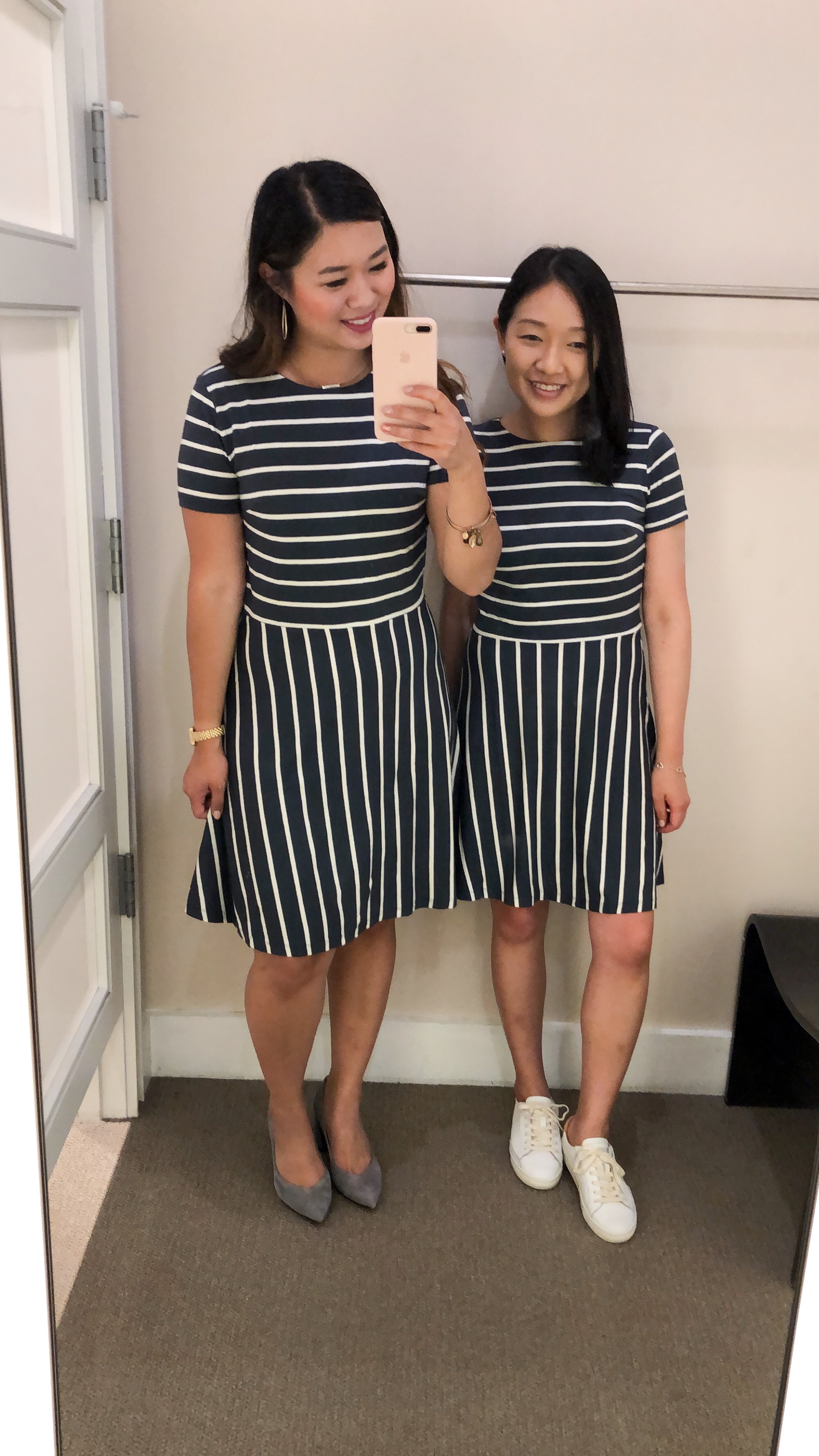 LOFT Striped Cutout Back Flare Dress (Me: 6 Regular Jess: 00 petite)
You know I love a good stripe, I mean who doesn't!? Unfortunately with this dress though, both Jess and I thought that the line in the middle was in an odd spot. An empire waist or higher line would have made this better. It doesn't accentuate the waist as much as some other dresses do.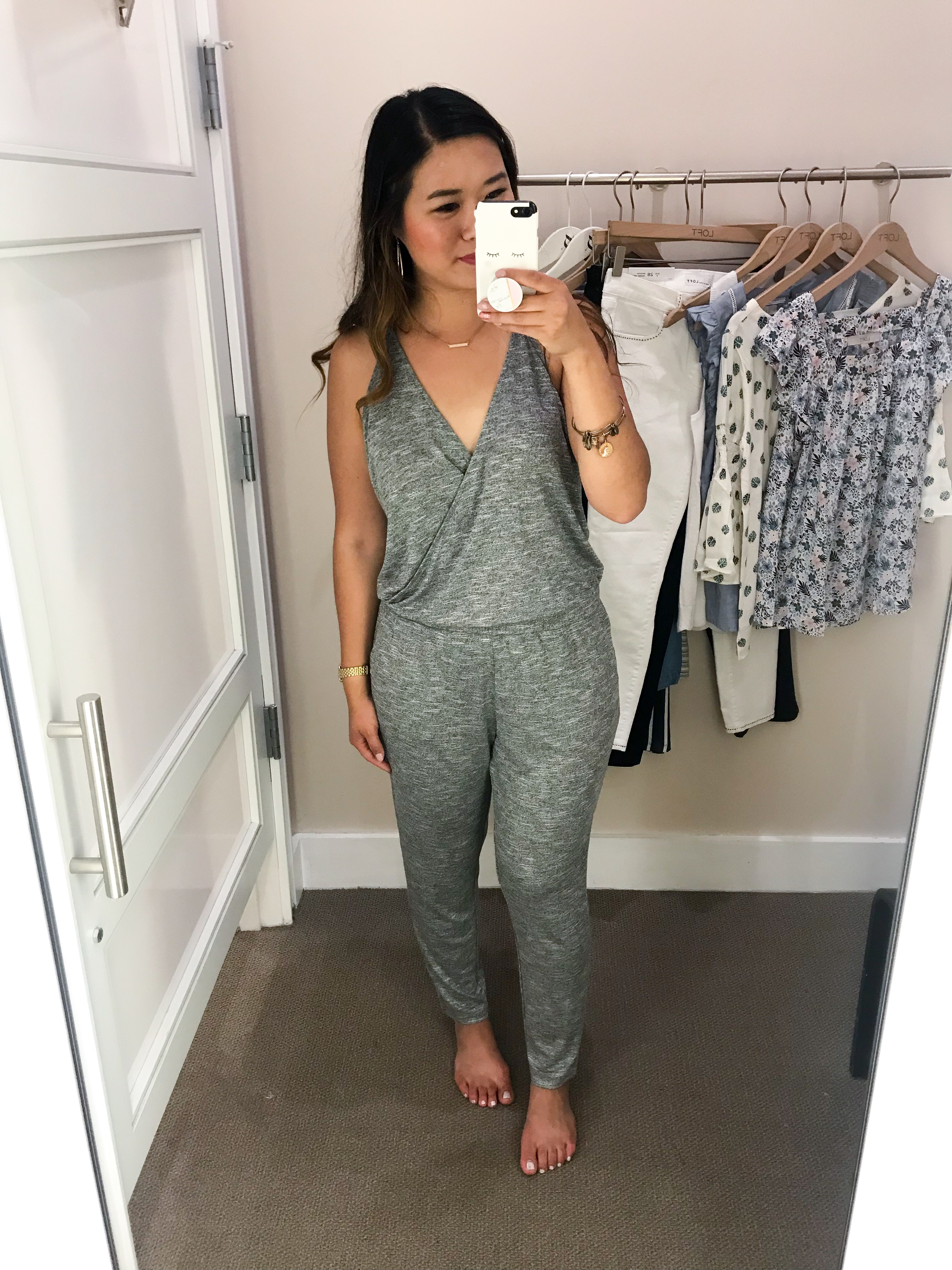 Lou & Grey Strappy Racerback Jumpsuit (size M)
I can't believe this is my first time trying this on! I am OBSESSED. This jumpsuit is super soft, the Medium fits around my bottom and the top is a tad loose, but that doesn't prevent it from being so comfy and amazing.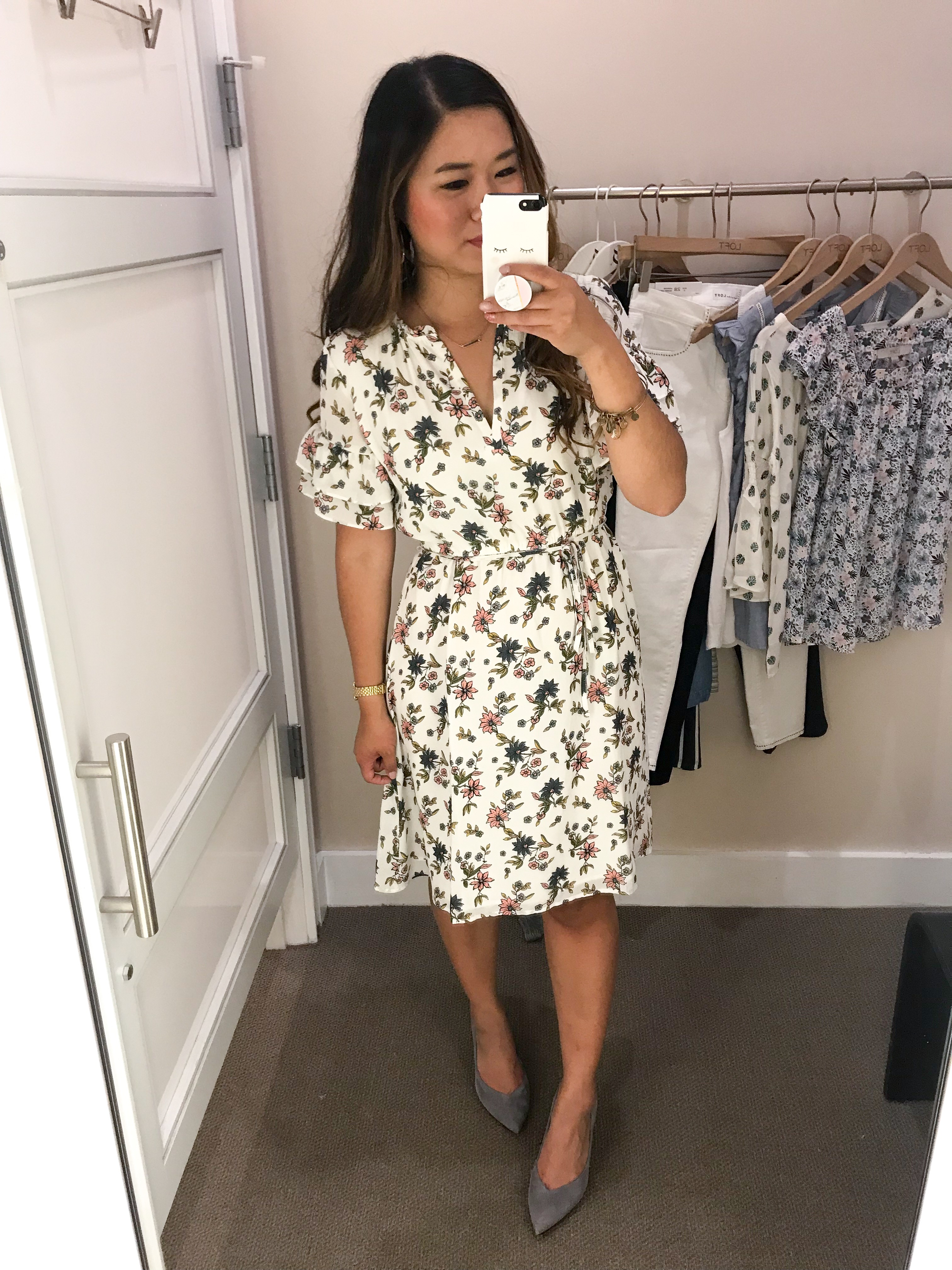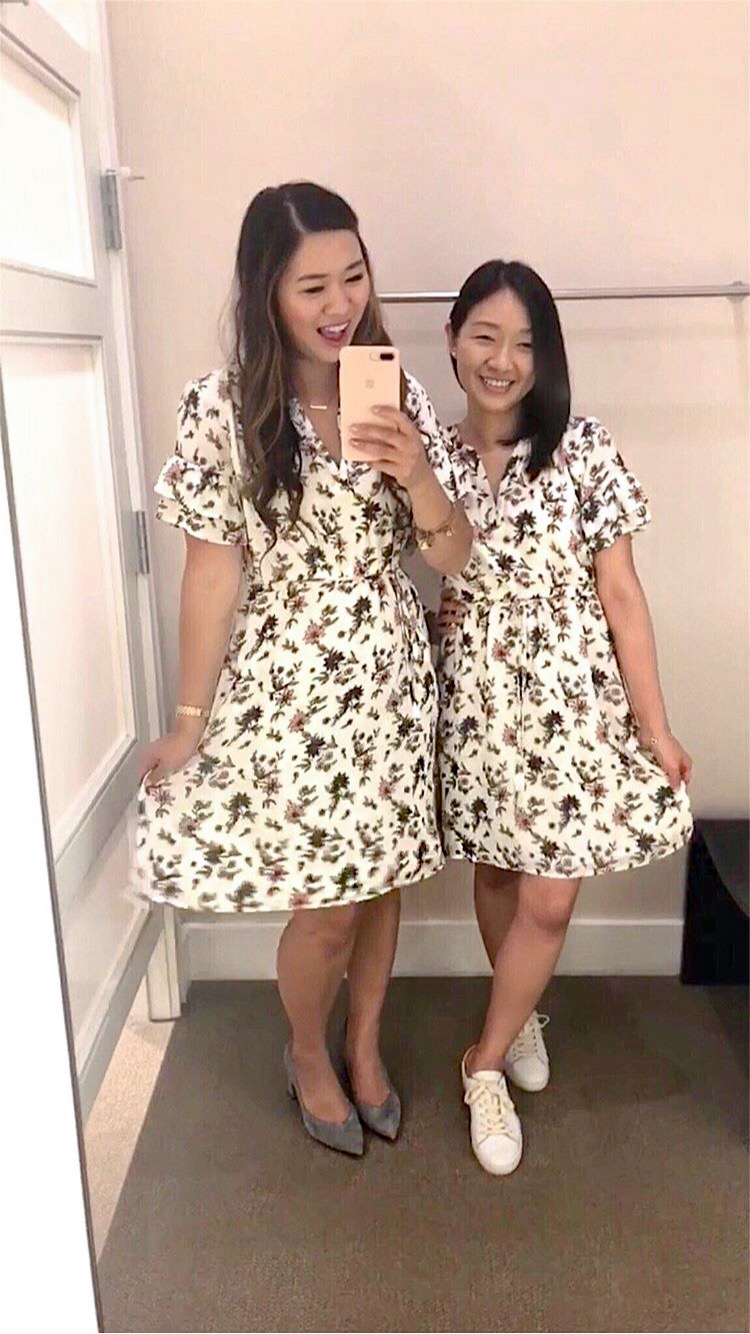 Wildflower Flounce Dress (Me: S Regular, Jess: XXS Petite)
For those who love floral, this one is an adorable one! It definitely accentuates the waist with the tie and I can imagine it worn with a denim jacket! And you can dress it up or dress it down!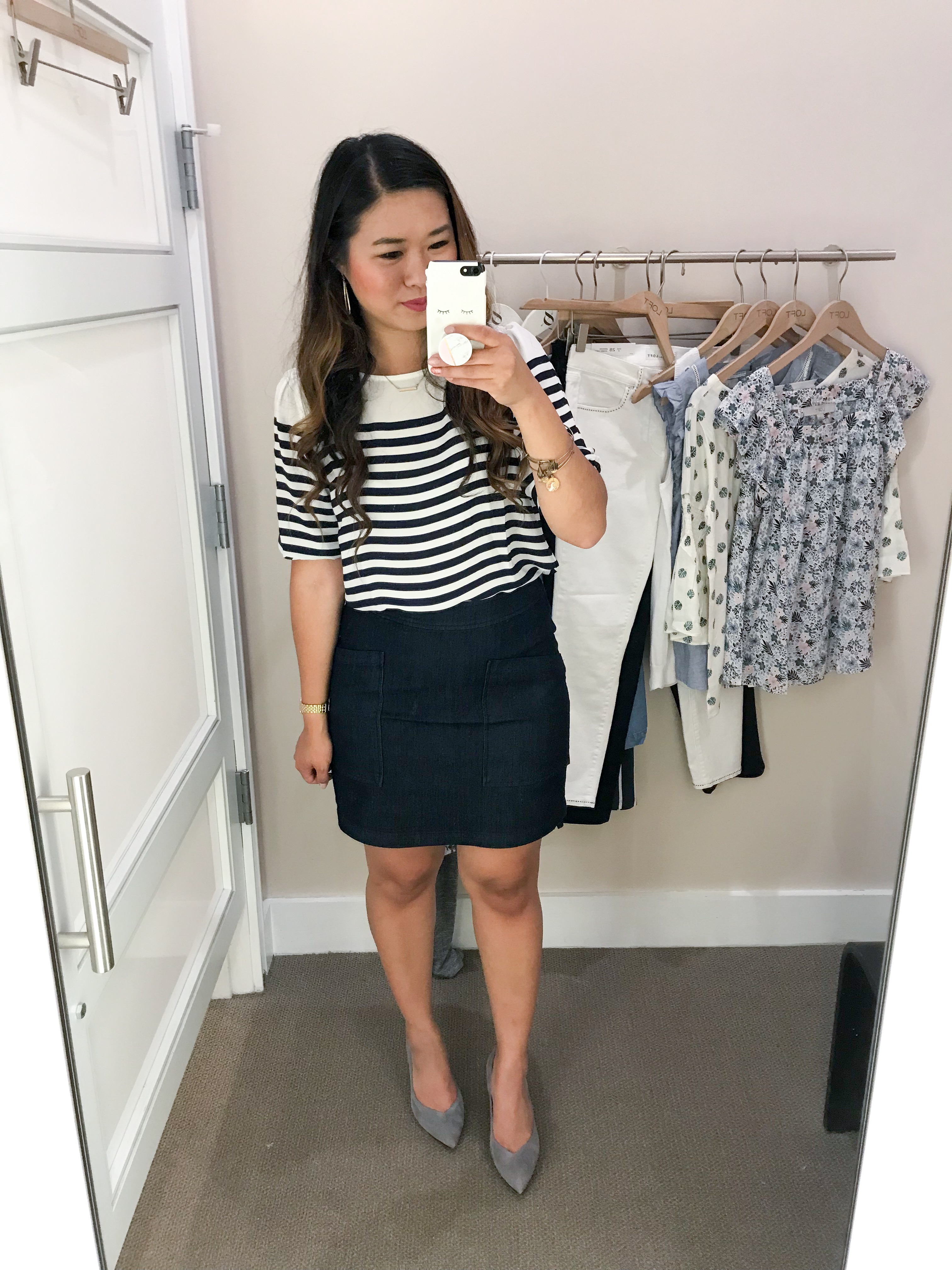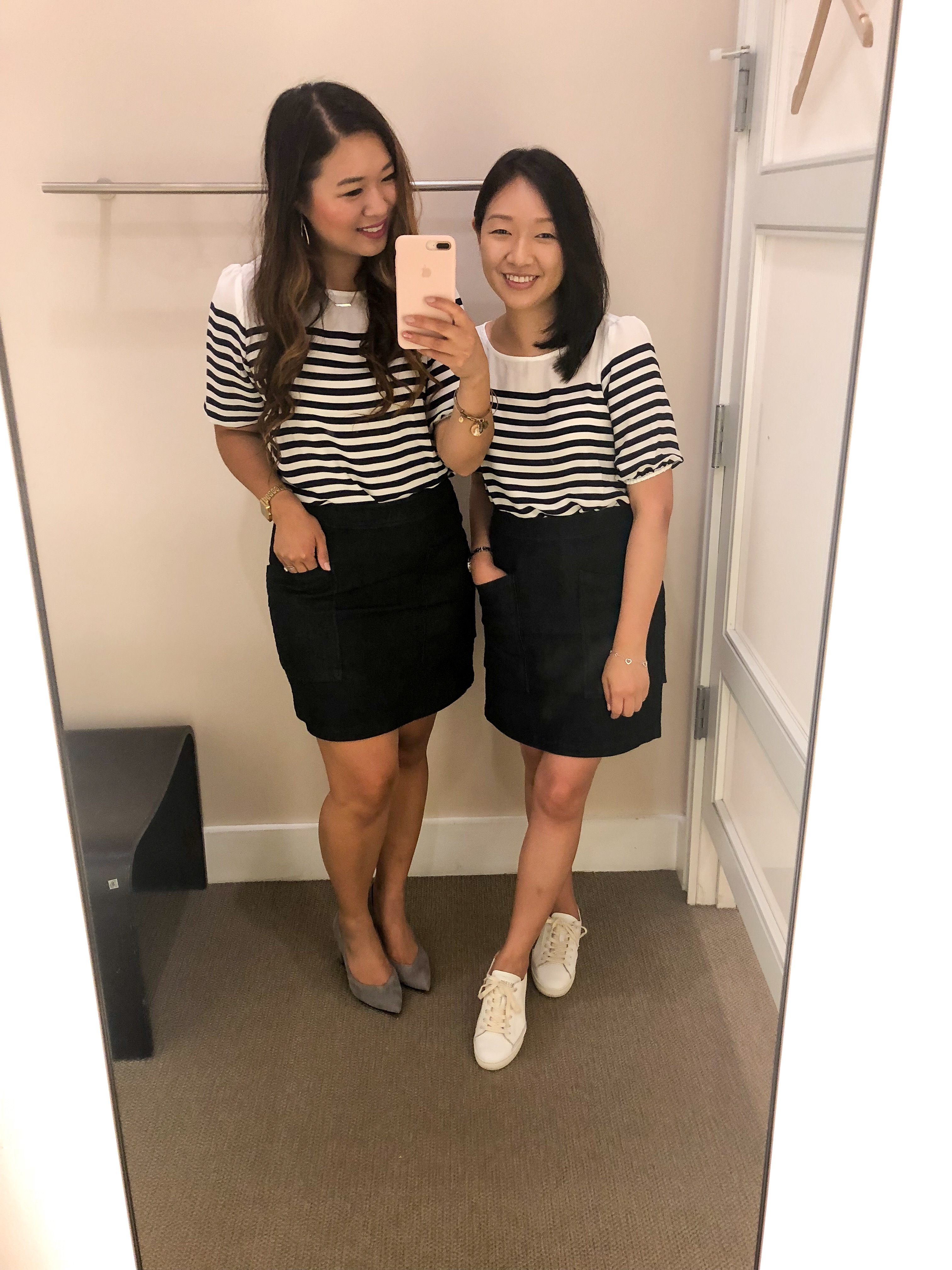 Striped Elbow Sleeve Blouse (Size: S Regular, Jess: XS Petite) | Shoes: 1. STATE Sateen Half D'Orsay Pump (size 7.5) | Denim Pocket Shirt Skirt (Me: 8P, Jess: 0P) | Jess's Shoes: Soludos Ibiza Classic Sneakers (runs half size big, I want her sneakers so bad)!
This fun little nautical theme look was one of our faves! I honestly wish I had sneakers with mine because it looks so cute on Jess styled with white sneakers! The striped top is a dressier material.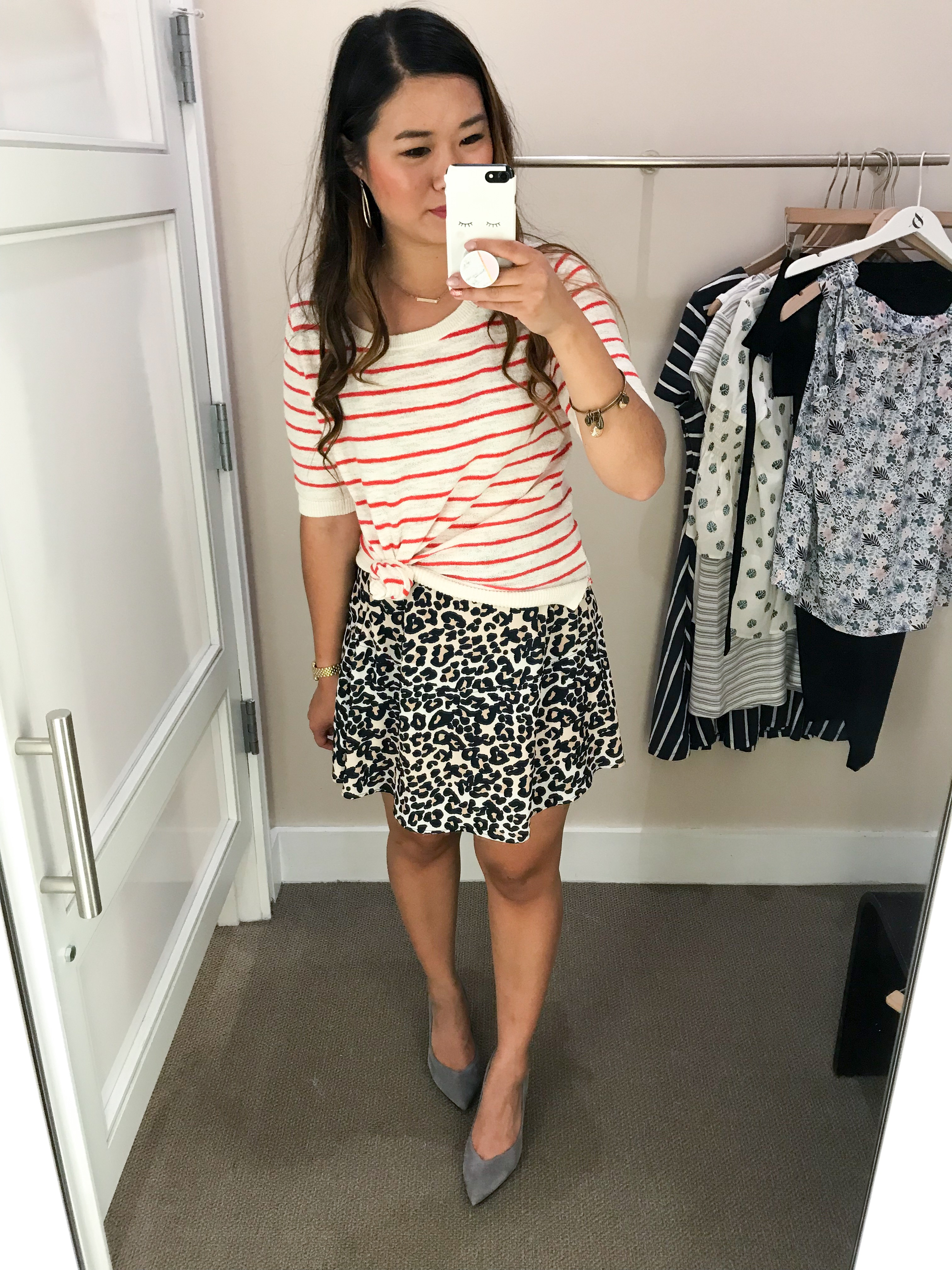 Striped Textured Short Sleeve Sweater (size S) | Topshop Leopard Mini Skirt (size 8) | Shoes
OK, I am really dig this short sleeve sweater. I gotta be honest though, short sleeve sweaters aren't something I normally gravitate to, but for Fall, I think it's the perfect transition piece!! I did a little pattern mixing with leopard which I thought was fun!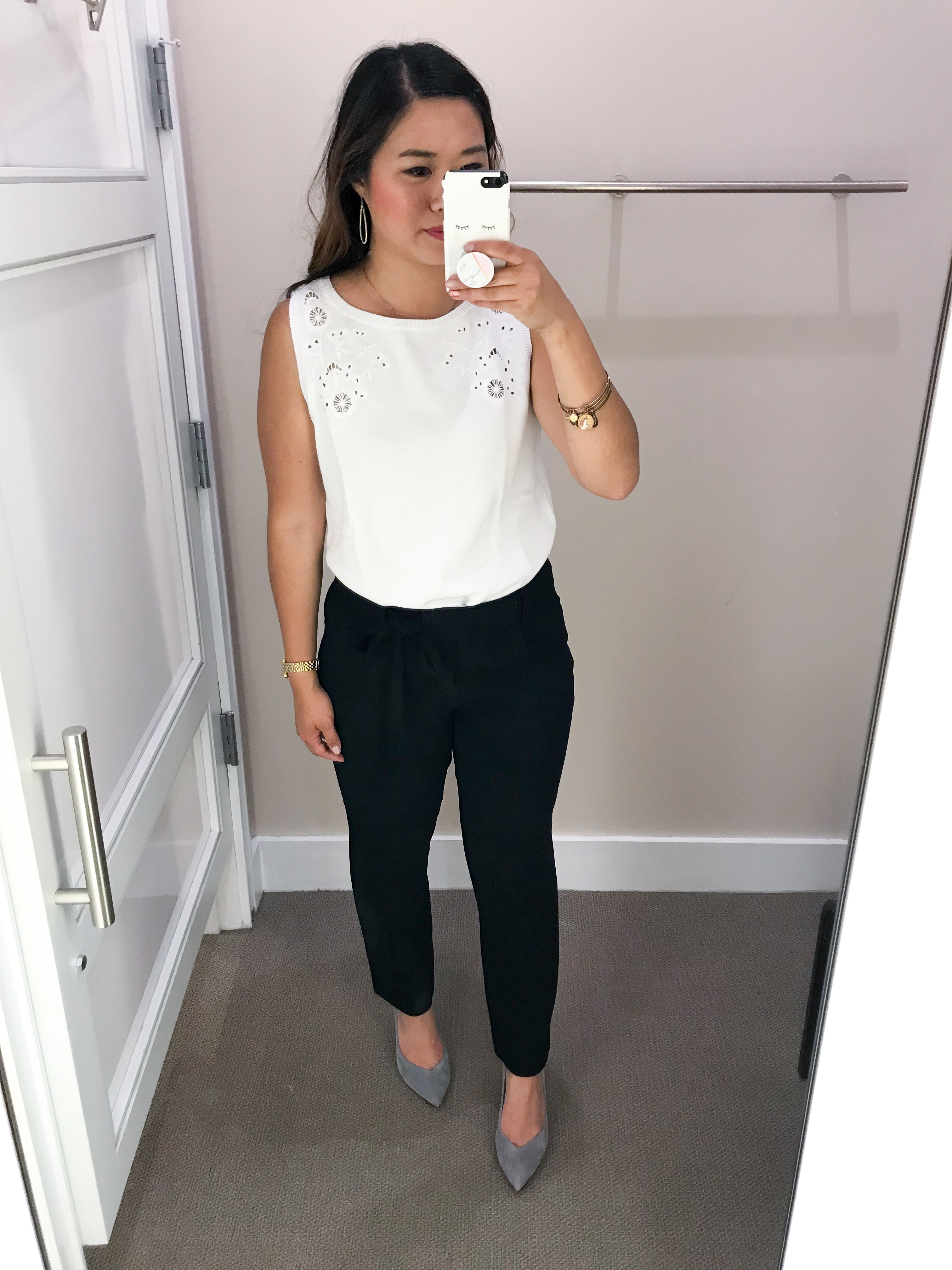 Eyelet Sleeveless Sweater (Size S) | Slim Tie Waist Pants (Size 6 Regular) | Shoes
This is a classic work look with a detailed sleeve sweater and some tie waist pants. Throw on a blazer if you don't want to show your arms.
Floral Shirred Square Neck Top (Size S) | Stitched Skinny Crop Jeans In White (size 28)
This might have been one of my fave outfits! The floral in the top is in beautiful colors and the stitched white jeans, LOVE!!! I LOVE the fit of these as well and my normal LOFT pant size 28 fit me well.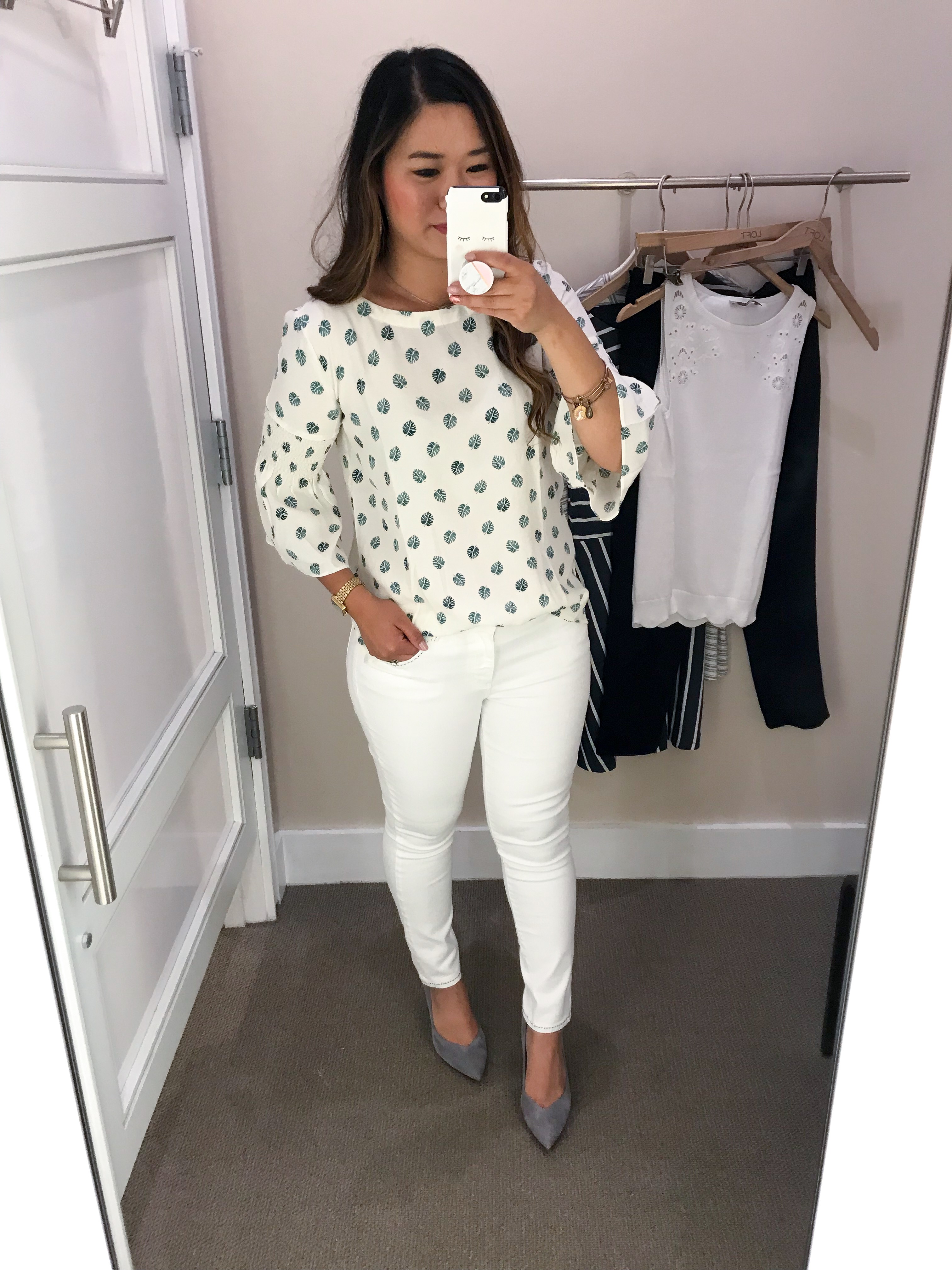 Palm Smocked Belle Sleeve Top (size XS, but would need S) | Stitched Skinny Crop Jeans In White (size 28)
This palm print tee is super adorable. The store didn't have a S, so I tried on the XS and the arms were def snug. I love love the palm print, like a LOT!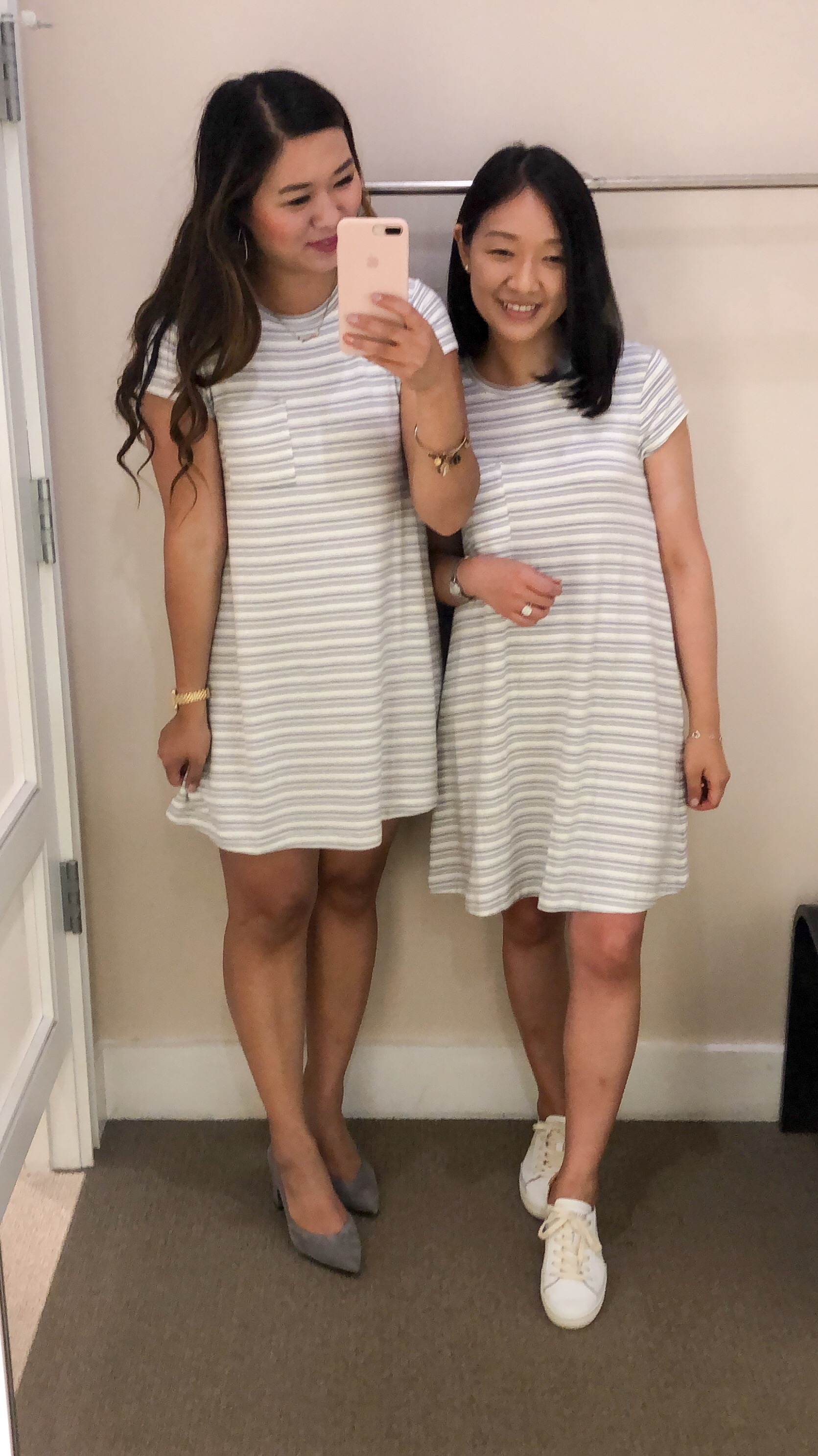 Lou & Grey Striped Signaturesoft Pocket Tee Dress (Me: Size XS but need S, Jess: Size XS)
This is another great little super soft every day dress. Jess and I both wore the same size (mainly because the store did not have a S for me). The dress obviously came up short on me.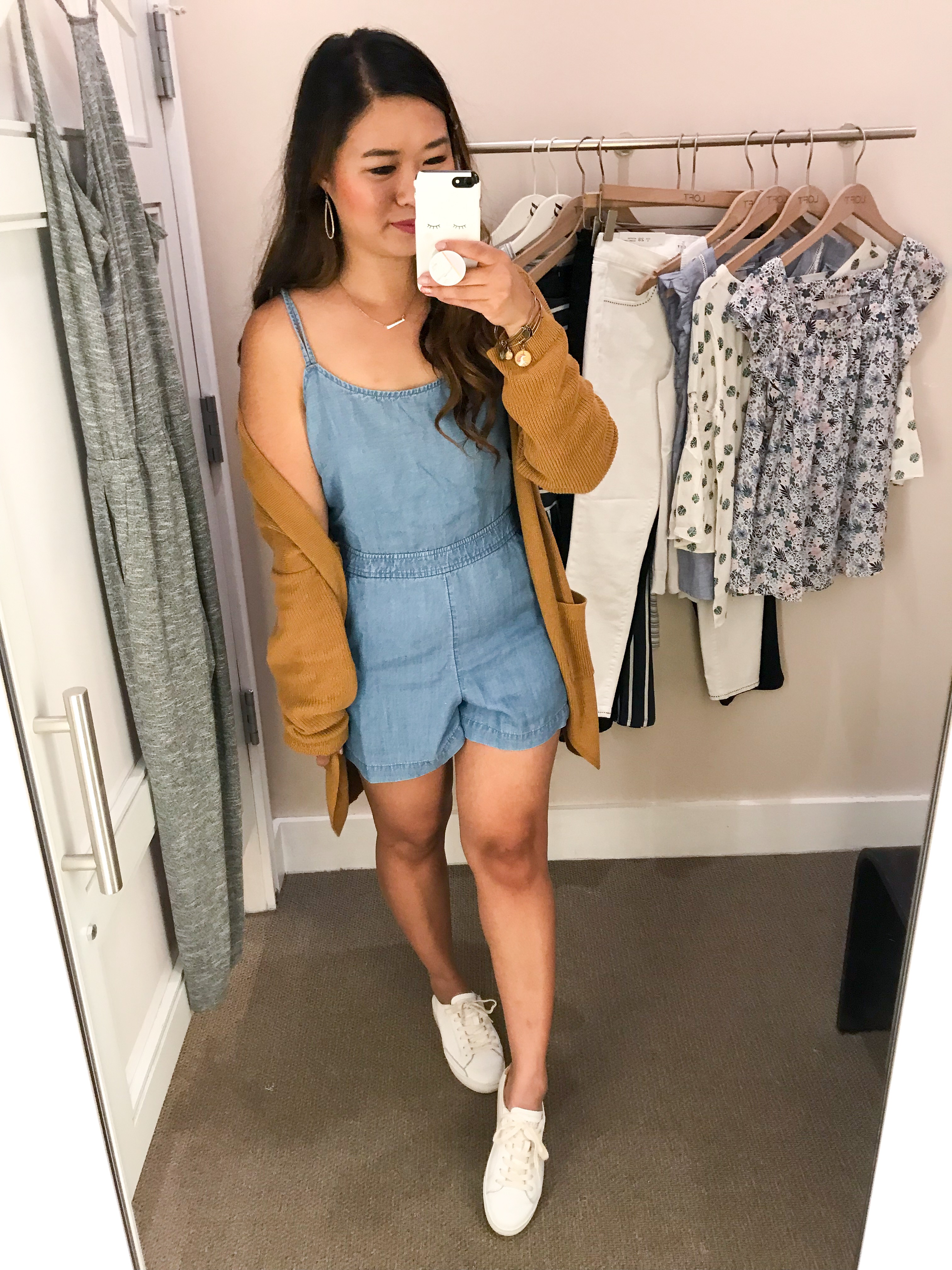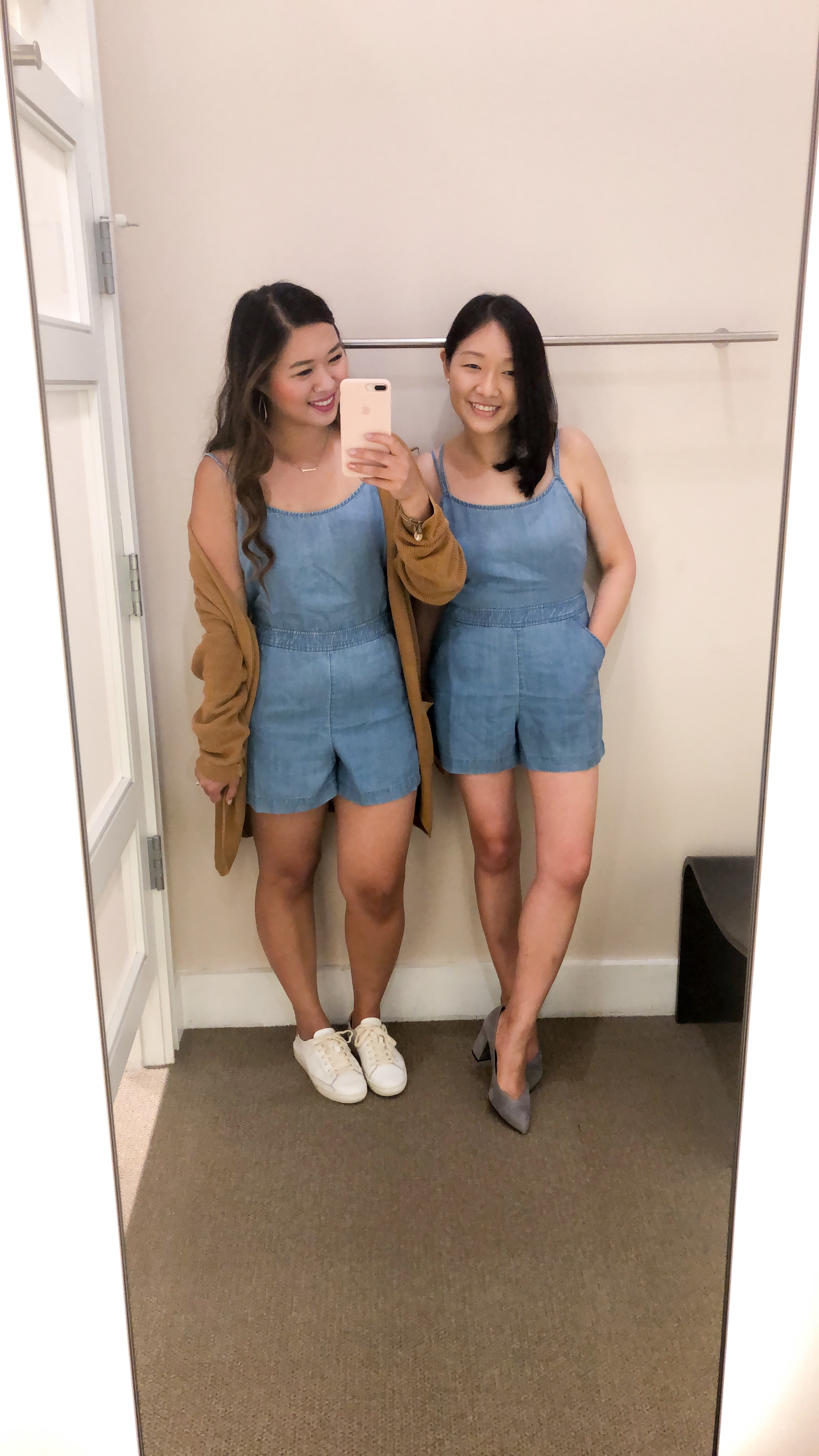 Strappy Chambray Romper (Me: Size 8P, Jess: Size 0P) | BP. Cocoon Cardigan from Nordstrom Anniversary Sale (Size S)
Did I say there was a favorite look above? Well, I lied. THIS ONE might be my favorite. This chambray romper was only available in Petite in stores so I opted for 8P (probably would do 6 Regular) and it was a good fit! I wanted to style it more for Fall so threw on my cardigan and Jess's sneakers to just make it more casual! Seriously the perfect Fall look!
Don't forget to make use of the code HOTHOTHOT for cardholders 50% off and non-cardholders 40% off!
Here are some pieces I am currently loving (but didn't get to try on this time around):