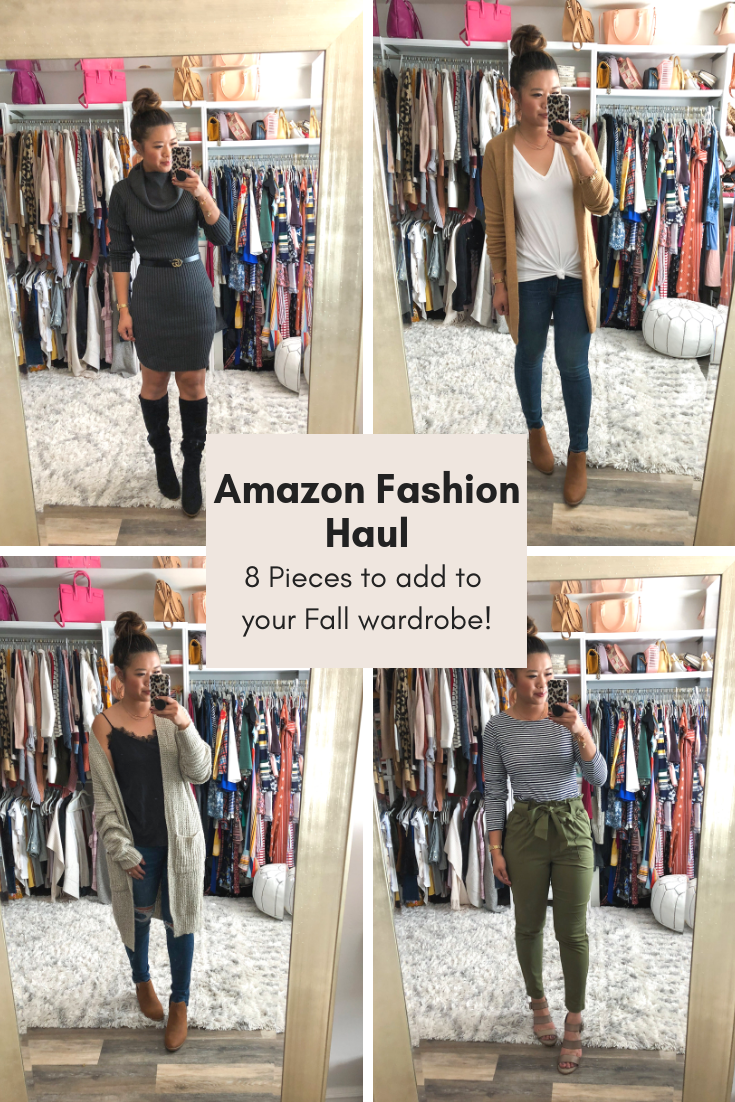 Ever been intimidated by searching for fashion on Amazon? It is great that they offer clothes (and with 2 Day prime shipping, it's even better), but it can be overwhelming. I found a few pieces from Amazon that I thought I would share with you all. Since Fall is officially here, I figured I would gear this Amazon haul towards Fall fashion.
Just a note, if I mention something has Prime Shipping, but when you go to shop it and the estimated arrival date it later, just know that probably the item has been selling fast and their current warehouse doesn't have the item in stock, but that they need to source it usually from overseas. A lot of times the time estimate will be longer than it will actually take! But also, since we are only in the very beginning of Fall, and if shipping takes upwards of a month for example, you still have many months to wear the items!!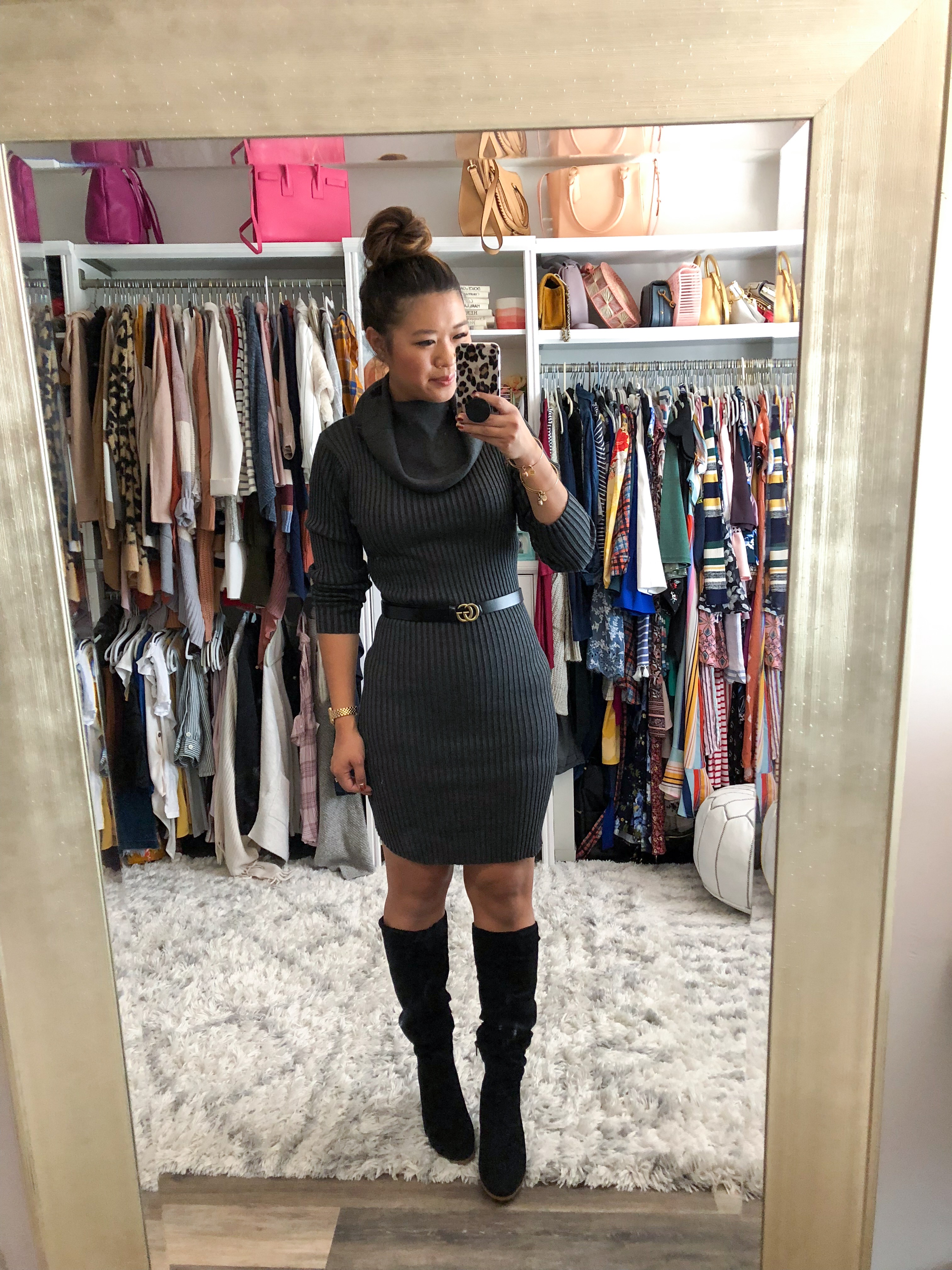 Cowl Neck Sweater Dress ($29.99) – size 10-16 // Belt // Boots // Phone Case // Pop Socket
I'm usually a size 6/8 in regular dresses but the sizing for this dress was a little off so I went with the Medium which says the size range is from 10-16. I am wearing the dark grey color. It comes in 20 different colors and it does have a bit of a stretch to it. You can wear this on a date night or a girl's night out. You can add a scarf or a belt like I did in this picture. The boots are the same ones I have in taupe. I tried these boots in the wide since I have wider calves but these do seem to slouch a bit. The taupe ones I have are regular and they stay up much better.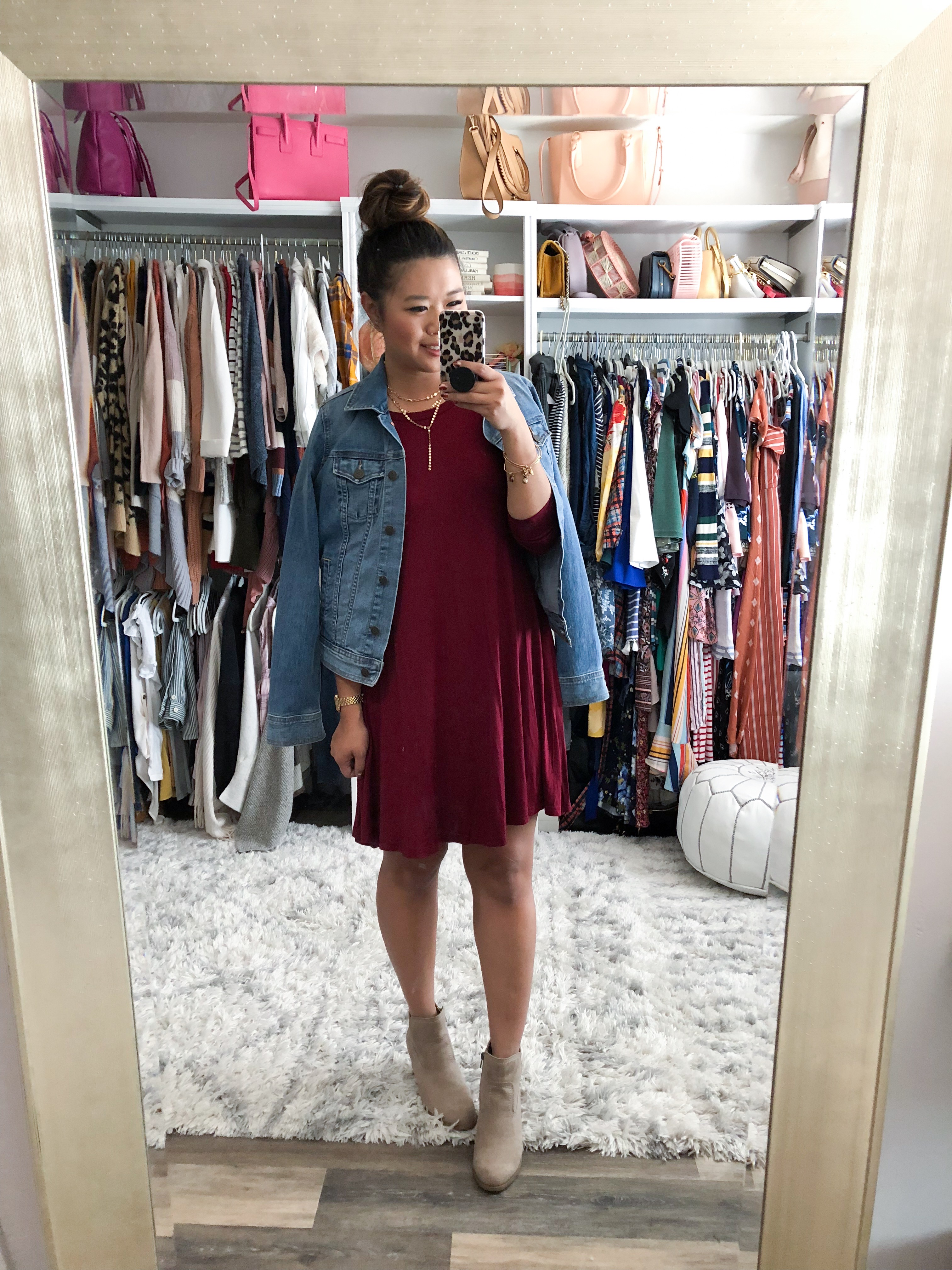 Long Sleeve Swing Dress ($18.99) – Small // Denim Jacket // Necklace // Wedge Booties
I think this dress is so versatile! And for the price, it's such a steal! I am wearing a size Small in the Wine Red color. I love that it has pockets, because who doesn't love a dress with pockets?! Please note that it is long sleeves but I like to roll it up a bit. It comes in 19 different color options. The wedge booties are TTS and so comfortable!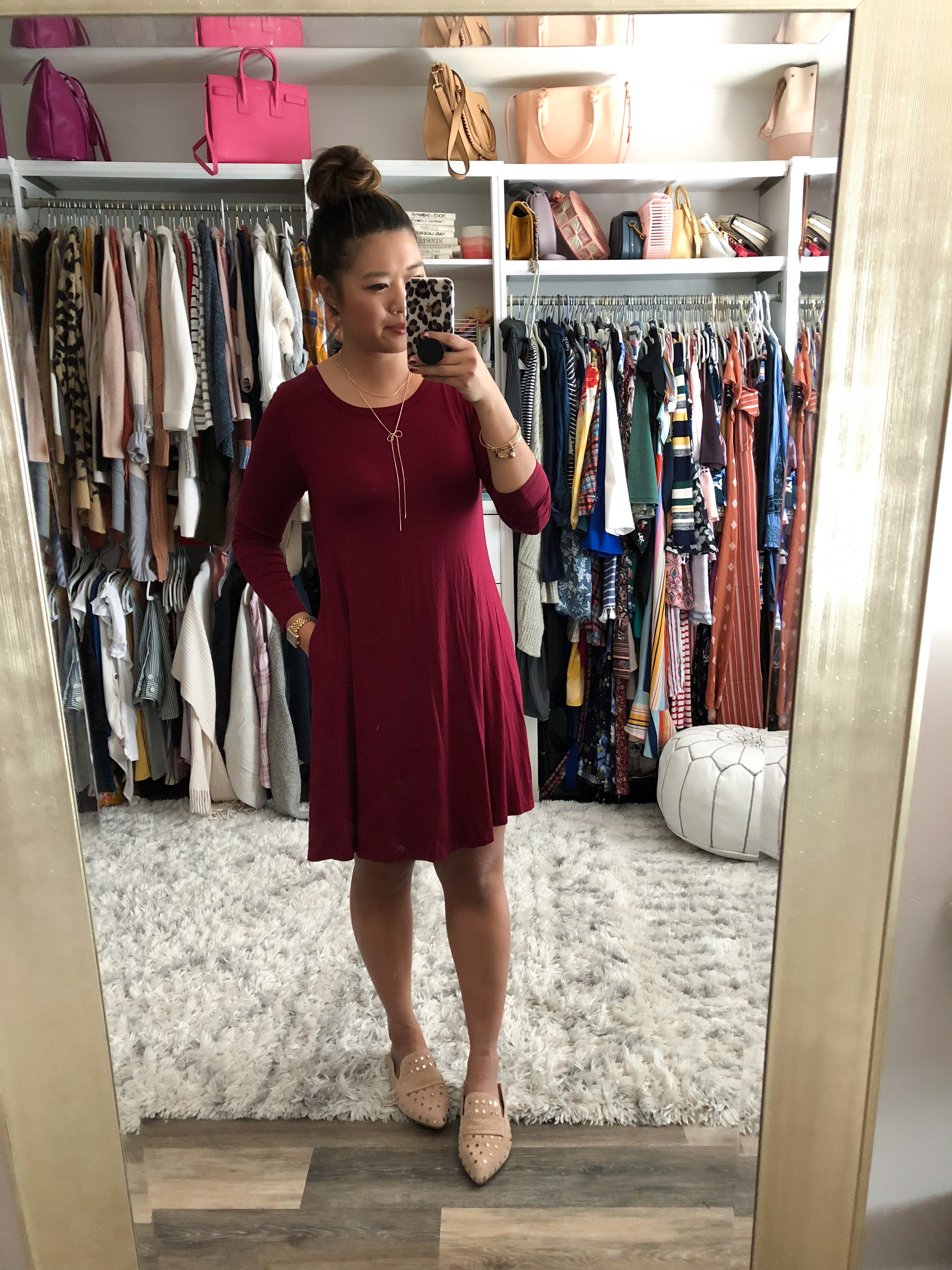 Long Sleeve Swing Dress ($18.99) – Small // Necklace // Mules
If you plan to wear the dress alone, wear a longer necklace with it so that it jazzes up the look a bit!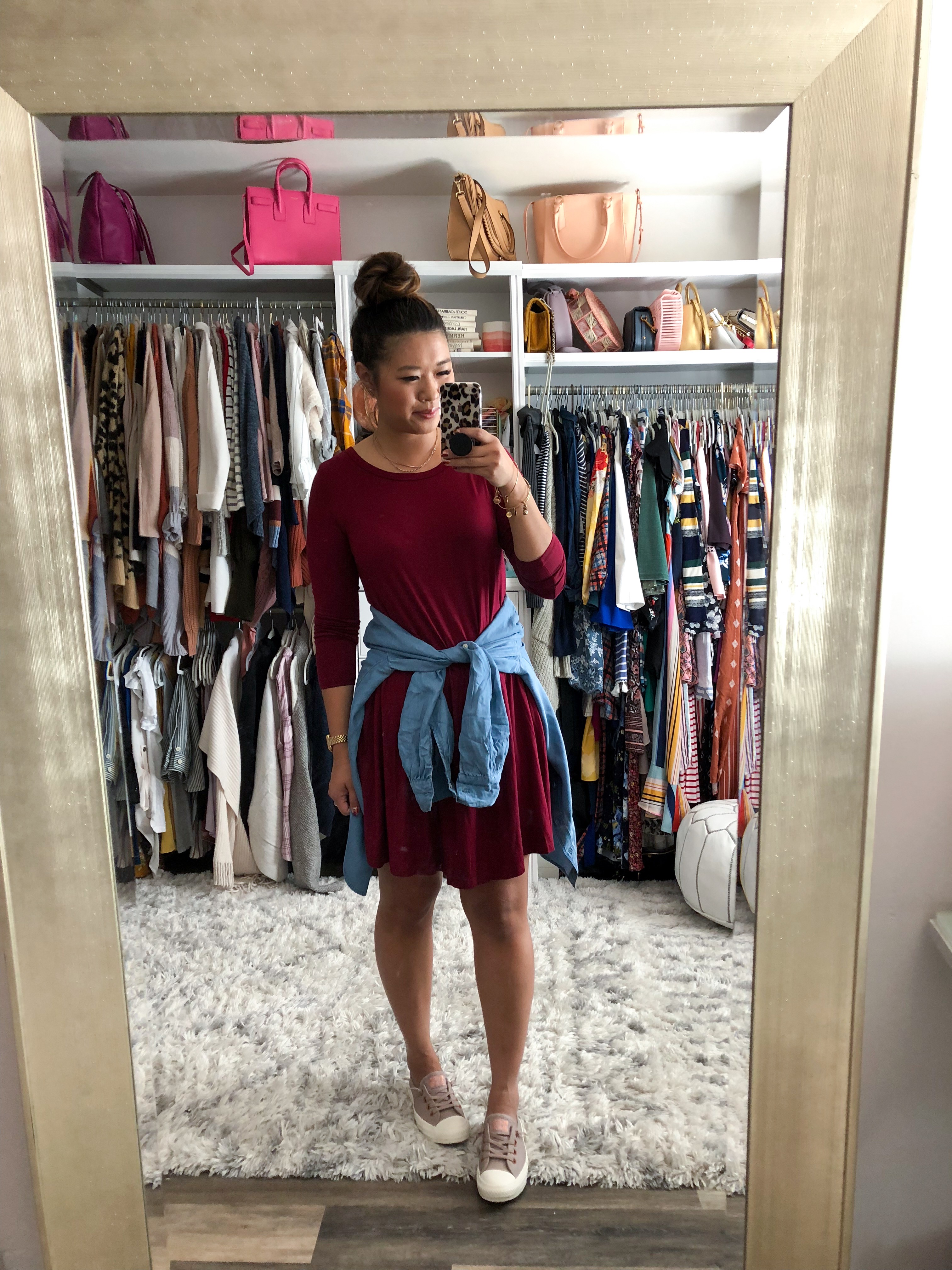 Long Sleeve Swing Dress ($18.99) // Chambray Shirt // Shoes
Another way to style this dress is to tie a chambray shirt around your waist with some tennis shoes. It really is such a versatile dress!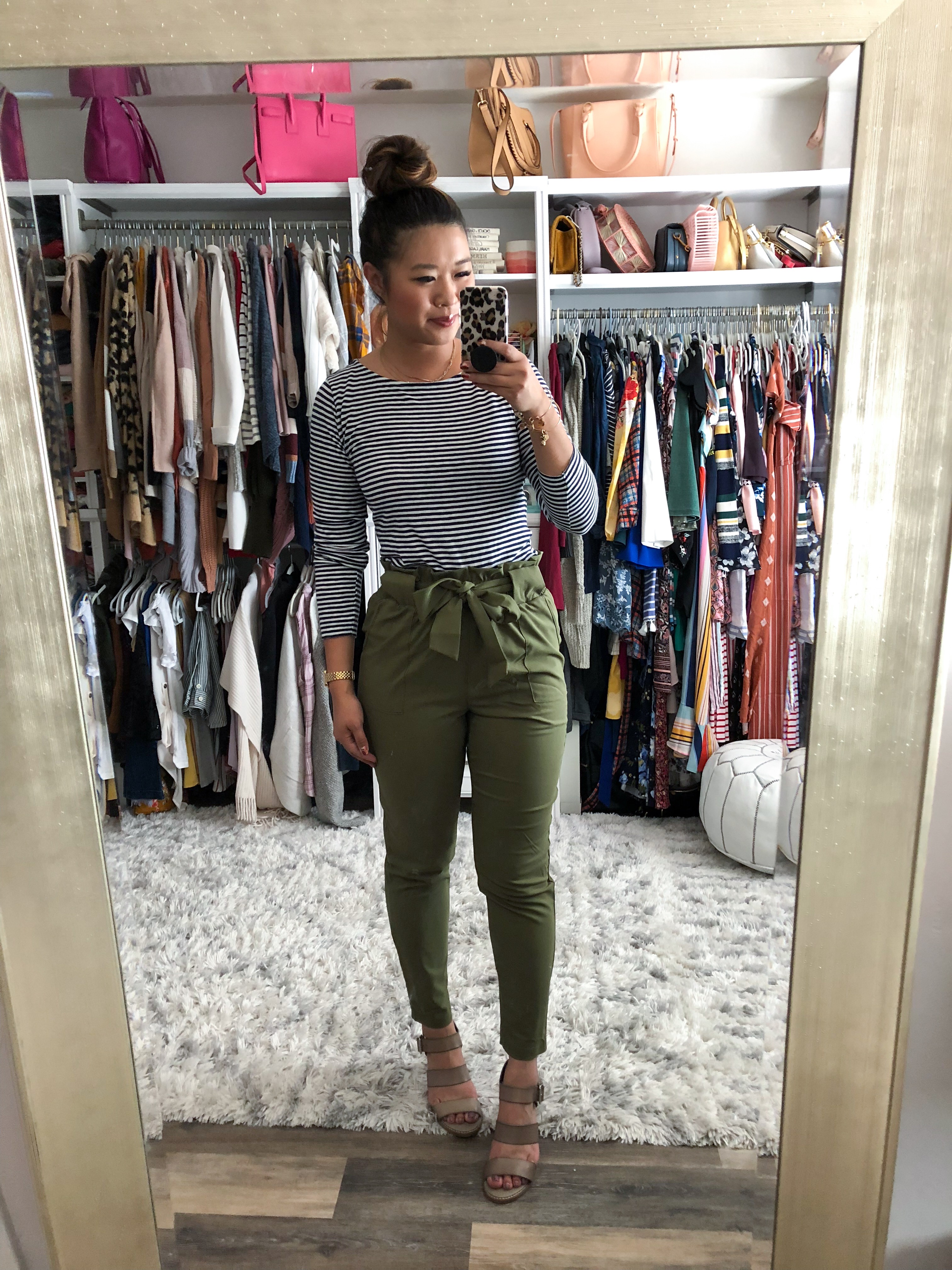 Striped Top ($24.50) // Pants ($24.99) // Shoes
Amazon started carrying the J. Crew Mercantile brand which are things from the J. Crew Factory (which is their outlet store) to other retailers to carry their brand. This top is from J. Crew Mercantile and it has navy and white stripes. I am wearing a size small and it is a great length. These pants have been such a hit when I posted them on my stories. I am wearing the Medium but I could size up to a Large for a baggier/looser fit. I am loving that these are high-waisted and comes in 13 other colors. These would be so great for work! These shoes are a new favorite and I love them in this Smoky Beige color! I sized up half a size in the shoes for a better fit.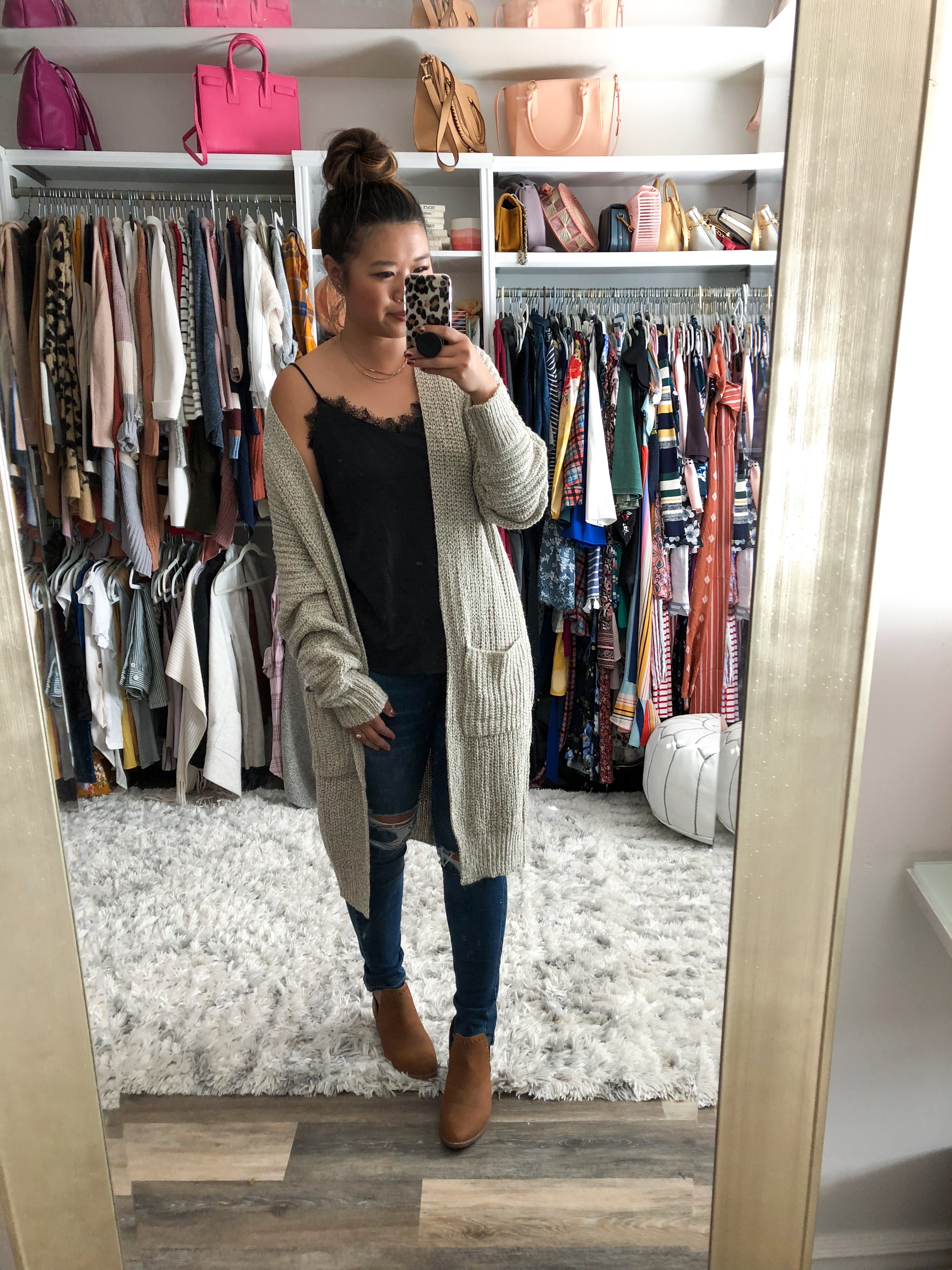 Cami // Cardigan ($33.99) // Jeans // Necklace // Booties
This cardigan is one size fits most. It's nice and long so you can wear with it with leggings. The sleeves are a bit long but I feel like the cardigan was meant to be kind of slouchy for that cozy look. It comes in 3 different colors. I paired it with one of my favorite camis and I'm wearing an XS in it. The jeans are one of my favorites because they are not really jeans, but jeggings. I am wearing size 8 petite and they're so comfy!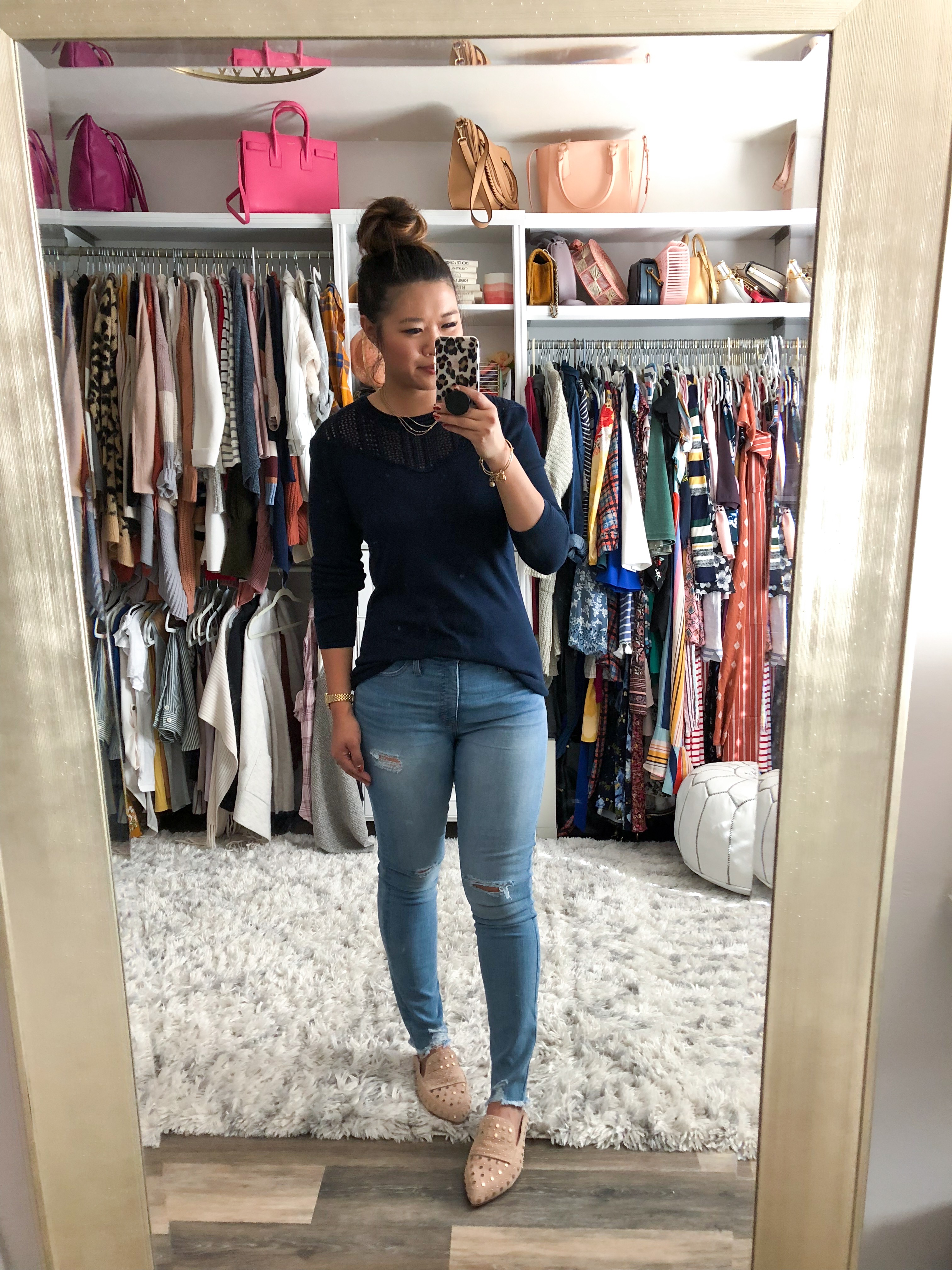 Sweater ($44.50) // Jeans // Necklace // Shoes
This sweater is so pretty with the detail in the neckline. It is a more fitted sweater. I can see this being tucked into a skirt for work. I am wearing a Medium and it comes in 3 colors. The mules I sized up half a size and they're one of my favorites!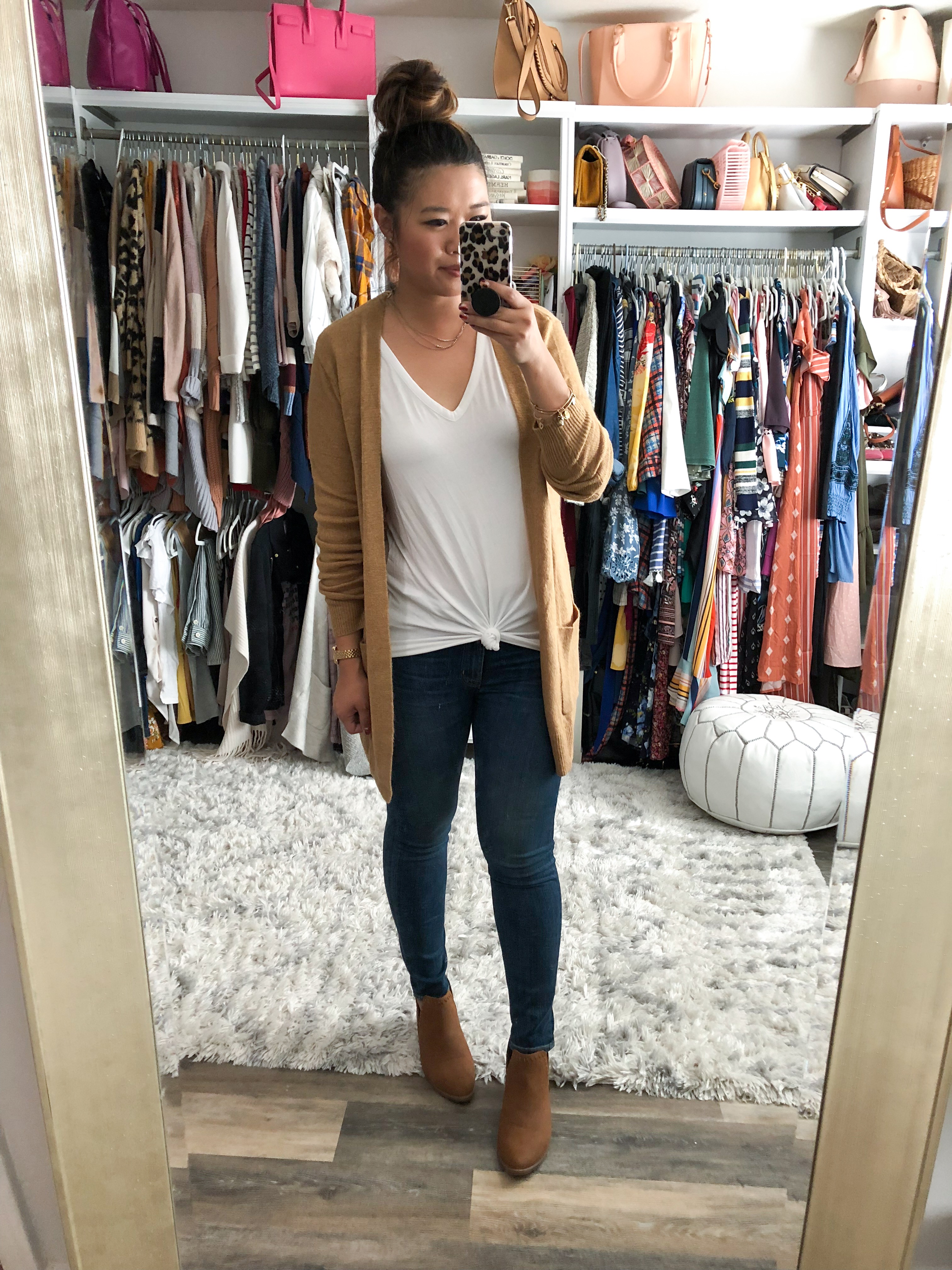 White Long Sleeve Tee ($16.00) // Cardigan // Jeans // Booties
Daily Ritual is a great brand on Amazon. I have their tanks and they've held up really well. I feel like this long sleeve is a little better than the B.P. ones from Nordstrom. They are amazingly soft. I am wearing a size Medium. They also come in a scoop neck version if v-necks aren't your thing. This white is not sheer so it's not see-through. You can get one for $16 or two for $22! It's such a steal for this layering piece. I'm wearing a Small in the cardigan. I have it in 3 colors, it's that good! Last but not least, these jeans are hands down one of my favorite jeans I snagged from the Nordstrom sale. I love that it has an elastic waistband and no distressing. It's hard to find a great fitting non-distressed pair of skinny jeans! I am wearing a size 6.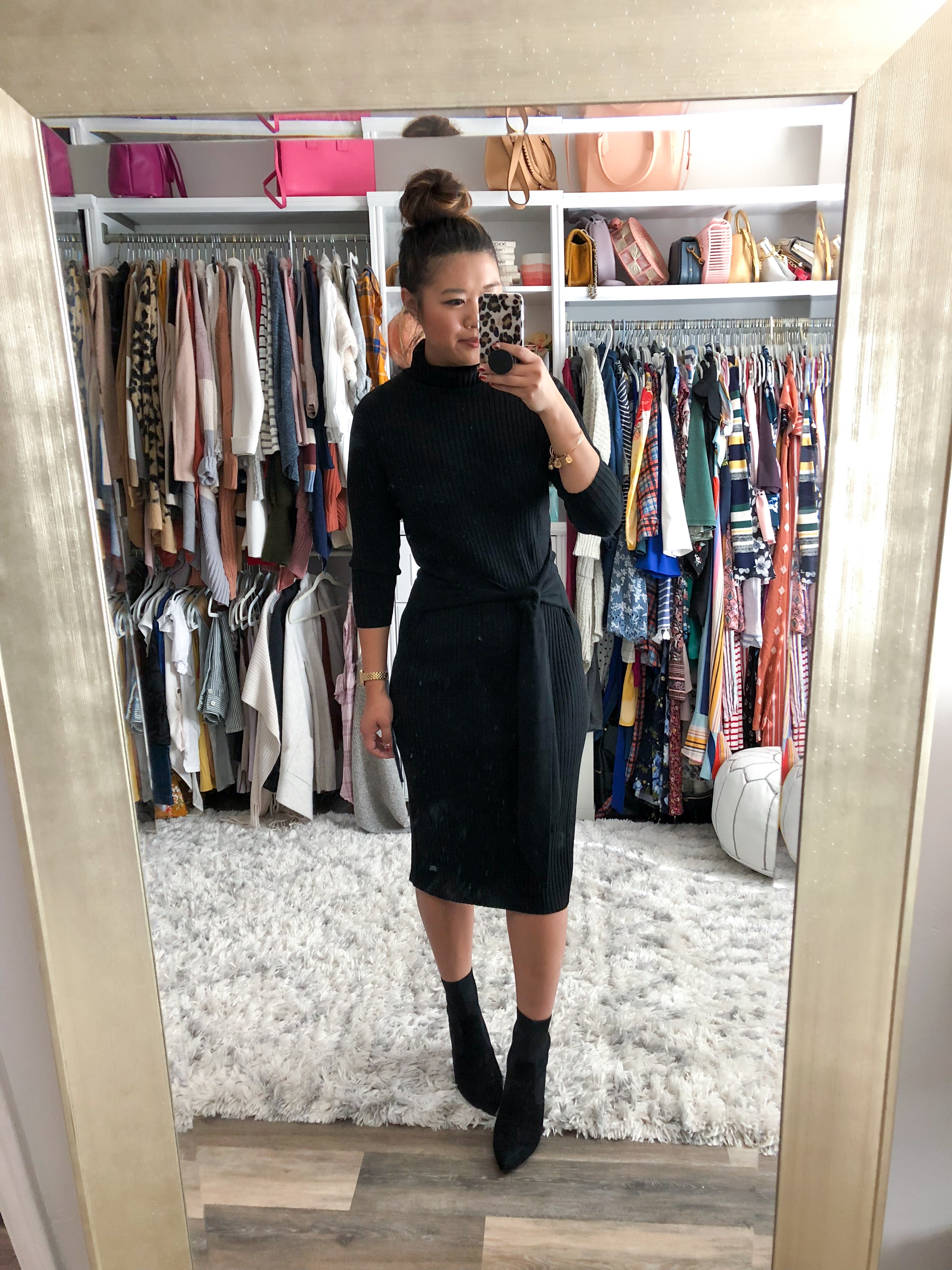 Black Turtleneck Sweater Tie Dress ($79.50) // Booties
This dress is ribbed and has two strands for you to tie in the front. The size chart says a Medium is about a size 8 and a small is about size 4-6. I'm wearing the Medium but I could probably size down to a Small for a better fit. For the sock booties, I sized up half a size to an 8 (I'm usually a 7.5).
Let me know below which one is your favorite and what you would like to see in my next Amazon Fashion haul!