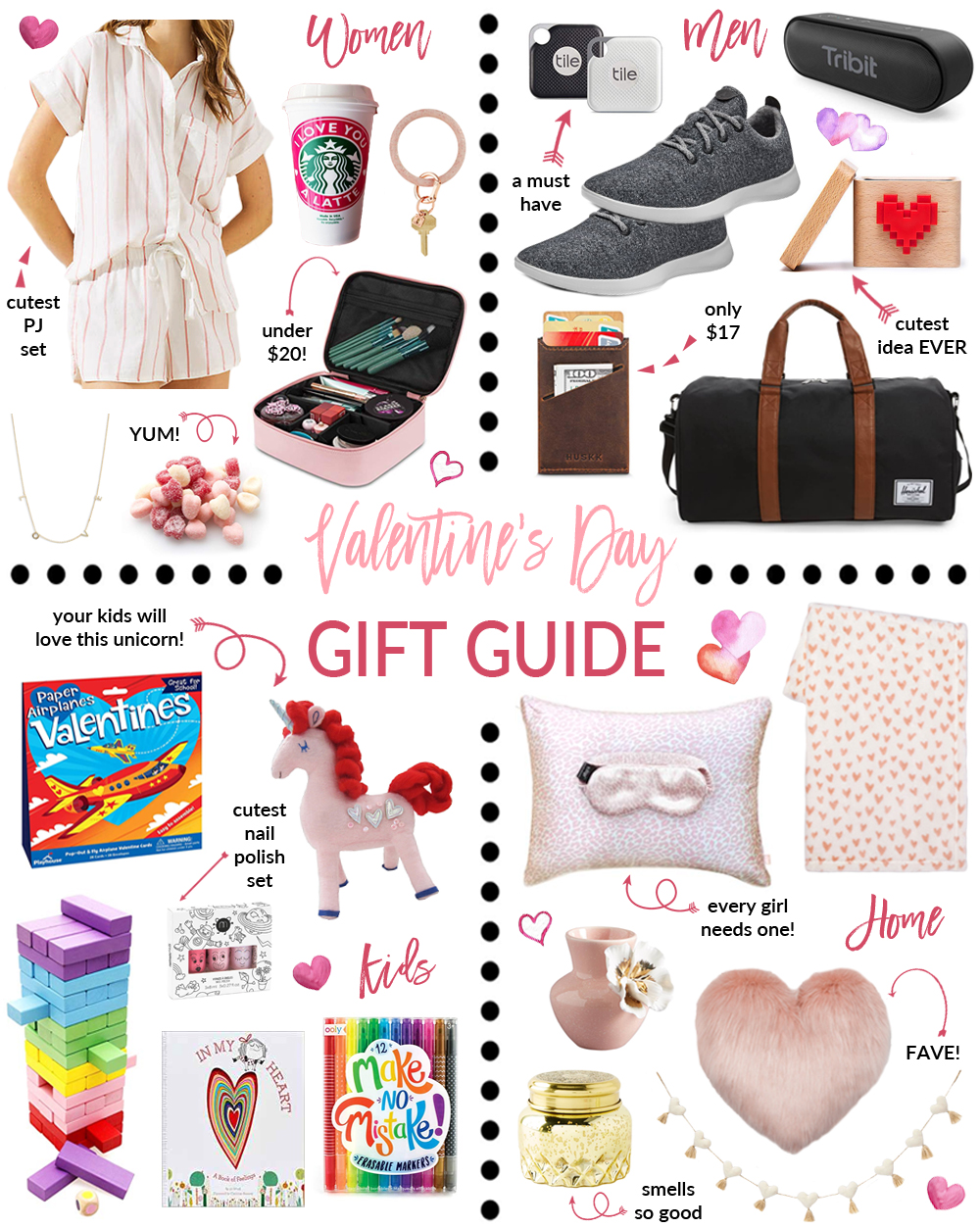 So crazy that January is almost over and we are on to the month of LOVE!! With Valentine's Day coming up, I just wanted to share some fun gift ideas for everyone (even your home needs loving too)! 😉 Hopefully this guide is helpful if you were stuck on what to buy for that special someone!!
Gift Ideas For Women
Striped Pajamas – I have these pajamas and think they are so cute for Valentine's Day and for all of Spring!! I love the subtle pink stripe!!
Personalized Coffee Cup – These are some of my FAVE cups, because you know I love coffee, and because they are so cute for the gram! You can literally get any saying on them and they have some really cute set ones too! Code INSTA10 for 10% off!!
Key Ring Holder – I use this daily for daycare pickup and for placing around my Wizgear while in the car. There are so many varieties of colors and prints and it also makes your keys easier to find if you stash it in your purse! Code SANDY15 for 15% off
Makeup Organizer – Just got in this travel makeup bag and the price and organization alone have me sold!!
LOVE Necklace – One of my favorite necklaces right now! You can wear this any time, not just for Valentine's Day because the world can always use more love!
Sour Heart Gummies – These are SO good! My kids and I ate a whole bag in one day! It's also a nice change from the chalky conversation hearts.
Gift Ideas For Men
Tile Tracker – Tired of having to find things for your significant other? These Tiles are great for those that keep misplacing their things.
Running Shoes – If your man is still working on those New Year's resolution of staying in shape, I've heard such great things about this brand. Even if he's not working out in them, they are stylish to wear every day as well.
Wireless Shower Speaker – Give him this speaker so he can play a nice slow jam and have a slow dance session together. I'm such a hopeless romantic. But really, this speaker is waterproof and has amazing reviews, we actually use this in our shower (minus the dance session lol)!
Spinning Heart Messenger – I absolutely adore this idea! You download the app and once you send a message in it, the heart spins on the box notifying the person that they have a new message! You open the lid to read the message. What a cute way to stay connected!
Wallet – This thin and stylish wallet is perfect for the men that are minimalist.
Duffel Bag – This duffel bag is nice and roomy to fit all of his gym necessities. I love that it has a separate shoe compartment so that it doesn't get the clothes dirty. They also make lots of different colors so you can match your man if you want to.
Gift Idea For Kids
Paper Airplane Valentines – It's always fun to make paper airplanes! Great to bring for kid's classroom Valentines!
Unicorn stuffed animal – What's one more stuffed animal to add to the collection? It always makes my kids feel special when they get a new one.
Nail Polish Set – Sometimes a spa day at home is the best. These are water based so no need to worry about having to use harsh chemicals to take them off. It easily comes off with soap and water!
Rainbow Blocks – A fun twist on an old game! The kids can even just stack them and it will still provide endless entertainment!
Book – The sweetest little book that discusses the emotions our heart feels. The illustration is adorable and will keep little ones engaged in the story!
Erasable Markers – Ever dread when your kid's get upset about having made a mistake when using markers and they can't erase it? Well these erasable markers will solve that problem!
Home Decor Ideas
Heart Throw Blanket – Who wouldn't want to cuddle up in this adorable blanket? It's soft and cozy!!
Silk Pillowcase and Eye Mask – I've only heard amazing things about using a silk pillowcase. This set will make the perfect gift! I also love that this has a pretty leopard print on it! You can also just buy the pillowcase without the whole set.
Vase – How pretty is this vase? It'll make displaying your blooms even nicer!
Heart Pillow – Decorative pillows are my jam! This heart pillow will definitely make a room feel a bit more festive for the holiday.
Candle – This always makes my house smell amazing! Have you seen the all purpose spray that smells similar??
Heart Garland – I love a good garland for the holidays. This heart one is precious and I love that it's a neutral color so if you leave it up past Valentine's Day, no one will notice.
Now I want to know, what's the best Valentine's Day gift you have ever received??