I have to admit, going into this month's Old Navy try on session, I didn't have a clear plan of what I was going to try on. There haven't been a ton of SUPER new arrivals in the past week, but there have been a few pieces here or there that I have been wanting to try! I've really been wanting to find a few more graphic tees to add to my wardrobe, so I started with those and then kind of just decided to do an impromptu – 4 ways to style a graphic tee – embedded into this post! 🙂
Remember, right now through June 9, it's time to spend your Super Cash! If you don't have any, you can use code SWEET to get 20% off everything else. Just make sure to double check which one is actually the better deal! And as always, make sure to check my daily or on my Instagram stories for when they have amazing Today Only deals! Also, card members get 3x points on all purchases ending on 6/9!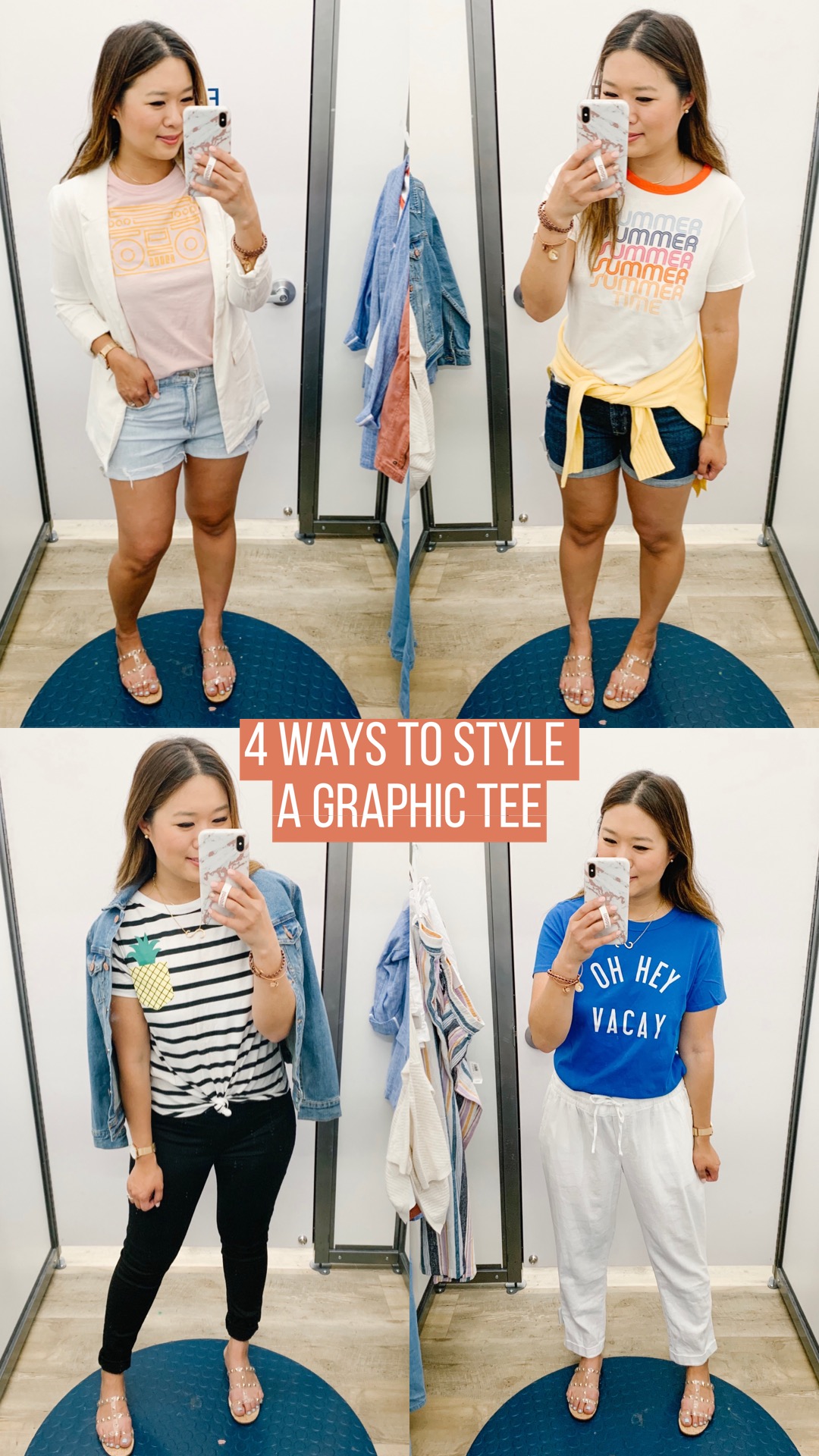 My Stats: 5'4″, 148 lbs, Normally size S/M on top, size M/6/8 on bottom
Outfit 1: Radio Graphic Tee (M) // Shorts (8) // Blazer (S) // Shoes (Size up) // Watch

First off, not all of these graphic tees are online (they go in and out of stock), but you could check your stores. I am typically a size Small in Old Navy tops, but definitely like sizing up one to a Medium in their graphic tees since I do not want them fitted! For this first look, adding a blazer over a tee and shorts look can really dress it up a bit. You could even add some chic heels and it would be a cute brunch with your girlfriends or date night look!Also, I am really digging these light wash shorts, a lot!
Outfit 2: Summer Graphic Tee (M – linked similar) // Shorts (8) // Sweater (M) // Shoes (Size up) // Watch

For the next look, I just picked a color that was in the tee and found a sweater in one of the colors and tied it around my waist. If I get cold at night, I can just throw the sweater on and wear it with shorts and be good!
Outfit 3: Pineapple Graphic Tee (M) // Denim Jacket (S) // Jeans (8R – but 8P is best for me) // Shoes // "S" Necklace

Love doing a little knot tie with tees, especially with pants that are pull on ones! And of course, back to my trusty denim jacket, y'all know I can't live without it!! I love the way blue denim jackets look with black jeans or white jeans!
Outfit 4: Vacay Tee (M – linked similar) // Pants (L ) // Shoes // "S" Necklace

Pairing a graphic tee with some wide leg pants is a cute, chic look for Summer! I love wide leg pants since they are loose, flowy and more breathable for Summer!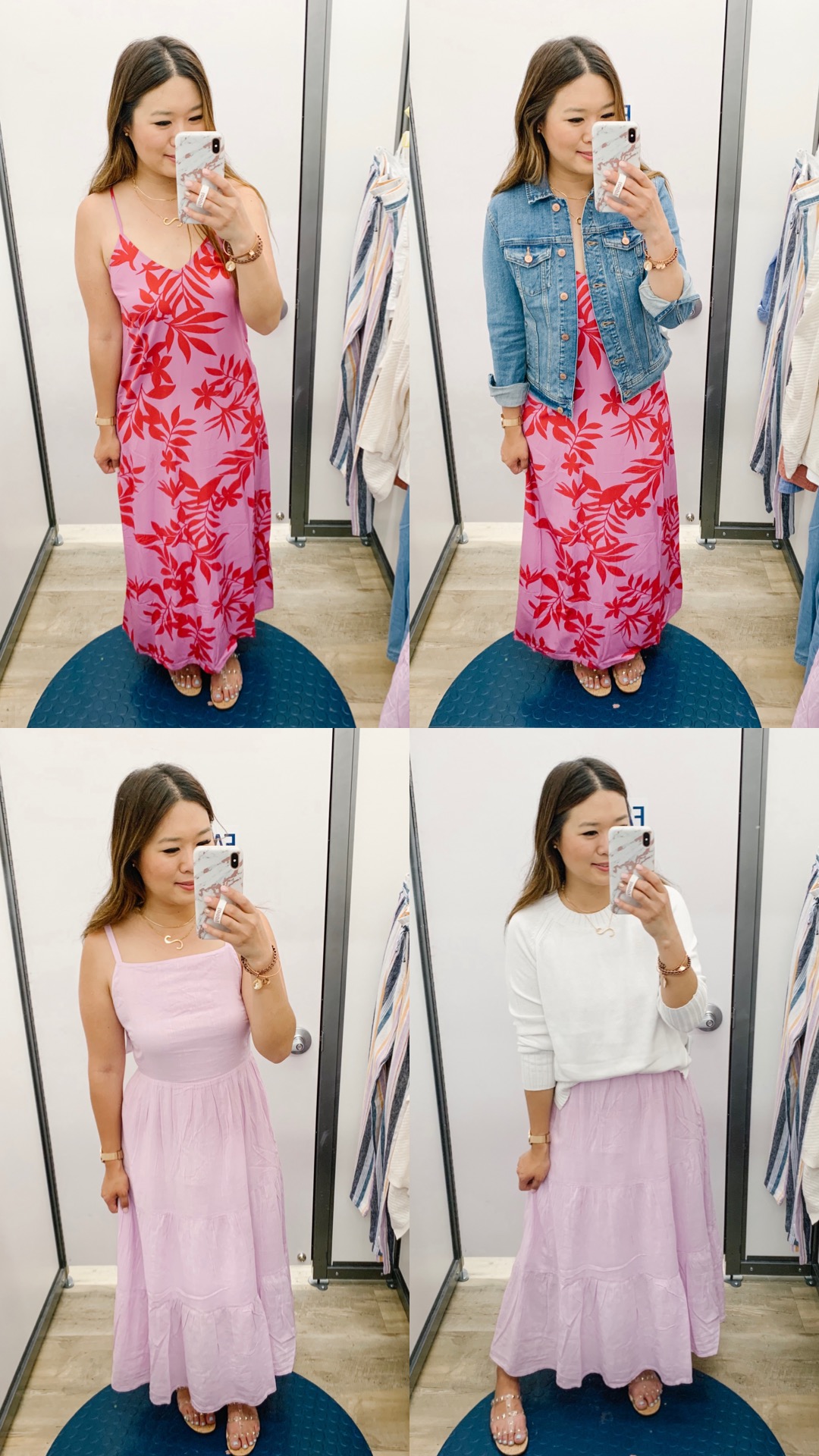 Outfit 5: Dress (S) // Denim Jacket (S) // Shoes

This is one of my FAVE maxi dresses and I already own it in 2 colors! I think it's a great length, good fabric and it has adjustable straps! Throwing on a denim jacket over any of the ones they have is a perfect Summer look!
Outfit 6: Dress (S) // Sweater (M) // Belt

I feel like this dress style is showing up more and more lately. The tiered bottom skirt detail is just so fun!! I love this easy breezy maxi. With this look I threw a casual sweater over it and what you would do is wear a waist belt and tuck your sweater into it! This way you can maximize the use of your dress, by turning it into a skirt! Genius, right!?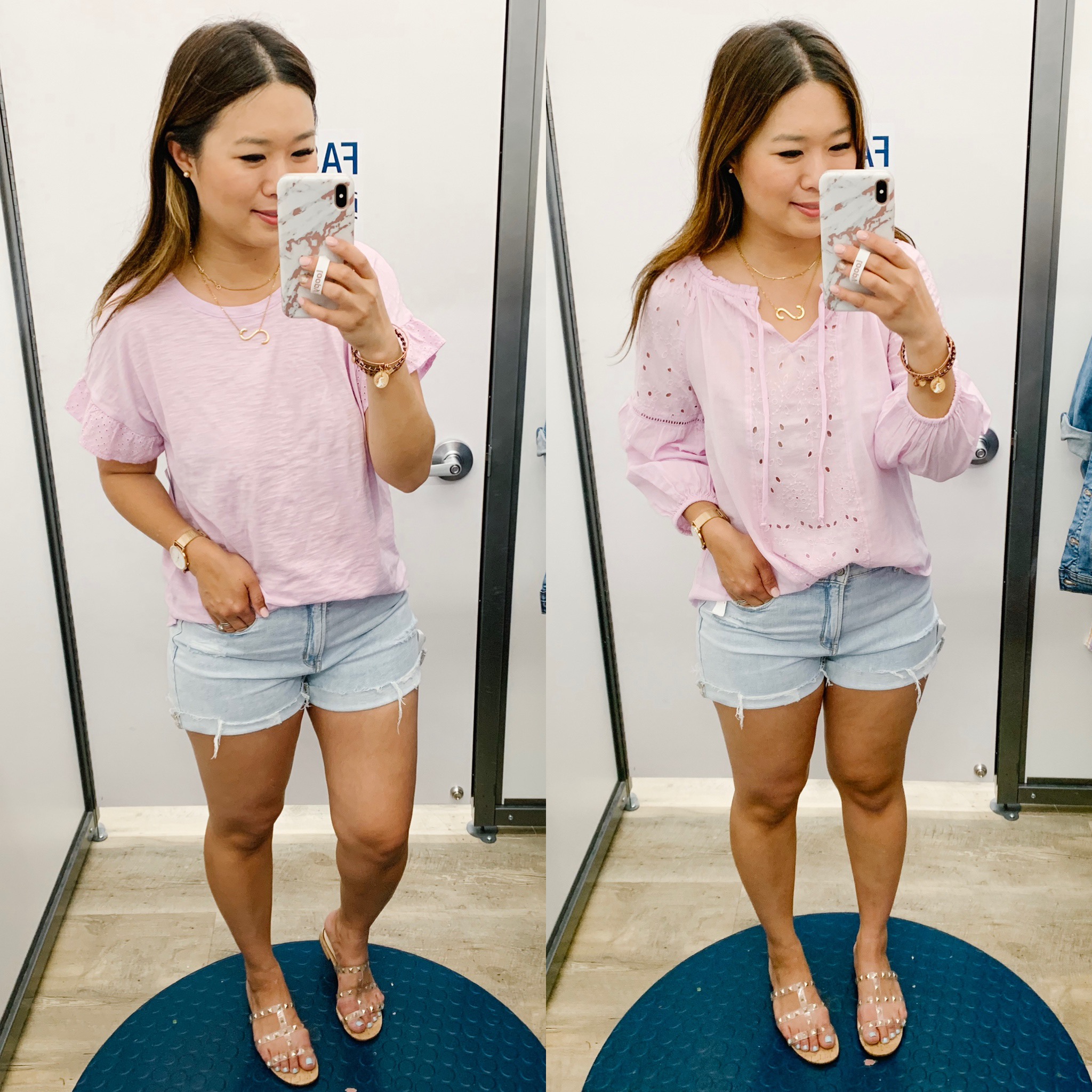 Outfit 7: Tee (S) // Shorts (8) // Shoes

This little top with the little eyelet ruffle detail on the sleeve actually comes in a TON of colors and it's really just perfect for adding a little something to a basic tee. I love the darling sleeve detail!
Outfit 8: Blouse (S) // Shorts (8) // Shoes

I LOVE this little blouse and it comes in a few colors, I actually took it home in the white color as I thought it would be uber versatile! It has so much beautiful detail to it and I would leave the ties untied.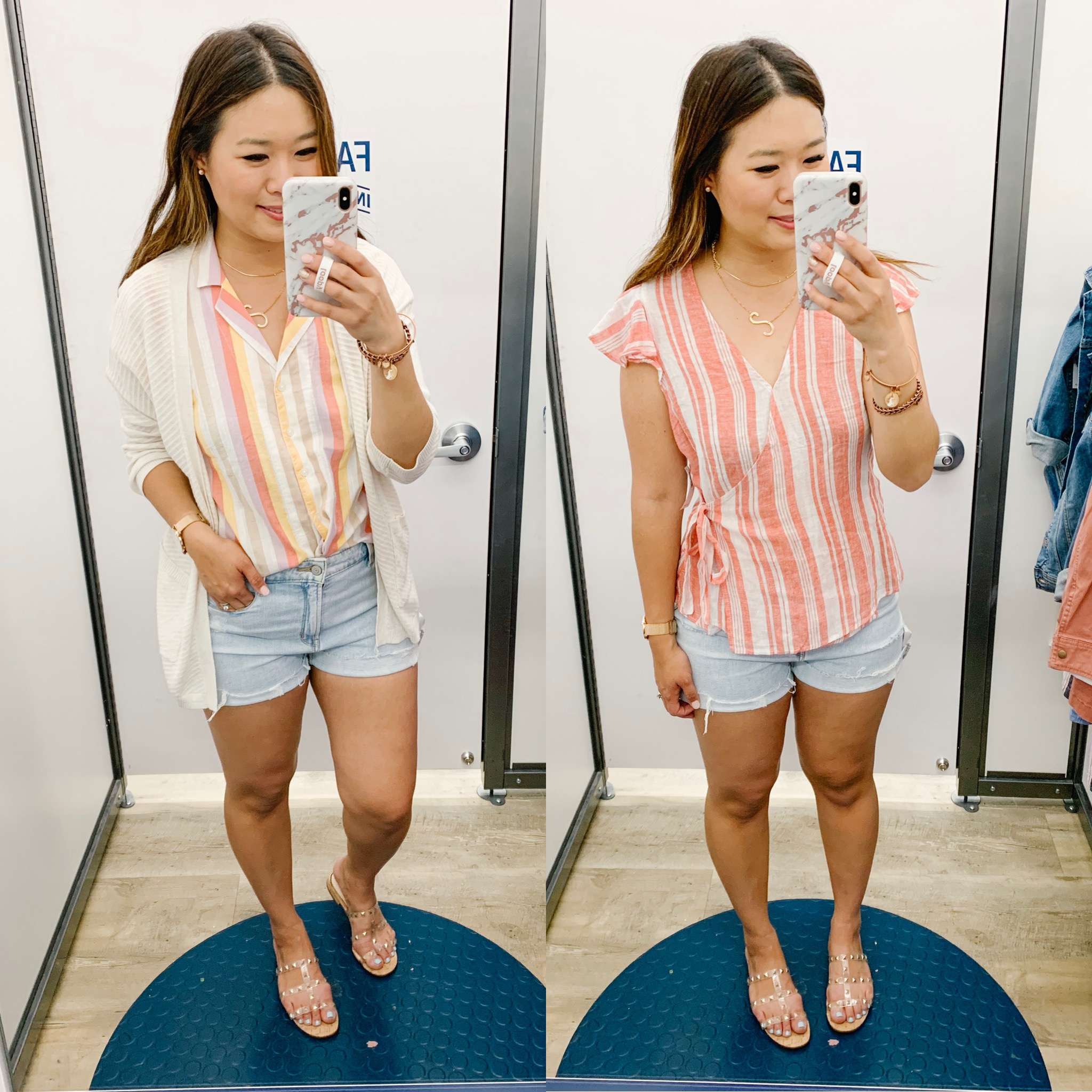 Outfit 9: Button Down (S) // Cardigan (S) // Shorts (8) // Shoes

Y'all know my love for wearing cardigans over camis and shorts or tees and shorts, and this time I did it with a button down top! I am LOVING the colors in this top, by the way!!
Outfit 10: Top (S) // Shorts (8) // Shoes

A wrap top and flutter sleeves, yes please! Oh and I also love stripes too. This one is made more from a linen material.
Outfit 11: Tank (S) // Jacket (XS – need S) // Shorts // Shoes

This little tank is a great basic, it comes in a ton of colors!! White might be a tad sheer, but not too bad. Also, I swear this jacket color is new (to me), but I have it in green and pink! I am digging this color though these days!!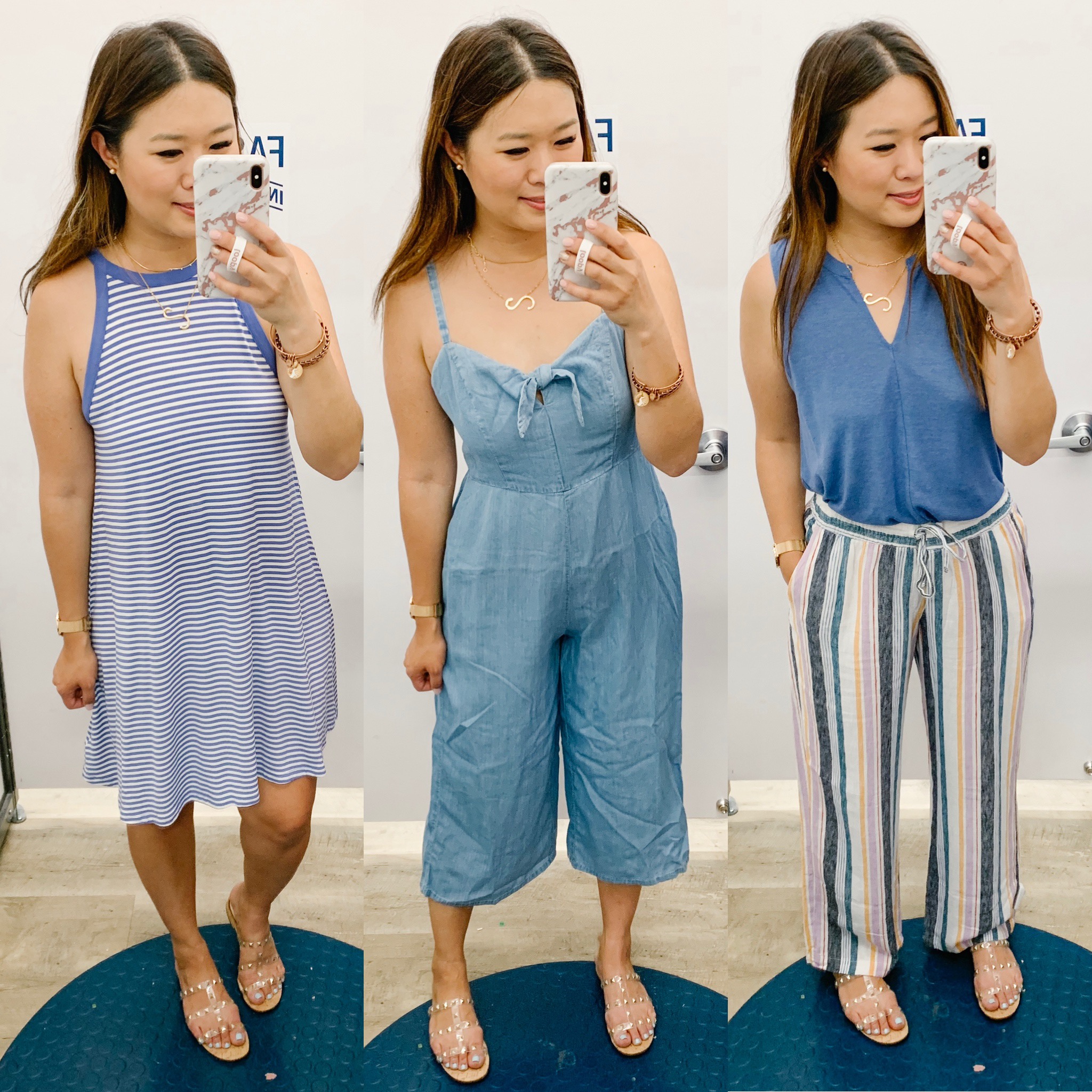 Outfit 12: Swing Dress (S) // Shoes

Love this new cut and style of their swing dress. I have a ton of the wide strap ones, but this higher cut is super flattering!
Outfit 13: Jumpsuit (M) // Shoes

Of course you knew I had to try on a jumpsuit!! Oh this chambray on with the bow front is cute! I like the size Medium fit in this and the straps are adjustable to be higher or lower!! BUT NO POCKETS, SAD!
Outfit 14: Tank (S) // Pants (L – Regular M / Petite L would be best) // Shoes

This is the same tank as the white one with the jacket in Outfit 1, I love this blue color so much! Paired it with these really fun linen wide leg pants (similar to Outfit 4) and I am in love with this outfit! I am wearing a Regular Large, which it is a little big and long for me. I think a Regular Medium or maybe even a Petite Large (I usually size up in Petite sizes) would be best for me!!!
Hope you enjoyed these outfits!! Current Old Navy top seller from you all is these Mid-Rise Breathe ON Joggers! I have them in the pink color in a size Small (sized down from normal) and they are FAB!!