Top // Jacket // Jeans // Necklace // Sunglasses
Your Top Ten Purchases From The Nordstrom Anniversary Sale
I've looked through my analytics over the past week, and have narrowed this list down to your top purchases through my links!! Many of them have sold out during early access, but crossing fingers they restock during public access!! Great thing about these all is that I do actually own them and can recommend them!
1. BP. Lace Trim Satin Camisole Top – This cami top was pretty popular, especially in the leopard print. I got it in a size Small. It's a good cami, but in my honest opinion, other places have cute solid colored ones too so if you don't grab it, I wouldn't be that upset!
2. Madewell Ryder Stripe Cardigan Sweater – This one sold out day one of early access. It has pretty colors and I know that I will personally wear mine all throughout the season. I originally tried on a size Small, but decided to size down to an XS.
3. Caslon Drape Collar Knit Blazer – This one comes in a lot of colors, is a nice classic style and I think is a great price! It is a great little jacket that you can layer over your work outfit or just for when the weather gets cooler.
4. Steve Madden Feather Studded Loafer – These keep going in and out of stock! I personally love the snakeskin print, but if that print is not your thing, it comes in solid colors too!! They are a great price and classic style.
5. Barefoot Dreams In The Wild Throw – This is one of my very favorite home items. The leopard print is amazing and I love it in the lighter cream especially. These are SO SO SO SOFT!!
6. Something Navy Leopard V-Neck Cardigan – Leopard is all the rage every Fall and I just loved the cream/black print on this one! I sized down in this one too.
7. BP. Long Leopard Jacquard Cardigan – This one was probably on a ton of people's wishlists before the sale began, so again that is why it sold out super fast. I had this one from last year and it is just a nice soft classic leopard print.
8. Wit & Wisdom Absolution Skinny Jeans – These are hands down my favorite jeans that I look forward to going on sale every year. They hardly ever go on sale when it's NOT Nordstrom Anniversary time. I size down in these and always get the Petite length. The best part of these jeans is that they have an elastic waistband which make them so comfy. The price point is around $50 during the sale which is a great price point for amazing denim. Also, if you are post partum, these are great!
9. Halogen Long Ribbed Cardigan – There are a lot of really great longer cardigans as part of this sale. This one is a nice classic style and comes in good colors.
10. Spanx Faux Leather Leggings – These hardly ever go on sale, but when they do, I always recommend snagging a pair. They have great compression, look slimming, and can be dressed up or down. Size up in these!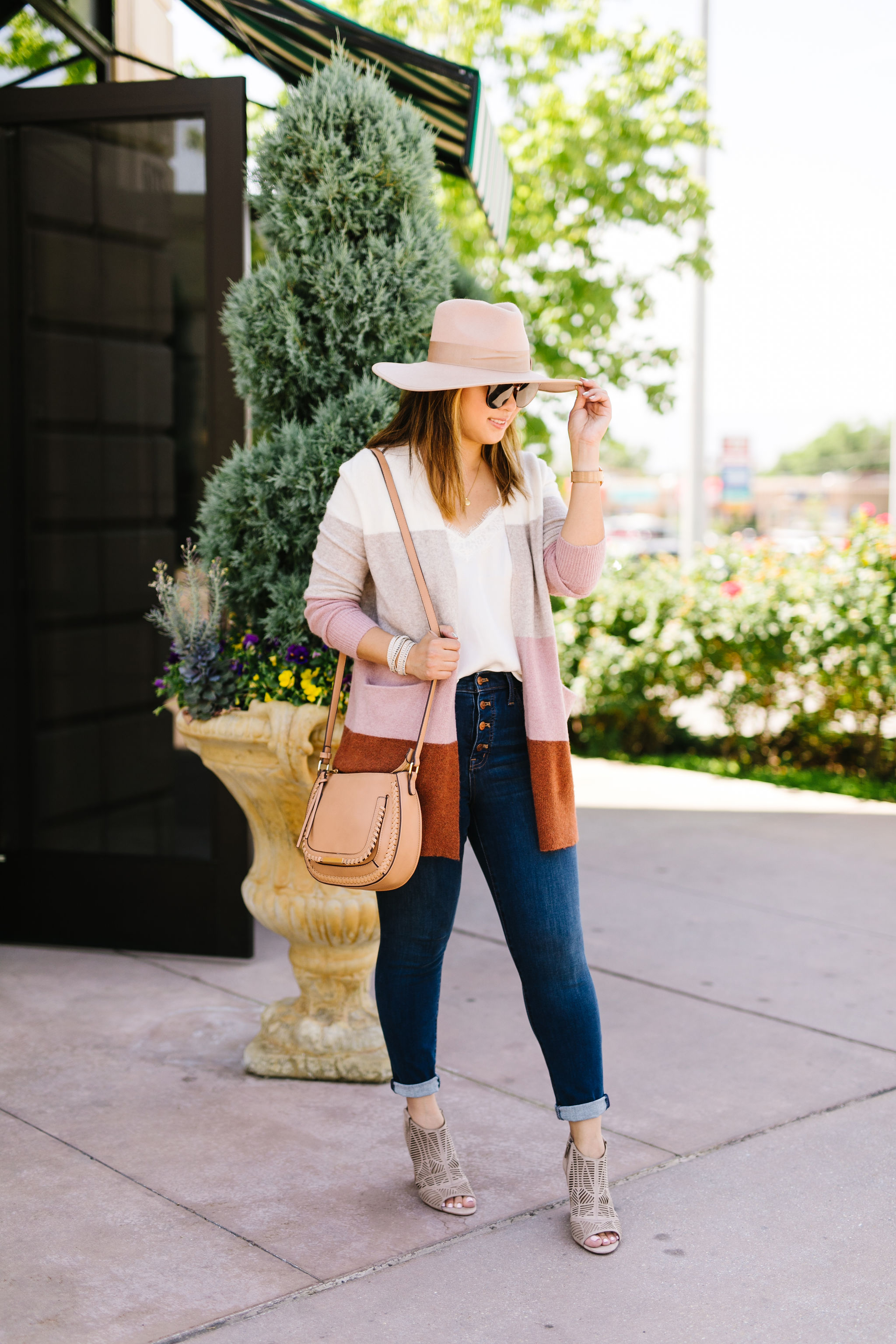 Cami // Cardigan // Jeans // Shoes // Purse // Hat // Necklace // Sunglasses // Bracelet // Watch
Ten Items I Recently Purchased (And Am Super Excited About)
Since the beginning of the sale and the couple of try ons I did, I have made a few more purchases that I wanted to share with you all!!
1. Caslon Allie Wedge Sneaker – These cone in 2 colors and I definitely think the wedge elongates your leg. Size up half size in these.
2. Barefoot Dreams CozyChic Lite Island Cardigan – I am SOOO excited about this cardigan. I got it in an S/M and I definitely think it's one that is perfect for travel or loungewear or everyday.
3. Natori Rose Dream Custom Coverage Underwire Bra – I have heard great things about Natori bras so excited to try this one out.
4. Vince Camuto Gigietta Bootie – These booties are super popular and I just love them in a classic color. They keep going in and out of stock. I sized up (I am between sizes).
5. Thread & Supply Fleece Lined Quilted Jacket – This jacket is a jacket that has a nice fleece inner and the pink one is so cute! I love the color and am excited to wear it in colder months.
6. Caslon Side Snap Tunic – I am always on the hunt for tunics that work with leggings!! This one is warm and the buttons add a fun little detail to it.
7. Tucker + Tate Rainbow Graphic Hooded Denim Vest – This one is for Vivian and I can't wait for her to wear it. It has pink and rainbows and I just know it will be a favorite of hers.
8. Steve Madden Everly Over The Knee Boot – I tried these on when I was in Michigan, with a leopard dress and got lots of compliments. I have to say that these boots hold up well, are a great price point and have a stretchy panel that would work with wider calves. I am super excited about these!!
9. Madewell Bold Stripe Blanket Scarf – I always get a new blanket scarf for Fall (whether from the Nordstrom sale or not), but I really fell in love with the colors of this one. I love wearing blanket scarves with more neutral outfits in the Fall!!
10. Cubic Zirconia Earrings – I have heard so much about these earrings and once I saw them in person I fell in love! They come in 0.5 all the way to 8 ct sizes, platinum or gold setting, and they sparkle from a mile way. I great the 4 ct earrings as I feel like my earlobes are not too big and I didn't want them TOO big on me, but I do think bigger the better. 😉 After all, even the 8 ct is under $40!!!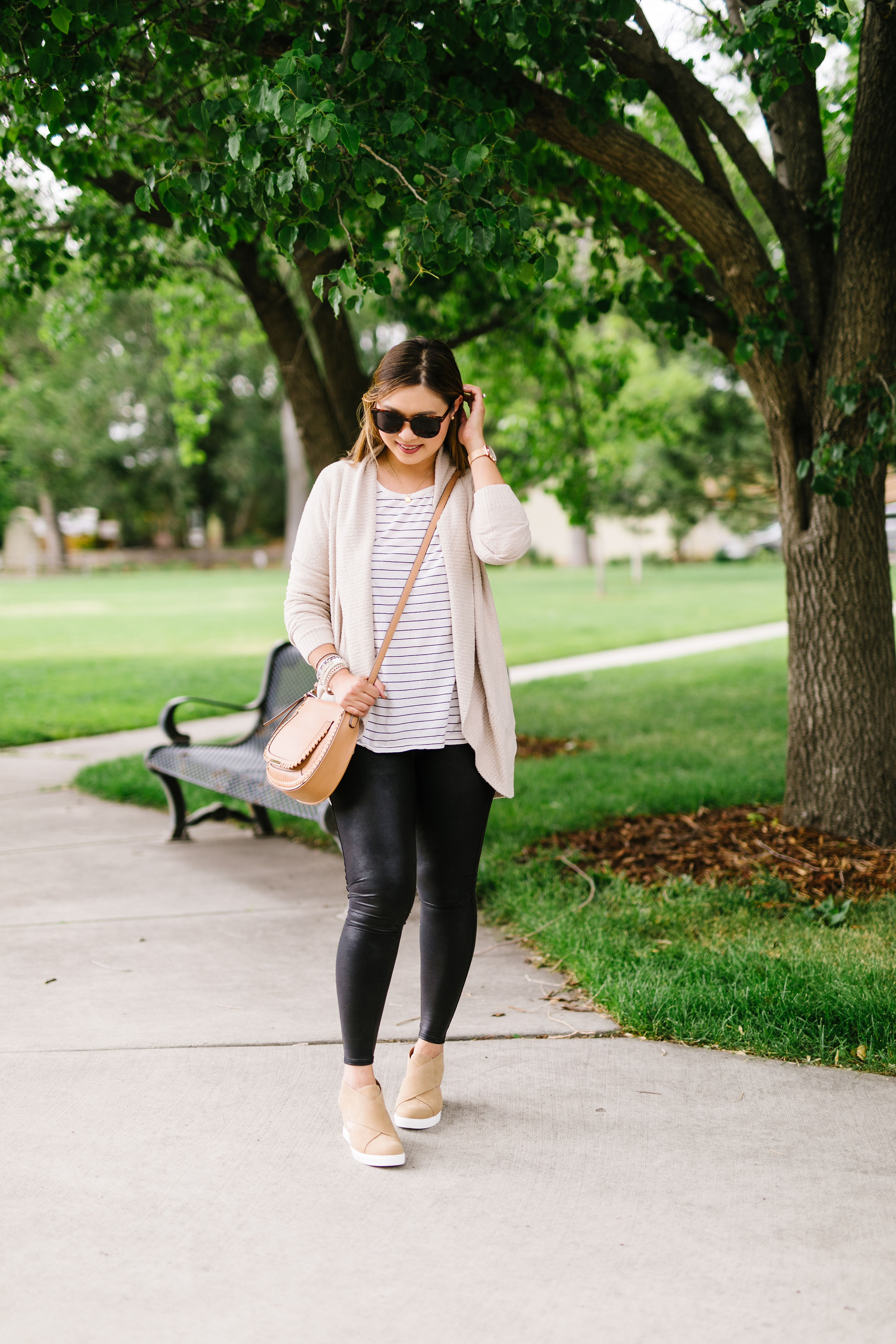 Top // Cardigan // Leggings // Shoes // Purse // Necklace // Sunglasses // Bracelet // Watch
Ten Most Underrated Items In The Sale (And Are Still In Stock!)
These are items I have owned from previous years or picked up this year that I am super excited about, but haven't seen a lot of hype about them from others!! They are pretty well stocked, which is a great thing for those shopping the sale!!
1. Linea Paolo Faith Wedge Sneaker – Size down if in between for these. These are another wedge sneaker variety with a fun cut out. They are very comfortable!!
2. BP Heath Bootie – I LOVE LOVE these boots in the cognac color and think they are a very classic boot style that can be worn all throughout Fall. Great price too!!
3. Blondo Nina Waterproof Suede Boot – I feel like these boots are SO classic and I love that they are waterproof. I am excited to try out this brand finally this year!!! They also have the Wedge Sneaker that comes in a lot of great colors!
4. Gibson Cozy Twist Front Pullover – This is one of my FAVE Nordstrom brands, and I love that this top is SOO soft and would go great with leggings!
5. BLANKNYC Faux Fur Teddy Jacket – This one is one of the more "fun" or "extra" pieces I grabbed but I love it. I love this little cropped fur jacket on!! I wasn't so sold on the hanger, but it's darling and fun for Fall. I feel like it could replace my moto jacket (in styling outfits) and just be a warm alternative!!
6. Leith Longline Cardigan – Another classic long cardigan, this is one of my faves, especially their Pink Adobe color!! It comes in a lot of colors and you can do a lot with it!!
7. Living Proof Perfect Hair Day Trio – This is a great price for some hair products that I love!! I did grab this set as I needed some new shampoo and conditioner and I even grabbed one for our guest bathroom too! I also LOVE their dry shampoo and use it every other day (or whenever I don't wash my hair)!
8. Something Navy Scrunch Back Bootie (Little Girls) – These leopard booties will be a classic Fall bootie for Vivian!! LOVE them!!!
9. Tucker + Tate Moto Joggers (Boys) – I grab these pants for Austin every year. They are such a comfortable fabric and hold up well!!
10. Kennebunk Bliss Plush Throw – So this actually almost made it into your Top Ten purchases, but I still think they are underrated!!! These blankets are SUCH a great price and make a great throw over a chair, couch or bed!! They come in a ton of colors and would make a great teacher/holiday gift!!