Super excited to bring y'all another LOFT try on, apparently this was my 3rd one this month, who knew?! LOL! But this one is a little different because it is geared towards teachers / workwear since back to school is coming up soon (if it hasn't started already)! I got a request over on my Instagram @sandyalamode to style some work outfits that would work for Summer, yet could transition into Fall! I have to say, I feel like a lot of the outfits here can transition into Fall or work with indoor cold A/C if you throw on a blazer or cardigan over the outfit! I tried to show a little bit of the versatility with most of the outfits! Sizing wise, most items I tried on are "Regular", if they are Petite, I called it out. Also, I am 5'4″ for reference! If you are not in the season of shopping right now, I hope that at least this post can give you some outfit ideas!! My goal is always to bring you lots of outfit inspiration!! 🙂
Current LOFT sale: Right now, they have a 50% off all full-priced styles sale with code SUMMER4EVER! But perhaps the hidden gems are in the extra 60% off sale styles (I'll show you a few at the bottom of the post)! This sale ends on July 28 at 11:59PM EST.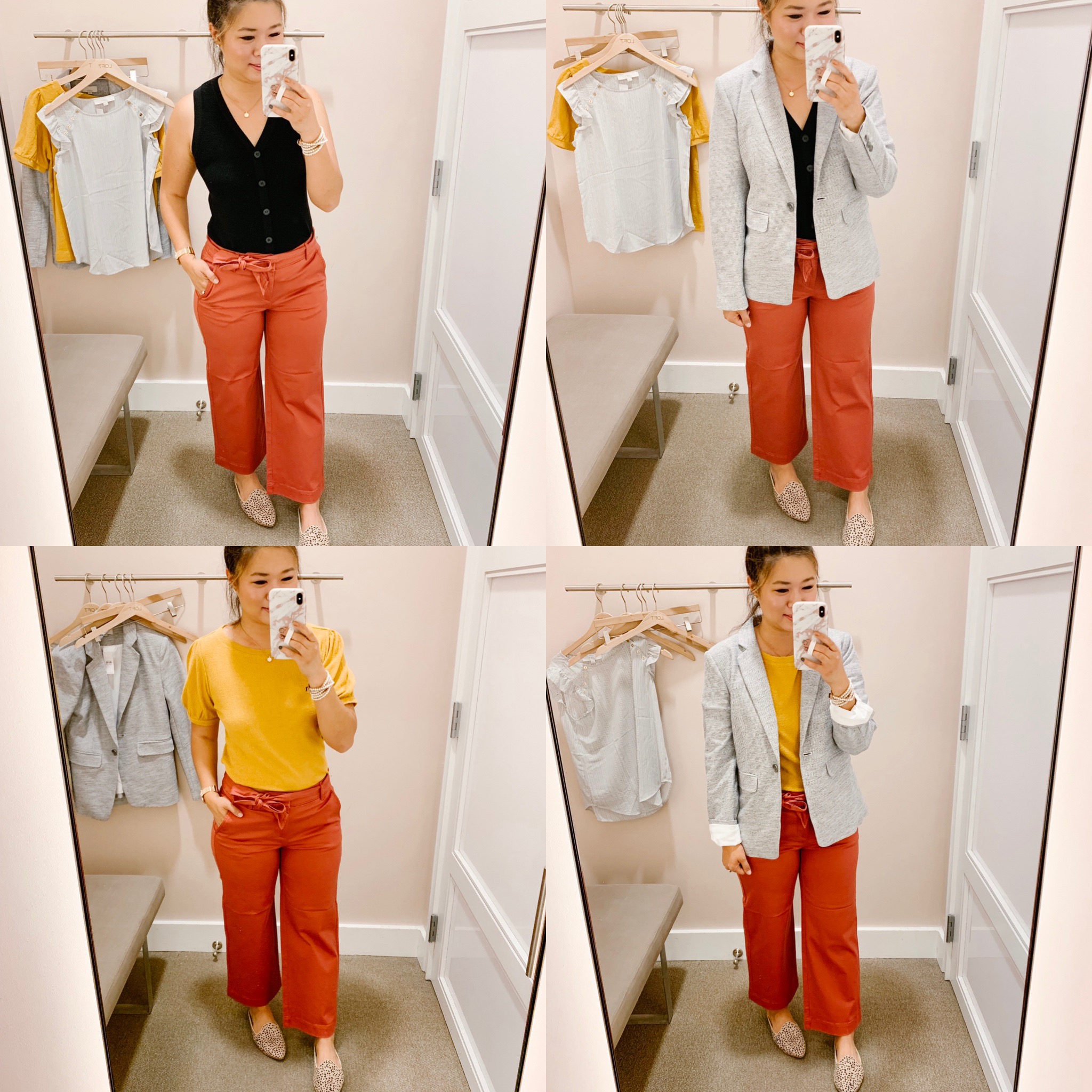 Black Tank (S) // Blazer (6) // Yellow Top (S) // Pants (6) // Mules // Bracelet
These wide leg pants are good find! I debated whether I would need the Petite, but I like where it sits on my ankle. I love the color of them and how they pair well with black and mustard yellow tones. I definitely feel like this outfit tends to lean more towards Fall although is cool enough and professional that you could wear it to work.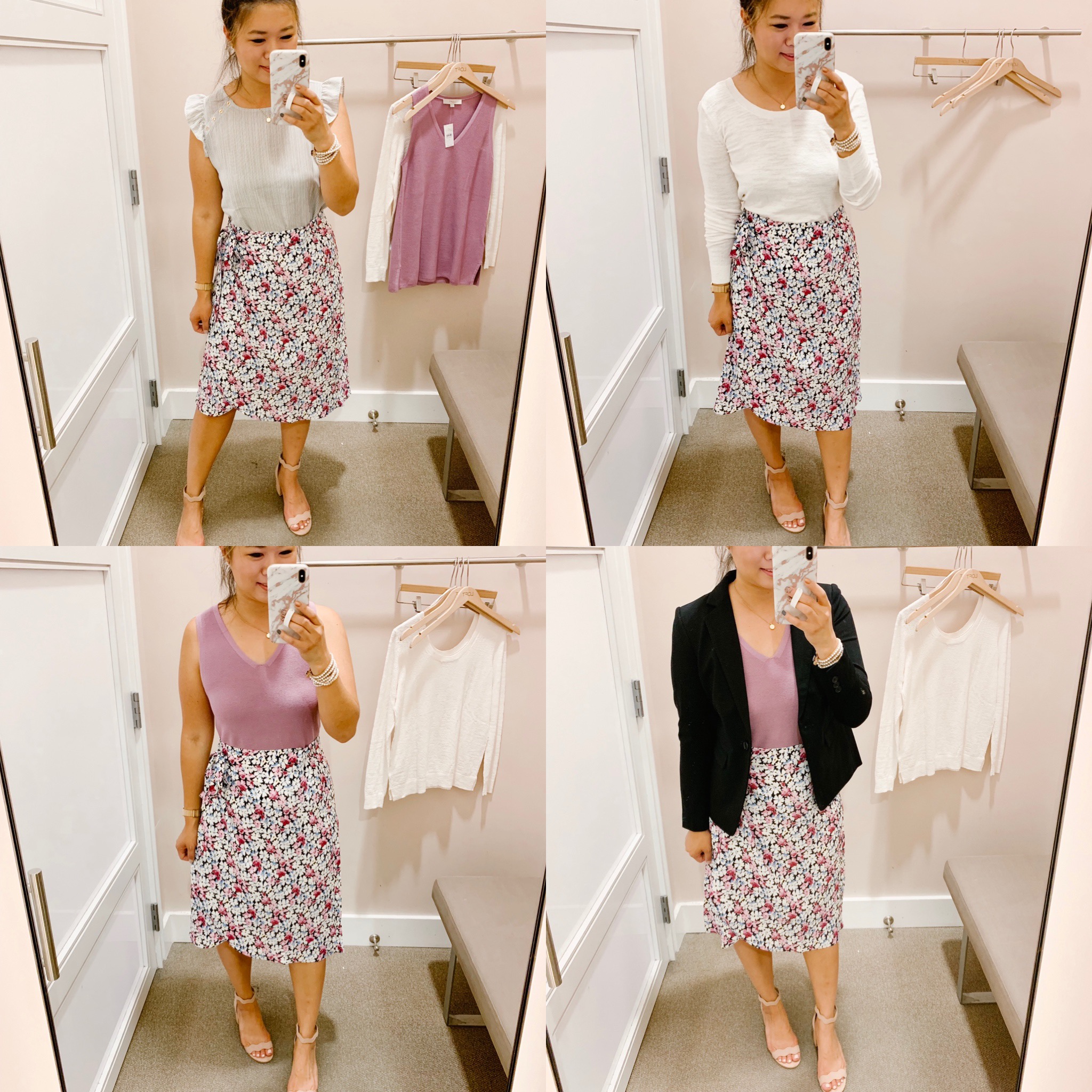 Ruffle Sleeve Top (S) // Long White Sleeve (S) // Purple Tank (S) // Blazer (4P) // Skirt (4) // Heels
This beautiful floral wrap skirt screams Summer to me and I love how it pairs with both tank tops and long sleeves. Throw on a blazer over the outfit for a more elevated look.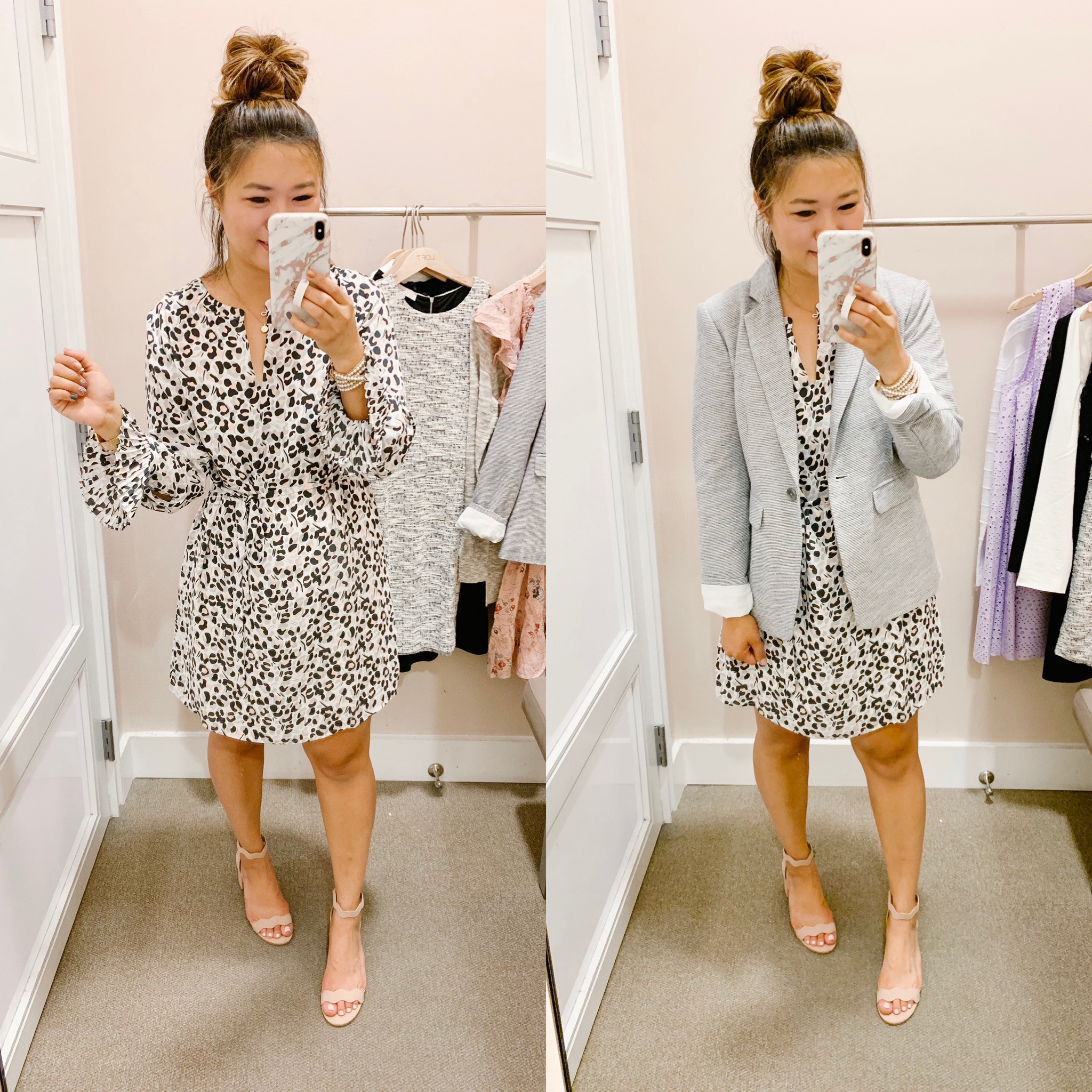 This dress was almost sold out in my store and pickings were slim! I only was able to try on a Medium, but would definitely need a Small. It's a REALLY pretty leopard print and has lots of interesting detail like a fun cuff. Pair it with a blazer for an elevated look. I am wearing this blazer throughout the try on, but my perfect size would be a 6P, the arms on the Regular size are a tad long.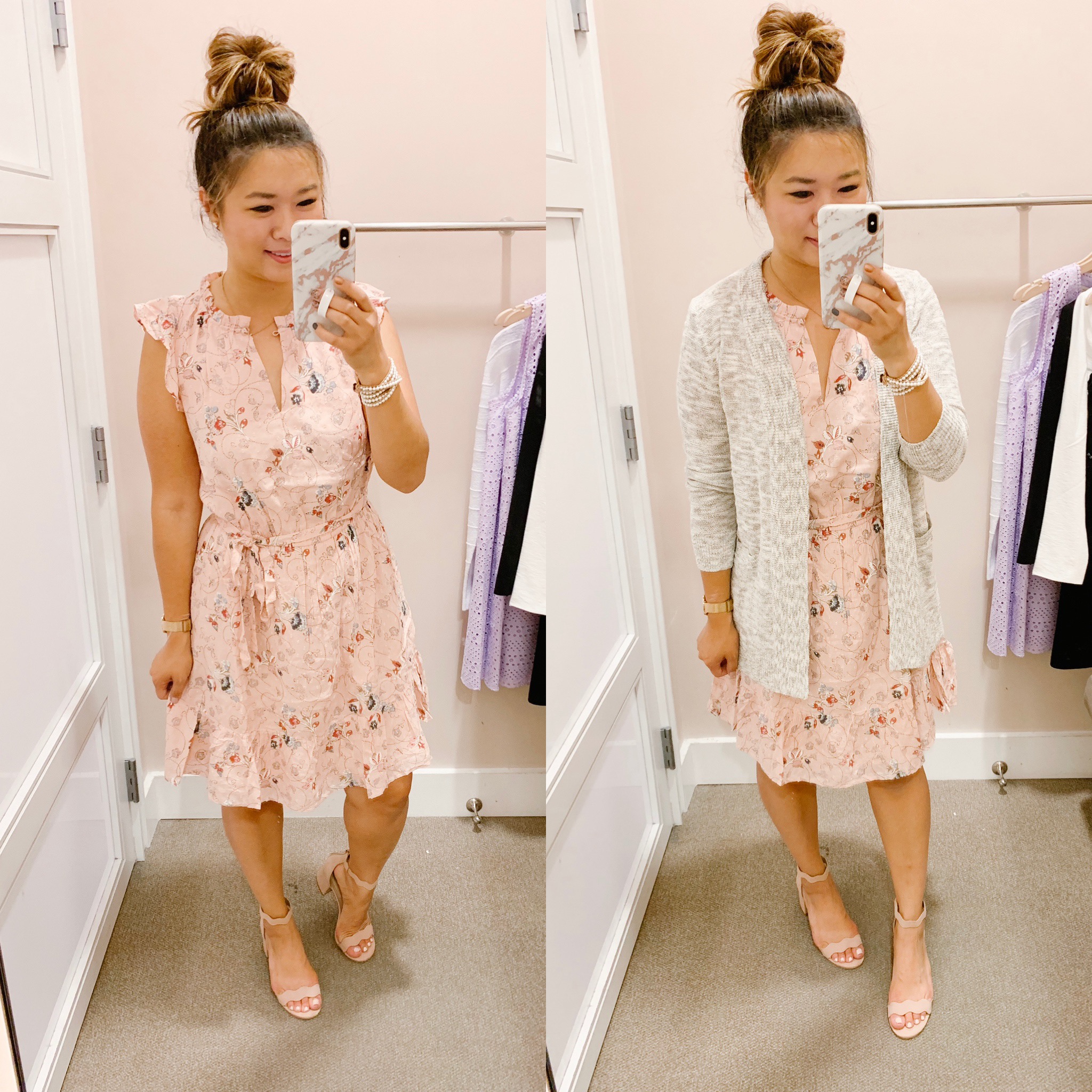 I feel like a classic cardigan like this one is the epitome of the cardigan I would leave behind my chair at my office desk in an office building. It's the perfect throw on cardigan over so many outfits, but is functional to keep you warm in cold office buildings!! This pink dress is darling too, by the way, it has a pretty swiss dot detail woven throughout!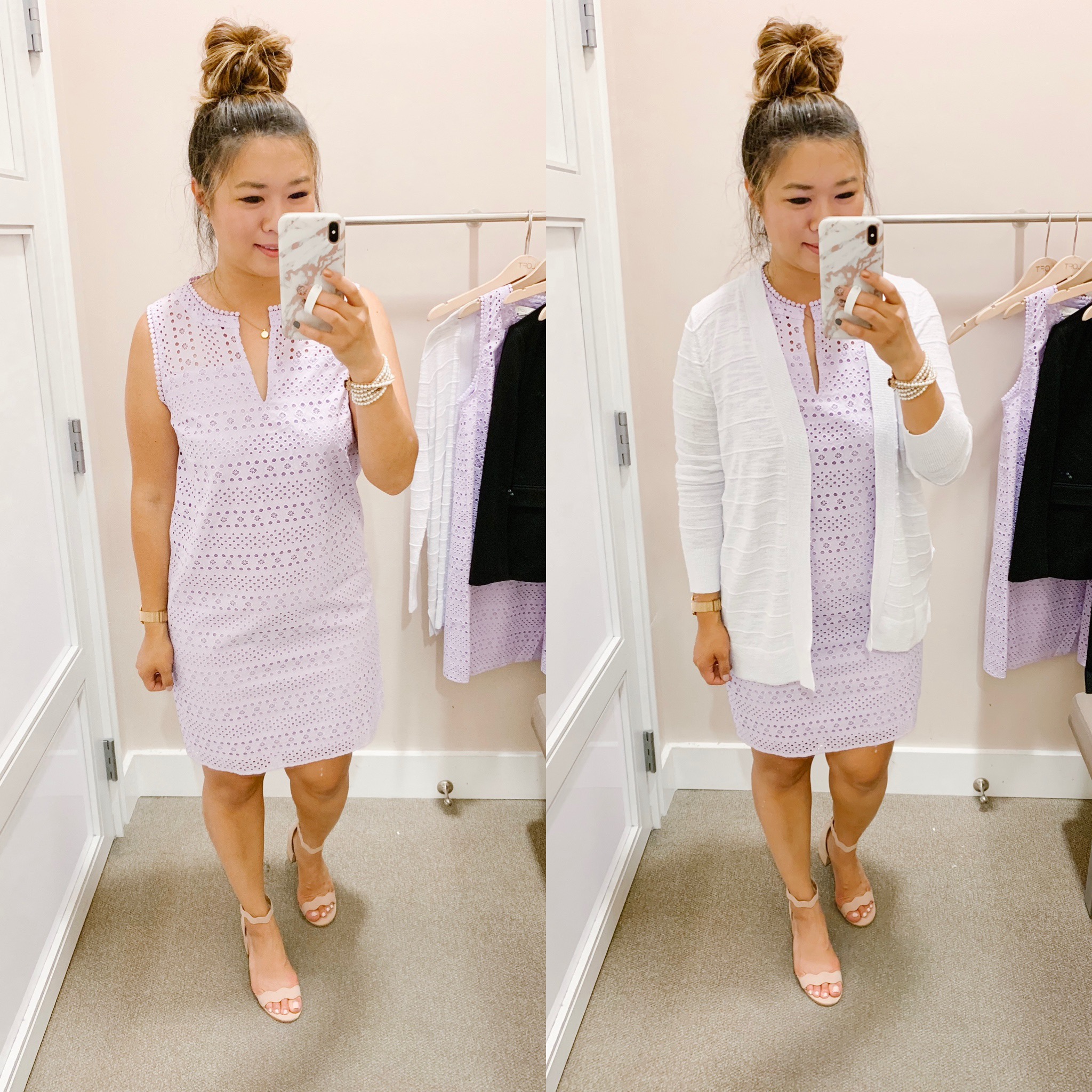 I loved this dress and wanted it to work, but I would beware if you have a curvy frame. The bottom part was pulling on me a little bit and I am afraid if I sized up to a Large, the top part would be too big. It's too bad, because I love the detail and color of the dress!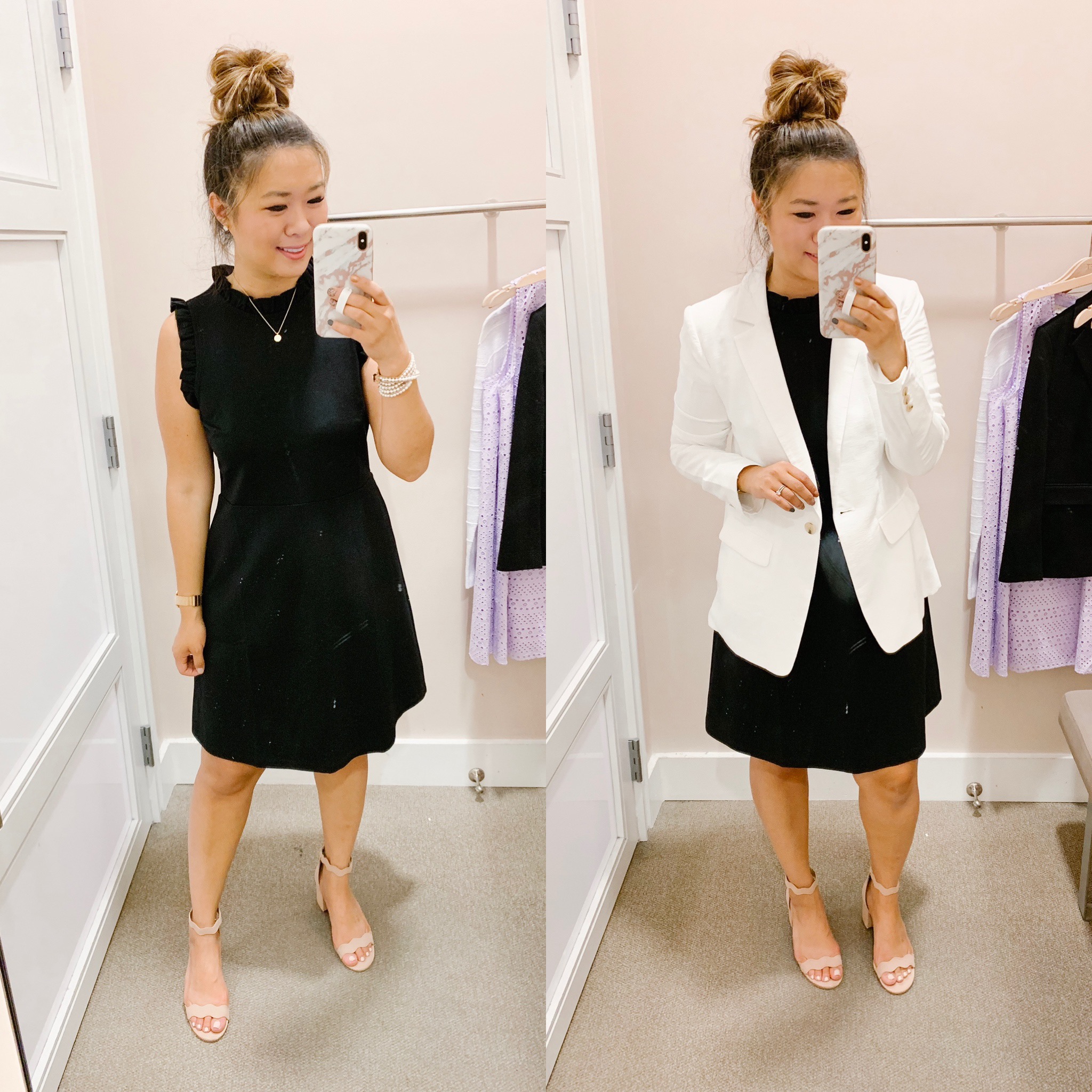 Dress (6 – bought it in 4) // Blazer (6)
HANDS DOWN MY FAVORITE PIECE FROM THE TRY ON!!! So I am wearing a size 6 here, but afterwards tried on a 4 and took the 4 home right away. It is the most gorgeous little black dress, and if you are looking for one to just have in your closet (definitely a staple), this would be it. Not only is it perfect for the office place and teachers, but you could totally wear it to a wedding, date night, girls night out, etc!! It's a great little piece and I especially love the ruffle neck and A-line fit! It looks like this dress was brought back from 2 years ago, based on the reviews!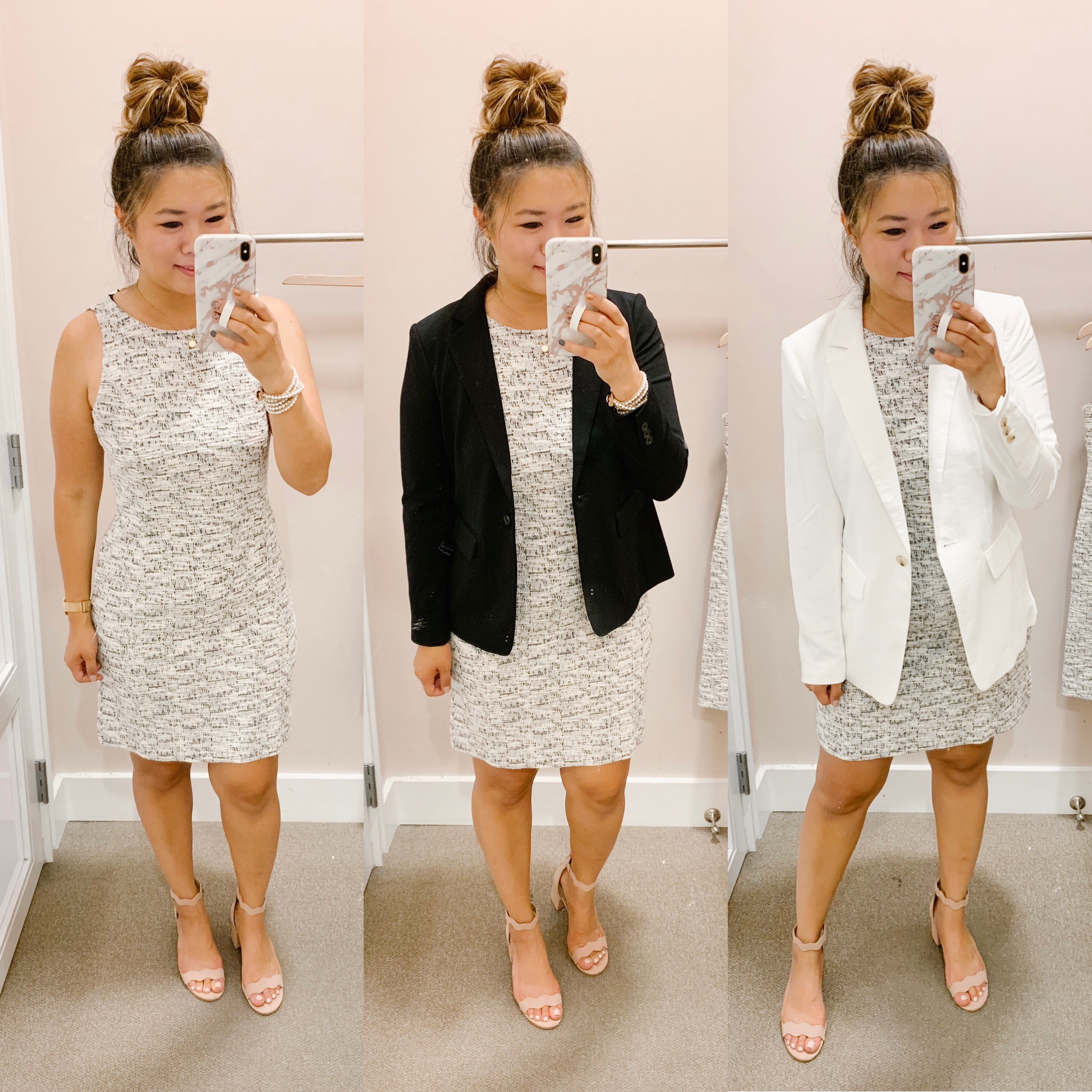 Dress (6) // Black Blazer (6P) // White Blazer (6)
Because of the bodycon-ish qualities of this dress, I made sure to size up (if in between) in this dress size. I love it both with a black and white blazer, all such classic looks!! The texture on the dress is just super nice for work.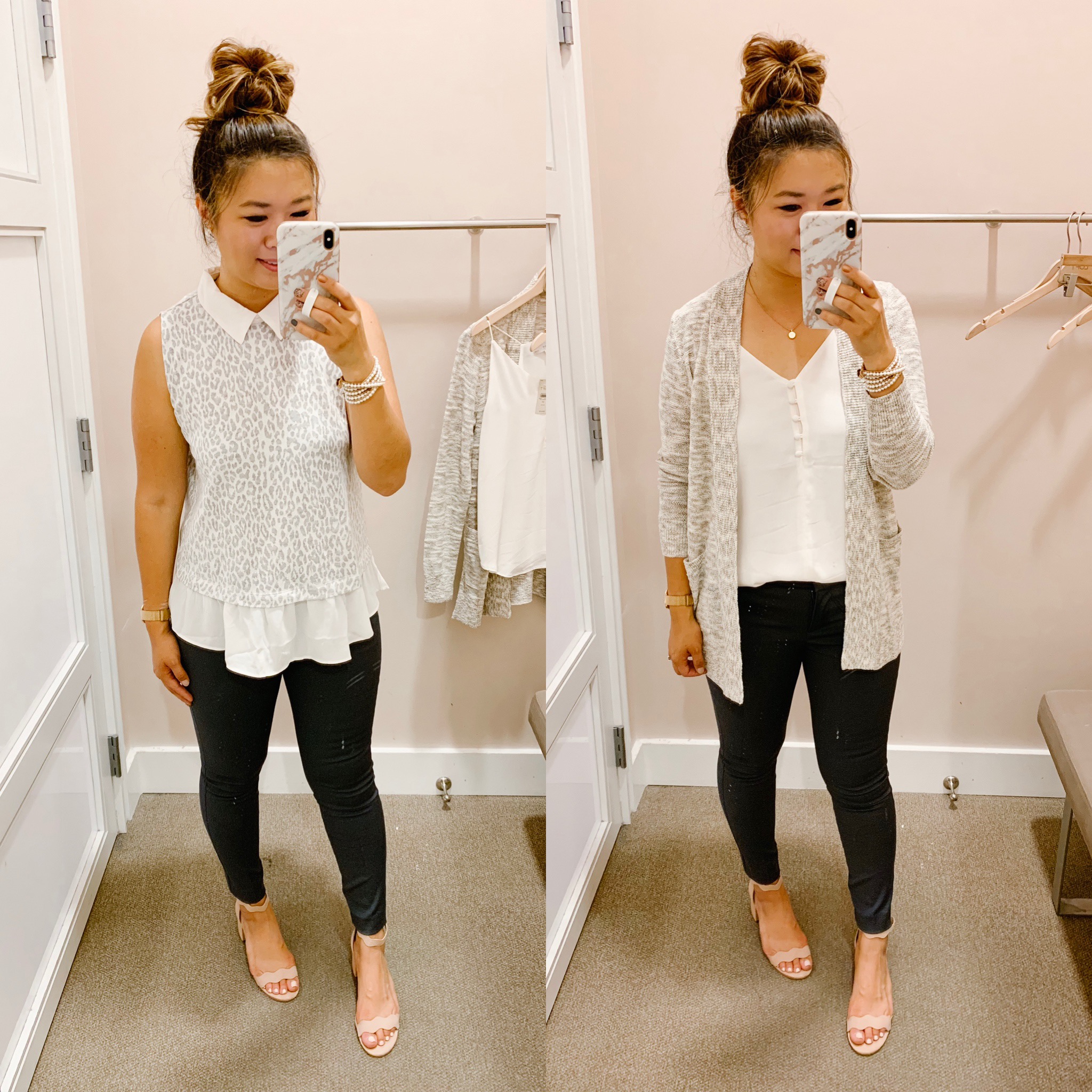 Leopard Tank (S) // Cami (S) // Cardigan (S) // Pants (8P Marisa – would get Julie)
This leopard tank is an unexpected winner in terms of the tops I tried on! The muted leopard print is so pretty and I just love the "layered" look. It looks so cute with work pants, but could also work with denim too! These pants fit amazing and are a great modern work pant. The Marisa fit is a bit straighter through the hip, but the store does not carry Julie's which is a slight curvier fit. I think my perfect work pant sizing at LOFT is an 8P Julie! On the right, I just wanted to share this awesome skinny work pant (color is Coastal Grey) with a classic cami and cardi combination.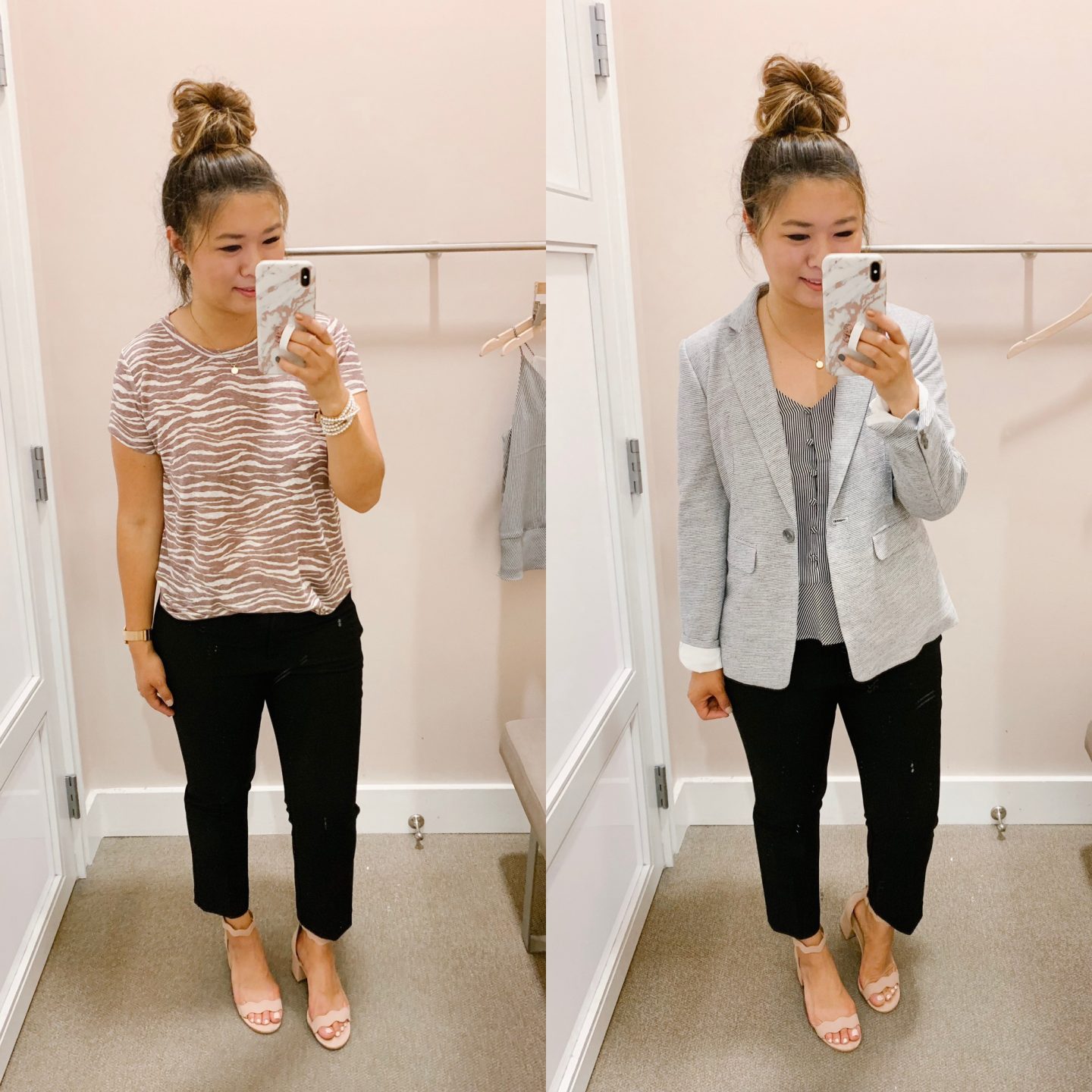 Zebra Tee (S) // Striped Cami (S) // Blazer (S) // Pants (8P – Marisa)
If you hop onto the website or the store, you will see this zebra print everywhere. The dress version is one of the first things that pops up when you search the site and it has great reviews! Although I do think the top and dress are made of a nice lightweight material, overall, I am not a huge fan of zebra print, I am more a leopard print fan! Also, I swapped my work pants here to a black pair that has a little wider opening at the bottom than the previous pair I tried on. This one comes in a few colors and I would also prefer it in 8P – Julie fit. On the right is another cami, but with a blazer instead of a cardigan, like the above picture!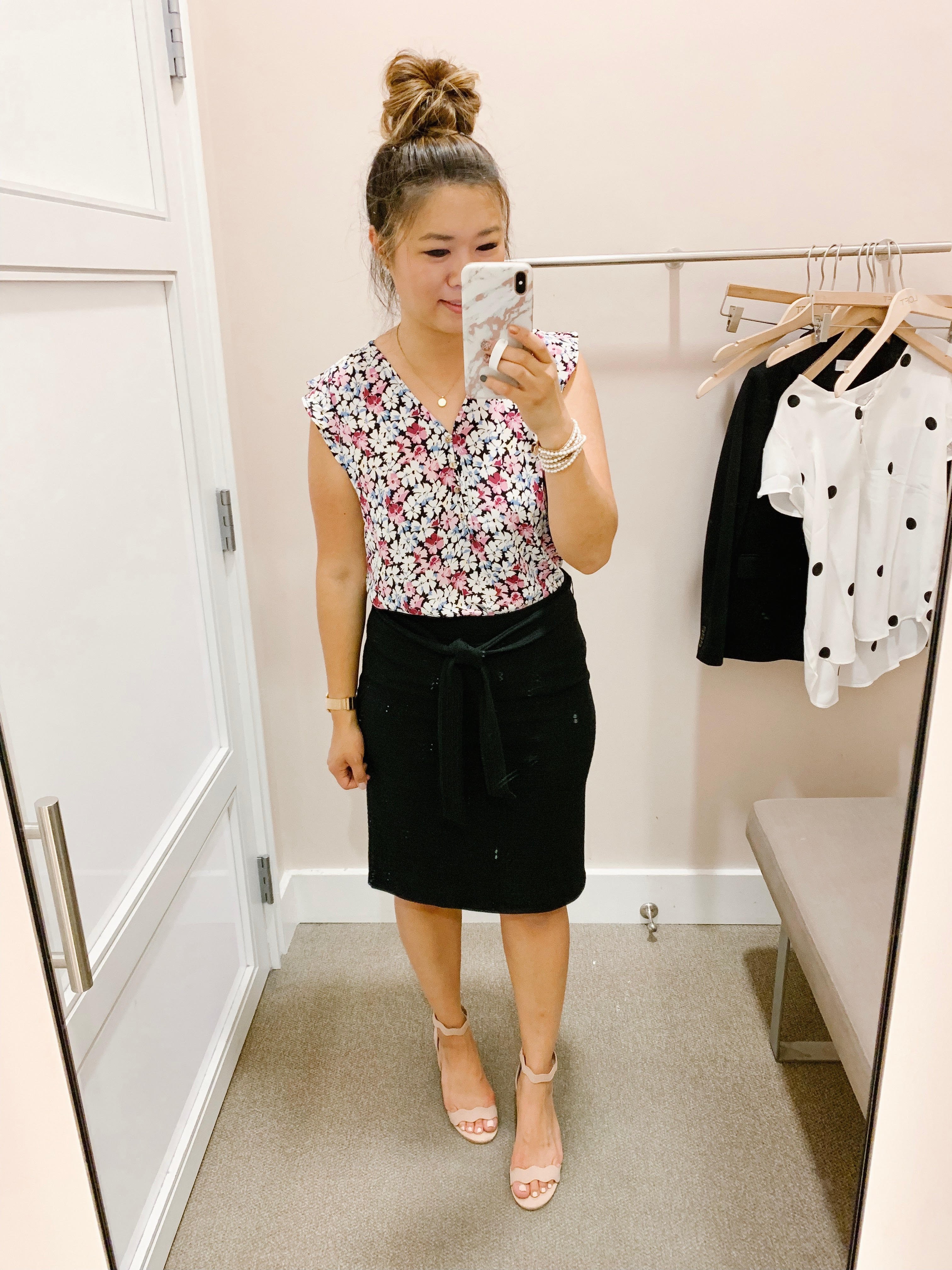 Next up is this fun floral print that you saw above, but what I really wanted to style for you was this pull on skirt!! What I love about pull on skirts is that they are usually pretty comfy (like this one), yet are still a great piece for a work look. This one is a great length and I definitely think the black color makes it a classic piece you can do a lot with. It also has a tie waist detail that really gives it a little extra something!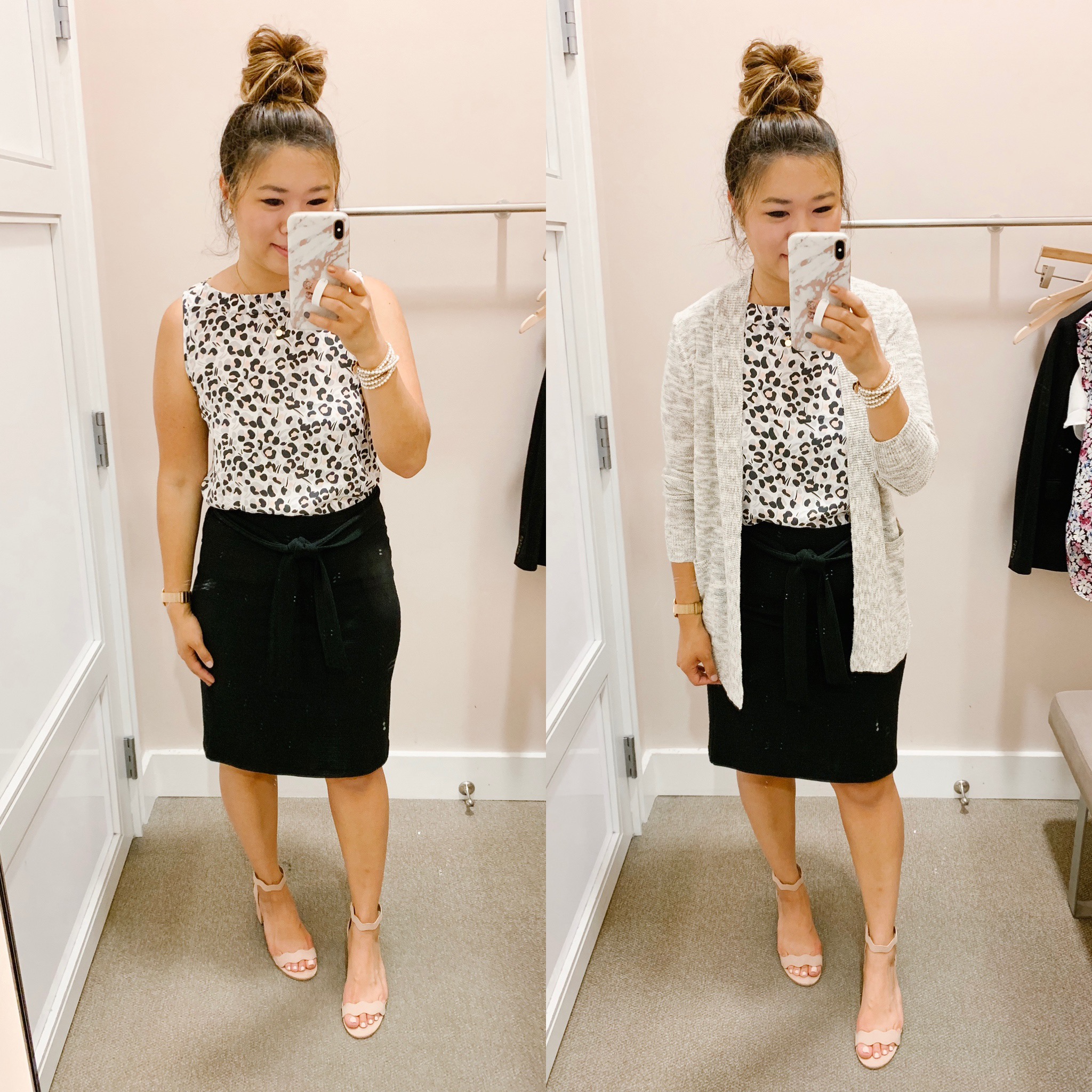 Top (XS) // Skirt (M) // Cardigan (S)
And of course, here we have the leopard print again, I had to size down in this top since the Small was not available, but I will say that some of the LOFT blouses run big on me and I can get away with XS, especially if it's one I will be tucking into skirts.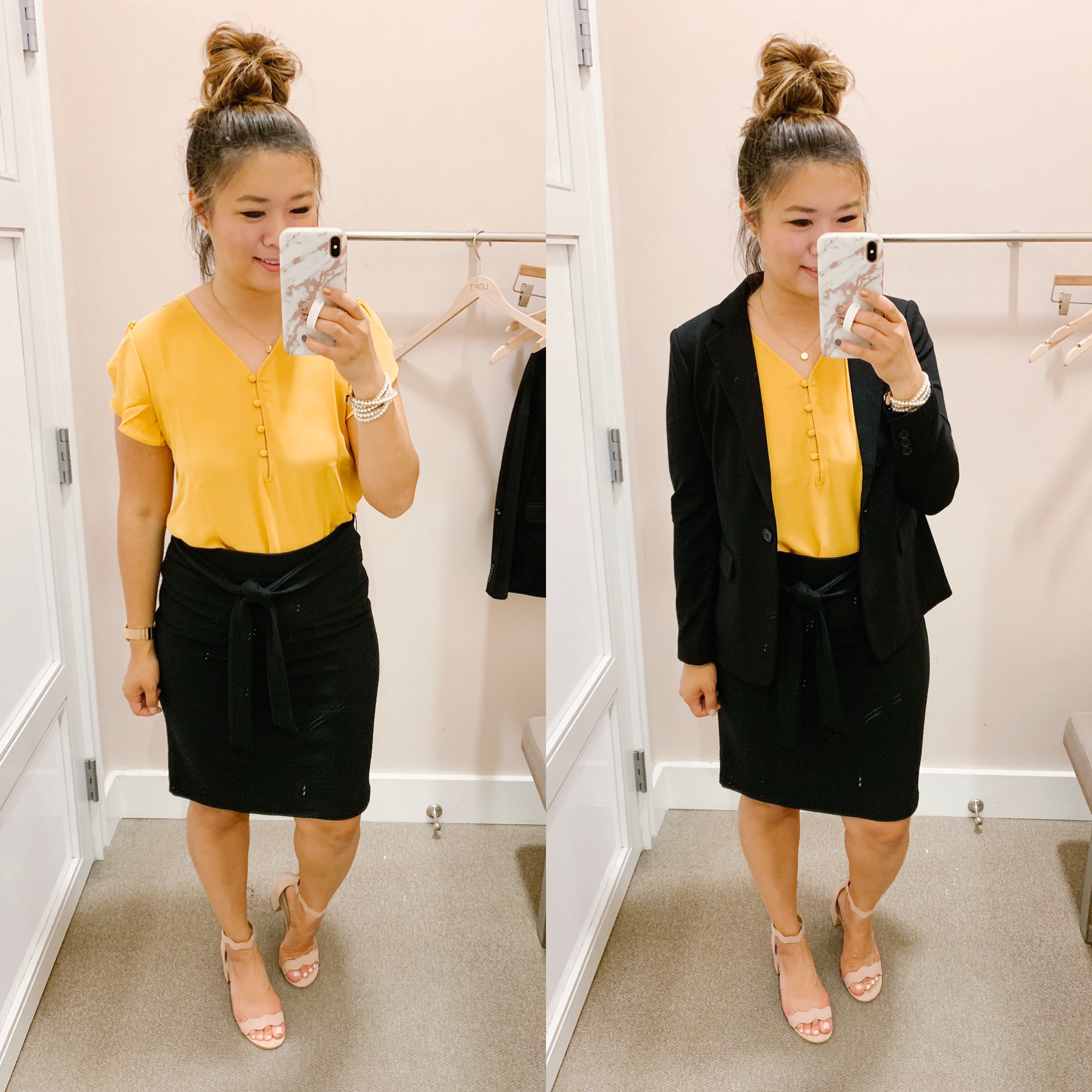 Top (S) // Skirt (M) // Blazer (6P)
Next up is this top which is really just a very classic work top. The sleeves are petal sleeves and it has fun buttons down the front.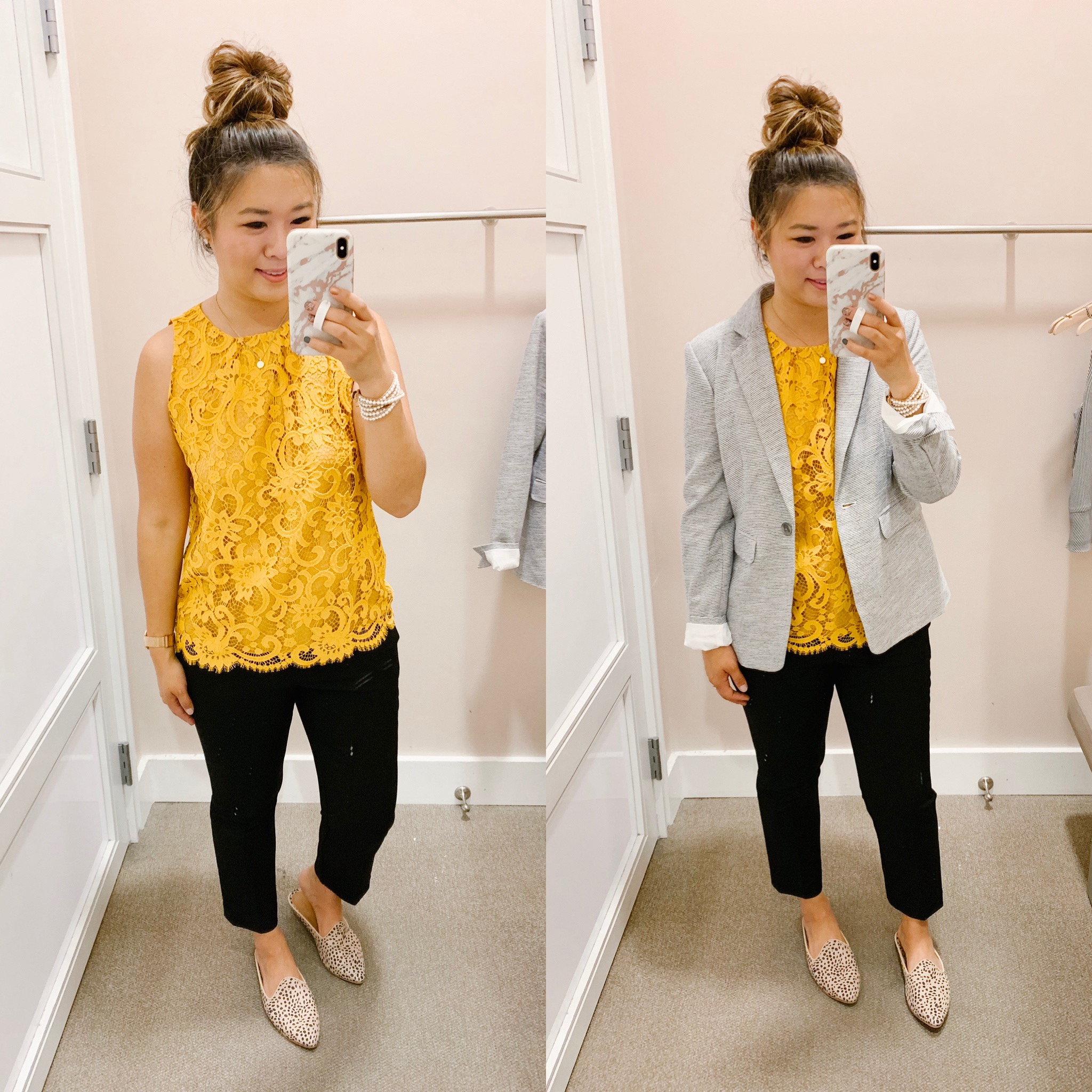 Top (S) // Blazer (6) // Pants (8P) // Mules (Sized up half a size)
And for those who do not like tucking their tops into pants, here is a good lace top! I love this color because I do think it will transition into Fall paired with creams, cognac and black!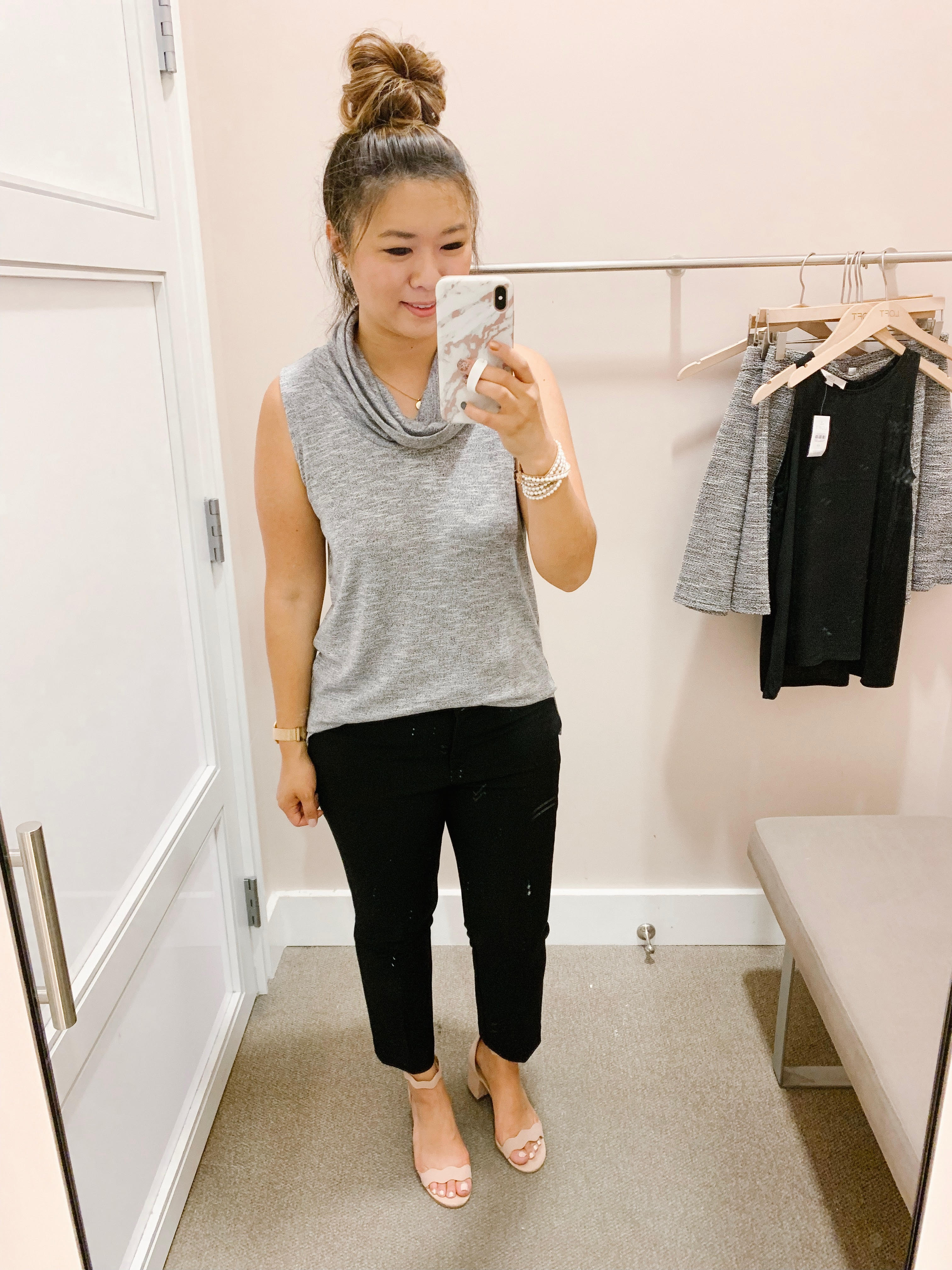 This is one of the 60% off sale item gems I found. This top is $14 right now and it's made of the SOFTEST material! It can be worn for work, add a cardigan or blazer or worn alone with denim shorts right now!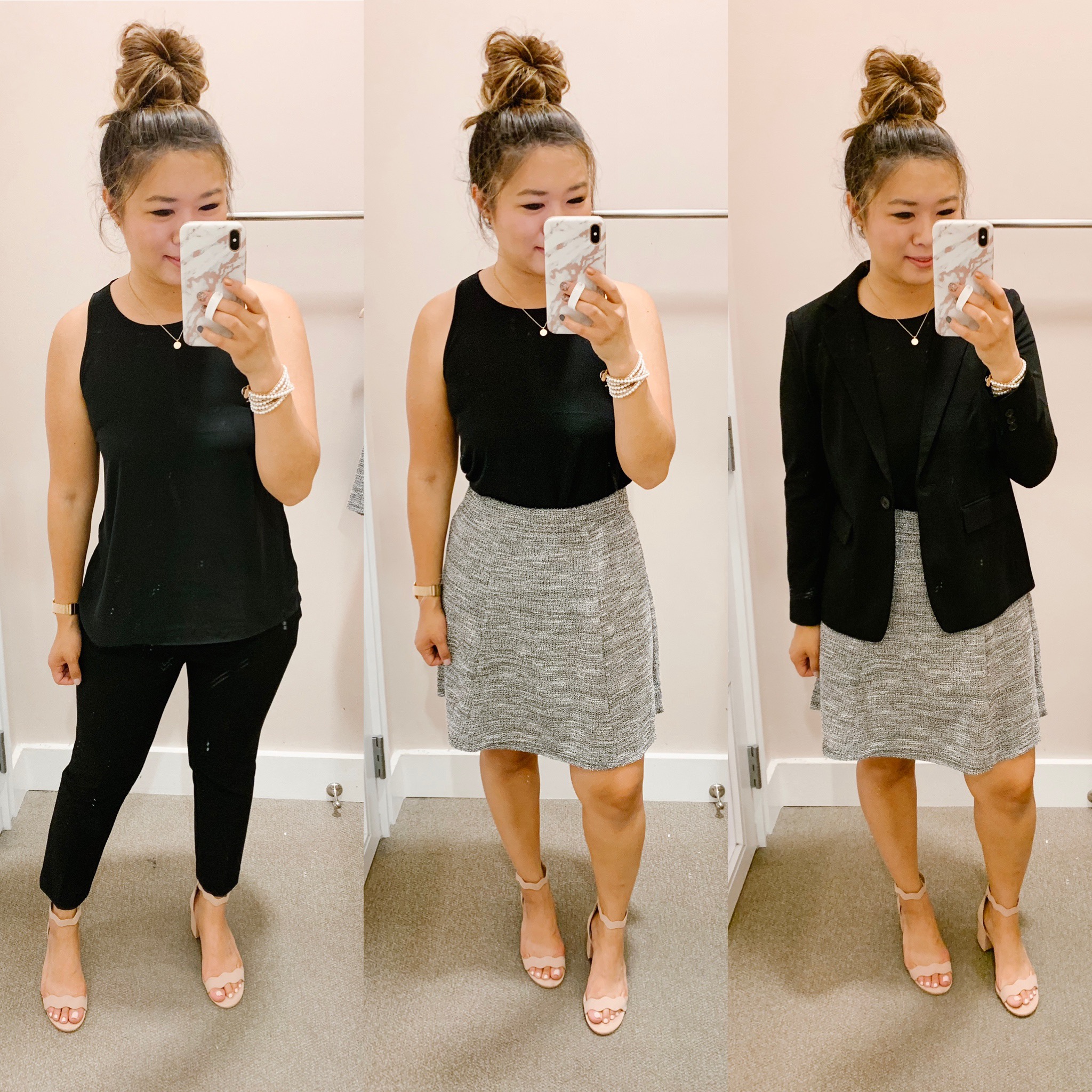 Top (S) // Pants (8P) // Skirt (S) // Blazer (6P)
The tank top is going fast, but the cool thing about it is, that is is a dressy material on front (great for work), cotton on back. I have a lot of tank top faves that are a bit too casual for the work place, but this one is great for layering under cardigans and blazers! And the best hidden gem of the entire sale is this skirt! YOU GUYS, it's $7.95 at checkout and it's SUCH A GOOD piece!!! It's a perfect material for work, very flattering, not too short, and has great reviews!!
Shop these outfits by clicking above links or the pictures below:

Also here are some good workwear shoe options (I know some of you need close toed options):