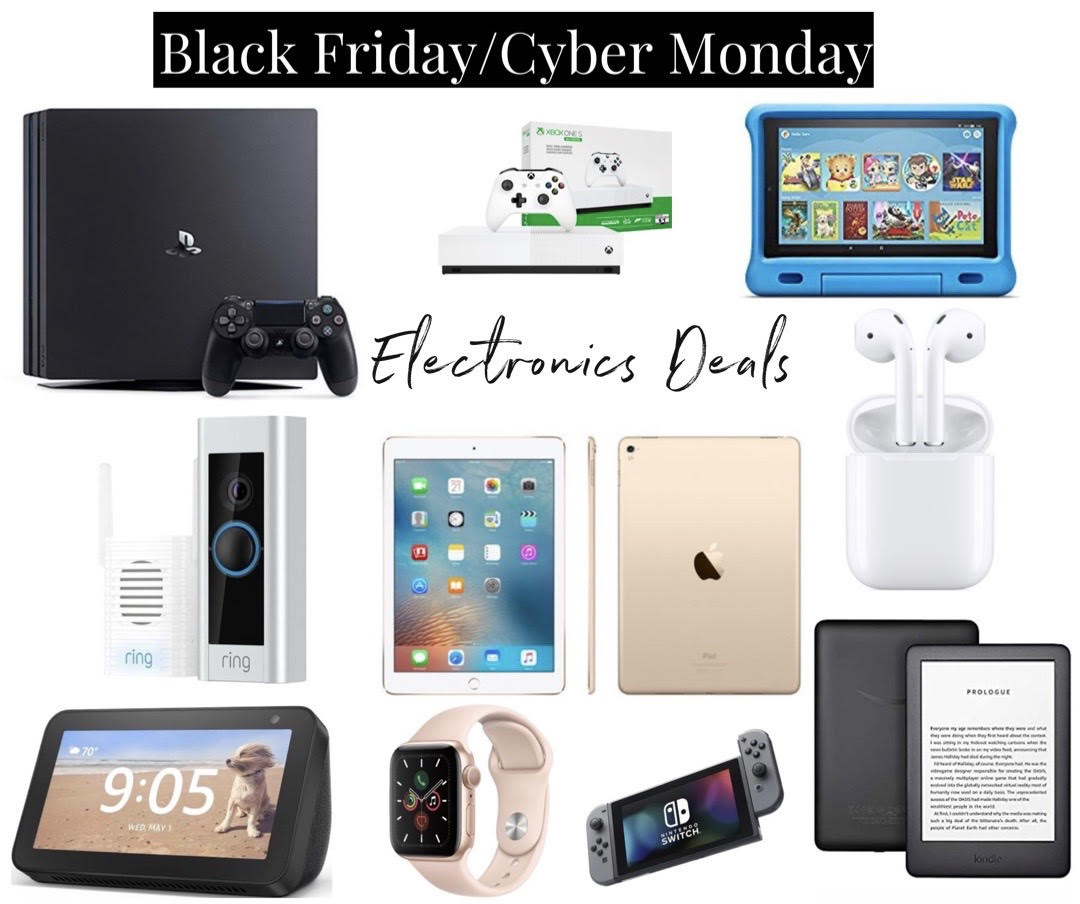 I've been sharing a lot of electronics deals over on my Instagram stories here and there but I figure that it might be best to do a roundup for you all!! I haven't done anything like this before, but I hope it's helpful! I will be updating this page periodically as new deals pop up through Cyber Monday, December 2, 2019. It is meant to act as an online shopping guide for the best deal on Apple devices, Amazon devices and Game Consoles for whenever you are looking at this post!!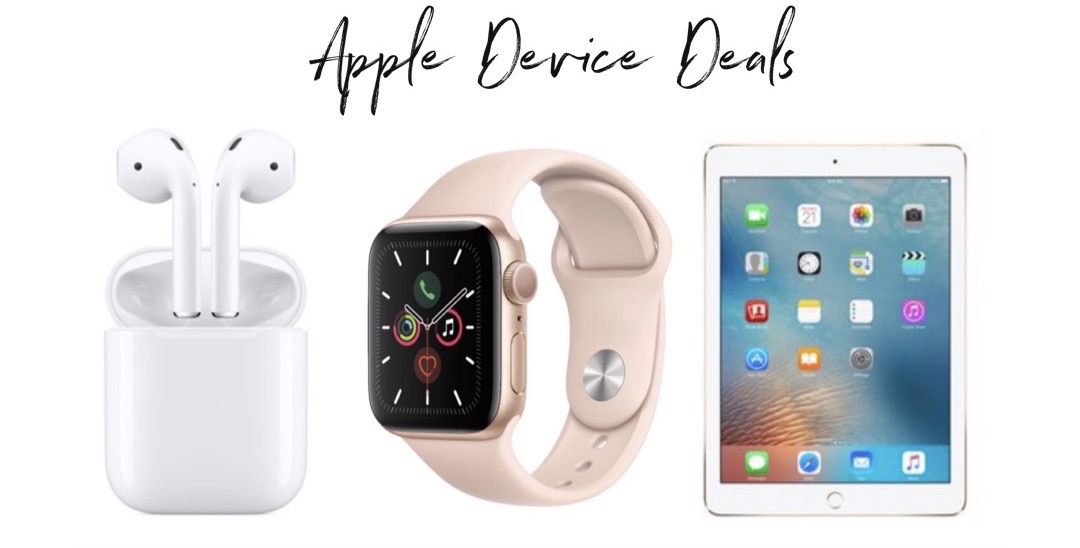 Apple iPad/iPad Pro
Tablet used to browse the web, read email, watching videos, listening to music, playing games, and more! Upgrade features on iPad Pro: In addition to retina display, the iPad Pro also has ProMotion technology and True Tone. The screen is also larger (10.5″ vs 10.2″) and has up to 512 GB of memory. Most specs will be fairly similar and will also depend on what other models are being compared to.
| | | |
| --- | --- | --- |
| Apple iPad | $229.99/329.99 | 10.2″ 7th Gen, 32 GB or 128 GB, Wi-Fi Only *Additional 5% if paying with Target RedCard |
| Apple iPad | $249 | 10.2″ 7th Gen, 32 GB, Wi-Fi Enabled |
| Apple iPad Pro | $629 | 10.5″, 256 GB, Wi-Fi Enabled |
| Apple iPad Pro | $999 | 11-inch, Wi-Fi, 512GB, Space Gray (Latest Model) |
| Apple iPad Mini | $384 ($15 less than on Apple) | Not many discounts on these, may be worth it to wait until next round of sales. |
Apple AirPods vs Airpods Pro
AirPods are a wireless Bluetooth earbud. In addition to playing audio, AirPods feature a built-in microphone that filters out background noise, which allows taking phone calls and talking to Apple's digital assistant, Siri. The Airpods Pro has Active Noise Cancellation, a customizable fit for added comfort, and is sweat and water resistant.
Apple Watch
Apple Watch is meant to be worn throughout the day and relies on its connection to an iPhone for much of its functionality. It can track health activity, you can communicate with friends and it run a wide range of apps. The Apple Watch Series 5 has bigger display area (40mm vs 38mm), always-on retina display, thinner (10.7 mm vs 11.4 mm), electric heart sensor, compass, fall detection, S5 processor, and other upgraded features.
Apple iPhone 11
| | | |
| --- | --- | --- |
| Apple iPhone 11, 11 Pro, 11 Pro Max | $300 Walmart eGift Card with Qualifying Purchase | Phones purchased on qualifying AT&T or Verizon device payment plans during the promotion period. The online promotion is valid from 7 p.m. (PST) November 27, 2019 through 3 p.m. (PST) November 28, 2019 and from 9 p.m. (PST) December 1, 2019 to 11:59 p.m. (PST) December 2, 2019. *plus an additional up to $250 Walmart eGift Card for eligible trade-in (valid in-store only). |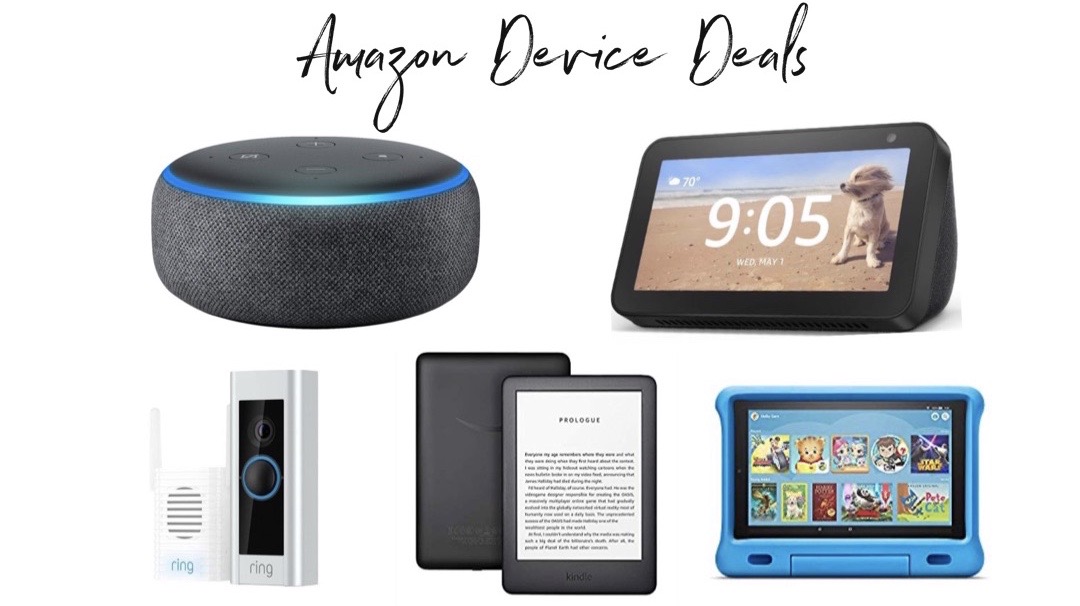 Shop all Amazon Device Deals here
Kindle
Designed as dedicated eBook readers. They can hold thousands of books to keep you entertained for hours.
Fire HD Kids
Fire HD Kids – high performance tablets designed for entertainment at an affordable price, includes 1 year of Amazon FreeTime Unlimited plus a 2-year worry-free guarantee, and allows parents to easily control the content and usage.
Fire HD
Amazon's tablet computer. Can use with Alexa.
| | | |
| --- | --- | --- |
| Fire HD 10 | $99.99 (Orig. $149.99) | 10.1″ 1080p full HD display, 32 GB *Additional 5% with Target RedCard |
Echo
Virtual assistant "Alexa" speaker that allows you to play music, ask questions, set timers, order things off Amazon, look up weather, etc. All the devices fall under two categories: smart speaker or smart display. Echo Dots – smart speaker with a fabric design. It is our most compact smart speaker that fits perfectly into small spaces. Echo Show – smart display, currently with three different models: Echo Show, Echo Show 5 and Echo Show 8.
| | | |
| --- | --- | --- |
| Echo Show 5 | $49.99 (Orig. $89.99) | 5.5′ smart display with Alexa – Buy 2 for $89.99 with code SHOW52PK – $44.99 |
| Echo Show 8 | $79.99 (Orig. $129.99) | HD 8″ smart display with Alexa |
Ring Doorbell
Connect your Ring doorbell with Alexa then enable announcements to be alerted when your doorbell is pressed or motion is detected. Talk to visitors through compatible Echo devices by saying "Alexa, talk to the front door". Lets you see, hear and speak to visitors from your phone, tablet and PC.

Xbox One X and S
Both consoles support 4K HDR, have UHD Blu-ray drives, Dobly Atmos, similar forms of ports, and others. The Xbox One X is a powerhouse that offers a heavy-duty processor for faster gaming, Ultra HD Blu-ray player, HDR, and native 4K. The Xbox One S is a great choice for home cinema enthusiasts who want to watch 4K video content and play a few games.
PlayStation
The PlayStation 4 features a DVD/Blu-ray optical drive so you can play all of your favorite movies without having to buy a separate player. It does not offer 4K gaming and tops out with 1080p.
| | | |
| --- | --- | --- |
| | $199(Orig: $299.99) | 1TB PS4 Slim, wireless controller and 3 games: God of War, The Last of Us Remastered, and Horizon Zero Dawn: Complete Edition games |
Switch
New home video game system from Nintendo that allows you to take it on the go so players can enjoy a full home console experience anytime, anywhere. Great for whole family!
Laptop Deals
| | | |
| --- | --- | --- |
| HP 14″ Laptop | $369 (Orig: $599) | Intel 10th Gen Core™ i5-1035G1, 8GB SDRAM, 256GB SSD + 16GB Intel® Optane™ memory, Natural Silver, 14-dq1039wm |
| Dell Precision 5530 Laptop | $1099 (Orig: $2012.30) | For business professionals |
| Lenovo Chromebook S330 | $169 (Orig: $299) | Good for grandparents, younger students. Ellen DeGenere's Pick! |
TV Deals
Fitness Watches
*Updated as of 12/2/19 at 6:15 PM MST