Hi friends! I am so excited to bring you 5 Valentine's Day outfits to try for this upcoming month of LOVE!!! I have to tell you, I was supposed to go on air and be in a filmed segment talking about these outfits, but unfortunately the filming had to be cancelled a few times and I won't be able to do it after all. Hoping I can talk about another topic at a different time, fingers crossed. To be honest, I've been so nervous up and down about it for the past 2 weeks, but knew it was something I needed and wanted to do to grow!! We have to do hard things and push ourselves outside of our comfort zones to grow, right?
Anyways, I'm sure we all have different plans for Valentines day, whether it's going to your kid's classroom party, staying home and celebrating with your kids, doing a movie night in, or going out for date night, hopefully these outfits have got you covered with some good inspiration!! I've put some ideas of where you could wear each of these outfits below!!
Outfit #1 – Going Out / Dressy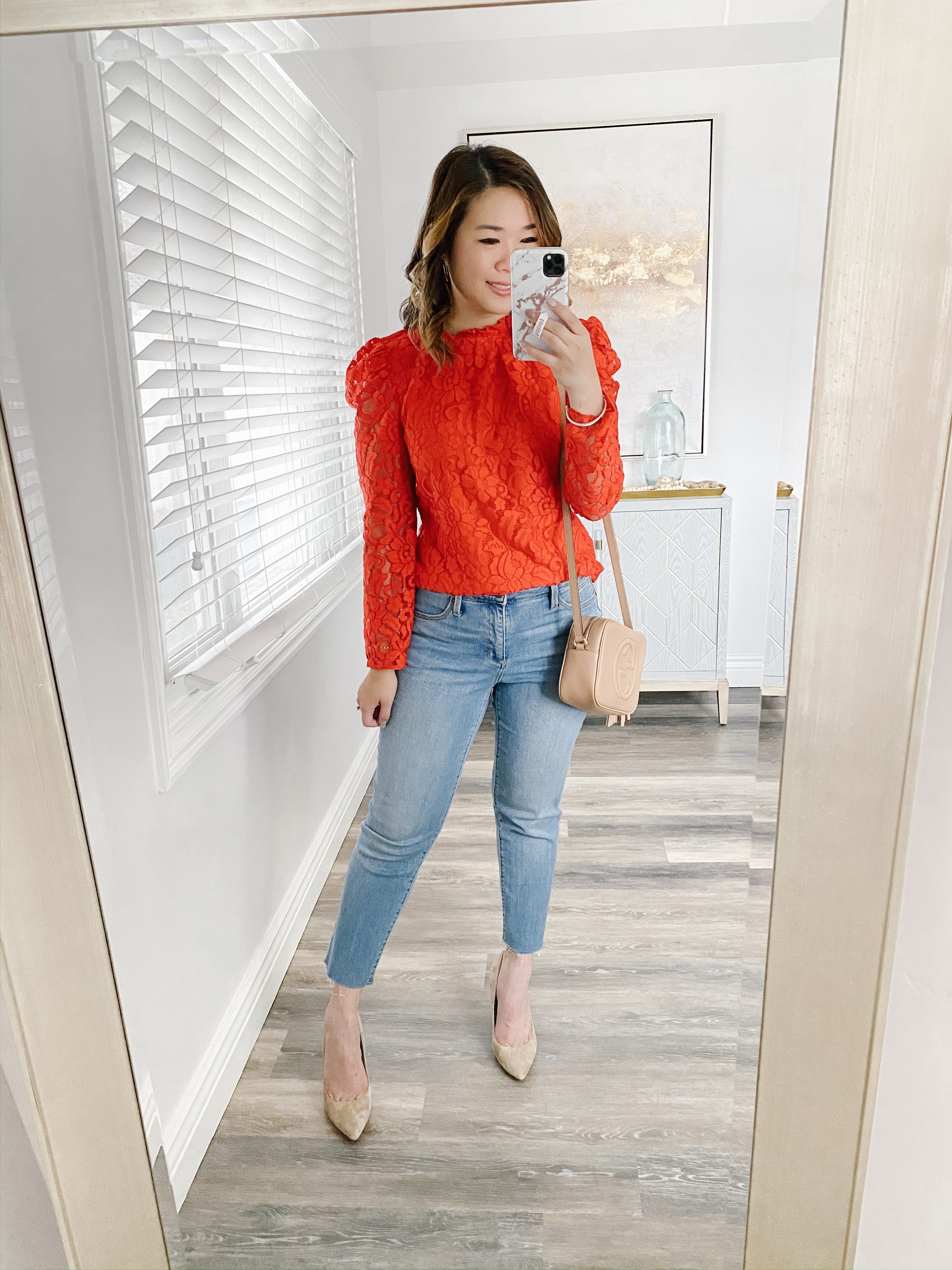 Lace Top (M) // Jeans (8) // Pumps // Bag
I love the red lace for something a little dressy, yet I love it paired with jeans and heels to almost give it a cool vibe. Of course, if you really want to dress up the top, you could pair it with a skirt!!
Outfit #2 – Galentines Brunch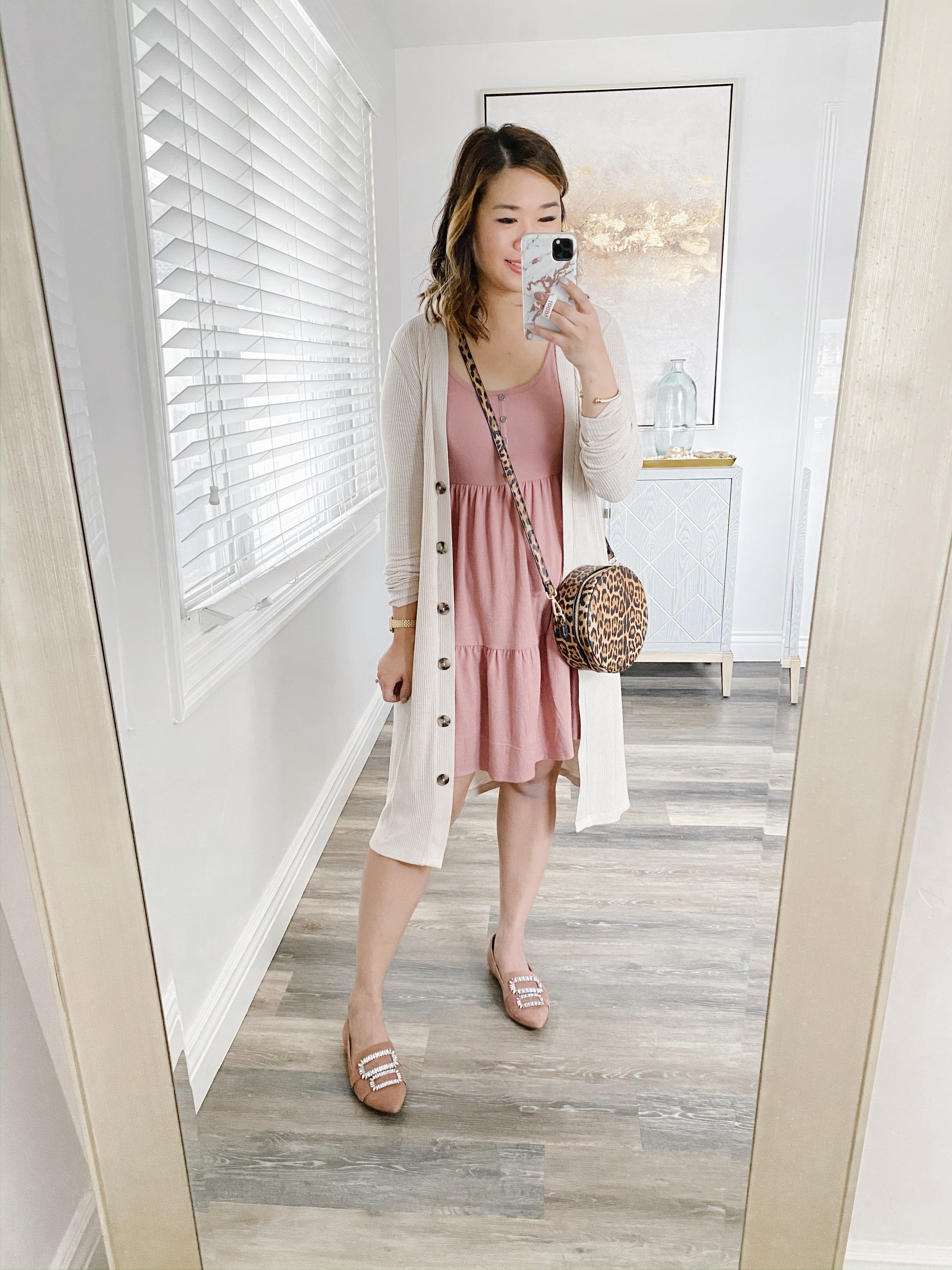 Pink Dress (M) // Cardigan (S) // Leopard Bag // Loafers
This is the perfect sweet pink outfit to wear for a Galentines Party or night out with your girlfriends. I just think it's adorable and I love the layered look with the cardigan! Well, I think it would work for a date night too.
Outfit #3 – Kid's Classroom Party / Office Party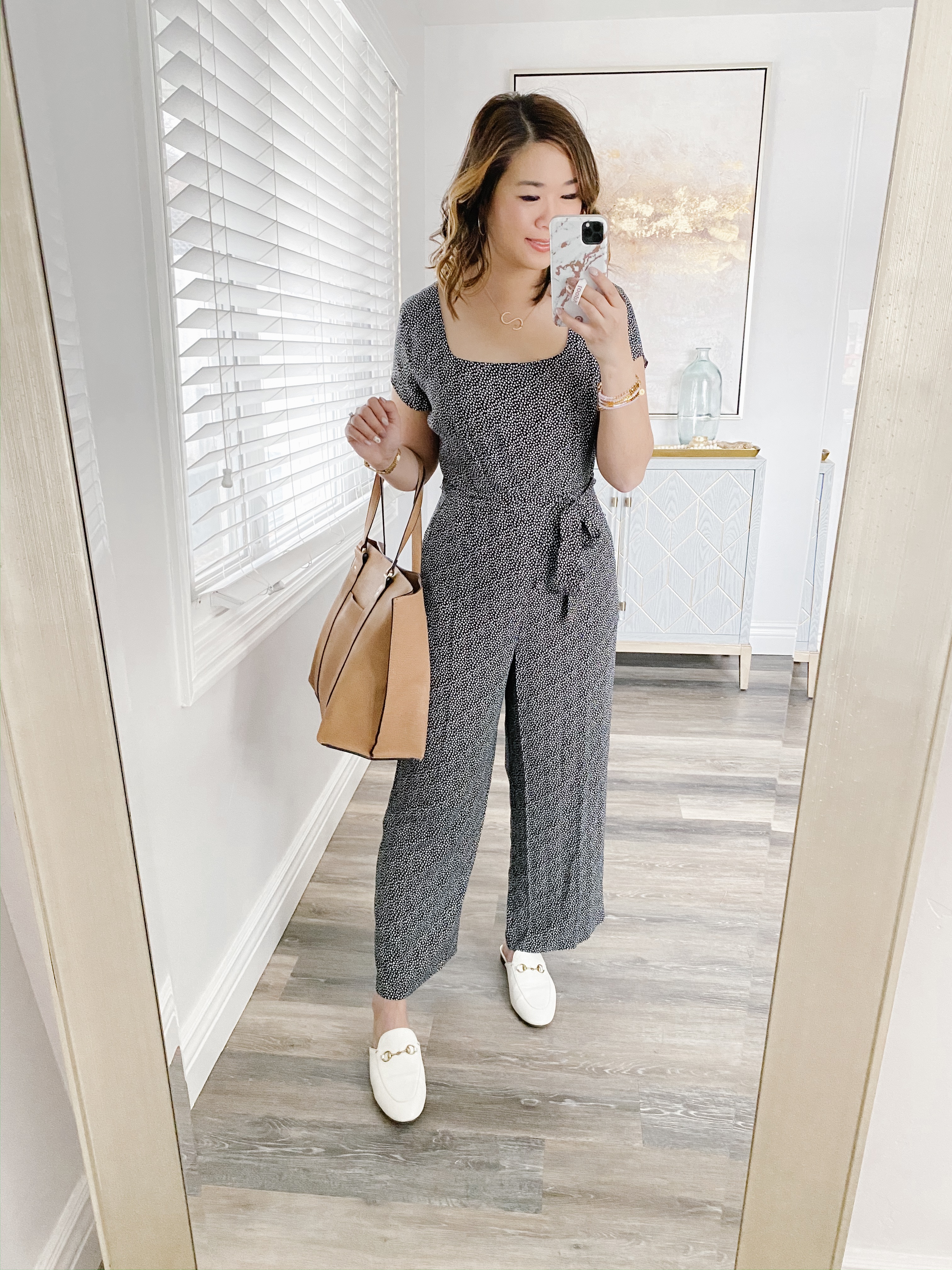 I feel like this outfit is SUPER versatile. The jumpsuit has tiny adorable hearts all over it and I just love the fit!! This jumpsuit is just soo comfortable and easy to move in!! You could add a blazer and wear it to work party too!!
Outfit #4 – Casual Night Out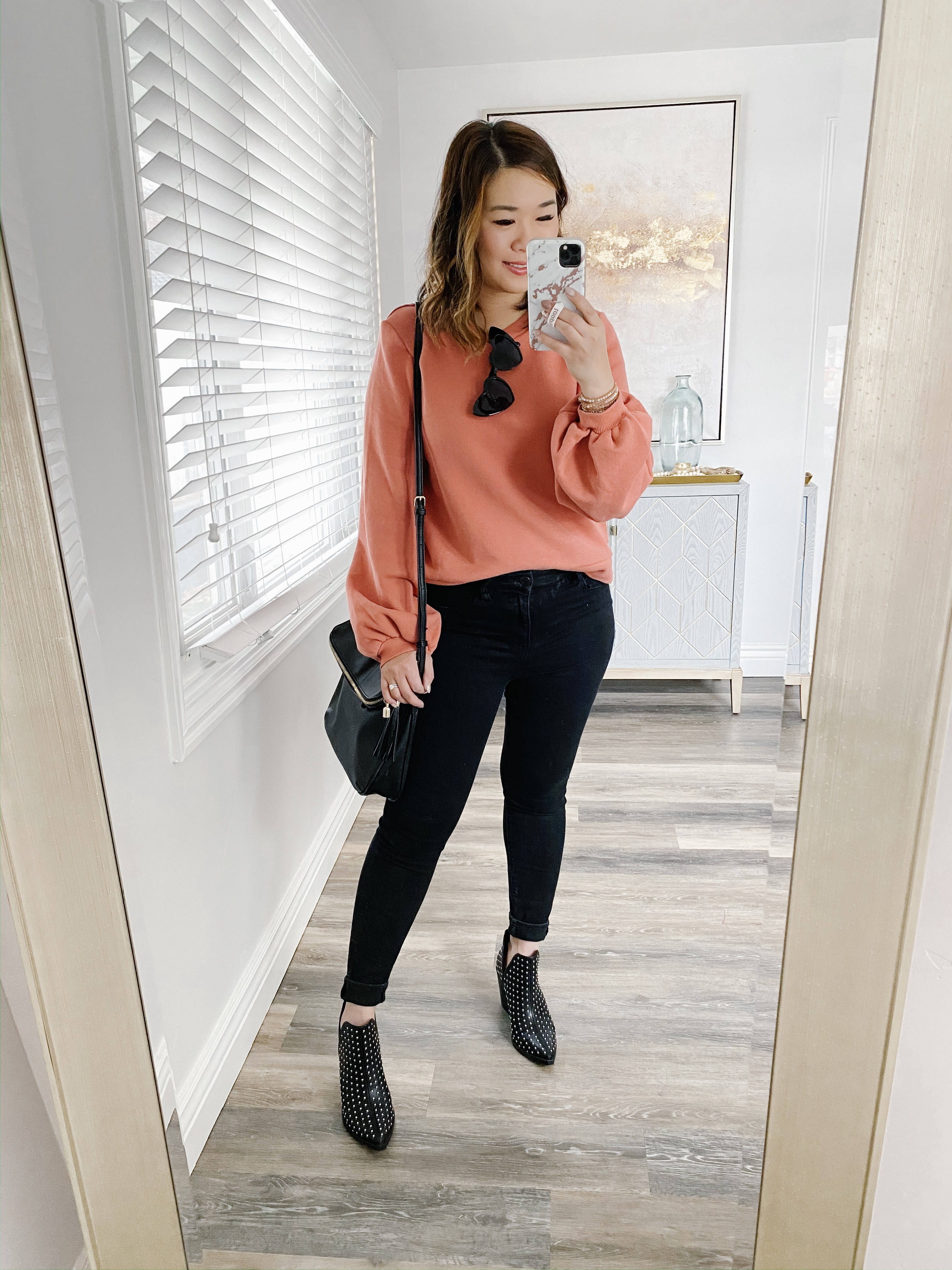 Sweatshirt (M) // Jeans -(6S)// Shoes: – (size up half) // Sunglasses
I feel like this outfit is just an everyday cool look. Certainly you could pair the sweatshirt with jeans and sneakers, but I added a little edge to it with some studded booties!!
Outfit #5 – Movie Night In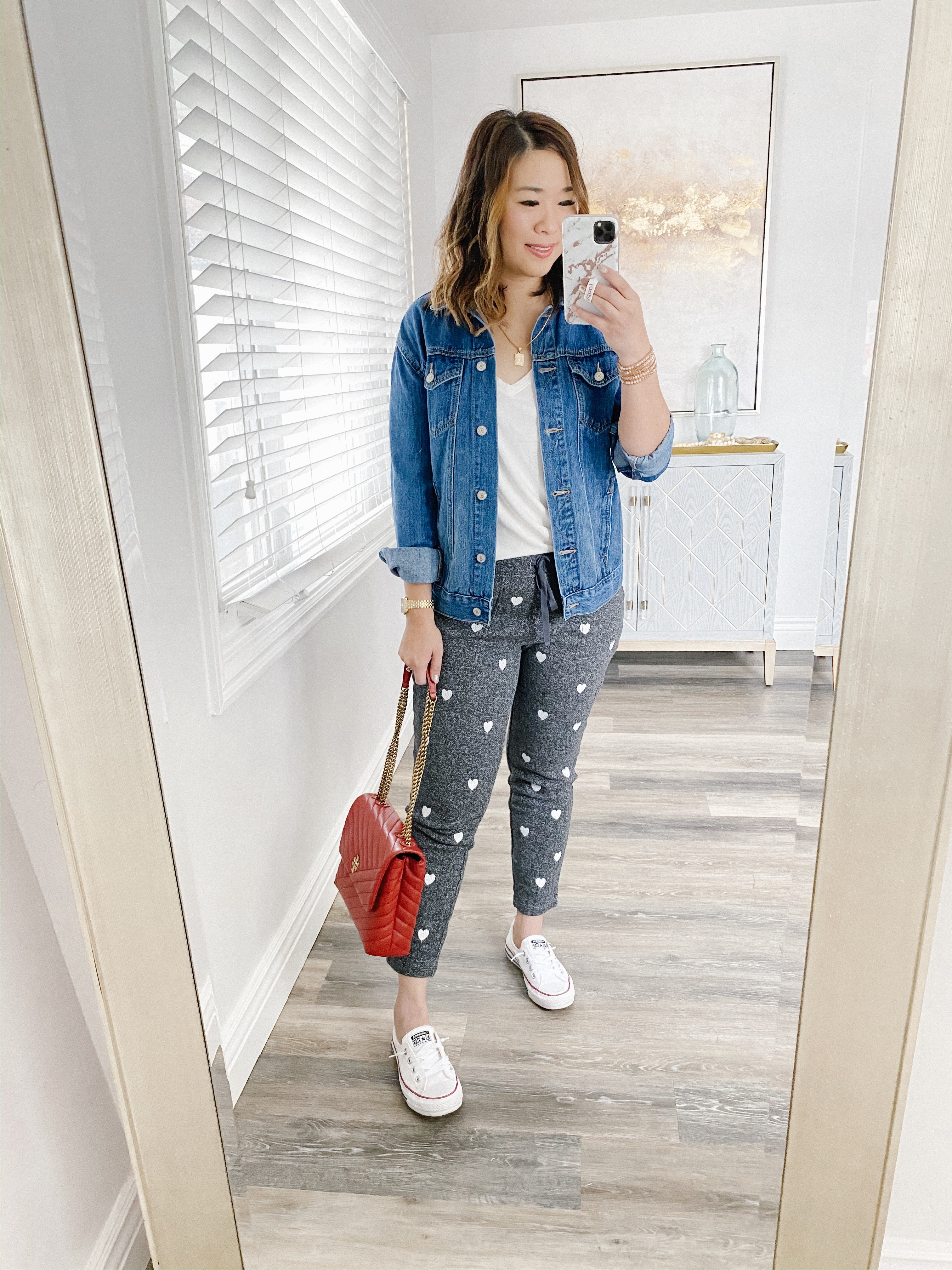 Tee -(S) // Denim Jacket (S) // Heart Joggers (S)// Sneakers (size down if in between) // Bag
And the most casual of the bunch, this look would be perfect for running errands, movie night, it's just casual and comfy with the heart joggers!!
Make sure you head over to @sandyalamode on Instagram and check out my stories for a try on of these outfits!! Which outfit would you wear for Valentines Day?