Nordstrom Anniversary Sale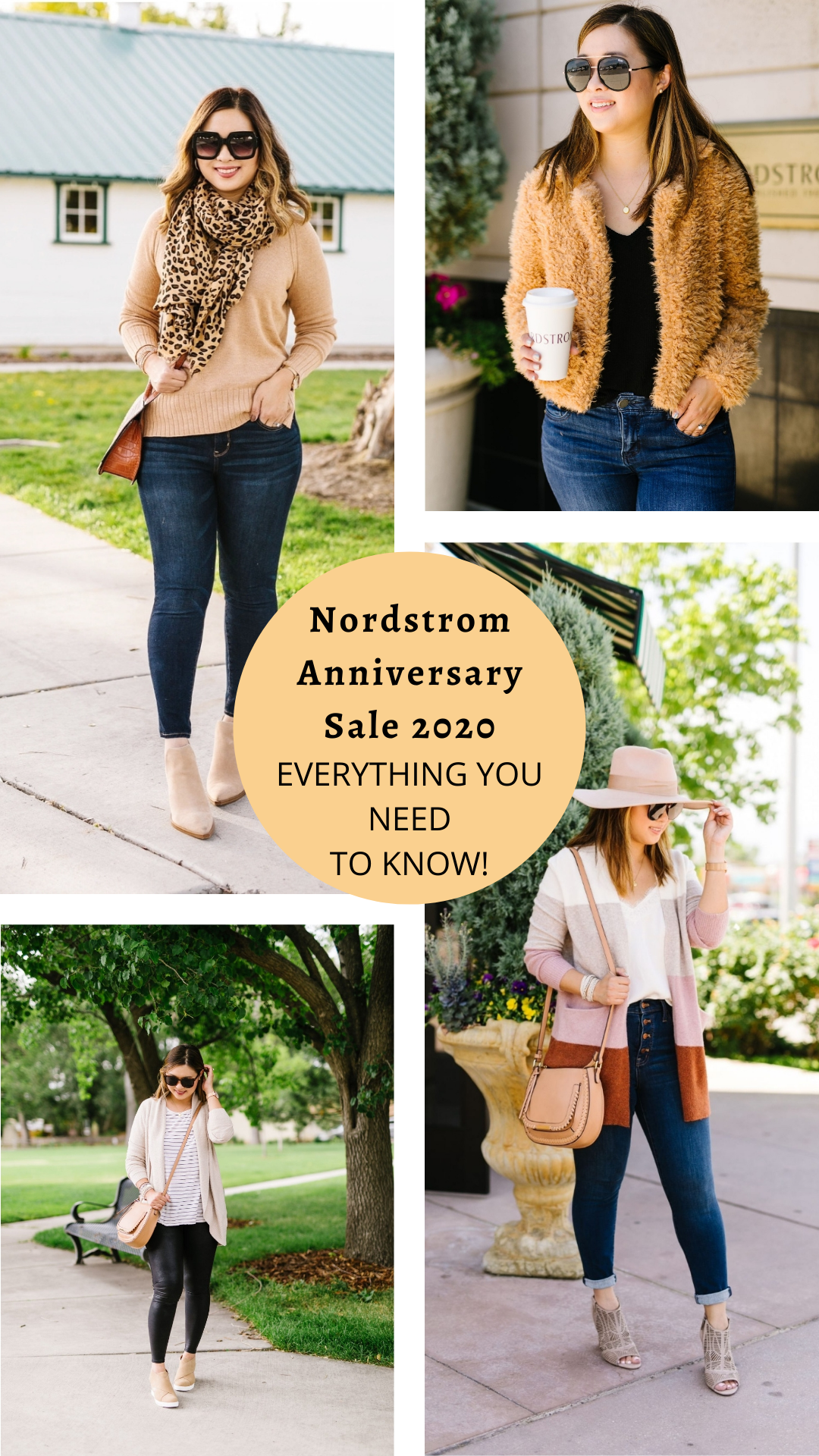 It's that time again for the Nordstrom Anniversary Sale! I know some of you just started experiencing warmer weather and have no desire to think about warm clothes right now. BUT this is such a great sale to stock up for Fall. This sale is not only clothes but purses, shoes, home decor, and so much more! The sale is running a little later this year due to the current situation of 2020, and there are some key changes to how they are running it and I cover all of that below!!!
What is the Nordstrom Anniversary Sale?
Nordstrom holds other sales during the year (i.e. half-yearly sale) but this sale is the biggest and most popular one! Brand NEW Fall merchandise will be available to purchase at a deep discounted price which is unheard of at any other retailers! It's kind of a backwards sale because they release new merchandise that is ON sale vs. most places will have sales on products that have been out there for awhile.
When is the 2020 Nordstrom Anniversary Sale?
The sale will be available from August 4 to August 30. If you are a cardmember, you can get early access.



What Nordy Club Status am I?
You can check your status here and see what perks all the statuses have!
How do I get Early Access for the Sale?
Mark your calendars: everyone gets a PREVIEW of the sale on Friday, July 24. This is a time where you can start creating wishlists and getting ready to shop. Nordy Club Cardmembers do get early access to the sale depending on status. If you are not a cardmember, you can still sign up here to gain early access to the sale. Being a Nordstrom cardmember has lots of other perks besides accessing the biggest sale of the year. You earn Reward points for every net purchase made in stores or online at Nordstrom.com, HauteLook, or Nordstrom Rack. You earn a $20 Nordstrom Note for every $2000 you spend to use online or in store.
Things tend to sell out quickly during Early Access and it's hard to say if things will restock (last year, popular items periodically restocked when people returned things but it goes in a blink of an eye!)
What is on sale for the Nordstrom Anniversary Sale?
The sale has everything from Women's, Men's, Kids, Home.
Nordstrom Anniversary Sale Catalog
SEE THE CATALOG HERE (currently not live yet)!
You can see my favorite picks from last year's catalog here. Once the catalog is released, save the item number so that it's easier to reference once the sale goes live.
YOUR FAVORITE ITEMS FROM THE 2019 SALE
1. BP. Lace Trim Satin Camisole Top – This cami top was pretty popular, especially in the leopard print. I got it in a size Small. It's a good cami, but in my honest opinion, other places have cute solid colored ones too so if you don't grab it, I wouldn't be that upset!
2. Madewell Ryder Stripe Cardigan Sweater – This one sold out day one of early access. It has pretty colors and I know that I will personally wear mine all throughout the season. I originally tried on a size Small, but decided to size down to an XS.
3. Caslon Drape Collar Knit Blazer – This one comes in a lot of colors, is a nice classic style and I think is a great price! It is a great little jacket that you can layer over your work outfit or just for when the weather gets cooler.
4. Steve Madden Feather Studded Loafer – These keep going in and out of stock! I personally love the snakeskin print, but if that print is not your thing, it comes in solid colors too!! They are a great price and classic style.
5. Barefoot Dreams In The Wild Throw – This is one of my very favorite home items. The leopard print is amazing and I love it in the lighter cream especially. These are SO SO SO SOFT!!
6. Something Navy Leopard V-Neck Cardigan – Leopard is all the rage every Fall and I just loved the cream/black print on this one! I sized down in this one too.
7. BP. Long Leopard Jacquard Cardigan – This one was probably on a ton of people's wishlists before the sale began, so again that is why it sold out super fast. I had this one from last year and it is just a nice soft classic leopard print.
8. Wit & Wisdom Absolution Skinny Jeans – These are hands down my favorite jeans that I look forward to going on sale every year. They hardly ever go on sale when it's NOT Nordstrom Anniversary time. I size down in these and always get the Petite length. The best part of these jeans is that they have an elastic waistband which make them so comfy. The price point is around $50 during the sale which is a great price point for amazing denim. Also, if you are post partum, these are great!
9. Halogen Long Ribbed Cardigan – There are a lot of really great longer cardigans as part of this sale. This one is a nice classic style and comes in good colors.
10. Spanx Faux Leather Leggings – These hardly ever go on sale, but when they do, I always recommend snagging a pair. They have great compression, look slimming, and can be dressed up or down. Size up in these!