Thank you so much to all that entered the Olive Manna Fabric Giveaway! It was great to be able to participate in the Sew, Mama, Sew! Giveaway Day. You can bet that I'll be participating in the next one as well. Natalie and I were both FLOORED with how many entries there were and we loved reading each and every one of your lovely comments! Natalie even took the time to gather them up into a chart based on what you said you'd make with the fabric if you were the lucky winner! Now isn't this cool?? You're the best, Natalie~!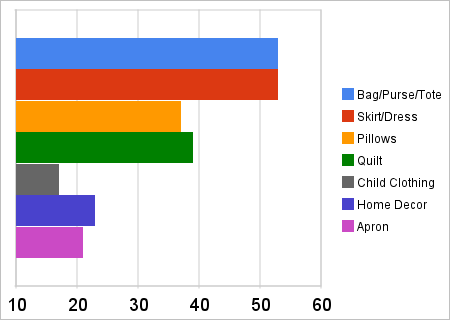 Looks like you guys envisioned bag/purse/tote or skirt/dress would be the best thing to make with the eggplant pennant fabric! We also had a good number of quilts and pillows as well! Personally, I think the fabric is soo versatile that it would go well in just about any project. And now the moment you've all been waiting for, brought to you by random.org… the WINNER IS…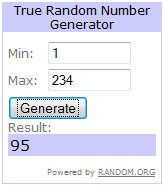 And who is lucky #95??

Congrats Mandy!!! You are the new winner of not one, but TWO YARDS of Olive Manna's eggplant pennant fabric! We can't wait to see what you make with it!! :) I will send your email addy on to Natalie and she will be contacting you shortly! And a HUGE THANKS to Natalie for offering up such a gorgeous piece of fabric. For all your packaging, fabric, notebook, ribbon, dishware needs… Olive Manna is the perfect one-stop shop! If you haven't had a chance to check out her shop, I highly suggest you do so very soon!