Are you here for the Sew Mama Sew! Giveaway? Welcome! You have until 11:59PM CST on Thursday, May 20, 2010 to enter and this is the fabric that is being given away! So click on the sweet eggplant pennants fabric below and you'll be redirected to the giveaway post (or you could right click and select Open Link in New Tab so you can enter the giveaway and also read this post)! 🙂

Are you here to stay (I sure hope so!) and need an idea for what to sew with the fabric if you win?? Here's what I would make if I won (since I'm still a beginner at sewing)! A simple foldover pillow cover that takes merely 10 minutes to make! Now who doesn't love a quick and easy tutorial? OK, grab your fabric and thread, turn your sewing machine on and let's go! Oh how I wish I could rig the giveaway so I could win! 😉
Sew Simple Foldover Pillow Cover Tutorial adapted from Apartment Therapy
Based on a 16″ x 16″ pillow, I like to make my covers into 17″ by 17″ squares because I don't like them super snug.

1) First cut your fabric into a rectangle with these measurements:
L = (pillow size x 2) + 6″ = 38″
W = (pillow size) + 2″ = 18″

2) Hem around all edges of the rectangle about 1/2″.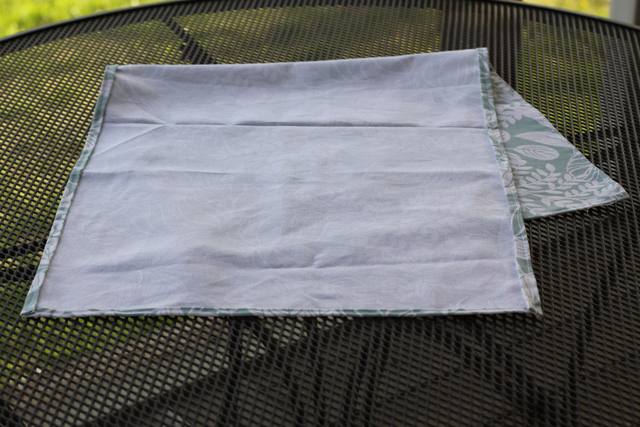 3) Fold one short end toward the center of the rectangle with the "finished side" of the hem facing down. The length of the foldover portion about be
X = (pillow size / 2) + 2″ = 10″
4) Fold the opposite side towards the middle by 10″ as well. The middle portion should be 17″ and the foldover should overlap by 3″. (Oh dear, I feel like I haven't done math since 4th grade. This took me quite some time to calculate out the measurement, so sad.)
5) Sew shut the two open sides of the square.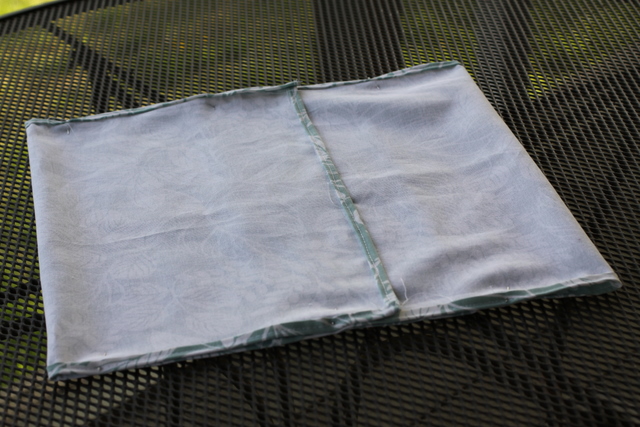 6) Turn the cover right side out through the center.
7) Iron and you're done! Oh and don't forget to insert the pillow inside the cover of course!
Don't you think the eggplant pennant fabric from Olive Manna that I am giving away would match well with the pillow I made?