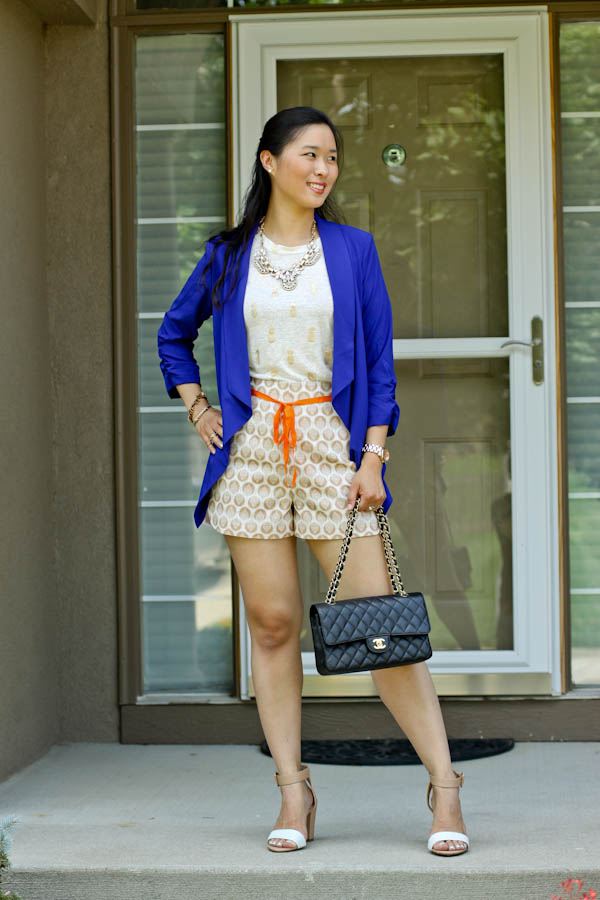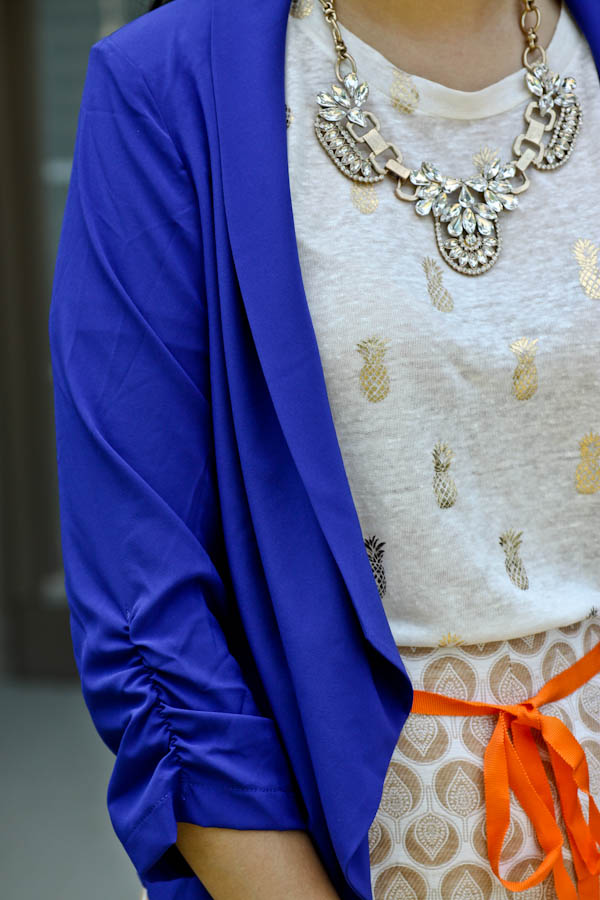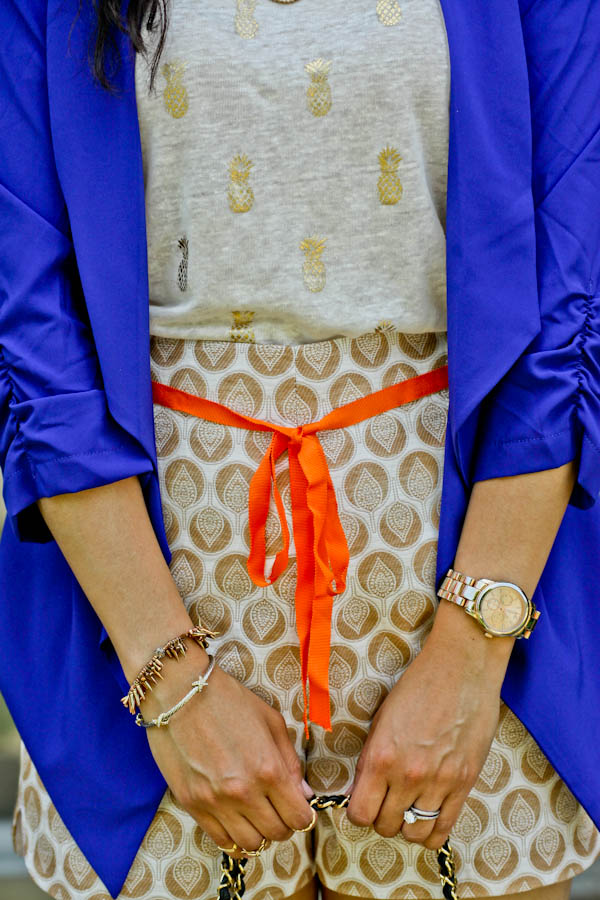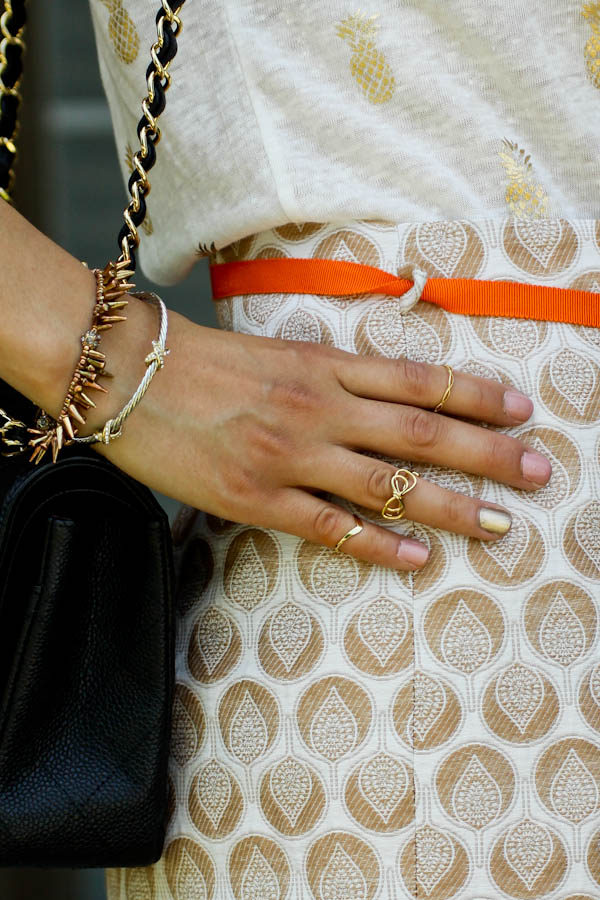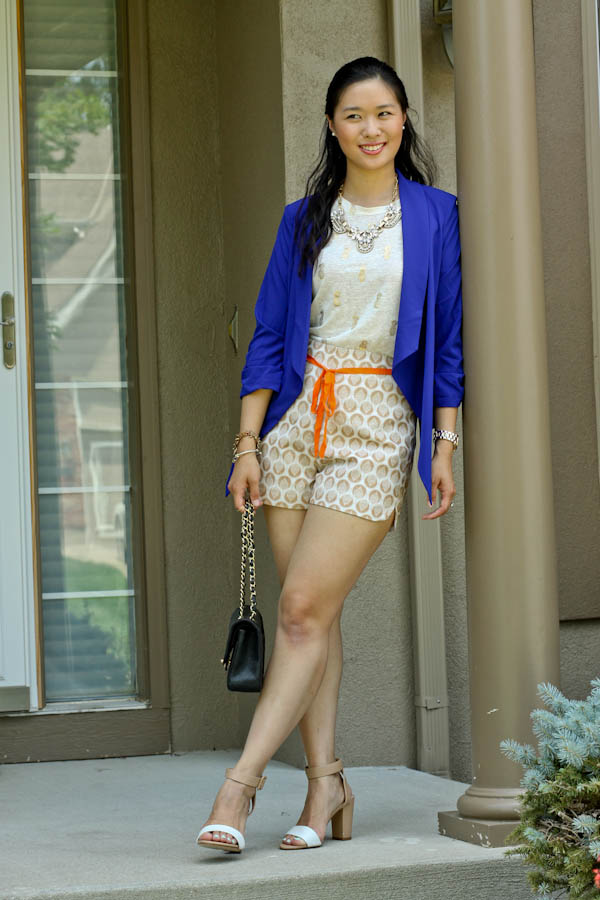 Tee: J.Crew | Blazer: Gracie B. | Shorts: Anthropologie | Shoes: Zara | Handbag: Chanel | Necklace: T+J Designs | Knuckle Rings c/o Nine Blossom | Bracelets: Olive + Piper, Apple Of My Eye Jewelry
This top, these shorts, the blazer and really everything in this outfit… were all love at first sight.  I was doing some shopping at J.Crew and didn't find anything I liked until I was walking out the door, and my friend pointed out this pineapple shirt to me.  I had JUST bought Austin a pineapple shirt so I kind of had to have this one, to match him, ya know.  😉  I love that the print being in gold makes it a bit more fancy too.  And those shorts?  They were found in the sale rack at Anthropologie, they happened to be my size, fit perfectly, and they were mine immediately.  And the blazer was first seen on Lee La La in a taupe color, so I immediately asked Gracie B. about it and she said she had a blue one left and I said, SOLD.  🙂  And of course, the Chanel was love at first sight a million times over.  The necklace I had seen around in blogland and knew I had to have it.  And the shoes from Zara… well I can never have enough shoes from Zara!  OH, and I've FINALLY caught on to the knuckle ring trend and am OBSESSED.
Over this mini-blog break that I had a few days ago, I've been doing a lot of thinking about my blog.  I love the little community I have built up here but I want you to be able to get me more besides just pictures of daily outfits and promoting my sponsors.  And I'd love to learn a little bit more about you to!  So, please, in the comments… tell me one thing about yourself and then ask me a question, any question… and I'll have a future Q/A post where I answer your questions… if I deem them appropriate.  You can ask me anything… how tall am I?  What do I eat for lunch usually?  What time do I go to sleep?  What do Marvin and I do for date nights?  What do I do for a living?  If I won a million bucks, what would I buy with it?  Anything is game!!  Keep it classy, folks.