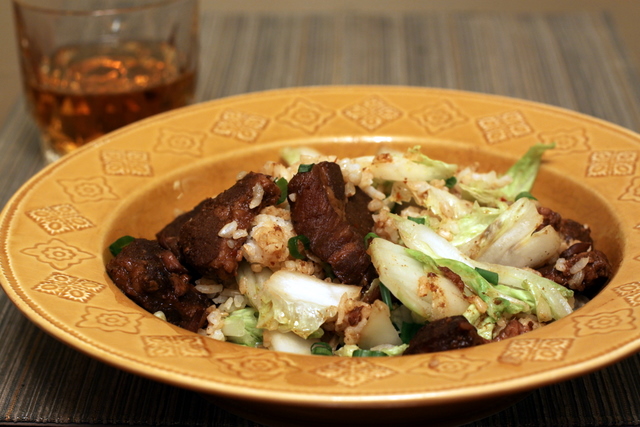 I found this recipe for Sweet and Spicy Asian Pork Shoulder in one of my favorite magazines, Real Simple,and since it seemed real simple (ha!) to make since you just throw everything into a slow cooker, I said "Why not? Let's see if this can be a recipe that becomes on my regular list." I love just throwing ingredients into the slow cooker and letting it work its magic.
Ingredients
1/2 cup low-sodium soy sauce
1/2 cup brown sugar
1 to 2 tablespoons chili-garlic sauce (found in the Asian aisle of the supermarket)
1 tablespoon grated fresh ginger
1 teaspoon Chinese five-spice powder (optional)
kosher salt and black pepper
2 1/2 pounds pork shoulder, trimmed of excess fat and cut into 2-inch pieces
1 cup long-grain white rice
1 medium head bok choy (I actually used napa cabbage instead b/c that's what I had in my house), thinly sliced (about 8 cups)
2 scallions, sliced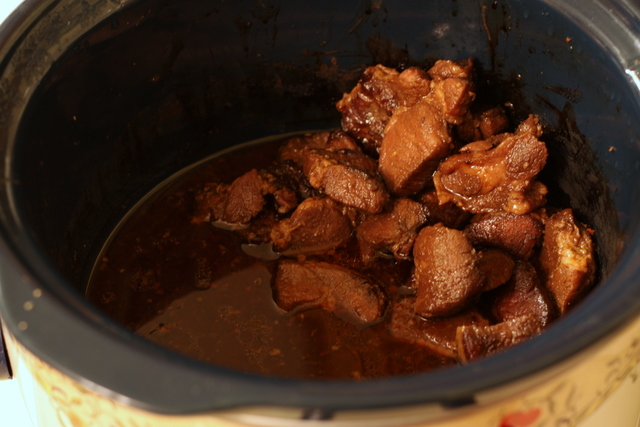 Directions
In a 4- to 6-quart slow cooker, combine the soy sauce, sugar, chili-garlic sauce, ginger, five-spice powder (if using), ½ teaspoon salt, and ¼ teaspoon pepper. Add the pork and toss to coat. Cook, covered, until the pork is tender, on high for 4 to 5 hours or on low for 7 to 8 hours.
Twenty-five minutes before serving, cook the rice according to the package directions.
Meanwhile, skim off and discard any fat from the pork. Gently fold the bok choy (or napa cabbage in my case) into the pork and cook, covered, until heated through, 2 to 4 minutes. Serve with the rice and sprinkle with the scallions.
I have to admit, it was a little bit on the salty side, so next time I'd cut out the salt and decrease the soy sauce to 1/4 cup soy sauce. But, lucky for my husband, I will be adding this recipe to the regular rotation in my kitchen, but with a few tweaks. I am a HUGE fan of slow cooker recipes, you just throw everything into the pot and let it sit for hours, real simple. And another perk is that the delicious aroma of whatever you are cooking saturates the house for hours, mmmm.