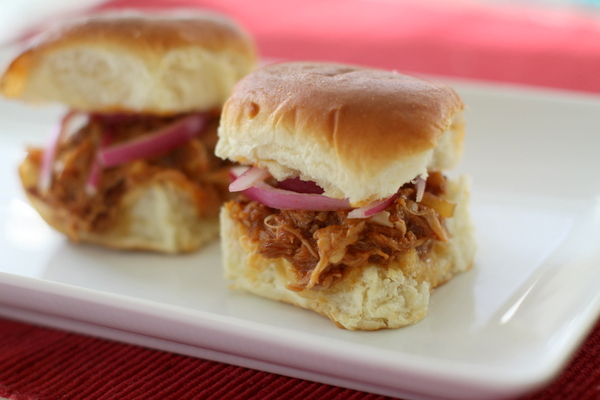 I'm finally back with a recipe post and you really don't want to miss this one! Does the picture have you drooling? I hope so! The friendly folks at Crock Pot Seasoning Mixes sent me a brand new Crock Pot to try out along with a few seasoning packets – Pulled Pork, Hearty Beef Stew, and Savory Pot Roast. These little packets are packed full of seasonings and flavor that they really can easily enhance any recipe! The thing I love about this Crock Pot is that it's a great size, the simple controls for different hours and the fact that once it finishes cooking it automatically switches to Warm setting! With my old Crock Pot, I'd always have to manually change it to the Warm setting. This comes in handy when you make preparations the night before and don't want to have to get up in the morning to make the switch.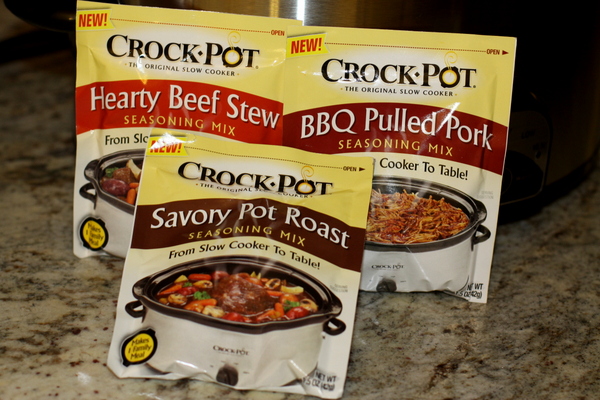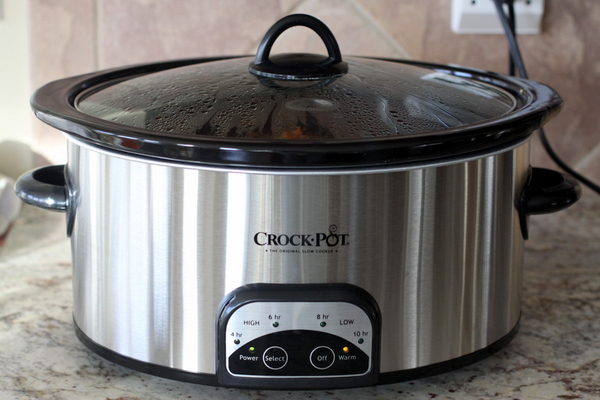 Right now through November 25, Crock Pot Seasoning Mixes is holding a Facebook Crockin' in the USA Recipe Contest. If you have a slow cooker recipe, here is your chance to enter to win a year's full of groceries ($8,500 value)! How cool is that? Do you have a favorite go to slow cooker recipe? You should totally enter if you do, you can actually enter up to 10 recipes too to increase your odds of winning! Entries end on November 25 at 11:59PM EST and after that people will vote for their favorite. I hope it's my recipe… or yours! 🙂 Oh and going back to the picture at the top there… for my recipe entry, I decided to make some Hawaiian Pulled Pork Sliders. I guess you could say I was inspired from the trip we took there a few weeks ago.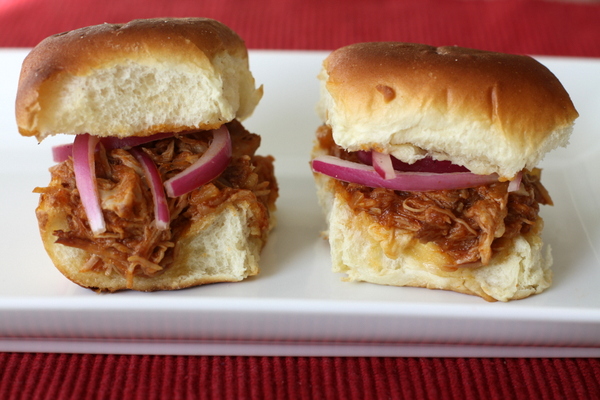 Hawaiian Pulled Pork
3-4 lb boneless pork shoulder or butt, trimmed and cut into 4 large pieces
1 large sweet onion, minced
3 large cloves garlic, minced
1 20-oz can crushed pineapple
3 tablespoons BBQ sauce (choose your own spicy level, I like it hot)
1 tablespoon Worcestershire sauce
1 6-oz can tomato paste
1/2 cup ketchup
1/3 cup cider vinegar
1/3 cup dark brown sugar
1 packet Crockpot BBQ Pulled Pork seasoning
1 teaspoon salt
1/2 teaspoon ground black pepper
In a slow cooker, combine onion, garlic, crushed pineapple, BBQ sauce, Worcestershire, tomato paste, ketchup, cider vinegar, brown sugar, Crockpot Pulled Pork seasoning, salt and pepper. Stir to combine. Add the pork pieces to the slow cooker and mix into the rest of the ingredients. Cook the pork for 4 hours on high heat or 8 hours on low heat and shred pieces completely with a fork.
Onion Relish
1 medium red onion
4 tablespoons cider vinegar
1/2 teaspoon salt
1/2 teaspoon ground black pepper
Mix onion, cider vinegar, salt, and black pepper in a container. Refrigerate for 4 hours.
Make the sliders: Cut King Hawaiian rolls in half and toast with insides facing down until light golden brown. Layer pork and onion between top and bottom half of rolls. Serve warm.
The Hawaiian Pulled Pork is seriously a mixture of sweet, salty, spicy and soo yummy. I love it paired with a tangy onion relish to give it a but of texture as well and topped off with some sweet rolls. I've got to say, the Hawaiian Pulled Pork recipe makes A LOT of pork. And even if you get through a whole 12 pack of rolls, it won't even look like you made a dent in the Crock Pot. With the pulled pork, I also like to make enchiladas, nachos, and I like to eat it straight up. Hope you enjoyed this recipe, let me know if you make it! And don't forget, you have until November 25 to enter your own Crock Pot recipe in the contest!