Fried rice. You all know what it is.  It's a staple dish at every Chinese restaurant.  It's so simple to make, it's one of those throw everything in a wok type of dishes, those are the best.  Even better, there's no "set" ingredients you really need, well except maybe rice, duh!  Here's one variation that I came up with on a whim the other day!  It has one of my favorite ingredients that always reminds me of my childhood, chinese sausage, nom nom.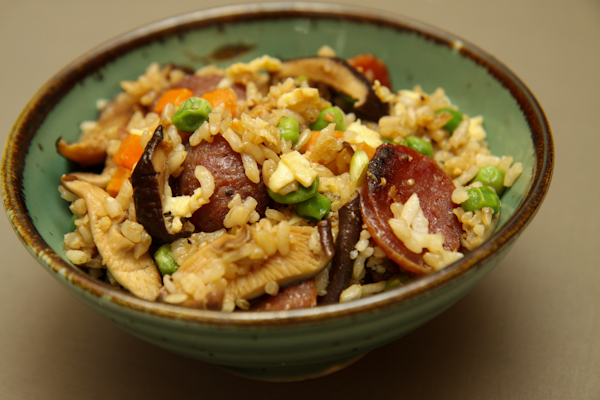 Ingredients
1/4 cup canola oil, divided
2 eggs, lightly beaten
1 tablespoon chopped ginger
1 tablespoon chopped garlic
1/2 cup frozen peas and carrot mix
3 links Chinese sausage, sliced
6 shitake mushrooms, diced
1 small bunch scallions, sliced, divided
4 cups cooked white rice (best if day old)
1/4 cup soy sauce
1 tablespoon rice wine vinegar

Directions
1. Add 2 tablespoons canola to a wok over high heat and pour in scrambled eggs.
2. When egg is cooked, remove from pan and cut into chunks/strips. Transfer to plate.
3. Add the remaining oil, ginger, garlic, peas and carrots to wok and stir fry.
4. Add the sausage and half of the scallions and cook for another minute.
5. Add the cooked rice, soy sauce and rice wine vinegar and stir fry.
6. Add in reserved egg and rest of scallions for garnish.
See how easy that was?  It's basically add this in, add this in, now add that in and you're done!  🙂  And like I said, you can totally vary the ingredients, swap out sausage for chicken or shrimp, add more veggies, the sky is the limit on this one, foreals.  But honestly, the best fried rice I've ever had was at this local Japanese restaurant where they served Ginger Fried Rice…. oh boy.  They made this FABULOUS ginger sauce that they poured over the fried rice, I have a serious weakness for sauces and this one hits the spot every time.  I'm still in the works of trying to figure out how to mimic it, I'll let you know once I do!! 😉
What's your favorite kind of fried rice?