Yup, that's right… today is the last day of the year to celebrate National Peanut Month!
Peanut Fun Fact #1: It takes 772 peanuts to make a 16.3 oz jar of peanut butter!
Peanut Fun Fact #2: Peanuts are not even nuts! They are legumes, like beans, peas and lentils!
Peanut Fun Fact #3: When making a PB&J sandwich, 96% of people put the peanut butter on before the jelly.
So in the spirit of National Peanut Month, I bring to you a dish that I LOVE and a recipe given to me by my childhood friend, Carolyn (with a few minor modifications) – PEANUT SESAME NOODLES!
Peanut Sesame Sauce
Mix the following ingredients together and blend in a food processor.
1/2 cup smooth peanut butter
1/8 cup soy sauce
1/3 cup warm water
2 tablespoons chopped peeled fresh ginger
1 medium garlic clove, chopped
1 1/2 tablespoons Asian sesame oil
2 teaspoons honey
1 teaspoon dried hot red pepper flakes
That's it! That sauce is soo simple to make, right?? From here, I'd tweak the sauce to your liking, you may think it needs more peanut butter, sesame oil, soy sauce or maybe even water to make it thinner. It's totally up to your personal preference.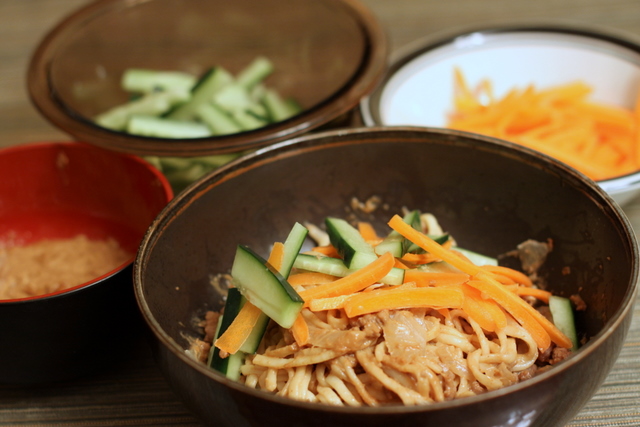 Then all you have to do is cook some soba noodles (spaghetti could work too), cut up cucumbers, carrots, and brown some meat in onions, throw the peanut sesame sauce in and you have a meal!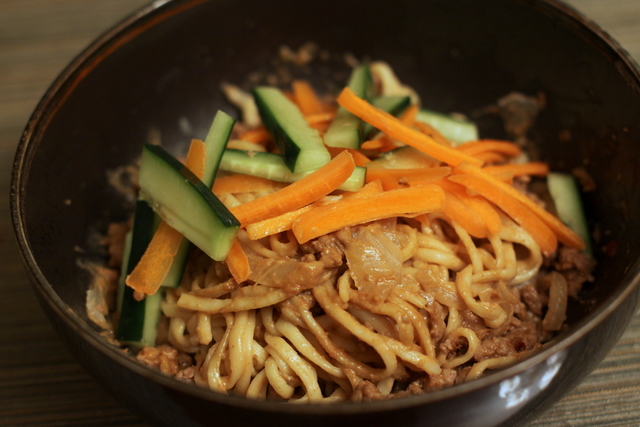 Here's a closer look.
Hope you were able to enjoy something peanutty this month! If not, then I suggest you go put on your apron and make this for dinner tonight! 🙂