What happens when your friend's and your significant others go on a business trip in the same week? You have a slumber party that consists of sewing, cooking, antique shopping, pillow fights, gossiping… 😉 Today I'm going to show you what my friend Nancy and I made with ONE HUNK OF MEAT…
Say Hello to Mr. Meaty. He is a friend because you can create 3 great meals from him. First, let's start with his contents…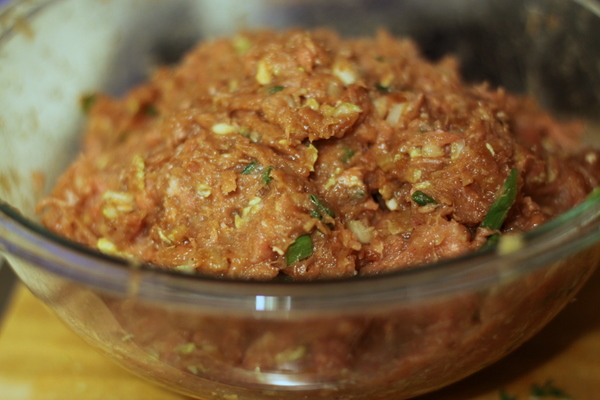 Mr. Meaty Filling (mix the following ingredients together in a bowl)
3 cups chopped napa cabbage
1 tablespoon salt
1 teaspoon pepper
6 green onions (scallions) chopped
2 pounds ground pork/turkey
2 tablespoons minced ginger
2 tablespoons minced garlic
3 tablespoons thin soy sauce
2 eggs
1 cup chopped shrimp (optional)
Meal #1 – Dumplings

This is probably the most simple thing that can be made. Just buy a pack of gyoza or dumpling wrappers from your local grocery store (or you could make them if you know how), place a tablespoon of Mr. Meaty on the wrappers, and make creases along the top edge and pinch together with the bottom edge. Pan fry or boil dumplings in water and you're done! Create a delicious dipping sauce with soy sauce, sesame oil, vinegar and sugar, YUM!
Meal #2 – Wonton Soup
With store bought wonton wrappers, place Mr. Meaty on center of wrappers, wet the sides of the wrapper, fold the wrapper in half to form a triangle, wet the corners of the triangle and pull together, and voila! Now cook the wontons in boiling water and chicken stock, then add napa cabbage/spinach, soy sauce and sesame oil and now you have a delicious SOUP!
Meal #3 – Baozi
The most time consuming of the bunch, is baozi, otherwise known is steamed buns! To make the buns, we used this recipe which we thought was pretty good! I don't usually make a lot of bread so this was my first time using bread flour and yeast in cooking, I love firsts!! Like the others, you place Mr. Meaty in the center and wrap!
Thanks Mr. Meaty for being our model today! Come back tomorrow to see what we sewed!