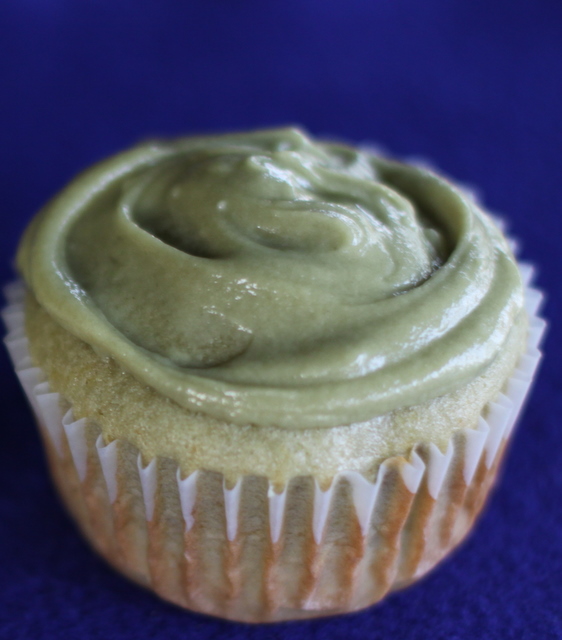 What better way to celebrate Earth Day then with some GREEN dessert?? 🙂 BTW, see the resemblance of the picture to the Earth? Yes, the colors blue and green!
First off, can I just describe my love for all things green tea? There's straight up green tea drink, green tea ice cream, green tea mochi, green tea cheesecake, green tea pocky (yes, they make this) and my newly discovered green tea CUPCAKES! Do you need me to continue or are you already drooling? And I'm sure I don't need to bore you with the long list of health benefits that green tea has… but I will, it lowers your chance for heart disease and certain types of cancers, it has antioxidant properties, and it can be helpful for weight loss management (so Wikipedia says), HOLLA!!
Anyhoo, back to the cupcakes, for this dessert, matcha otherwise known as green tea powder was used. Matcha is basically finely grained green tea and the traditional Japanese tea ceremonies were based around the preparation and serving of this fine little powda! You can usually find it as Asian grocery stores, that's where my husband got ours! Besides that, the rest of the ingredients are pretty standard, except for maybe cake flour which BTW I had no idea this was different than regular flour, but now we are all in the know! Cake flour is made of soft wheat flours and has a low protein count and promotes gluten. All-purpose flour is made from a blend of hard and soft wheat flours. So without further ado, here's the recipe I used to make these lovely little green tea flavored desserts. The cupcakes itself were pretty dense with a hint of green tea… but the frosting, let me tell you, was probably the best part… it really added a necessary sweetness and green color to the cupcake so please do not skip out on the frosting!
Wow, just how many times did I say green in this post? First one to guess it gets a green prize! No joke, whoever guesses it first in the comment, I'm totally sending you something GREEN! 🙂 And YES, the Green in the title does count, and the rest I made real easy by highlighting in green for you, including the one below this line. Have fun counting…. oh and baking too if you decide to make these!
Green Tea Cupcakes (taken from Sweetest Kitchen and Martha Stewart)

1 3/4 cups cake flour, not self-rising
1 1/4 cups unbleached all-purpose flour
2 cups sugar
1 tablespoon baking powder
3/4 teaspoon salt
2 tablespoons matcha powder
1 cup (2 sticks) unsalted butter, cut into 1-inch cubes
4 large eggs
1 cup whole milk
1 teaspoon pure vanilla extract
Preheat oven to 325 degrees. Line cupcake pans with paper liners; set aside.
In the bowl of an electric mixer fitted with the paddle attachment, combine flours, sugar, baking powder, salt and matcha powder; mix on low speed until combined. Add butter, mixing until the cubes of butter are peanut-sized or a little smaller.
In a large glass measuring cup, whisk together eggs, milk, and vanilla. With mixer on medium speed, add wet ingredients in 3 parts, scraping down sides of bowl before each addition; beat until ingredients are incorporated but do not overbeat.
Divide batter evenly among liners, filling about 2/3 full. Bake until a cake tester inserted in the center comes out clean, 17 to 20 minutes.
Transfer to a wire rack to cool completely.
Matcha Buttercream Frosting (taken from Matcha Source)

1 stick butter, room temperature
2 tablespoons half and half or light cream
1 tablespoon matcha powder
3 cups powdered sugar, sifted
1. Mix matcha in with the light cream to make a paste.
2. Beat butter briefly, scrape bowl.
3. Add the sifted powdered sugar and matcha paste. Beat until smooth.
Happy Earth Day everyone! Make sure to recycle, carpool, turn off lights if you don't need them on, or plant a tree! 🙂