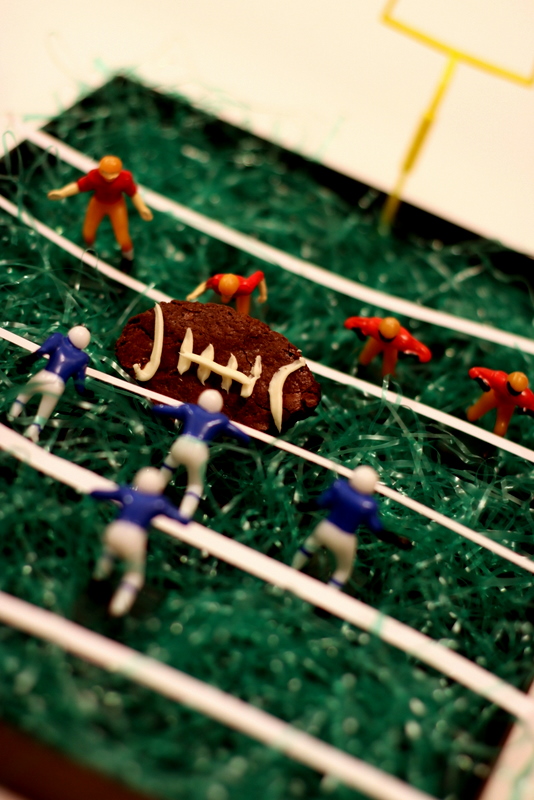 In the spirit of the upcoming Super Bowl, I really wanted to make something in to the shape of a football. And since footballs are brown, the options were basically limited to something meaty or chocolatey. Of course I chose CHOCOLATE! Our last attempt at brownies was somewhat of a failure because we decided to go with the organic box kind and they were a bit too… cardboard tasting. I must admit though, I've never made brownies from scratch before. I know I know…how can I have a blog that touts cooking when I've always made the boxed kind of brownies? Well, it's time to think outside the box. Here's my first attempt at making Cocoa Brownies from scratch…and forming them into football shapes!
Ingredients
10 tablespoons (1 1/4 sticks) unsalted butter
1 1/4 cups sugar
3/4 cup plus 2 tablespoons unsweetened cocoa powder (natural or Dutch-process)
1/4 teaspoon salt
1/2 teaspoon pure vanilla extract
2 cold large eggs
1/2 cup all-purpose flour
2/3 cup walnut or pecan pieces (optional)
Directions
Position a rack in the lower third of the oven and preheat the oven to 325°F. Line the bottom and sides of an 8×8 baking pan with parchment paper or foil, leaving an overhang on two opposite sides.
In a medium heatproof bowl, add the butter and set on top of a large sauce pan with barely simmering water. Melt the butter, then add sugar and salt, and stir until well combined. Next add the cocoa powder and stir until mixture is smooth and hot enough that you want to remove your finger fairly quickly after dipping it in to test. Remove the bowl from the skillet and set aside briefly until the mixture is only warm, not hot.
Stir in the vanilla with a wooden spoon. Add the eggs one at a time, stirring vigorously after each one. When the batter looks thick, shiny, and well blended, add the flour and stir until you cannot see it any longer, then beat vigorously for 40 strokes with the wooden spoon or a rubber spatula. Stir in the nuts, if using. Spread evenly in the lined pan.
Bake until a toothpick plunged into the center emerges slightly moist with batter, 20 to 25 minutes. Let cool completely on a rack.
Lift up the ends of the parchment or foil liner, and transfer the brownies to a cutting board. Cut into 16 large or 25 small squares.
Recipe from Bittersweet: Recipes and Tales from a Life in Chocolate
by Alice Medrech
If making footballs shapes, you should be able to cut out at least 8 large football shaped brownies. Warning: You may end up eating all the brownie scraps while cutting! I cut a football shaped template out of cardstock and then placed it on top of the brownies and cut around it. Sure beats going to the store and spending money on a football shaped cookie cutter that you'll probably only use twice a year, max. To create the white lines, I scooped frosting into a plastic bag, cut a corner off the bag, and squeezed the frosting out on top of the footballs.
These Cocoa Brownies turned out to be one of the best brownies I've ever eaten, seriously. They are fudgy, chocolatey and not too sweet. They were rather simple to make and not too time consuming either! Think outside the box and you'll be rewarded!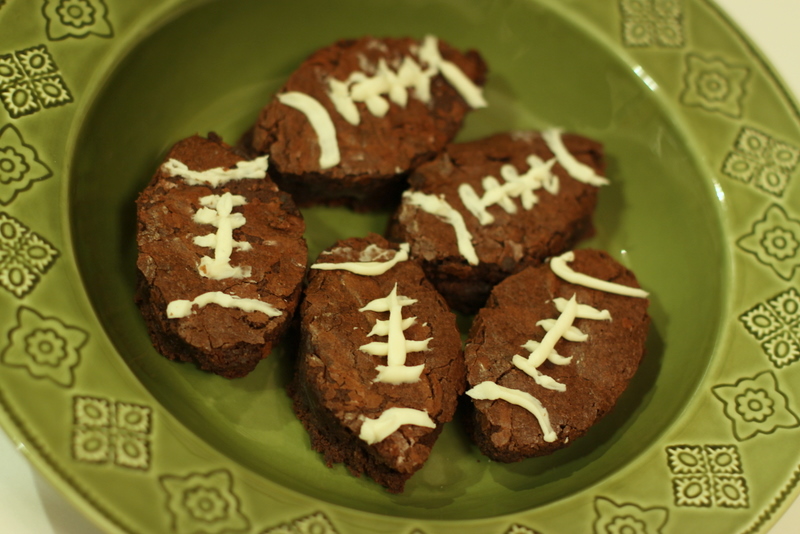 These football brownies are sure to "score a touchdown" at your tailgate party!