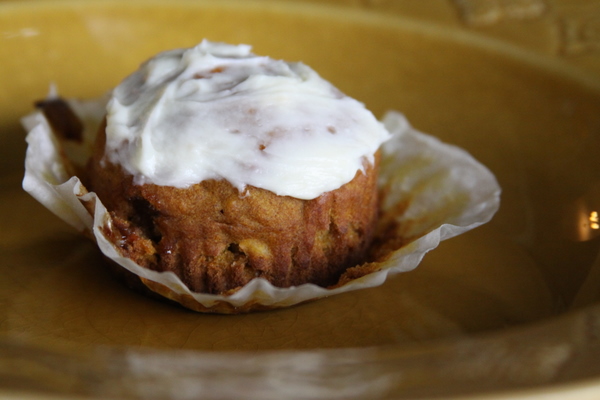 So I may have made these delicious little muffins back in September, but recipes can never really be outdated, am I right?  And it's still sorta pumpkin season in my mind until the first snowflake hits (and luckily, it hasn't in KC just yet)!  So for all of you who haven't gotten enough of your pumpkin fix yet, here's another tested and approved recipe by me, Pumpkin Chocolate Chip Muffins (via Allrecipes) topped with cream cheese frosting.  And yes, I did just put frosting on my muffin, booya!
Pumpkin Chocolate Chip Muffins with Cream Cheese Frosting
Ingredients
3/4 cup white sugar
1/4 cup vegetable oil
2 eggs
3/4 cup canned pumpkin
1/4 cup water
1 1/2 cups all-purpose flour
3/4 teaspoon baking powder
1/2 teaspoon baking soda
1/4 teaspoon ground cloves
1/2 teaspoon ground cinnamon
1/4 teaspoon salt
1/4 teaspoon ground nutmeg
1/2 cup semisweet chocolate chips
Directions
Preheat the oven to 400 degrees F (200 degrees C). Grease and flour muffin pan or use paper liners.
Mix sugar, oil, eggs. Add pumpkin and water. In separate bowl mix together the baking flour, baking soda, baking powder, spices and salt.. Add wet mixture and stir in chocolate chips.
Fill muffin cups 2/3 full with batter. Bake in preheated oven for 20 to 25 minutes.
(Optional) Spread cream cheese frosting or any other frosting of your choice on top
You really can't beat a recipe that just calls for mixing a bunch of ingredients together, dishing them out to muffin tins, and popping them in the oven (and the cream cheese is just like the cherry on top).  I don't think it would hurt to double the spices either for a stronger taste, but that's just me.  Your friends and family and coworkers won't be able to keep their hands off, so make sure to hide some away for yourself!  😉
Enjoy and Happy Thursday!