Sooo I realize it's not Tuesday anymore but when I saw what Life With My 3 Boybarians was giving away this week on Sweet Shot Tuesdays, I just HAD to join in for the chance to win Berry Sweet Designs' Lightroom presets! I need all the photo editing help I can get, no joke.
As you know, last Sunday I attended my friend's wedding in California. It was a beautiful event with navy and peach details, nice weather, great speeches, and delicious food. It might take me awhile to edit (very minimally) all the photos and get them posted but I wanted to share one photo I took on the red eye flight back to Kansas City on Sunday night / Monday morning.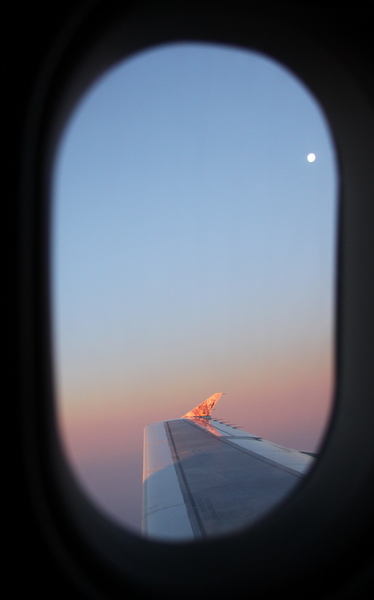 After a few hours of on and off sleeping, I woke up around 4:18AM to find this beautiful sight outside my window. It was the nighttime meeting up with the daytime… a beautiful sunrise horizon with the moon hovering over the set. And if you'll notice at the end of the wing, it's Larry the Lynx! Here's a few stats about him taken from Frontier Airlines website:
Favorite Movie: Airplane
Quote: "It is an honor to be Frontier's Spokesman… or perhaps I should say Spokescat."
Favorite Pastimes: Having his whiskers trimmed, cat napping on the tarmac, really big balls of yarn
Pet Peeves: Lost luggage, hairballs, dirty litter boxes
I'm not a fan of lost luggage either, Larry! Luckily, our plane side checked luggage was not lost, yay! We had booked a Midwest Airlines flight but since they were partners with Frontier Airlines, I got to fly my first Frontier Airlines flight ever… and lucky for me, they had Midwest's freshly baked cookies. I'm typically a Southwest (no baggage fees, credit & no charge for cancelled flights, easiest to earn free flights) or Delta (Biscoff cookies and b/c I have status already) gal but I do LOVE those Midwest chocolate chip cookies, YUM! So I totally threw out a whole bunch of airline names here, so just as a disclaimer, no , I'm not affiliated with or marketing for them haha.
What's your favorite airline and why?