My favorite thing about summer is the fact that I can wear dresses every day without being cold! Well, I don't have THAT many dresses (I wish) but at least the possibility is there. I just love wearing a nice flowy dress, paired with fun sandals, and a cabachon hairpin or headband in my hair. 🙂 Since we are pretty much in the middle of the hot hot heat, I decided to scour the web for some perfect summer dresses + why I like them! Oh how I wish I could have them all…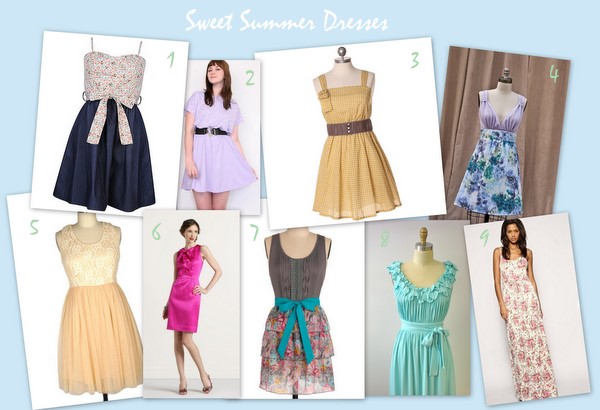 1 posy print contrast dress | forever 21 | $22.80
(i'm a huge fan of contrast dresses)
2 vintage 80s purple white polka dot slouch top mini dress | twitch vintage | auction
(love the vintage style of this dress)
3 all for the love of you daisy dress | shopruche | $46.99
(it's yellow and grey… need i say more??)
4 save the date party dress | one crafty fox | $130.00
(LOVE the print and colors of this one)
5 cream and sugar dress | spotted moth | $46.99
(so very sweet and romantic)
6 take a bow satin amelia dress | kate spade | $395
(perfect date night dress)
7 bring and braai dress | modcloth | $49.99
(the print, the bow, the colors, so lovely!)
8 gadsden street dress | carol hannah | $235
(yes, she's the one from project runway and she totally has a BEAUTIFUL wedding collection as well)
9 floral tie waist maxi dress | asos | $60.64
(maxi dresses are just pure awesome)
We'll I'll be heading out to Chicago for the weekend where I'll be going wedding dress shopping with my friend Ning-Ju and having lunch with Ilene from Much Love Illy! (By the way, she just did a post on dresses with pockets, LOVE!) It'll be my third blogger meet-up ever, so excited! 🙂 Then it's back to Ohio for business once again next week. Hope you all have a fantastic weekend!
And as a special offer to my readers, Carol Hannah is offering 20% off her shop (not valid on wedding collection) through July 30, 2010! Just mention Sandy a la Mode in the "Message to Seller" at checkout! Thanks so much Carol Hannah, loved you on Project Runway!!
What's your favorite thing to wear in the summer?