The title of this post says it all. There's no doubt that as my belly continues to get bigger and rounder and larger, the more I don't want to wear pants. Oops, that probably came out wrong, but rather, all I want to wear are dresses! Because pants, even maternity ones can be restricting at times and I swear my thighs and hips are increasing in size as well as my belly. So without further ado, here are some of the dresses that have caught my attention!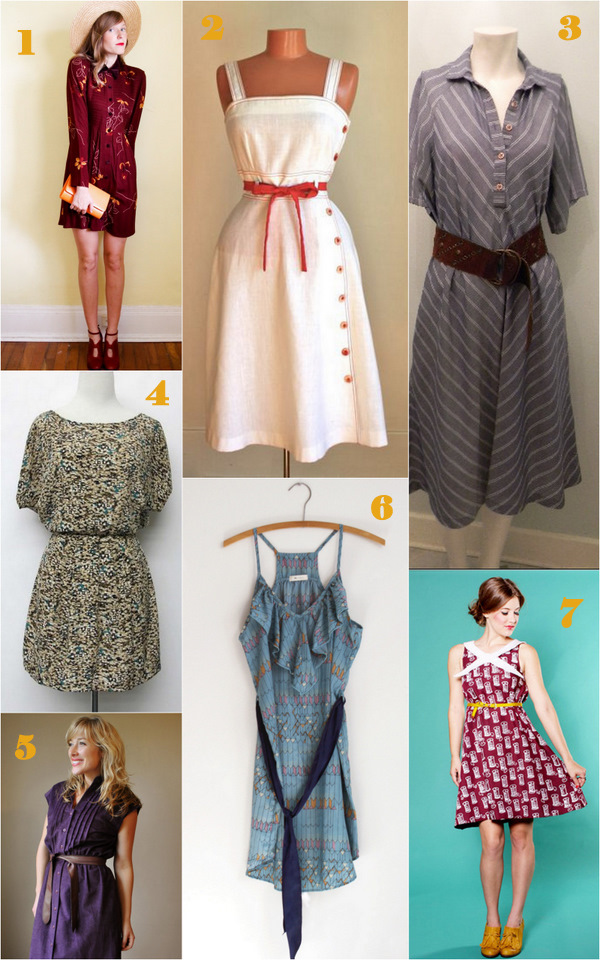 1 beautiful fall dress with velvet collar and button details from tea and tulips!
2 in love with the pops of red on this vintage 70s jumper from ms tips!
3 it's vintage, it's chevron, what more is there to say? a great style for life dress!
4 did you see the giveaway this week for a chevron scarf? here's something else you can buy from the new shop stitched and adorned!
5 the color of this velour dress from salvage house is just gorgeous, and it comes with the belt too, score!
6 reverie market by oh, hello friend had it's grand opening sale of reverie this week and i'm currently eyeing this geometric dress!
7 are you a seamstress? then this dress from red velvet was made for you! wouldn't you say?
This weekend, Marv and I plan on doing some more furniture shopping for our humble little abode, hopefully we'll be able to pick up a rug or two finally. After we got our hardwood floors redone, they told us not to put any rugs down for 3 weeks and so we decided to play it safe and wait at least 4 weeks. There's still quite a bit of boxes to be unpacked as we can't even park 2 cars in the garage yet b/c of all the clutter. And there's still a ton of baby a la mode's clothes that need to be hung up on hangers and I also want to paint (rather want Marvin to paint) the knobs on the baby dresser the same grey color as the walls. So yea… a fun weekend of errands and chores and unpacking we will have! Hope you have an amazing one!
Don't click away until you've entered the Stitched and Adorned chevron scarf

giveaway

!
OH yea, and who else is excited for Dancing With The Stars and The Sing Off to start on Monday? This girl can't wait!