It's finally (almost) the weekend, woohoo! And not just any weekend, it's the weekend before a much needed long weekend! This week in Ohio has been an interesting one. I was planning on writing this post on Wednesday night but the power went out at our hotel from about 9PM to midnight so I ended up going to sleep early since there was nothing to do. I was sad to miss the American Idol finale and then kind of sad to find out the result afterwards (I'm a Lauren fan) especially since I voted incessantly for Lauren too! Who were you rooting for? But at least Hines won for Dancing With The Stars so at least that made me happy! 🙂
For this week's Flavors To Follow… I wanted to share my latest obsession of maxi dresses. They are just the perfect summer outfit, matched with a chunky necklace, sandals and a fedora hat. That just spells perfection, doesn't it?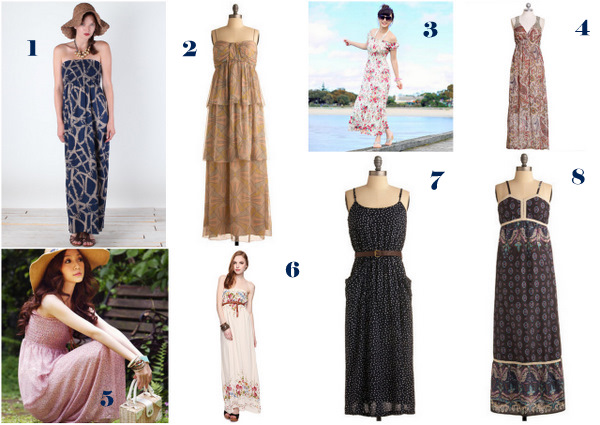 1 Smocked Strapless Maxi from Threadsence
2 Sandbar Sunrise Dress from ModCloth
3 Smocked Waist Maxi Dress from Yesstyle
4 Amare La Vita Paisley Maxi Dress from Shop Ruche
5 Floral Maxi Dress from Yesstyle
6 Eden Maxi Dress with Belt from Forever 21
7 Gorgeous at Game Time Dress from ModCloth
8 Windswept Wonder Dress from ModCloth
*SWOON* Can I please just buy them all or can someone buy them for me? *wink wink* What do you think? Are you obsessed with maxi dresses like I am or are you not really a fan?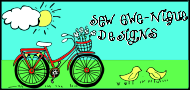 Lastly, it's time for me to announce the Sew Ewe-Nique Designs giveaway winner. Drum roll please… the lucky Tiffany from Dancing Branflakes is the winner! Congrats lady! Please email me at sandyalamode(at)gmail(dot)com with your mailing address so I can get you hooked up with your clutch and matching earrings! If you didn't win, don't forget that Sew Ewe-Nique Designs is offering 15% off her shop with code "SANDY15" through June 1, 2011!
Don't forget to enter the My Little Buffalo giveaway if you haven't already!!
What are your Memorial weekend plans?