So I'm going to take my stab at being a food critic today.  I mean, doesn't that sound like the best job, ever?  You get paid to eat and write about food, holla!  I'm sure you know that one of the things Philly is known for is their cheesesteaks, and that there has been a long time rivalry between Pat's and Geno's.  They are two restaurants, well, more like stationery stands that happen to be caddy corner from each other.  Some may think it's competition, but in some ways I think they help each other out, because if you're a tourist like me, you've got to try both to see which one you like better!  And that, my friends, is just what Marvin, my friend Amy and I did.
Comparisons based on
Philly Cheesesteak wit (Cheese) Whiz and Onions, $8.50

Restaurant #1: Pat's King of Steaks, founded by Pat and Henry Olivieri in 1930s
First Impresssion: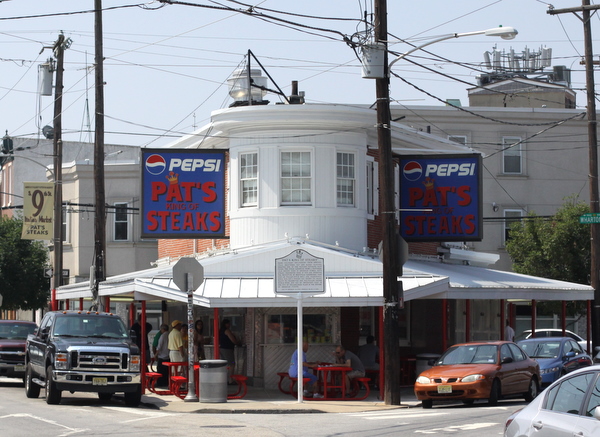 Planted in a white building with neon Pepsi Pat's King of Steaks signs, Pat's definitely has an understated vibe.  Outdoor seating by means of red park tables and benches are scattered beneath the awning.
Signage:
One of their main signs is this one, which I think is a rather clever statement.  Of course, we had to take the obligatory photo in front of it!  Also, hung up were faded photos of celebrities that had visited this joint.
Food: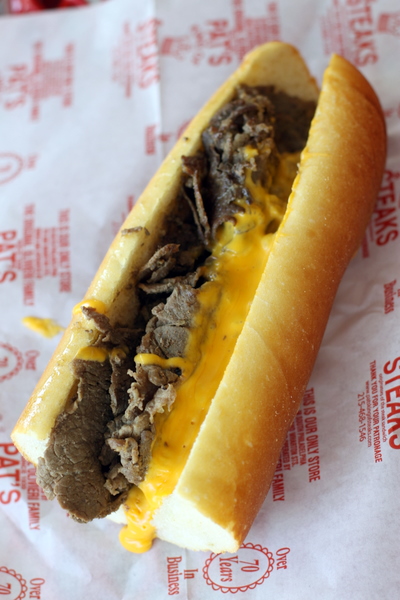 Flavorful sliced steak, oozing with cheese, sprinkled with barely noticeable grilled onions and encompassed in a crusty bread, the whiz really stood out (borderline overwhelming) on this steak sandwich.  It is a bit of a messy bite, but definitely flavorful and delicious.
Restaurant #2: Geno's, founded by Joey Vento in 1966
First Impression: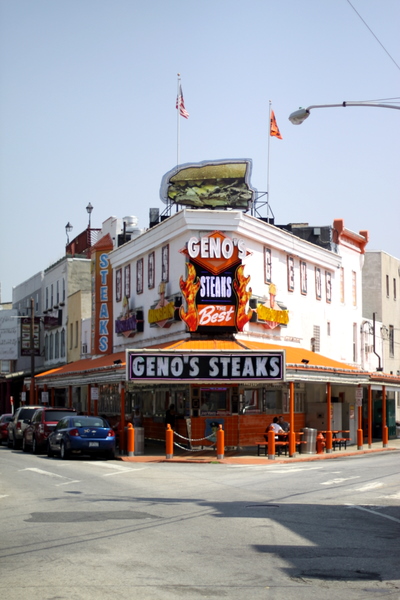 Pretty much on the opposite end of the spectrum,  Geno's has bright gaudy Vegas style signs that you cannot miss.  The outdoor seating is similar to Pat's, but it's orange in color.
Signage:
Bumper sticker like signs that show off their patriotism (some of which are may be considered racist), police patches, and pictures of celebrities that have frequented the joint bombard the decor.
Food: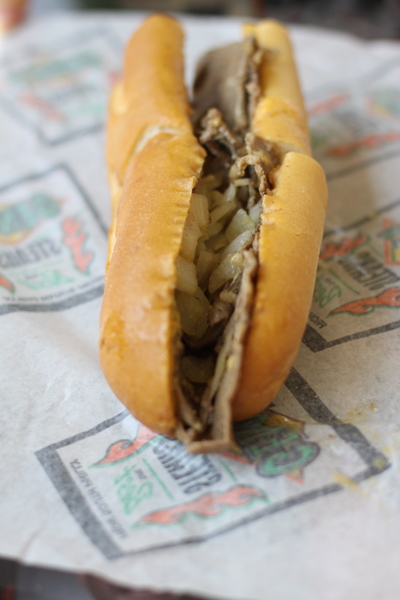 Bland meat, watery wimpy cheese whiz, and raw onions filled the tasty bread.  Pretty much all I could taste was bread and onions.
And the winner is…
Pat's King of Steaks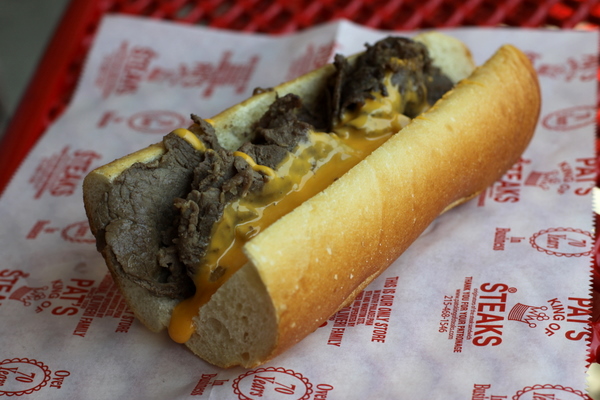 OH baby, I'm linking up this cheesy goodness to…
The reviews in this post are all a matter of personal opinion, if you are in the Philly area, you should definitely check out both to see what you think!   I've also heard of another place called Jim's and one called Ishkabibble's and some claim those are even better.  Next time I'm in that hood, I'll definitely check those out! 
And for those who have had cheesesteaks in Philly, what do you think?? Which one is your fave?