Lemon Layer Cake

with Raspberry Buttercream Filling

and Whipped Topping
***

Yes, that is what I'm showing you how to make today.  Have I got your attention, folks??  Sorry it's taken me so long to write this post, *sigh*, I'm a little behind on picture uploading/editing/writing posts, if you can't tell.  🙁  But anyways, remember the birthday cake that me, my brother and SIL made for my husband and my friend Sam?  If you need a refresher, it was mentioned in this post.  So I've never made a layer cake before or my own buttercream, so there were many firsts for me here.  That, and the fact that it was late at night and I'm not so great at taking indoor pictures (so sorry for the poor picture quality in some of these here)!  But I knew, I just knew, that I wanted to blog about this cake and I wanted to impress you!  😉  Oh yea, I definitely encountered a few hardships along the way and I'll be sharing those with you!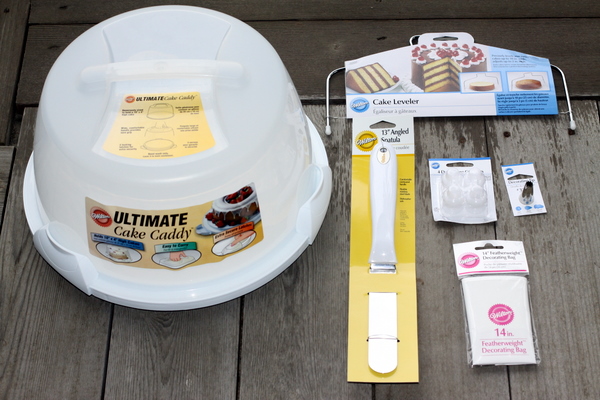 1. First off, prepare your tools.  We have the ultimate cake caddy, cake leveler perfect for layered cakes, angled spatula, decorating bag, coupler and a tip.
2. Don't slap me, but I used a boxed lemon cake.  Reason being, I wanted to focus on making the cake look pretty and I didn't want to mess up the flavor of the cake, hope you understand!  🙂  My original plan was to bake two 9-inch rounds and make 4 layers.  So with one of the 9 inch rounds, you have to use the cake level to skim off the top, and then cut that round in half again.  However, as I was cutting that round in half, it started to break apart and I realized it wasn't such a great plan.  So I called Marv and had him get me another box of lemon cake… long story short… I'd just get 2 boxes of cake and make three (layers) 9-inch rounds and level the tops.
3. As the cake is baking, you could actually start prepping your Raspberry Buttercream (Ingredients and Directions at bottom of post).

4. I cut out a cardboard box into a shape of a circle and wrapped foil around it to make my stand.
5. Place Layer #1 face down.
6. And here we go!  Spread the raspberry buttercream filling on top of Layer #1.
7. Place layer #2 on top and spread the raspberry buttercream filling on top of Layer #2.  See it finally forming into a layer cake?
8. Place Layer #3 on top (upside down again) and you're DONE!
9.  Well almost.  Spread your Whipped Cream Icing (Ingredients and Directions at bottom of post) on top and sides of cake.  This is where your uber useful angled spatula comes into play!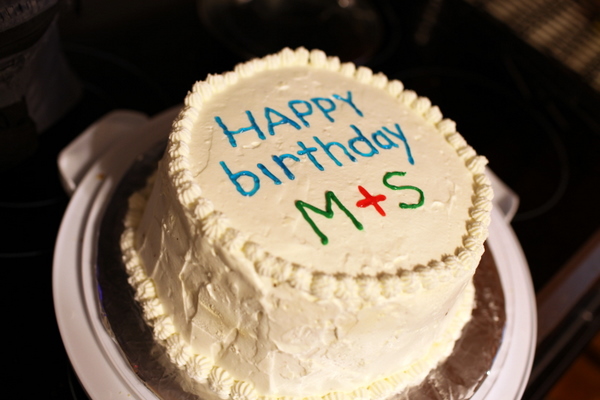 10.  My favorite part.  Ask your sister-in-law, to use her Jenny-vitica font style handwriting and icing gel to write a message.  Hire your brother to pipe the Whipped Cream Icing along bottom and top of cake.  This is where you use your piping bag, coupler and tip.  🙂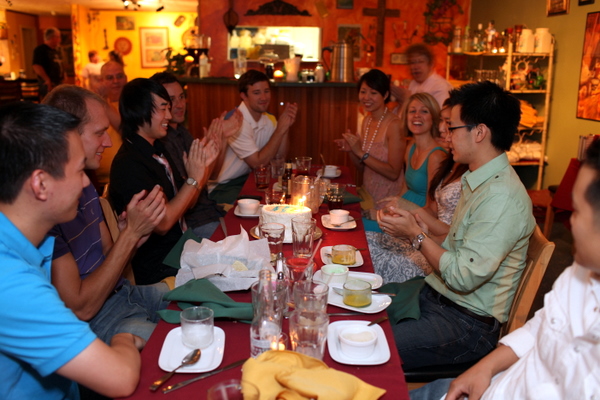 11.  Present your cake to the birthday boys, where they will simul-blow out the two candles, haha!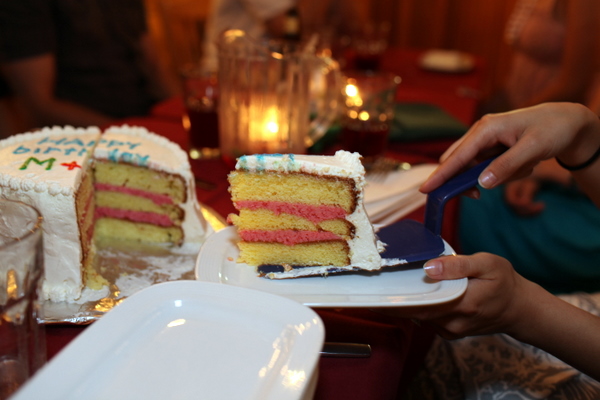 12. Lastly, cut the cake into slices and admire the pretty layers! 🙂
13. Oh, don't forget to eat the cake too, but let the birthday boys have the first bite!
Lemon Cake – bought a boxed cake mix and followed the directions, easy peasy!
Raspberry Buttercream – I adapted this recipe from a cupcake that My Little Adventures made, I don't remember my exact measurements though, any berry buttercream recipe should work for this!

Ingredients:
1 cup raspberries
4 teaspoons granulated sugar
2 teaspoons lemon juice
1 stick unsalted butter; softened
1 teaspoon salt
3/4 cups powdered sugar; sifted

Directions:

Combine raspberries, granulate sugar and lemon juice in a sauce pan and place over medium heat. Stir frequently until juices from berries boil. Let boil for 2 minutes to raspberry make sauce more dense.
Place the sauce in a strainer and push out the liquid, so that there aren't any seeds in your sauce.  Cool in refrigerator.
Beat butter and 1 cup of powdered sugar until smooth.  Add the raspberry sauce to the mixer bowl, along with 3/4 cup of powdered sugar.
Whipped Cream Icing – taken from one of my favorite recipe websites, allrecipes.com.


Ingredients:

1/4 cup cold water
1 teaspoon unflavored gelatin (to make it hold better)
1 cup heavy whipping cream
1 tablespoon white sugar
1/2 teaspoon vanilla extract

Directions:

Chill mixing bowl and beaters for at least 15 minutes before using. Place water in a small microwave-safe bowl. Sprinkle gelatin over water and allow to soften 5 minutes.
Dissolve gelatin by microwaving for 3 minutes, stirring after every minute. Remove from microwave and let stand at room temperature for 10 minutes; gelatin must be liquid but not warm when added to cream.
Remove bowl and beaters from refrigerator and pour in cream, sugar, and vanilla extract. Beat together just until beater marks begin to show distinctly.
Add gelatin mixture to cream, pouring in a steady stream while beating constantly. Beat until stiff peaks form. Use immediately.
Hope I've inspired you to make own version of LAYER CAKE now!