With summer quickly approaching… and by quickly I mean a few days away, I thought it would be perfect to share a few desserts that I've made recently. These scrumptious recipes were found through twitter and blogs, of course (they are my favorite places to ask and look)! The first one was given to me by Navywife3619. I had asked a question on twitter for simple, delicious BBQ/potluck ideas and she came back with the idea of making a Chocolate Trifle!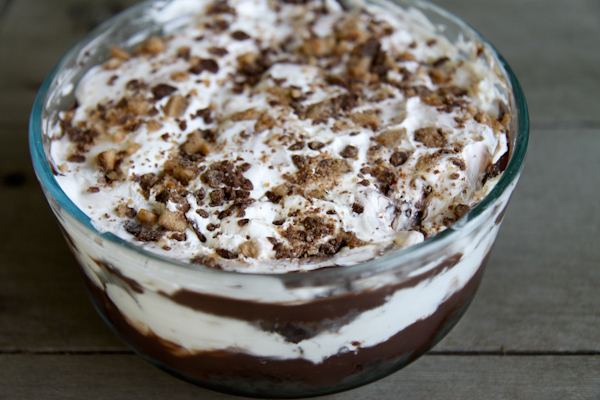 Yum! This recipe truly was so simple and so deliciously sweet and yummy! All that this includes is devil's food cake, chocolate pudding, whipped cream and heath bar (toffee). You bake the devil's food cake according to the box directions and once it's done you cut it up into squares and layer the bottom of a bowl. Then put a layer of chocolate pudding on top, whipped cream on top, sprinkled bits of Heath bar on top, then another layer of cake, pudding, whipped cream and Heath bar on top again and you're done! Easy peasy, oh yes! 🙂
Next up is a dessert I made for my friend's bridal shower! It's healthy (sorta) and the presentation is great. It's none other than Cheesecake Stuffed Strawberries – seen on Sugar Derby!
My suggestion is to make this dessert the day you serve it and it is sure to be a crowd-pleaser (the strawberries may be a bit soggy and not as fresh the following day). You basically hollow out a strawberry, stuff it with a cheesecake mixture and top it with graham cracker bits. It is heavenly I tell you… and for all those healthy folks… well, it's fruit!! And now I might just be drooling all over my keyboard as I finish this post.
What are your favorite summer desserts (links appreciated)?