Rain, overcast, space needle, first starbucks, pike place, seafood, ahhh seattle we meet again! 🙂 I'm so excited to be in this beautiful city witnessing the wedding of C+J. I'd like to think I was a semi-match maker for them since I was already planning on going out with J + friends when I invited C + friends to come along to the bar we were going to as well (this was about 4 years ago)… and the rest is history. I've also had a ton of fun helping C with any wedding questions that come along during the planning process. Of course I'll be taking photos with canon 50d. 🙂 But for now, I leave you a collection of items from seattle based designers, photographers and basically things that remind me of seattle!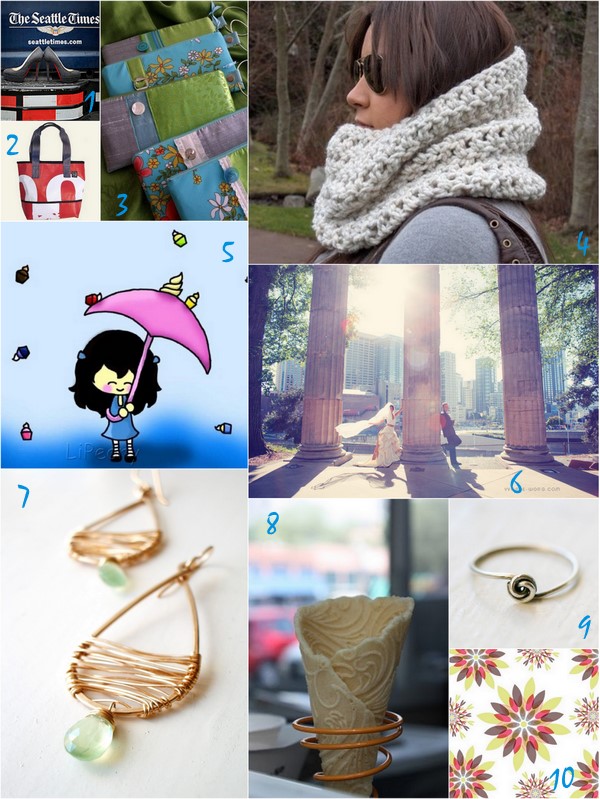 1 christian louboutin "bianca" owned by i am stylish, so pretty!
2 alchemy goods bag (from a local seattle designer) seen on broken saucer
3 luxe clutch by laura bee designs (made in seattle)
4 a warm seattle snuggler by counting stitches
5 adorable it's a raining cupcakes print by lipeony
6 amazing wedding photo taken by seattle based photographer yvonne wong
7 gold fill hand-wrapped tear drop with prehnite briolette by dotted line jewels
8 parfait organic ice cream truck spotted on the soho
9 darjeeling knot ring made by elephantine
10 pink light design seen on print & pattern
And in case you haven't heard, there's a 5 day wedding photography workshop going on right now hosted by the amazing jasmine star! She has loads and loads of useful information about tips on being a great wedding photographer (and just great photography tips in general). Today is day 3/5 of live streaming videos and she's actually going to be shooting a REAL WEDDING IN SEATTLE today, so you can follow in her thought process and see all that it takes that goes into shooting a wedding. For more information on the timeline, click here. Don't worry, if you can't watch it live, her videos are available for purchase afterwards. Neat stuff!
What are your weekend plans?