Are you a follower of Prudent Baby? It's a blog started by two beautiful mamas, Jacinda and Jaime. There's tons of easy to follow sewing tutorials and crafts where you can create items for babies, nurseries, nests, or hot mess mommas! Not to mention, they have some pretty awesome giveaways for people who love to sew, like me. And I did just happen to win a Simplicity Bias Tape Maker from them a few months ago. 🙂
And just the other day I received this piece of beautiful fabric from Prudent Baby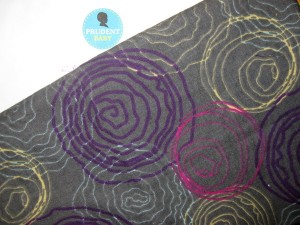 … and how you might ask? Let me explain. Well, not only is Jaime the co-blogger of Prudent Baby, but she also runs a Prudent Advice For My Baby Daugter blog that is a collection of lessons of questionable importance to share with her daughter before she grows up.
Here's a few of my favorites:
This has served your mother and grandmothers well for generations and seems a fitting place to start.
With your time, your money, your heart. If, on my best day, there was a single lesson I could hope to impart to you, this would be it.
But a cupcake is worth every calorie.
Wrap a rubber band around the base of your machine at the distance from the needle you want your hem to be. If you watch the needle while you sew your stitches will look like you were sewing through an earthquake, so focus on the rubber band.
Cheese curds in Wisconsin, arepas in Venezuela, banh boa and pho in Vietnam; the list is limitless.
Articulate your thoughts to them clearly if you want to be sure that you will be understood. Imagine writing on a 3X5 card; short and to the point.
Try not to think about where you need to go next or wherever you just came from. This is more difficult than it sounds, but work at it. It's important for your head to be present in the place where your body is.
You are luminous and resplendent. You are rapturous and incandescent.
And one of my favorite ones is #244, which you created a little video for in exchange for the lovely fabric I showed you above. 🙂
embedded by Embedded Video

YouTube Direkt Prudent Advice by Sandy a la Mode
Oh it gets better! The lovely Jaime has recently released this book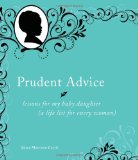 …that has her compilation of 500 pieces of advice and she was accepting video submissions hence my video above) to possibly use in her Prudent Advice book trailer! It's already got GREAT REVIEWS on Amazon and really, it's a book that anyone could use. I'm definitely going to be picking up a copy and giving some out as gifts as well!
There's also a blog tour going on right now where you can read reviews and enter to win your own copy of the book! So cool!
What is the best piece of advice you have ever given or received?
P.S. A little piece of advice for you? You might want to hop on over to Wild and Precious every day this week starting Tuesday as there are a variety of AWESOME GIVEAWAYS going on! And there might just be one to a shop called Sandy a la Mode? Just maybe.