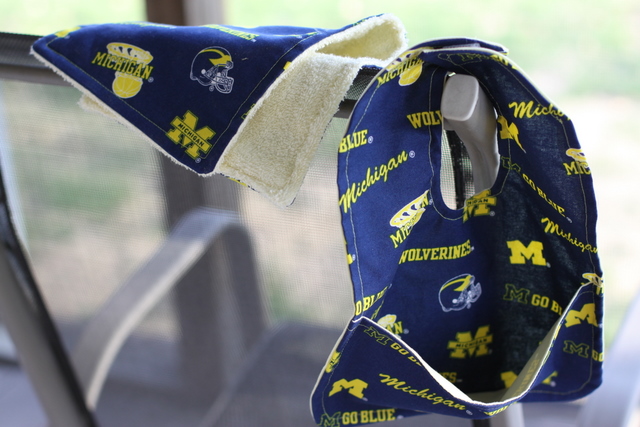 I just wanted to share with you my first sewing project for babies! I made a pocket bib and burp cloth for my friend's baby shower – fabric choice was inspired by the Mommy and Daddy-to-be's alma mater. Oh and I happened to go there too, GO BLUE! My friend, Christine, also made a Michigan fleece blanket and we gave all three items as a joint present.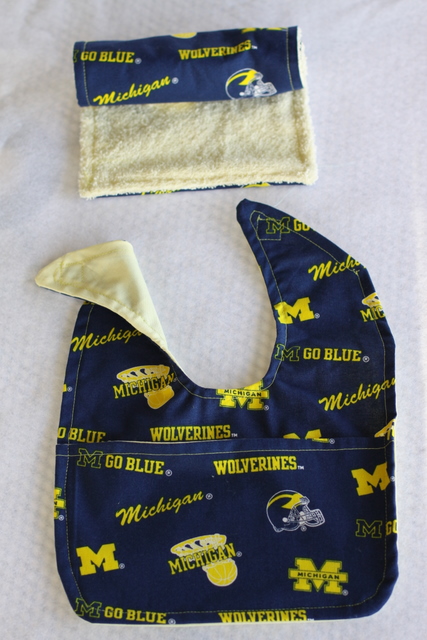 The tutorial for this pocket bib and burp cloth was taken from Prudent Baby. It is an AWESOME website that has a variety of DIY tutorials and a reader roundups. A majority of the posts are about sewing and the tutorials are made so that a beginner (like me) can follow along! I didn't take pictures of my process since I basically just followed the steps on the Prudent Baby website.
For the burp cloth, I used a cotton Michigan-patterned fabric for one side and a light yellow terry cloth material for the other side.
For the pocket bib, I used the cotton Michigan-patterned fabric for one side of the bib and pocket and I used a yellow cotton fabric for the other sides. I also sewed velcro to the top.
And lastly, I asked Koko to be a model for me, and he agreed. Despite what my husband might tell you, Koko's a big Michigan fan! Congrats again to the Mommy and Daddy-to-be! Can't wait to meet the little sugar booger! 😉