Hello from sunny (and slightly chilly) California! We're out here to surprise my brother for his birthday and for our friend's wedding! And he just ain't any old friend, but he's the reason me and Marvin met each other, he's our matchmaker! 🙂 I'm also getting a perm today, I'm soo excited and nervous at the same time!! Don't worry, it ain't no Shirley Temple curls, it'll be big waves (I hope anyways)! And lastly I have a few blogger meet-ups lined up, as long as the LA traffic doesn't hold us back, hopefully I'll be able to see them all!
I totally think today's Flavors to Follow is quite fitting for the weather right now. It's not quite super cold yet but it's just starting to get chilly, especially in the mornings, and I can attest to this for the Midwest and California! My obsession with sweater dresses pretty much began last year and guess what? I am still obsessed this year too! You can wear them over jeans or tights (colored ones as Much Love, Illy would say) with flats or boots, one dress, so many looks, you can't go wrong!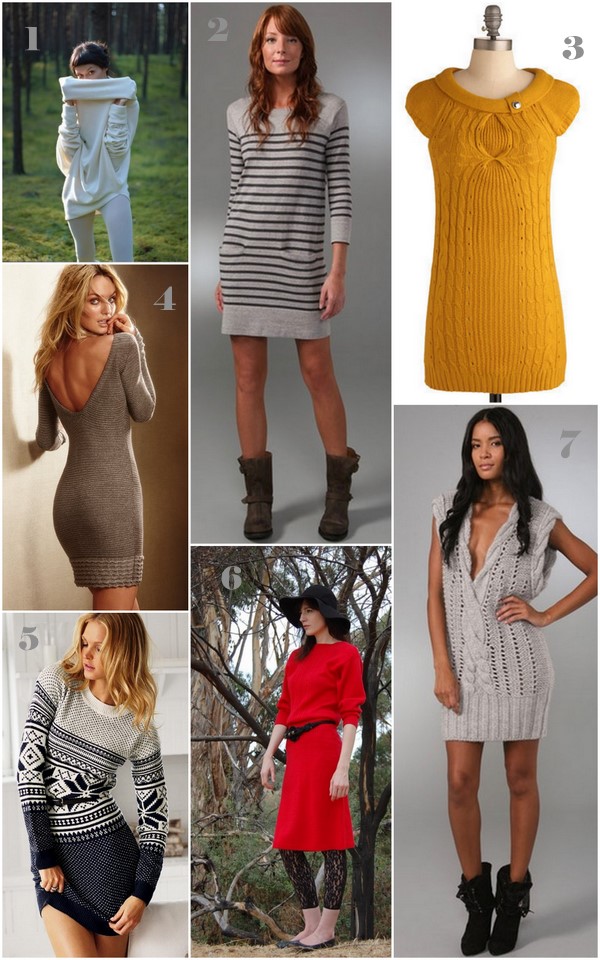 1 cozy up to this leMuse milk sweater dress seen on bug miscellany
2 slip your hands into the pockets of this adorable striped Rag & Bone/JEAN knit pocket dress from shopbop
3 brighten up your day with this golden opportunity sweater from modcloth
4 feel sexy and sleek with this lurex sweaterdress with ruffle hem from victoria's secret
5 seen on honeysuckle chic and also from victoria's secret, this slouchy fair isle sweaterdress looks stylish and comfy
6 take yourself back to the 80s with this vintage red cable knit slouchy sweater dress from enid and edgar
7 be warm (sorta) and sexy with this McQ – alexander mcqueen cable knit dress from shopbop
Are you a sweater dress fan? Is there one that you're currently eyeing?
Hope you adore this pretty collection as much as I do! Have a wonderful happy beautiful weekend my friends! Don't forget to check previous posts for the TWO giveaways going on right now. And come back next week for TWO more giveaways as well, boom chicka boom.
Oh and please don't forget to check out my lovely sponsors and follow me via Google Friend Connect over there on the right side —->