Did you know there are two giveaways going on here right now?
Click here to win an urban style t-shirt by rawrs!
Click here to win a bracelet and earring set by my lovely sponsor snnewt!
***
Guess what? My husband and I are the newest owners of the The Original Carnival Treat Factory Maker (It's not available anymore where we bought it, but here's a same thing on Amazon! This was one of those impulse purchases, the victim being my husband. I can't even really begin to explain why he wanted buy this but he saw a deal some where and it really does make delicious treats, perfect for parties! And since you make the batter yourself, you'll know exactly what the ingredients are and can opt for healthier alternatives! The possibilities are really endless, from corn dogs to pizza on a stick to snickers on a stick … yum!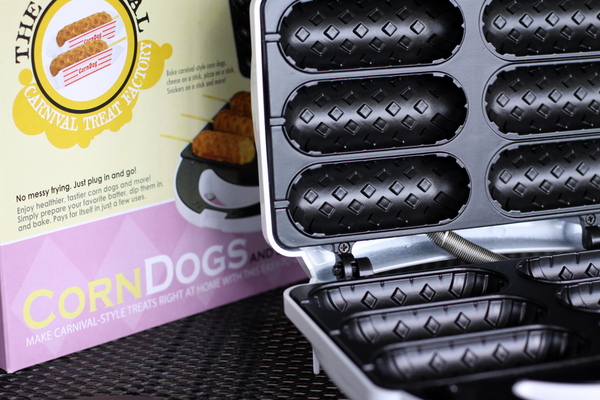 For our first time using it, we figured we'd make a classic carnival corn dog. Seriously? Am I really blogging about homemade corn dogs right now? Yes, yes, I am. We followed the recipe that came in the box, you may not be able to tell from this picture, but Marvin is totally giddy like a kid at a carnival as he makes the batter and hot dogs.
It's so simple. You just fill the slots half way with batter, put the skewered hot dog pieces on top, and then cover again with batter. Put the lid down and wait until the corn dogs turn golden brown… I think it ended up being about 10 minutes?
Oh baby, these are soo ready to be eaten!! We may have overfilled them by a little bit, oops, more food for us! We dipped ours in a ketchup/mustard/relish mixture and oh boy was it good!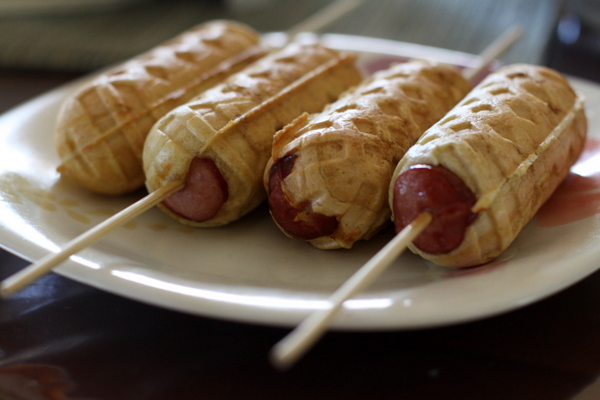 Next time I think we'll vary these by making cheesy corn dogs, nom nom. And then after that, I'm thinking twix on a stick. 😉
Have any suggestions of treats we should make??
Well, I'm off to the last wedding of the year in my favorite city! 🙂 Cool thing is, I'll be second shooting for the first time ever, yay!!