Happy first Friday of 2011!!! 🙂 Hope you all had a great week! For this week's Flavors to Follow I wanted to start it off with the 2011 color of the year, Honeysuckle (picked by Pantone)! This is so exciting because pink if my absolute all-time favorite color!!! Yellow and grey are my faves too but those are only recent faves haha. Honeysuckle, is a reddish-pink that is encouraging, uplifting and as I like to describe it "big girl pink"! I think this color would go well with blacks, greys, browns as well as darker green tones, don't you? WellI've scoured the web and found some perfectly honeysuckle finds for you to swoon over!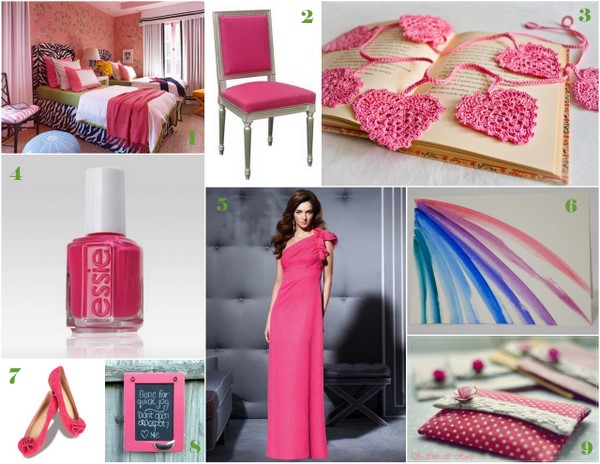 1 Bedroom designed by Grant K. Gibson seen on Creamy Life
2 Chaise Louis XV Jacob chair seen on Dodeline Design
3 Valentine Crochet Heart Garland made by BobbiLewin found by Mandipidy
4 Essie nail polish in Fiesta
5 Lovely long bridesmaid dress from Dessy
6 Abstract watercolor greeting card by Chic Geek Designs
7 Inna flats by Simply Soles seen on Dedicated Follower of Fashion
8 Mini Chalkboard sold by The Door Stop
9 Wesley Purse made by So Cute It Hurts
Don't forget to enter the FOUR GIVEAWAYS going on right now!!! You could win two beautiful prints from City of Blackbirds, a mustard headband from Maie Dae, a Polaroid pocket mirror and postcard set from OPB Studios, or a cowl in your favorite color from Holly Knitlightly!!
Are you a fan of honeysuckle? What colors would you pair with it?