One of my absolute favorite things about blogging is the fact that I am able to meet new friends from it, like all of you! But even cooler is actually getting to meet bloggers in person! If you've been following me for awhile, you know that I'm always traveling all over the place… for work, for weddings, for fun! I've met My3boybarians, One Sydney Road, Much Love, Illy, Wild & Precious and Michabella!! I've also met up with Janie Hearts and SoNg Designs this year but I've actually known them since 2002 when we met at Loveboat Summer Camp in Taiwan! Pretty much, nowadays, anywhere I go, my first thought is, "Do I know any bloggers that live there?" My goal is to meet you all!! 🙂
Well during my last trip in Los Angeles a few weekends ago, I knew that there were a ton of bloggers out there that I had yet to meet! I sent out a few emails and tweets and plans were made! First up was visiting bloggers/crafters at the UCI Vendor Fair!
I knew that the lovely Danni from Oh, Hello Friend was supposed to be there all week! Of course there was traffic on the way there and we didn't leave until ate afternoon so during the whole drive I was afraid I was going to miss her! But we arrived about 30 minutes before closing time and found out she was going to be open later anyways so we got to spend a little bit more time with each other! 🙂
Danni's booth was FILLED with all sorts of lovely such as earrings, pins, buttons, necklaces, hairpins, rings, gift packs… pretty much any accessory you are looking for, you can find it at her booth!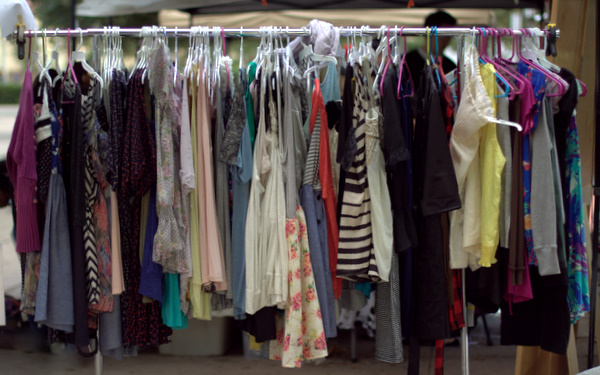 One thing I didn't know was that she sold belts, purses and dresses as well! Would you look at that collection? I wanted it all, but I settled for just one that I wore for my birthday!
My favorite part was the set up at her table with this rustic brown shelf, vintage plates, and antique goodies! I know Danni has dreams of opening a boutique store one day, and I TOTALLY think she should!! 😉 And of course I left the booth with a dress, a gift pack for my sister in law, a key necklaces, an elephant necklace and a rose ring! 🙂
And next booth over from Oh, Hello Friend was Eugenia from Petit Plume!! I actually didn't know she was going to be at the Vendor Fair so I was pleasantly surprised to meet her and look at her hair accessories! We're both wearing her accessories in this picture, I love how the peacock feather headband matches with my dress!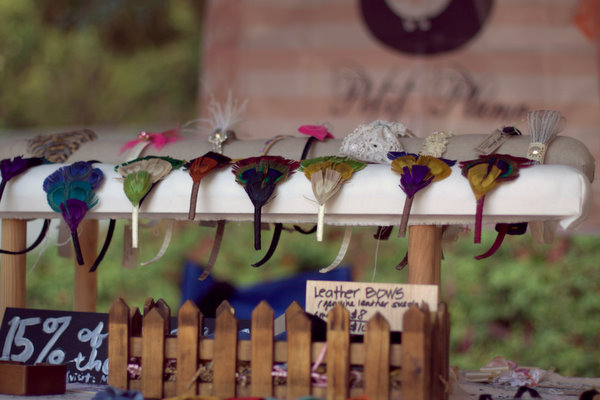 She has such a wide array of headbands, clips and brooches! If you have a wedding coming up, her pieces are just perfect for brides and bridesmaids!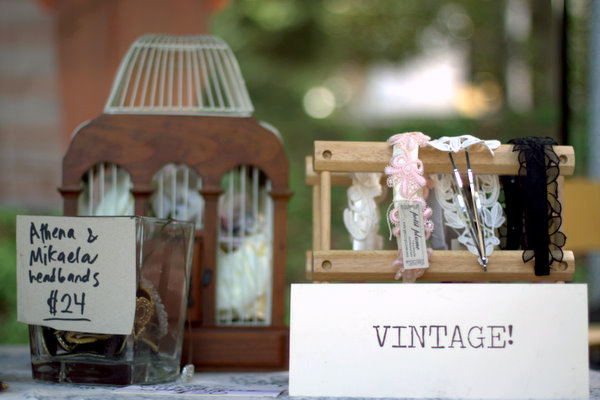 For some reason, I just really love the perspective of this photo and the bokeh in the back, and of course those Vintage headbands are gorgeous! I'll be linking this photo up to…
I just loved all of the fun colors at her booth! She even had this one of a kind necklace and really adorable colored bows as well! I left with a yellow and grey bow that I'll show you in a future post! 🙂

And my last stop of the evening was to meet up with Eva from The Wedding Pantry, a boutique wedding shop in Tustin, CA. I pretty much met Eva through blogging/twitter and I found out about her from my friend Lydia from Ever Ours (a super rad wedding inspiration blog)!!
Would you look at this BEAUTIFUL setup? It's a bride's paradise! You can find anything from jewelry, cards, favors, ring bearer pillows, presents for your wedding party and more!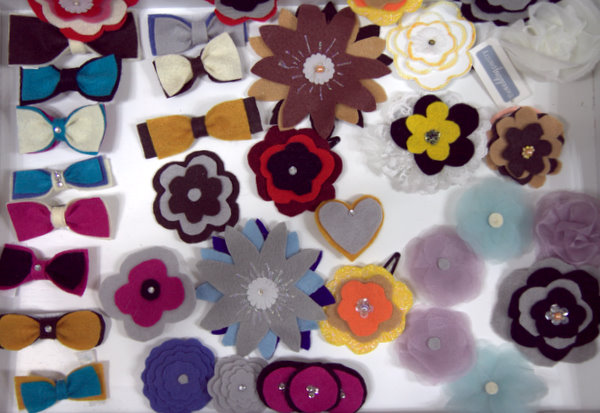 Look at all of these beautiful accessories made from crafters all over!
Some really unique items I found were these dresses in a bottles as cute ways to ask your bridesmaids to be in your wedding and these fun mac n cheese candles, haha!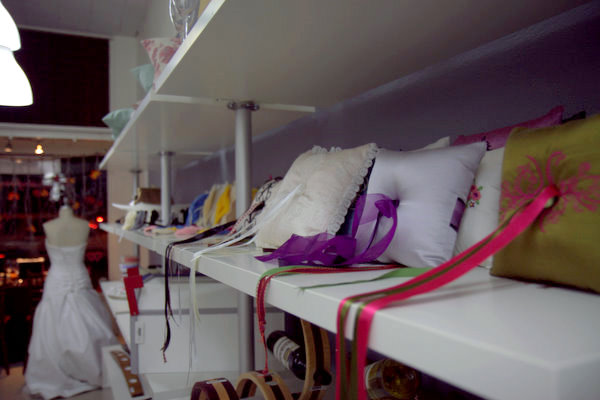 Yup, I left with some earrings and a set of cards! So again, brides in the LA area looking for inspiration? The Wedding Pantry is your place! And even cooler, on November 20th, there will be a Holiday Bliss Boutique that you don't want to miss!
Whew! What a fun Friday that was, it was sooo great to meet you Danni, Eugenia and Eva!! 🙂 And on that following Monday I also got to meet up with Leila from Leila Brewster Photography (formerly Olive Juice Photography) but I'll share the photos from that meet-up in another blog post! 🙂