I've got TWO giveaways going on right now! Click here for the Grace Hester calendar/personalized stationery giveaway and click here for A Bit of Lace headband and bookmark giveaway!
AND The Sweetest Petunia is celebrating her blogiversary this week! Head on over to her blog to tell her congrats and enter tons of giveaways this week… and you might just see a Sandy a la Mode giveaway over there too, just maybe! 😉
**
It's been quite the rough and busy week at work for me today, so I couldn't be more glad that Thanksgiving will soon be upon us! But seriously?? Thanksgiving is NEXT WEEK, folks, boy does time ever do fly! I'm sooo ready for the long vacation, aren't you? So for this week's Flavors To Follow, the theme was pretty obvious! I found some amazing food, drink, decorations, and printables for you to use for your Thanksgiving celebrations!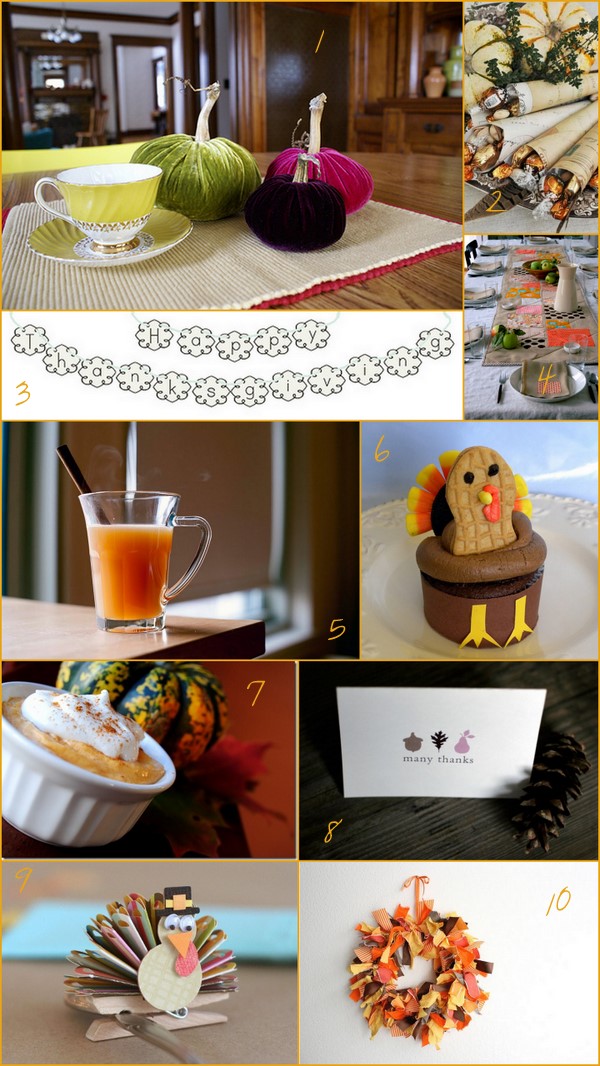 1 dress up your table with these plush pumpkins seen on gussy sews
2 send your guests off right with these adorable cornucopia favors
3 decorate your home with this vintage inspired banner printable made by free pretty things for you
4 learn how to make your own quilted table runner on the purl bee
5 kick back with a tasty boozy milled cider found via design crush
6 gobble up this cute turkey cupcake seen on amazing mom
7 eat well and guilt free with this pumpkin pie mousse made by iowa girl eats
8 say thanks to your guests with a printable thank you card seen on the sweetest occasion
9 seen on amy atlas have your kids craft a cute turkey clip
10 elise baha shows you how to make your own fabric wreath on a beautiful mess
I love the meaning behind this holiday and how it makes us stop and think about what we are thankful for in our lives. In many cases, we tend to take certain things for granted, like being fortunate enough to have food to eat, clothes on our body, and a roof over our heads. Sometimes we may have certain high expectations of the ones that we are closest too and don't say thank you enough to them, but rather take them for granted. And even through certain rough days or weeks, this is the perfect time to take a step back and really think about how truly blessed we are in our lives! Over the next few days I'm going to really think deeply about 25 things I am thankful for (since Thanksgiving is on Nov. 25) and post my list here on Thanksgiving, and I encourage you to do the same as well! Why don't we start now???
What are a few things you are thankful for?