This past week my husband and I finally put up Christmas lights in our house!  We lined our front window with bright LED Christmas lights (way to be efficient!) and we turn them on when we get home and turn them off before we sleep!!  We saw this idea a long time ago where a shop hung ornaments in their window and we wanted to mimic the same thing at home!  However, it didn't really turn out to look as good as we thought so we didn't end up putting it up.  But I have been getting ornament fever lately since I've been seeing soo many cute ones around blogland/etsy~!  Here's a few that I love!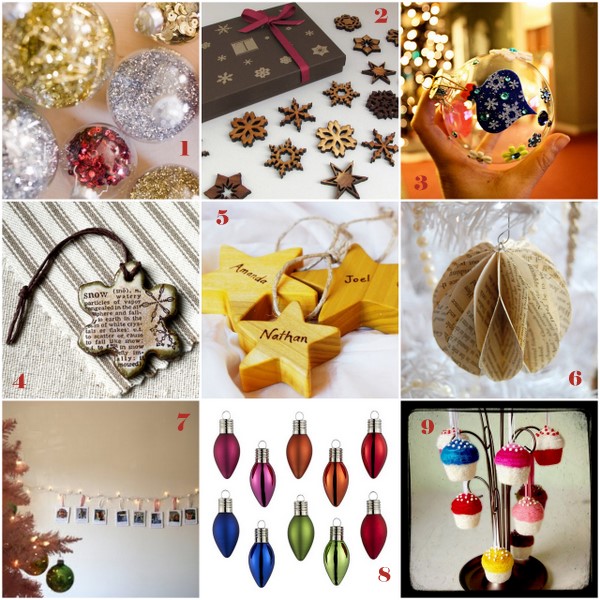 1 sequins, glitter, googly eyes, oh my!  check out i art u's ornament pop up shop!
2 adorn your tree with a wooden ornament set by timber green woods
3 michael's make your own ornament set made by simplyvonne
4 buy your own snow ceramic ornament set by kylie perry on 12 days of cheer on oh, hello friend!
5 personalized star ornaments by just hatched
6 make your own paper ornament crafted by joy ever after!
7 make your own felt polaroid christmas ornaments crafted by katie cupcake
8 brighten up your tree with these lightbulb ornaments from crate and barrel
9 adorable mini cupcake ornament sold by made by lowell
Aren't they all just soo colorful and fun?  Do you have a tree all set up and decorated?  My husband and I haven't been in town very much lately so we didn't have time to put up a tree this year… maybe next year! 🙂
And oh yes, I also wanted to announce the GIVEAWAY WINNERS of the two giveaways that ended yesterday!
For the Blushing Pearl holiday letterpress cards and tags giveaway, the winner is…
Congrats to Chrissy from Chrissy In America!  You should receive an email from my shortly asking for your mailing address so Marsinah can send you your new pretty paper! 🙂
And the winner if the Sunshine and Carousels hair clip and earrings giveaway is…
Congrats to Kel from News From Fern Street!  You should receive an email from my shortly asking for your mailing address so Erin can send you your new accessories!
A big huge THANKS to Blushing Pearl and Sunshine and Carousels for offering up some free goodies!! 🙂
Well friends… can I just say that I am jumping with joy RIGHT NOW!  Tomorrow, my husband and I will be on our way to Puerto Rico for a cruise!!!!! Yes you read that right, we are going on a one week cruise in the Caribbean!!!! 🙂  I seriously cannot wait!  I am closing up my Etsy shop for about a week (just learned how to use the Vacation feature, pretty neat~!)  But do not fear friends, I will still have regular blog posts, from some wonderful guests!  And there will even be a giveaway next Wednesday too so please still come back and visit daily!  First up in the guest blog series is All Things Ami – so come back tomorrow for a delicious recipe by Allyn!
I'll see you all again in a week friends (when I'm possibly 10 lbs. heavier)!! 😉