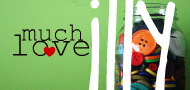 Thanks to all that entered the Much Love, Illy giveaway!! We had an amazing turnout and I'm not surprised because Ilene's accessories are so adorable! I also loved hearing about your favorite things to do during the holiday season! Eating, baking, sleeping, drinking hot cocoa, caroling, wrapping presents, and hanging out with family and friends were the most popular responses… and I'd have to agree with them all! 🙂 Oh how I love the holidays!
I let random.org pick the winner for us and out of an astounding 211 entries, the winning number was…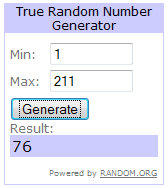 If you have the following header on your blog, then you are the winner! (OK, don't all go changing your headers now…)

Congratulations Maddy, you are the WINNER of the Much Love, Illy giveaway! I will send your email address off to Ilene and she will contact you shortly on how to claim your $25 shop credit! And pssst… there might be a Much Love, Illy discount code good for 10% off your order through December 12, but you'll have to head on over to Ilene's blog to get the code!