This past Saturday I had the pleasure of meeting a handful of Kansas City area bloggers over fancy burgers, shopping cart fries, blog talk, giggling and a ton of paparazzi like pictures!  It's always great meeting other bloggers and realizing we have a lot in common (for all you significant others of bloggers, you're not alone either ha)!  Here are a few (out of probably 60) photos from our lunch meet-up – thanks to Angga's husband for being our fabulous paparazzi like photographer!  🙂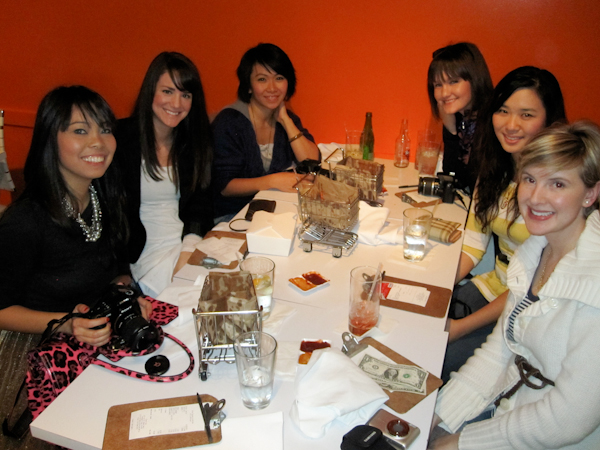 The fabulous ladies that attended this meet-up are:
Angga of Reserverade Fashion (and her husband who was the photographer) – a daily outfit fashion blogger
Michelle of Second Street East – a blog about interior design, DIY projects and renovating and decorating her home
Ngan of eNVe Designs – she blogs about photos, interesting things she finds and jewelry updates on her etsy shop!
Ashley of A Hasty Life – a personal blog of style, recipes, DIY, and more!
Shea of Bon Chic Bon Gastronimique – a personal style and food blog
So if you are looking for a few new blogs to read, there you have it.  These ladies are all as fun and sweet as their blogs!
After our lunch date, Shea, Ngan and I decided to do a little shopping on the Plaza… which then turned into an fashion photo shoot, haha.  I mean, we all had our cameras with us anyways, the Plaza has some great back drops, so we thought, why not?
Here's Shea modeling for us on the Plaza steps!  Head on over to her blog to see where each of her outfit pieces is from.  She's so brave for wearing shorts in freezing cold weather.  And aren't her patterned tights so cute?
And then it was my turn to be silly… Shirt: Forever 21 (gift from SIL), Belt: Forever 21, Jeans: Express, Boots: Steve Madden, Necklace: Oh, Sweet Joy
Then we thought it would be fun to take some "couples" pictures together!  We found this cool wooden bench outside of a steak restaurant and worked it.
And then we finally convinced Ngan to join in on the photo fun!  She's a natural!!
Look!  It's a bird, it's a plane, no, actually it's just us trying to come up with unique poses.  It wasn't easy!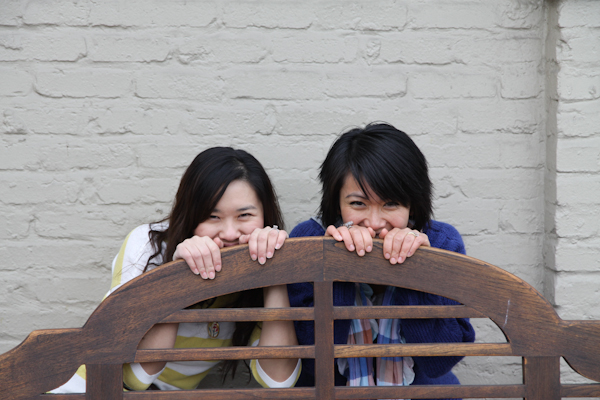 But this one… is my FAVE!  We pretty much were laughing our heads off and freezing our bottoms off the whole time!
There were a few other ladies that weren't able to make it to this meet-up but hopefully these will be a regular occurrence and we'll get to meet all the Kansas City bloggers out there!  If you'd like to join in on the next meet-up, let me know!  🙂
P.S. You have until this Tuesday at 12PM to enter the Ahoy! Graphics, Eclectic Whatnot, Lemon and Lavender and Gracie Bella Butterfly GIVEAWAYS! Have a wonderful week friends!