One of my all-time favorite appetizers is lettuce wraps. It's oh-so-tasty and makes me feel healthy since it ensures I am eating veggies. Every time I hit up Houlihan's (do you have one where you live?) for happy hour, no doubt I get the wraps. I've always heard rave reviews about the ones from P.F. Changs, but I have yet to try it. Either way, these pre-meal tasty treats are sweet, savory, and juicy with a crunch to the bite. And I find myself craving them just about every day…
So I decided to make my own version of them for a party I attended recently. I LOVE turkey but you could totally substitute pork/beef/chicken. Feel free to go liberal on the ingredients and adjust them to your own tastes once the meat is done cooking. This is sure to be a crowd pleaser at potlucks and parties! Makes it more fun and interactive as everyone can wrap their own!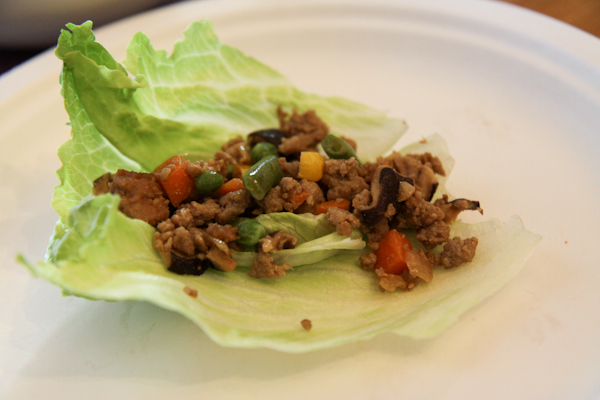 Marinate the Meat
– 1/2 lb. ground turkey
– 1 tablespoon soy sauce
– 1/2 teaspoon salt
– 1 tablespoon cornstarch
– 1 egg yolk
1. Marinate turkey with other ingredients for 30 minutes.
Make the Filling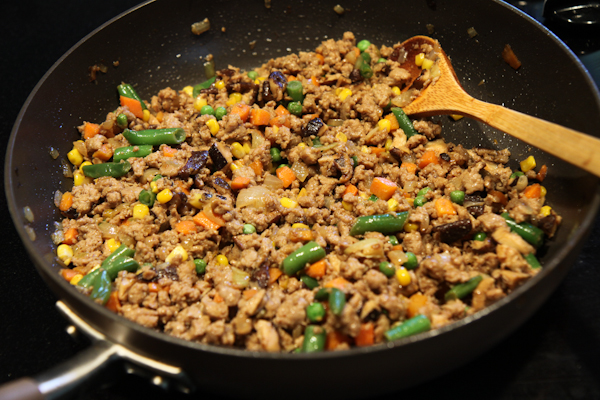 Mmmm look at all those colors!
– 2 teaspoons cooking oil
– 1 cup onion, chopped
– 1/2 cup mushrooms, chopped
– 1/2 cup carrots, chopped
– 1/2 cup peas
– 2 tablespoons hoisin sauce
– 1 tablespoon soy sauce
– 1/2 tablespoon white cooking wine
– 1 teaspoon cornstarch
– 1 teaspoon salt
– 1 teaspoon sugar
– 1 teaspoon sesame oil
– 1 teaspoon white pepper powder
– 1 head of lettuce, medium
1. Put 1 teaspoon cooking oil in frying pan and stir fry turkey until cooked. Put in a separate bowl.
2. Put 1 teaspoon cooking oil in frying pan and saute onions, mushroom, carrots and peas until cooked.
3. Pour turkey into pan and mix everything together.
4. Put other ingredients in a mixing bowl and pour over turkey.
5. Trim lettuce stems and prepare lettuce leaves for wrapping.
6. (Guests do this on their own) Put filling into lettuce cups, wrap it up, and eat!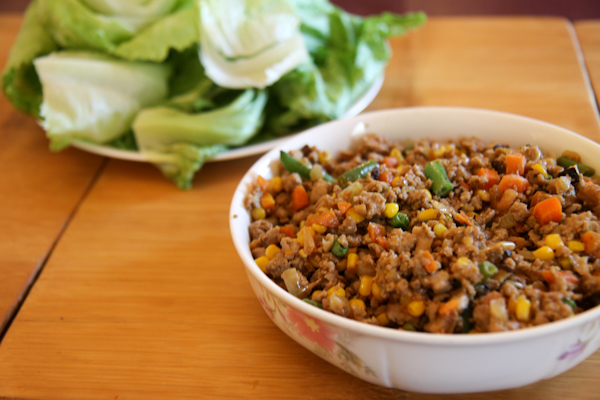 What are you eating today?