Hi friends! Sorry if I've been MIA lately but it's been a crazy busy week in sunny California. Well I can't complain because I did get to spend part of my day yesterday working outside, that was NICE. On the first day of my trip out here, I had a blogger meet-up!! Am I like the queen of blogger meet-ups (and giveaways) or what? The ever sweet Lillian of Unstitched picked me up and we headed to Pasadena to an awesome Thai restaurant called Daisy Mint. I had my staple Pad Thai and mmm mmmm was it good! Lillian and I actually have A LOT in common especially because we're both Taiwanese! 🙂 We reminisced all the fun things to do in Taiwan, she gave me an Alt Summit recap, we talked about our wonderful mutual blogging friends (Piper, Janie, Brandi, Danni, did your ears itch? ;)), and just talked about how great the blogging community really is! Thanks so much for taking the time to meet up with me, Lillian! Next time, we'll go get some of that bubble tea you raved to me about! 🙂 And if you haven't checked out her blog, you should, it's full of beautiful inspirations and sprinkles of her life! Here we are~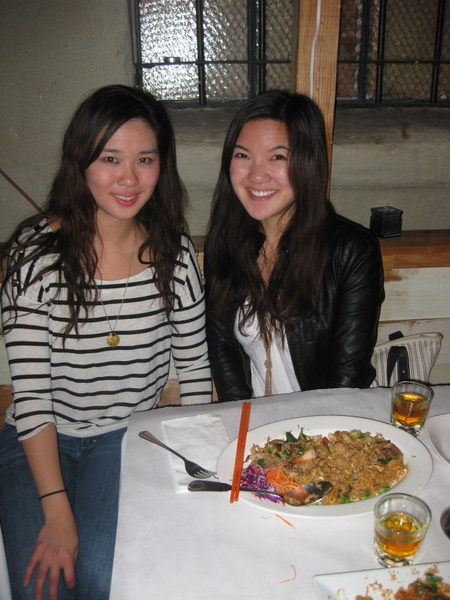 On Tuesday, I went out for dinner with some old friends and we had one of my favorite foods, soup dumplings, or xiao long bao or XLB as some call it. And then, I had an assortment of frozen yogurt at Yogurtland, have I told you how much I love fro-yo? If you didn't know, now you know. Afterwards, we played a few rounds of Dominion and I learned a new card game called Bang (it's like the game Mafia, but with cards), pretty fun! On Wednesday night I hung out with my coworkers in Pasadena and spent a good amount of the time driving around the Rose Bowl and gawking at all the huge mansions over there.
Well I still have a few more days here in sunny California where I'll be hanging out with family and friends. I'm pretty sure you know how much I ADORE my nephew, I just can't wait to pinch his cheeks, I'm SUCH a great aunt! 😉 The weirdest thing about being here is that it is literally 60 degrees warmer here than back home, oh can I just move here now?
And last, but not least… I have a few GIVEAWAY WINNERS to announce! I know, you've all been dying to know, so here goes!!
Giveaway – Gracie Bella Butterfly


The winner of your choice of headband, a pair of earrings, and note card set from Gracie Bella Butterfly is Jill of Cornflake Dreams!
***
Giveaway – Lemon and Lavender


The winner of 1 "I love you" greeting card folded 3.5×5.0, 10 mini valentines with #1 mini envelopes in strawberry, 25 custom note cards printed on recycled kraft paper with coordinating peacock envelopes from Lemon and Lavender is Somer of Knit-O-Matic!
***
Giveaway – Eclectic Whatnot


The winner of $25 shop credit to Eclectic Whatnot's camera strap shop is Jihee from The Soaktree!
***
Giveaway – Ahoy! Graphics


The winner of $30 credit to the Ahoy! Shop good for any one A La Carte custom design or can be placed towards total purchase is Karen from Believe it and Be Satisfied!
Congrats!! Winners, please send me an email at sandyalamode@gmail.com and I'll get you in touch with the sponsors! 🙂 And I'd just like to send a huge virtual *bear hug* over to these wonderful sponsors who have offered to give away things for FREE, people, FREE! They are the best!