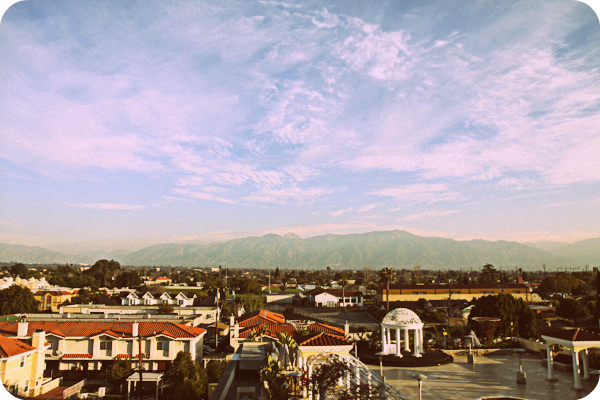 Here's the lovely view from my hotel room this week. It's wonderful waking up to a backdrop of mountains and a pretty blue sky! I love using Picnik to edit photos. 🙂
I must say, I've had an awesome time in Los Angeles so far…
1) I've met up with old coworkers
2) Satisfied my craving for bubble tea (it's a constant craving)
3) Ate at the amazing Boiling Crab
4) Hung out with my parents and had green tea shaved ice, yum!
Still on the to-do list…
1) Go to a Food Truck Festival with some of my Michigan friends (GO BLUE!)
2) Hang out with my nephew, sis-in-law, brother, and cousins
3) Have my sis-in-law help me design and create signs for a Ladies Night Fair/Market that I'm going to have a booth at at the end of the month (ahhh, freaking out here)!
4) Eat dim sum
And lastly, I wanted to pop in and announce the winners of last week's awesome giveaways!! 🙂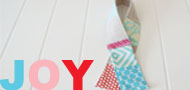 The winner of $30 credit to For The Love Of Joy is Amber of The Pless Press!!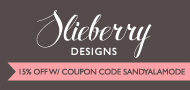 And we have THREE winners for the Slieberry Designs giveaway who win a set of Hello cards, HOLLA! And those winners would be Miki of Miki's Scrapbook, Alely of Oh, Sweetlee Me, and Kristin Marie of It's Not You… It's Meee…! Don't forget, you can take 15% off your order from Slieberry Designs etsy shop or custom wedding order with code SANDYALAMODE! What are you waiting for… GO!
WINNERS: Please email me at sandyalamode@gmail.com with your mailing address!
P.S. I'm giving away a little something something on Be merry, Kate this afternoon! Go check it out!!
P.P.S. Don't forget to enter The Heyday Shop (fabric, ring, and cute tape), Josiah's Nest (charm necklace) and A Spoonful of Love (eyeshadow makeup palette) giveaways going on right here!