Hi friends (old and new)! Today, I am joining in on the October Followers Fest hosted by the lovelies:
With the Fall season in full force right now, there's a bunch of things that get me super excited about it… such as pumpkin desserts, apple cider, wearing scarves and boots, leaves, and more! It's also a nice break from the hot, humid Summers we face here in Kansas City (although not really looking forward to Winter just yet, let's not talk about that). Here's a little collage I put together to show off some of my Fall Favorites. 🙂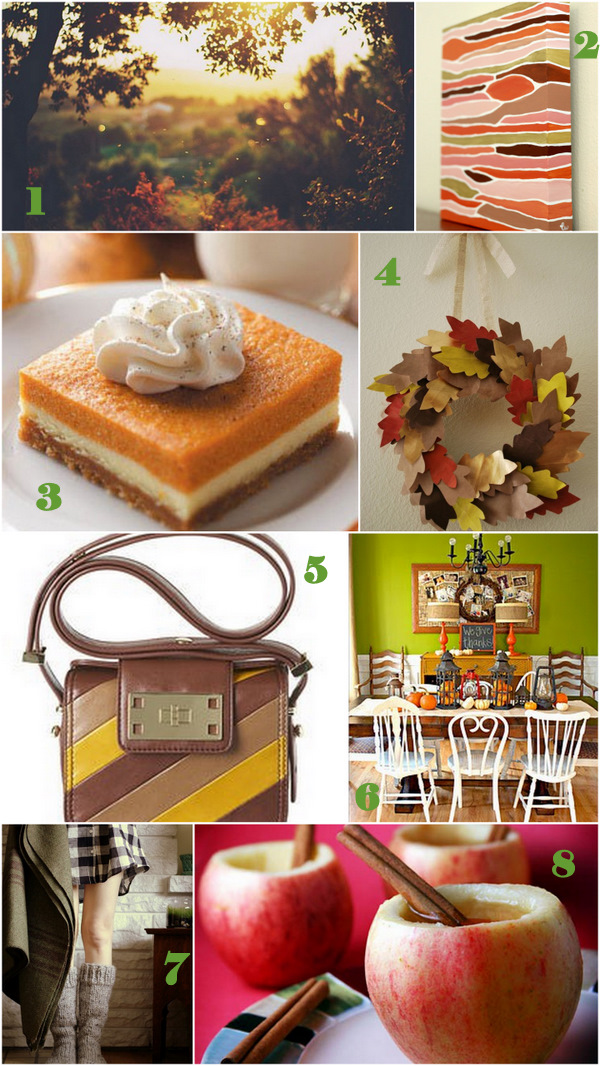 1 This photo just screams beauty and fall.
2 Loving the colors in this Aisle To Aloha Fallen Leaves canvas painting.
3 A scrumptious looking pumpkin dessert, need I say more?
4 What a fun little craft idea, don't you think?
5 A girl can never own enough bags, like this Nine West one!
6 What a fun and cozy little dining room setup for fall~!
7 Kind of just love everything about this outfit, especially the leg warmers.
8 I would love to end each fall day with this refreshing apple cider cup.
Hope you all enjoy this upcoming beautiful fall weekend! It'll be a much needed relaxing one for me as I need to soak up the last bits of this year before I turn another year older on Tuesday. 😉 But wait, before you go…
P.S. Have you entered the Yellow Heart Art GIVEAWAY for an 8″x10″ print yet?
P.P.S. And how about the ISOTONER smarTouch gloves GIVEAWAY to kick off the Cold Hands, Warm Hearts Swap?