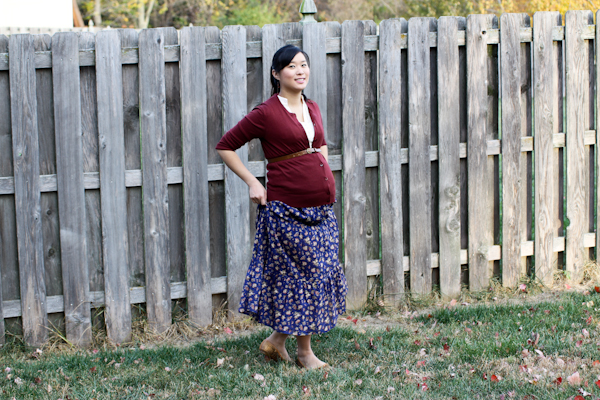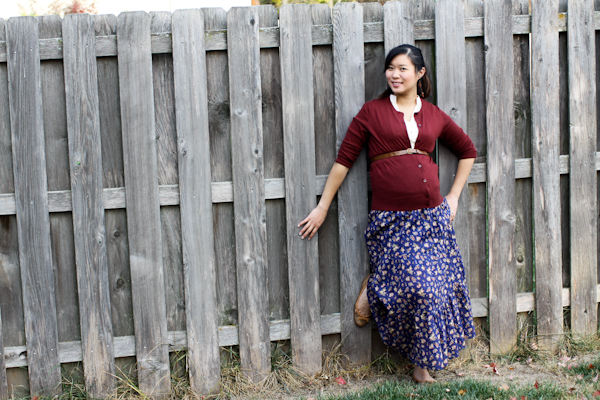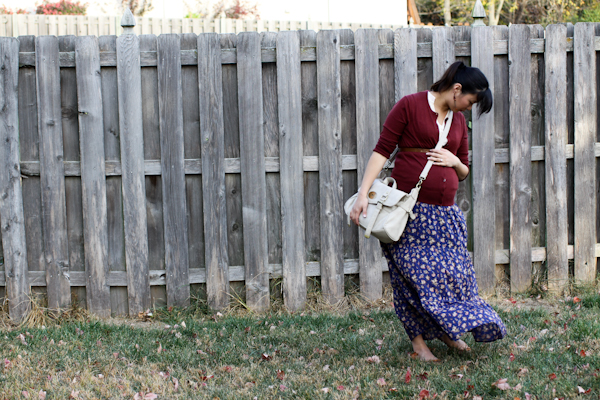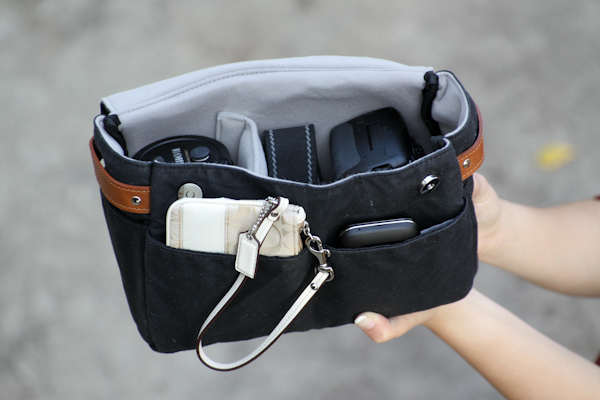 White Top: Gift from SIL | Cardigan: Ann Taylor | Skirt: Forever 21 | Belt: from another outfit | Shoes: BCBG | Purse: Spotted Moth | Camera Insert: ONA
Marv thinks this outfit makes me look like a Mom. I guess that makes sense since I am going to be a Mom here very shortly! Maybe it's the cardigan, maybe it's the skirt, or maybe it's because it looks like I'm toting around a diaper bag… either way, I better embrace it. The other night when we were out to dinner, Marv was telling me a story about how he was telling his co-workers that he won't be available as much in December because his uhh uhhh… his son is going to be born. He couldn't even get that out without stumbling his words. It's kind of like when you use the word fiance/fiancee or wife/husband for the first time. It's gonna take some getting used to.
Oh and btw, that's not a diaper bag you're seeing there, it's actually one of my fave neutral purses with The Roma camera insert and bag organizer from ONA. I love this insert because it fits inside any medium/large sized bag. It's got an adjustable divider so you can tote around a DSLR w/ a small lens on it and an additional lens. Or just the DSLR w/ a bigger lens by itself. It's got some sweet pockets to organize my lipstick, wallet, phone, since those things usually get lost in my purse, are you the same way? The leather side handles also make for easier removal and the material of the bag feels like fabric wax, so smooth if you ask me.
And before I peace out, I have a few giveaway winners to announce, woohoo! 🙂
The winner of the 8″x10″ print from Yellow Heart Art is… Lauren from The Elephant's Trunks! Congrats! Please send me an email with your choice of print and mailing address and we'll get it sent to ya!
The winner of the ISOTONER smarTouch gloves giveaway is Linda L. Please send me an email to claim your prize!
And don't forget, all my SIX BIRTHDAY GIVEAWAYS are open until November 7, so enter your little hearts out and spread the word please! 🙂