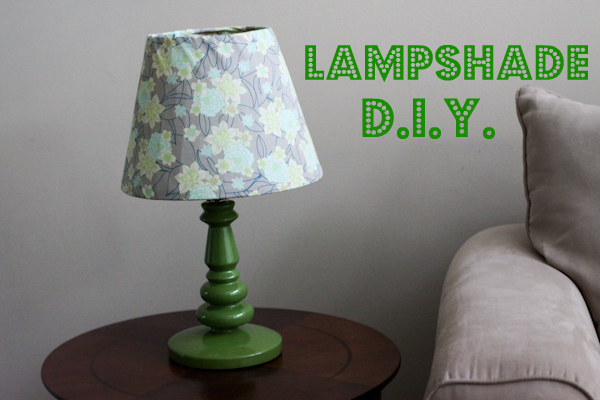 So I'm seriously not the most crafty person, I really wish I had more time and talent for craft, but a few weeks ago I did redo a lampshade that I'm pretty proud about. It's by no means perfect but it's my little pride and joy since I made it and put it together all by myself. 🙂 First, I started with a green lamp stand that I thrifted for $3. It's a fabulous green color with some great curves.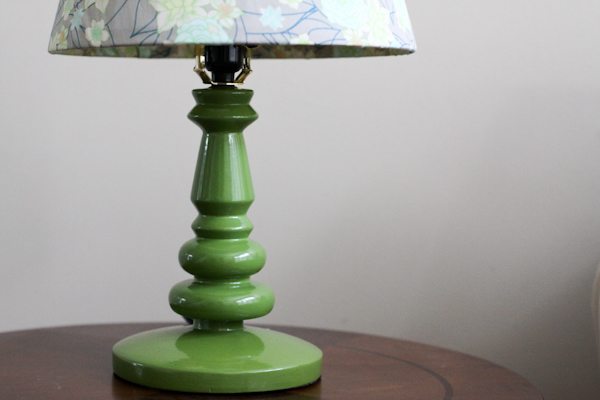 Then I found a lamp shade for $2 at another thrift store, score! Except, next time, I would go for a flat instead of ribbed shade as the ribs kind of show through when the lamp is turned on. Oops, lesson learned.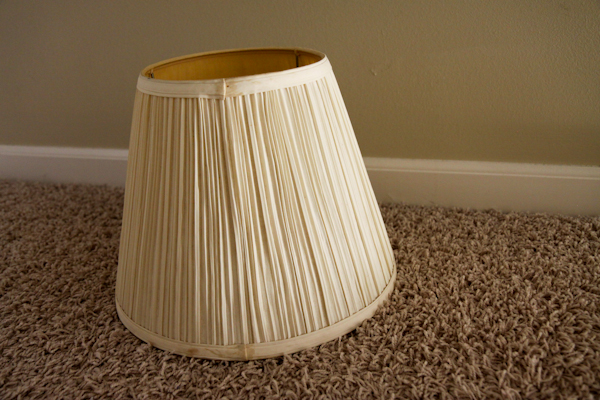 Then take some brown Kraft paper and roll the lamp shade along the paper and make marks on the top and bottom every few inches until you get all the way around the lamp shade. Then cut out Kraft paper along those marks. Then the fun part, find a fabric that you want to use for your lamp shade (must coordinate with the lamp stand) and cut out your fabric 1-2 inches bigger on all sides than the Kraft paper template. The fabric was the most expensive part of the project, especially because I used a designer fabric (does anyone know the designer of this fabric? I can't figure it out for the life of me!). Sew one of the side edges in by 1/2 inch as it will be the part that wraps around on top of the not sewn edge and sew the top edge in as well by 1/2 inch.. Then wrap the fabric around your lamp shade, folding the top and bottom edges inside.
Glue the edges to the inside of the lamp shade. This was kind of the hard part because you have to pull the fabric so that the outside is flat and there aren't any bumps. It doesn't really matter what the inside looks like. I suppose you could have sewed down the bottom edge too but I was lazy and you can be too since no one will see the bottom insides.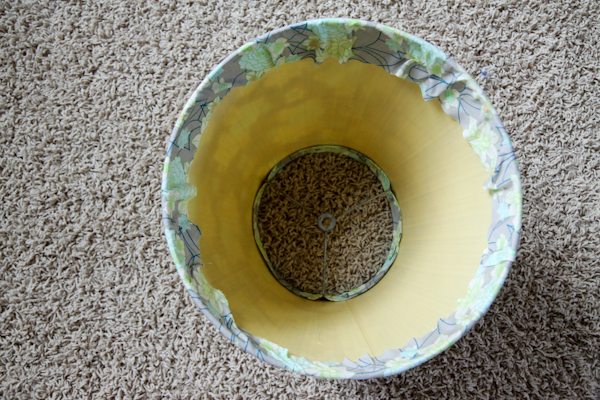 OK, all done with the lamp shade! Like I said, let's blame the fact that I got a ribbed lampshade as the reason for why I couldn't get my fabric completely flat on the outside. Hopefully you'll have better luck (esp. with a non-ribbed lamp shade).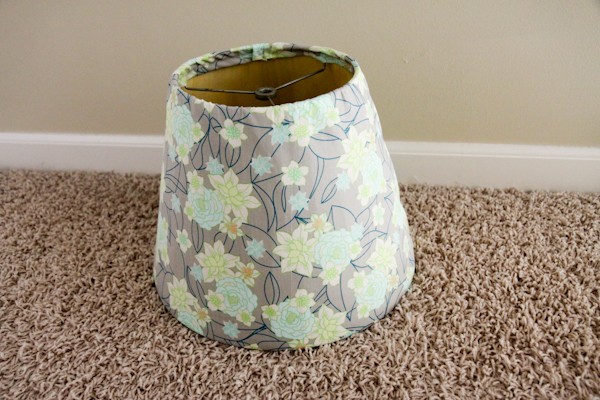 Put your lampshade on top of your lamp stand and you are done! Plug lamp in, turn light on, grab a book, get a cup of tea and get cozy on the couch next to your D.I.Y. lampshade! We have ours in our living room so I get to look at it every day. And I am obsessed with the fabric, such pretty colors! But the best thing about this project was the fact that it was less than $10 to make!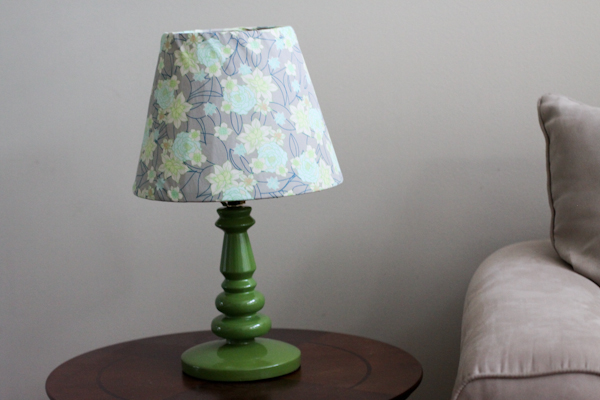 That's all folks! Have you made one of these before? Got any other tips?