A few of you have been asking about our nursery progress lately and I just realized that I never did a post on it, oops! While we have the bulk of the things that we need for the nursery, we've been kind of dragging our feet in getting it done. We're still missing a rocking chair and there's nothing hung up on the walls yet… but we'll get it done, hopefully soon. We're planning on having baby sleep in our room for the first few months before moving him up to his own room so we'll technically have time to work on the nursery after he is born, although most people tell me to get it done earlier since we really won't have time, between the feedings and lack of sleep. But anyhow, just wanted to share a few sneak peeks of it so you can get an idea of our room theme. The colors are grey, blue, green, yellow, and the designs are modern prints like chevron (of course) and baby animals!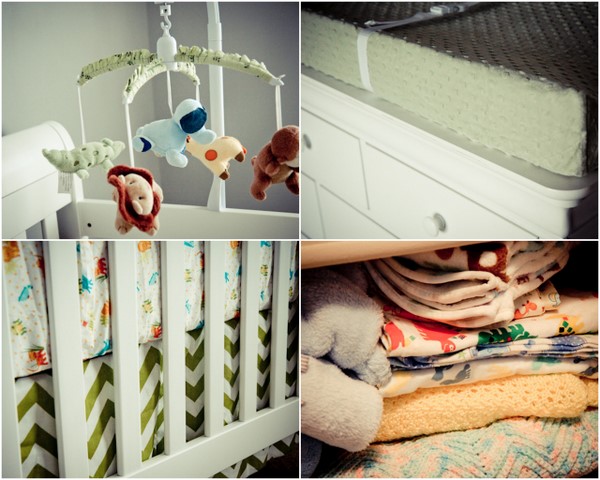 Here's a look at his sleeping quarters and dresser with changing pad. All the blankets and bedding you see are handmade by his Grandma!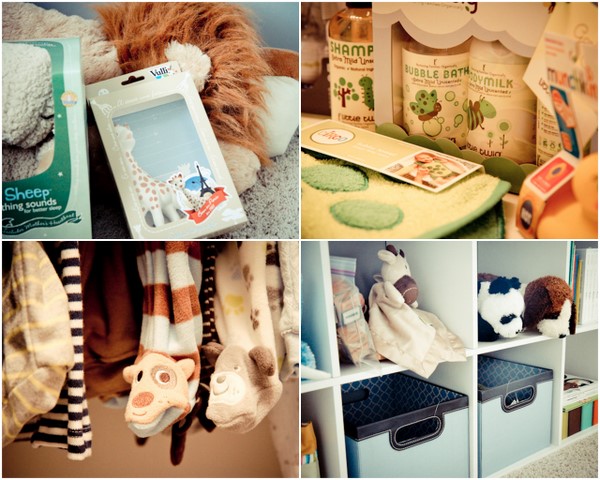 Toys, bath stuff, clothes, and more toys. He is going to be one well dressed fella who will like to play, play, play haha!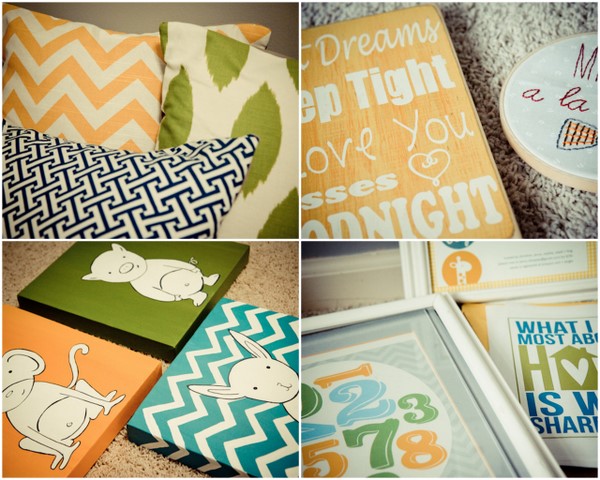 Here's a look at a bunch of decor made by my blogging/etsy friends, can't wait to get these hung up and put into place! Pillows from MoxieMandie, nursery sign from Cait Create, cross-stitch from Moonbeamwishes, canvases from Aisle To Aloha, and number art from Livy Love Designs!
Whew! So there you have it! Hopefully it won't be long before I'm back with more pictures of the finished room including our baby in the pictures. 😉