It's here, it's time, I'm FINALLY ready to share Austin's big nursery reveal with you all! I kept wanting to share this with you from before he was born, but it was never "complete". Well, it's still not "complete" now either, but it's probably the most I'll get done for awhile as things are pretty busy around here. From the beginning, I always knew that I wanted to do a grey themed nursery. I just LOVE the color grey and I think it's a great neutral color palette to work with. And it can easily be turned into a "girl" nursery too (for possibly later down the road, way later). I also love the innocent look of white furniture and how it goes so well against grey walls. Blues, greens, and yellows brighten the room up and complement each other well. I have a sincere love for baby animals, so much so that some of my coworkers even call me "baby animals". I think they may have caught me looking at Cute Overload over a lunch break one day… haha. Anyhow, so I knew that animals needed to be a part of his nursery. Besides animals, I also wanted to bring in a design element and since chevron print has been another obsession of mine for awhile too (can't you tell from my blog banner), I figured that was the perfect modern touch to add to his nursery. There you have it, a little background on how I designed his nursery, now I'll let the pictures do the rest of the talking!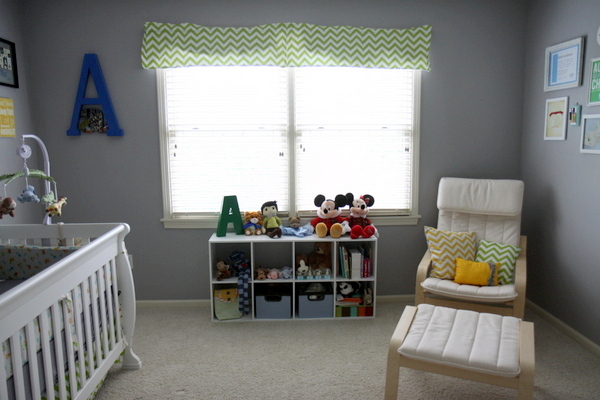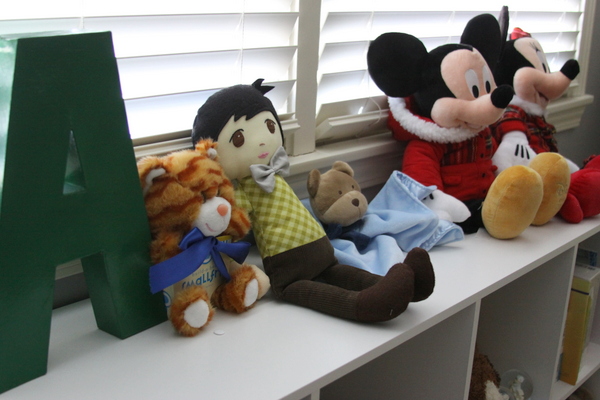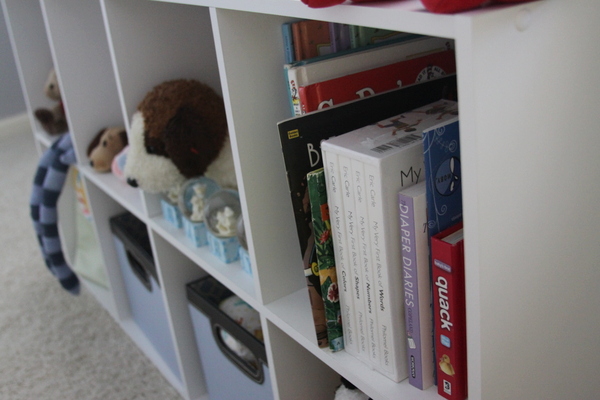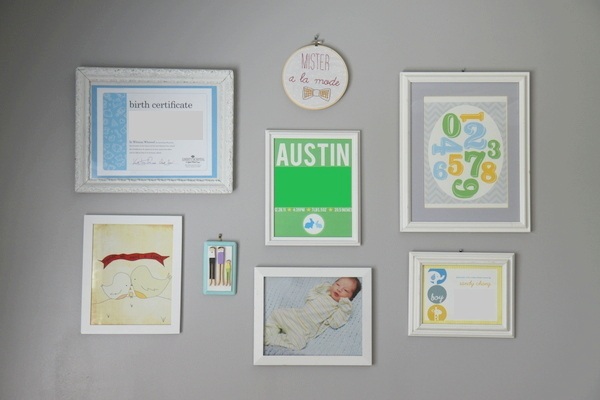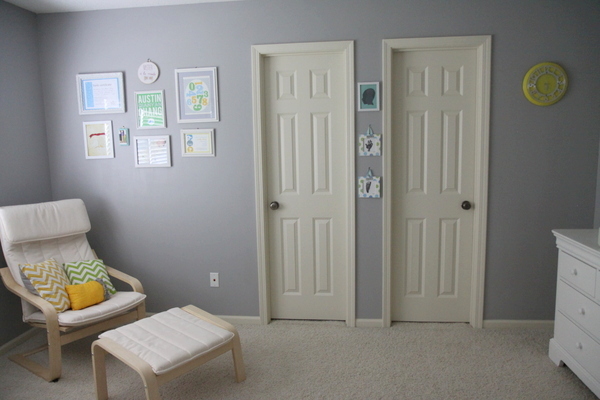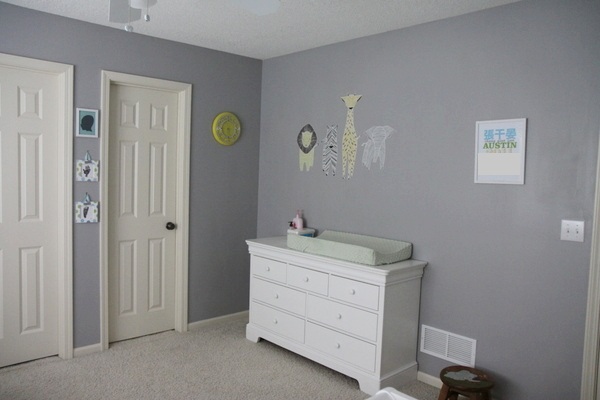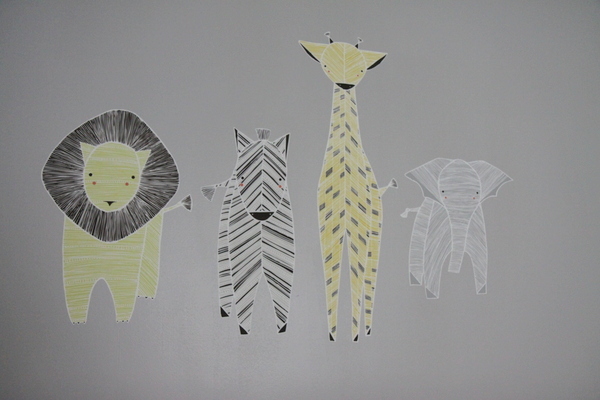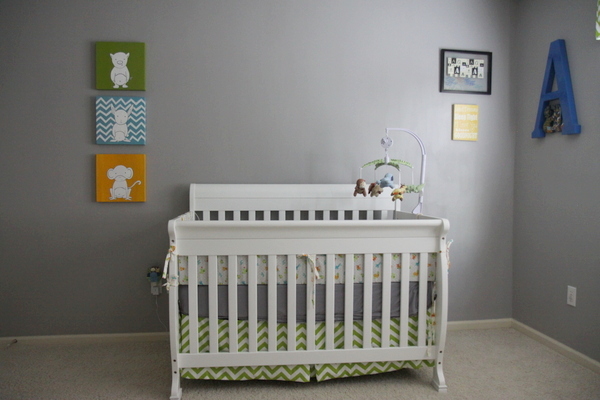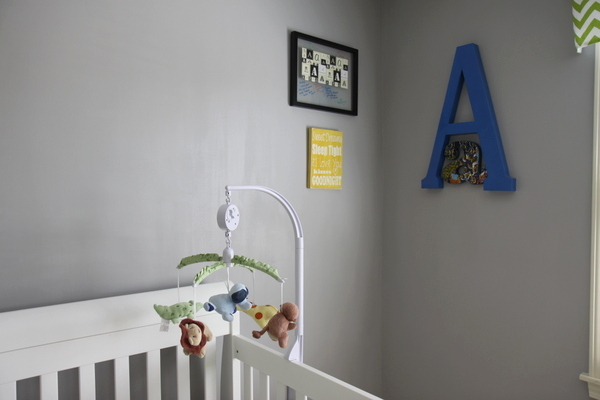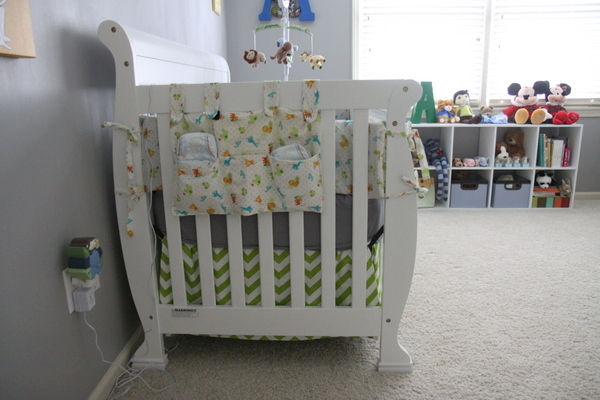 First picture of Austin taken by Ria Photography, second picture of stool taken by Sengerson Photography. All other pictures taken by myself, some personal information in the prints are blocked for privacy purposes.

Furniture/Decor
Da Vinci Crib: Amazon
Mobile: Thrifted
Poang Chair + Footstool: Ikea
Dresser: Young America
Changing Pad: Amazon
Changing Pad Cover: Amazon
Elephant Stool: Gift from Austin's Lao Lao (grandma)
Bedding + Curtains: Made by Austin's Ah Ma (grandma)
Pillows: MoxieMandie, Reviving Remnants, Austin's Ah Ma (grandma)
ClosetMaid Cubes: Target
Clock: Thrifted
Artwork/Prints
Name + Numbers Print: Livy Love Designs
Bird Print: The Little Illustrator
Mister a la mode Cross-stitch: Dear Moonbeams
Wooden Block of Family: Moonbeamwishes
Safari Animals Wall Decals: Gingiber
Chinese Name Print: Grace Hester Designs
Animal Canvases: Hello Hue
Austin's Profile Silhouette: Hugs & Kisses Designs
Handprint and Footprint Frames: Carter's (Gift from Austin's Aunt Jenny)
Blue and Green Cardboard A's: DIY (letters from Joann's)
Lowercase "a": Anthropologie (gift from Jamie)
Sleep Tight Wooden Sign: Cait Create
A's Frame: Memorabilia from Kansas City baby shower
Friends
SmallFries Kitten: Gift from Stephanie
Doll: Rice Babies
Mickey + Minnie: Gift from Austin's Lao Lao (grandma)
Thank you to EVERYONE that played a part in his nursery! We really love spending time in there and I know Austin does too. In fact, he sleeps a solid 10 hours a night in there now, GO BABY! 🙂
P.S. The THREE winners of the Mile End Bakery giveaway are…. Tammy G. of Lemons, Avocados & The Bay, Brooke T. of @brookelynmu and Priscilla P. of Priscilla Phitsanoukane. Congrats to these three ladies! Please email me at sandyalamode(at)gmail(dot)com to claim your prize and we'll get you hooked up with some cookies!